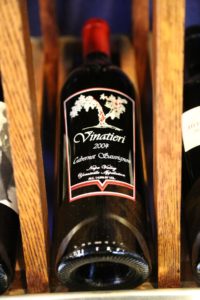 Vinatieri Wine is owned by Pat Vinatieri. He has a long history of making wine for himself, friends and family and after receiving much encouragement and praise for his wine, decided to offer it commercially.
The first vintage was released in 2001. It is called the Grand Meritage and incorporates five Bordeaux varietals which include Cabernet Sauvignon, Petit Verdot, Merlot, Cabernet Franc, and Malbec. This is a dark inky style unfiltered wine blend which is very rich in flavor. It is well extracted with delicious fruit on the palate including cherry. The wine is full bodied with a beautiful long finish. The tannins are well managed and having a few extra years in the bottle has really helped this wine come together.
Pat has visited Italy many times and fell in love with the old-world style of wine making. During his time in Italy he would visit a region and ask to visit the most "well-known" winery, and or winemaker in that region. He would make the most of these visits, often sitting down with the winemakers and "picking their brains" for ideas and techniques both enologically and viticulturally. It is these ideas that gave him the basis for creating a vineyard and a winemaking style that closely resembles the top winemakers in northern Italy.
His family name Vinatieri literally means "wine of the earth" and "winemaker". Pat has lived in the Yountville region of the Napa Valley since 1978. During the mid 1990's many vineyards were planting their Cabernet Sauvignon on their highest quality land and planting other varietals elsewhere. Pat planted all the Bordeaux varietals on prime vineyard land with the thought to blend all the varietals from only the best "teroir". It is this type of field blending (varietals planted that are interspersed with other varietals) that creates such a captivating wine.
As in Italy where meals can be quite lengthy, Vinatieri's wine is very food friendly and is meant to be consumed with meals. Compatible conversation, with good food and this wine makes for a memorable time!
As of the time of this review, the wine is *only* available by visiting the website and contacting the winery directly via phone or email. Production is very small – typically only 150 to 450 cases per year, depending on the individual harvest. This wine has already been well received and its just a matter of time before its scooped up by high end restaurants and retailers. Plans are in the works for distribution in select markets, restaurants and wine shops. Stay posted for more details.
NOTE: possibly not producing wine commercially anymore. We will update / archive this review as needed.