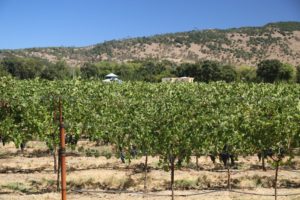 Villa Ragazzi was founded by husband and wife, Gregory (died in 2021) and Michaela Rodeno with their first commercial vintage in 1989. Gregory was a lawyer for many years; when a friend first moved to Napa, he informed Gregory there were a number of firms in the area looking for legal work. That invitation was the impetus for their move to the valley in 1972 as recently newlyweds.
They purchased a 22-acre property in Oakville in 1977 and then built a home on site in the mid 1980s. At the time of their purchase this property was not cared for; blackberries and run down vines were growing here. However, there were a number of vineyards already planted nearby – Christian Brothers Winery owned much of this area. Over the years the Rodeno's have replanted the vineyards here – with clonal selections being heavily influenced by their vineyard neighbors (Groth, Gargiulo and Saddleback Cellars). Today they grow a small amount of Sangiovese as well as several clones of Cabernet Sauvignon.
When Domain Chandon decided to open their winery in Yountville in 1973, they placed an ad in the local St. Helena Star newspaper. Michaela (with little wine experience to that point, other than as a tour guide at Beaulieu Vineyard giving tours) applied for a job, was soon hired (only their second employee) and ultimately became one of their key employees – it certainly helped that she was fluent in French.
After 15 years at Domain Chandon, she left to become the CEO of St. Supéry; she is no longer at St. Supéry but is as busy as ever including promoting Villa Ragazzi wines and being involved in a number of wine related organizations. And in 2015 she wrote a book, a must read for both Napaphiles and wine lovers alike, called From Bubbles to Boardrooms highlighting the early days at Domain Chandon (the first major French wine investment in the USA). The book is an engaging and unique insight into the creativity and energy that Domain Chandon's early employees had and how they grew the brand, built a winery and became one of America's sought after sparkling wine producers in a relatively short amount of time.
The roots for Villa Ragazzi began with a trip the Rodeno's took to Italy. They met several vintners including Piero Antinori whose family runs one of the oldest continuously operating family businesses in the world (officially dates back to 1385). He influenced their decision to make Sangiovese and in later years Antinori offered to let his wine making team craft the wine at Antica Estate (his property on Atlas Peak) which is where the wine is made today.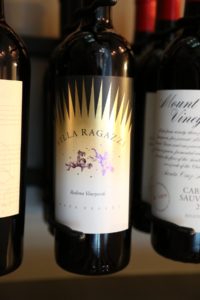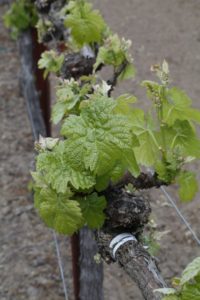 You know you have been in the valley a long time when you have a clone named after yourself; such is the case with their Sangiovese, the Rodeno Clone. They located and purchased a small property in Pope Valley (east of the Napa Valley). As Michael recalls it contained sandy soils with very little available water. They planted the vineyard in 1985; at that time their Sangiovese was the first commercial vineyard of this variety in the Napa Valley. Their first several vintages were made by hand at their little "barn" winery nearby their home in Oakville.
The vines would usually average around a ton an acre. Some years were "bonus" producing up to 5 tons from their acre, but these were far and few between. The vineyard eventually succumbed to phylloxera in the late 1990s and had to be replanted with bud wood saved from the original plantings. Based on the location and various regulations, it took them nearly 10 years to get this vineyard back into production. More recently they sold the vineyard to another Napa Winery, with the caveat that they can continue to use (buy) the Sangiovese from the property.
Sangiovese is the variety they started with and is still the flagship of their wine portfolio. This is still not a variety that you commonly find in the Napa Valley. The only other Sangiovese that the Rodeno's know of in Oakville (and that we have come across on this project) is Gargiulo Vineyards. Gregory gave cuttings to a Napa vineyard owner in the mid 1990s. More recently, Gregory discovered those vines growing in Calistoga. Along with these, their original Pope Valley Sangiovese and vines growing at their Oakville property, they now have three vineyard sources to work with when crafting this wine.
Their first vintage of rosé of Sangiovese was a whopping 14 cases – in the following year they doubled that to 28 cases. While their production of each wine is tiny, the production of this wine will remain especially small.
There is a constant theme running through their wines; all their wines have excellent acidity. As Michaela says, "you don't spend 15 years working at a sparkling wine producer (Domain Chandon) and not realize the value that acidity brings to a quality wine". And not to mention, Sangiovese is a variety that has excellent inherent natural acidity.
Select Wines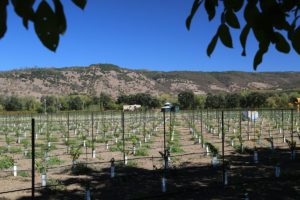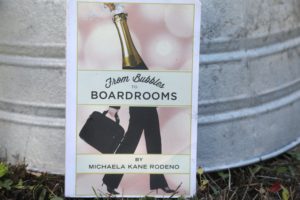 The 2010 Villa Ragazzi Sangiovese is light color in the glass with very good aromatics that become livelier as this wine breathes. The wine is pleasing on the palate – lighter bodied but with plenty of flavor. The entry is delicate and shows mostly red fruit including red currant and red cherry. Mouthwatering acidity. Sports a pleasing finish that lasts, not in structure, but with a tender softness. This wine shows a nice balance between tartness and fruit and is a wine that is certainly meant to be paired with food.
The 2010 Villa Ragazzi Faraono (inaugural vintage) is 75% Sangiovese and 25% Cabernet Sauvignon. During the blending sessions they tried many different percentages of Cabernet but found the sweet spot with 25%; more than that and the Cabernet Sauvignon was starting to dominate the wine. This wine has an intriguing name – it is obviously Italian. During what must have been a particularly memorable meal in Tuscany one evening they enjoyed an entre of guinea fowl. Farano in Italian means guinea fowl.
This wine has an elegant nose with aromas of sandalwood, cedar chest and is somewhat floral with appealing perfume characteristics. It also has an almost an earthy component to the aromatics at times. As the wine breathes hints of cocoa come forth. Clean fruit – mixed with some spice and inviting tender tannins anchor the smooth clean finish.
The 2010 Villa Ragazzi Cabernet Sauvignon reveals an inviting nose that shows a mix of both red and black fruit. It is dark ruby color in the glass. There is a holiday spice component on the palate – this wine has plenty of life and good acidity. It is certainly a bigger wine than the Sangiovese and the Faraono – but the structure is well managed. This wine is more about elegance rather than power.
Their 2012 Sangiovese was served at the White House for a State Dinner for the Italian Prime Minister in October 2016.
NOTE: this review has been identified as needing an update including current release tasting notes.
—
With such a small distribution, most of their wine is sold direct to consumer. One of their big proponents in the valley has been Dan Dawson, the former founder and owner of Backroom Wines in the city of Napa. They are also selectively available at several restaurants in the Napa area. Visits are for serious wine enthusiasts by appointment. Visit: www.villaragazzi.wine