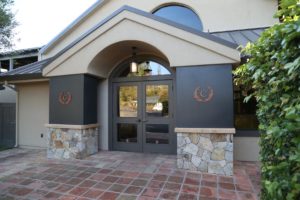 Villa Mt Eden Winery was founded in 1881 definitely making it one of the older operating wineries in Napa Valley. It used to be located where the current PlumpJack winery is now, was purchased in 1986 and the entire wine team was moved to the current location. Villa Mt. Eden is currently owned by St. Michelle Wine Estates out of Washington and this is but one of its wineries in their fairly large overall holdings. The actual winery uses the same winery facility as Conn Creek Winery on the West side of Silverado Trail – just below the fancy Auberge du Soleil hillside resort & spa. Highway 128 runs east at this wineries' doorstep. Conn Creek purchases all its grapes from Napa Growers whereas Villa Mt. Eden purchases grapes from various sources throughout California which as of press time includes Sonoma, Napa, Santa Barbara & Amador counties.
Choose from two tastings, one includes select wines from both Villa Mt. Eden and Conn Creek and the other contains entirely single vineyard Cabernet Sauvignons from Conn Creek. Their 2005 Pinot noir from the Bien Nacido Vineyard in the Santa Maria Valley (central California) is full of mature fruit and not as earthy as some Pinots. Thats not a bad thing! Their 2004 Grand Reserve Napa Valley Cabernet is one of the best Napa Cab quality to price values in the valley. At $18/bottle this is almost the lowest priced Napa Cabernet we have found out of 500+ commercial Napa wine producers. It is an everyday drinking Cabernet, light to medium bodied with nice flavors of plum and hints of toasted oak on the nose. Just a touch of Cabernet Franc rounds out the smooth finish very nicely.
Several Zinfandels are also available for tasting. Their Orange Muscat is probably the lightest Muscat we've tried in the valley and the vintage we tasted was only 4% alcohol. This is definitely the lowest alcohol wine out of the 750+ wineries we have tasted with to date! Sometimes you can get a free tasting coupon if you visit the Conn Creek Website & signup for their mailing list. Another neat feature of this winery is their appointment only barrel tastings which started in mid 2008. Their barrel room contains one barrel from each of the 14 distinct appellations within the Napa area. These barrel tastings represent specific terroirs and is a rare opportunity to taste from all 14 AVA's in one location. We are sure you will notice some differences in the samples based on the terroir and microclimates. Visit: www.villamteden.com
NOTE: based on current releases, this winery no longer seems to produce wines from the Napa Valley.
NOTE: This review has been archived.
REASON: All non Napa wines