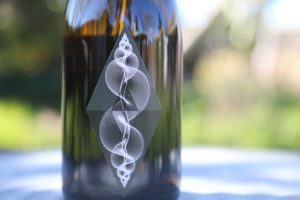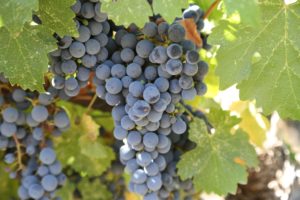 Vice Versa Wine. Founder Patrice Breton was born in Ottawa – during his youth he gravitated towards art, books and later wine. And at age 19 (the legal drinking age in Ottawa is 18) he wasn't able to afford many wines but was able to try a particular sauternes, a 1983 Château Guiraud. Hooked but without a large budget he began to purchase books on wine to further his own education. In his twenties in 1996 he co-founded one of Canada's earliest internet companies – Mediagrif Interactive Technologies (still active, and now a publicly traded company known as mdf commerce). Before he left the company in 2001, it had grown significantly and employed more than 400 people.
He began to collect wines from Bordeaux, Burgundy and from the Napa Valley. His passion for wine became serious – eventually piecing together what possibly was the largest vertical collection of Château d'Yquem on the planet. He began to consider purchasing vineyard property – first in Bordeaux (helped by the fact he speaks fluent French) but later began to look in the Napa Valley. He reached out to winemaker Paul Hobbs in 2001 (with no referral or prior introduction) and Paul agreed to meet; this was Patrice's first time to California. Both men connected over wine helped by the fact that while meeting in Paul's office – Patrice saw an empty bottle of 1992 Château d'Yquem that Paul had enjoyed at a young age with his father.
Paul produced several vintages in the early 2000s with Patrice but were never released. Patrice learned as much as he could during his time directly working with Hobbs. The first commercial release of Vice Versa was from the 2003 vintage. Paul was winemaker from 2003 through 2013. When Paul began to become busier with his own consulting clients and international projects Philippe Melka and his team including winemaker Maayan Koschitzky were brought on board to craft the wines. They made some changes in the winemaking including introducing longer fermentation times, longer maceration times and never using any pressed juice.
In 2011 Patrice met Samantha, a pharmacist from Montreal. They married and eventually moved to the Napa Valley in 2013. While no longer practicing as a pharmacist, Samantha now focuses on helping run Vice Versa with Patrice, oversees their allocation list and hosts visits at Wheeler Farms where they currently produce their wines.
The Vice Versa winemaking philosophy is to produce age worthy wines from premier vineyard sites in the Napa Valley – heavily utilizing some of Andy Beckstoffer's six designated 'heritage vineyards' and to create balanced and polished wines but with great depth. The focus of Vice Versa is on Cabernet Sauvignon. These are wines that showcase the purity of fruit, are balanced and elegant offerings while simultaneously embracing the terroir and soul of the Napa Valley.
In 2019 Patrice and Samantha purchased an 11-acre property bordering Highway 128 north of Calistoga (next to the well-regarded Amoenus Vineyard). The previous owners, Harmon and Joanne Brown of Aril Vineyards had already secured the necessary and required permits to build a winery. The winery will be designed by San Francisco based architectural firm, Lundberg Design. A 5,000 square foot cave will also be part of the winery operations. Ground broke in late summer 2022 with completion estimated by late summer of 2024, hopefully just in time for that year's harvest. We will visit the winery and property once construction is completed.
The site is planted to about 6 acres of Cabernet Sauvignon and an extremely unusual variety for the Napa Valley, just under an acre of Lagrein. The only other producer or vineyard sources we have come across in the Napa Valley for Lagrein are in a vineyard in Oakville owned by Turnbull Cellars and Ballentine Vineyards just north of St. Helena. This variety is native to northern Italy and is related to Syrah and Pinot Noir. There is not much planted in the state of California – the central coast of the state perhaps has the most plantings. And this author was instrumental for another very unique variety in Napa Valley planted very close to their property (Marselan). Mike Wolf manages the Vice Versa organically farmed vineyard.
Select Wines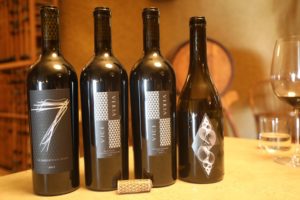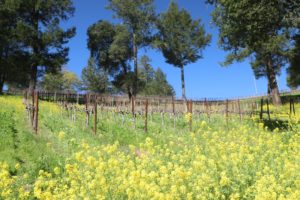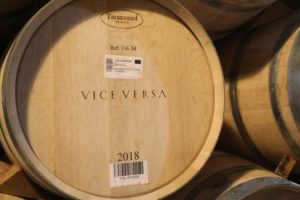 In addition to their Napa Valley Cabernet Sauvignon portfolio Vice Versa produces a Pinot Noir and a Chardonnay from the Platt Vineyard in neighboring Sonoma County. This site is owned by Eric Flanagan of Flanagan Wines.
The 2018 Vice Versa Platt Vineyard Chardonnay is medium gold in color. Smelling the varietal characteristics on the bouquet is a beautiful thing – rather than smelling manipulation. Offers aromas of lemon curd, mandarin orange, pomelo and a floral sweetness of aroma including honeysuckle. On the palate reveals flavors of lemon, lime, kumquat, and green apple. Racy acidity – bright and vibrant this liveliness carries the breadth of the palate through to the mouthwatering finish. While tasting this wine, it was a bit challenging to believe it was grown and produced in California. Went through no malolactic fermentation, was fermented in stainless steel and aged in 50% new French oak barrels. Samantha recommends serving this wine at cellar temperature or slightly warmer.
The 2018 Vice Versa Steltzner Vineyard Cabernet Sauvignon. This wine was sourced from the oldest block of Cabernet Sauvignon in the Steltzner Vineyard (Stags Leap District) – from the same vines that were used in the 1972 Clos du Val Cabernet Sauvignon that was entered in the Judgement of Paris tasting in 1976. Well extracted, like their other Cabernet Sauvignon wines, this wine is very dark in color. Offers aromas of plum, blackberry and boysenberry, a floral note of dried rose petal and a very subtle note of tar. Let this wine continue to breathe – the fruit keeps evolving nicely as it opens. Features a powerful finish with darker spices, hints of pepper and broad-based tannins – all complemented by a mouthwatering acidity.
The 2018 Vice Versa Beckstoffer Las Piedras Vineyard Cabernet Sauvignon shows aromas of dried rocks, some minerality nuances along with a pretty perfume elegance including lavender. Very dark with aromas of blackberry and plum. There are no outlying ridges on the tannins – with a medium grip, almost gravely and slightly earthy in their feel, they are very long lasting. Also hints of old cedar box and tobacco leaf deep into the finish. The finish is juicy and is anchored by mouthwatering acidity.
The 2019 Vice Versa To Kalon Vineyard (barrel sample) is already an exceptional wine. Patrice sourced from To Kalon from 2004 through 2009 and in 2014 was offered access to a superior block within this historic vineyard along with additional grapes and select Cabernet Sauvignon clones. Shows dry earth on the bouquet – we immediately thought of the smells from the first rain falling on a warm late fall day on dry soils. As the wine breathes, reveals some pretty baking spice nuances. Rich across the palate with flavors of blackberry and boysenberry. A noteworthy feature is the impressive density on the finish – certainly oak tannins still in its youth and straight out of the barrel but also plenty of robust grape tannins. A hedonistic showing that should be in the library of serious collectors of Napa Valley Cabernet Sauvignon.
These are not the only wines that Vice Versa produces – other exceptional offerings in their portfolio are a single vineyard designate Beckstoffer Dr. Crane and several BBS designated wines (essentially the best barrel selection from single vineyards). They also produce a small-lot Cabernet Sauvignon called Mysterons. A larger produced Napa Valley designated wine is primarily made for distribution.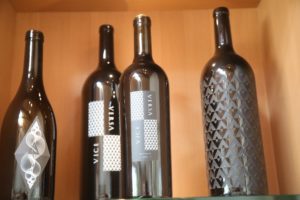 Their most coveted and limited production wine is called the Magnificent Seven and is a rare lot vineyard and barrel selection of fruit from several of Beckstoffer's heritage vineyards. This is an uncommon vineyard blend as nearly all producers who source grapes from Beckstoffer will vineyard designate their wines or produce a Beckstoffer single vineyard wine (even if the vineyard name does not show on the label). The story behind the name is intriguing. Patrice saw the band The Clash in Ottawa when he was young – he was in the front row section and was soon caught up in the mosh pit and during the aggressive jostling went unconscious for a brief moment. He woke up and found that he was on stage with the group while they were performing The Magnificent Seven. And the label is made up of seven silver 7's grouped together – each number 7 hand-drawn by one of the core members of the Vice Versa team.
—
Their labels have been designed by two of the best in the business – first by Chuck House of Icon Design Group and a more recent completely different iteration by Napa based Richard Von Saal of VonSaal Design which ties in an image relating to 'vice versa' using curvilinear lines while also representing the Fibonacci sequence (where each subsequent number is the addition of the two preceding ones, starting from 0 and 1).
Tastings are for serious wine enthusiasts and collectors and are generally hosted by either Samantha or Patrice. Nearly all of the wines are sold direct to consumer, but they do have a small percentage of wine selectively distributed in certain states including Florida, North Carolina, New York and Texas. Locally one can sometimes find the wines at Auberge du Soleil, Press Restaurant, Gary's Wine – all in St. Helena and V Wine Cellars in Yountville. For more information or to join their allocation list, visit: www.viceversawine.com