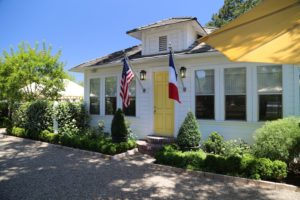 VGS Chateau Potelle was founded in 1983 by Jean-Noel & Marketta Fourmeaux. Today Jean-Noel is sole proprietor. Jean-Noel & Marketta came to the Napa Valley in 1980 after the famous Paris tasting of 1976 – the French government wanted them to research Napa Wineries and report back on their findings. They decided against returning to France since they fell in love with Napa Valley and instead opened their own winery – which was located on the steep slopes of Mt Veeder for many years until it was sold in 2007 to Kendall Jackson. We visited the old site several times – it was a bit of schlep to get up there – with beat up and very narrow windy mountain roads. The old tasting room had character – the 'new' tasting room has contemporary.
Their original introduction with Mt. Veeder was in the early 1980′s when they were making the Chateau Potelle wine at Hess Collection.
Wanting to take some time off and re-energize after the sale of the winery and health issues, one would have not thought twice if Jean-Noel would have wanted to spend some time on a tropical island relaxing on the beach with a bottle of rum in hand (perhaps an island like Young Island in St. Vincent & the Grenadines in the southern Caribbean). Rather, he opted for the sensory excitement of India, where he spent a number of months on a spiritual trek mainly walking and also bicycling over 2000 miles from the south to the northern part of the country.
After returning from the "trek of a lifetime" Jean-Noel rebranded Chateau Potelle, located new vineyard sources (primarily from the hillsides) and decided to scale their production down. He went from 20,000 cases to about 8,000 cases today. VGS is an acronym for a really "un" Napa sounding name – Very Good "Sh**"!. The name of the winery however, is rooted in history and French wine tradition; it is named after the original 500+ year old Chateau Potelle in France.
Today Jean-Noel is their "wine stylist" – while one of their long time winemakers is in charge of the day to day activities. Jean-Noel takes a minimalist approach to their wines – using natural yeasts for fermentation, focusing on mountain vineyards that develop great natural accidity and showcase where the wines originate from – highlighting the fruit rather than oak. The focus of Chateau Potelle is to create wines that are age worthy, continue to develop additional complexities and nuances over the years and very importantly -are food friendly.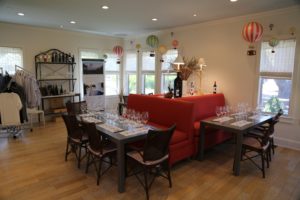 Chateau Potelle concentrates their production on two main series of wines, their primary VGS label and the VGS Explorer series which focuses on unique blends and varietals that are not as well known as say Cabernet Sauvignon and Chardonnay.
Cinsault is not a variety you find in Napa – rather it is more commonly grown in the Languedoc-Roussillon of France or in Algeria or Morocco in Northern Africa. The team at VGS attempted to locate a Cinsaut vineyard in Napa but were unable to locate one. Rather they turned to neighboring Sonoma County for this varietal – sourcing it from the Sonoma Coast. They bottle it in a unique square bottle as a rosé. The intensity of the skins from Cinsault would quickly turn a wine dark red with much skin contact – so to make this rosé, they quickly pressed the juice off before fermentation.
The 2015 Riviera vintage is salmon orange in the glass and features an elegant lighter fruit driven bouquet of strawberry, mineralities and dried rose petal. On the palate the wine has good weight with a creamy viscosity. The finish is rich showing nuances of white pepper and raspberry. Good crispness and flavor.
An extremely unique wine that was made one time only is the 2013 50/50 Cuvée. This wine commemorates April 16, 2016 which is the date that Jean-Noelle calculated to represent exactly 50% of his life in the United States and 50% of his life in France. Simply being aware of that particular defining date is an accomplishment in awareness but producing a wine to represent this milestone also posed an interesting challenge.
Aside from the time spent making this wine, VGS spent two years dealing with logistics and legalities in order to get the wine ultimately bottled and approved for sale. They turned to an estate in St. Julien, Bordeaux France for 50% of the red varietals (Cabernet Sauvignon, Merlot and Malbec) and used the other 50% (Cabernet Sauvignon, Cabernet Franc and Petit Verdot) from Mt. Veeder. Noted International blender, Bordeaux-based Michel Rolland helped put the Bordeaux blend together. 1200 bottles of wine in Bordeaux were sealed and then shipped to the Napa Valley. All 1200 bottles were then opened and blended with the Mt. Veeder wine.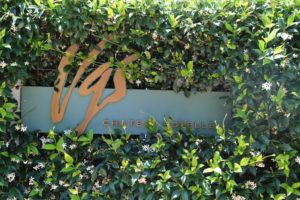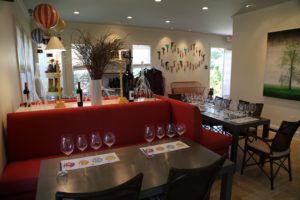 The resulting wine is a harmonious blend between the more robust Mt. Veeder fruit with the more restrained Bordeaux fruit. The 2013 vintage is dark ruby in color and shows darker fruit on the bouquet along with cigar smoke, dark chocolate, a mushroom nuance and ever so faintly in the background, an elegant herbaceous note. The nose is earthy. The palate is well balanced showing more red fruit then dark fruit – great acidity and dusty earthy tannins linger along with a slight tartness. Very refreshing on the palate.
The 2010 VGS Explorer Sauvignon Blanc is sourced from Pope Valley in eastern Napa County. A touch of Semillon helps round out the mid palate and adds additional weight and floral characteristics to the bouquet. This wine shows some nice mineralities, tropical notes and lingering notes of apricot on the finish. Oh and a first of its kind that we've seen in Napa – the bottle is square!
The VGS Explorer 2007 "The Illegitimate" is a unique blend of Cabernet Sauvignon, Merlot, Zinfandel and Syrah (the blend changes each year). Who knew blending certain varietals could result in jail time – well not in the USA, but in France where wine regulations in this regard are fairly strict. As Chateau Potelle says in regards to this wine, "it is for the wine drinker used to taking the road less traveled"! The Zinfandel certainly makes its presence known in the bouquet – rich and ripe and the fruit dominates with undertones of cedar. The entry is soft and the mouth feel plush and rounded with notes of red fruit including red cherry and cranberry. The tannins carry some weight through a long finish.
Their Zinfandel is one of their signature wines and their 2009 delivers in a good way – this mountain grown wine has an elegant but rich aromatic bouquet including red fruits with notes of fine chocolate as the wine opens. Layers of fruit flavors show on the palate with an enticing complexity that also includes baking spices and a touch of white pepper. The tannins are well managed and complement a long balanced finish.
The 2007 Cabernet Sauvignon includes 10% Merlot – the fruit for this wine comes from about 1600 to 1800 feet on Mt. Veeder. This wine is about the red fruit – red cherry and even hints of red licorice. The grapes are mountain grown but with tannins atypical of mountain wines. Rather they are well integrated and for a relatively young wine, is already fairly well balanced.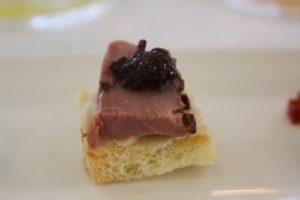 Their only non-Napa wine is a Late Harvest Zinfandel (non fortified) sourced from a 200 acre property in West Paso Robles that Jean-Noel owns. Note the cougar prints that are on some of their labels and wine glasses – they were taken from an imprint of a cougar footprint found on Mt. Veeder.
During our work on this project we hear of a number of "plans" to open stand alone tasting rooms in the valley. Most never materialize. When we first heard of the plans for VGS to open their open tasting room on the valley floor we knew they were serious. Consider it a 30 year birthday present to themselves, their fans, and a physical presence along busy highway 29 to attract new consumers.
This elegant and picturesque stand alone tasting room is located at the corner of Dowdell Lane and Highway 29, just south of St. Helena and opened in April 2013 (look for the French and American flags in front). You don't just come here to taste the wines – as with the tastings they offer high on Mt. Veeder – the wines here are paired with delicious nibbles – prepared by La Toque Restaurant in the city of Napa. These tastings are hand selected to match each of the wines served.
There are no cash registers inside – orders are taken entirely by iPad. Several rooms are available for more intimate tastings; walkins can also stop by for a tasting – with a tasting bar setup near the main entrance. If the weather is warm – you can taste outside in their small garden courtyard area – merely steps from the tracks that the Napa Wine Train uses.
Special mention must be made about their "grape picking knife" art display hanging on the wall as you enter the building. The artist is from France and spent a week installing this. It is a tribute to Jean-Noel's heritage – the knives were used in France during many harvests – one is even 400 years old. The artist added his own touch – creating colorful plastic "knives" interspersed with the real ones.
Tastings are also offered by prior appointment for serious wine enthusiasts and club members during good weather months (typically April-September) at 1800 feet in the Mt. Veeder appellation. The site is next to a small redwood grove adjoining the primary vineyard where they source much of the fruit from for their red wines. As expected the views here on a clear day are expansive.
Despite the diversity of excellent food in the Napa Valley, it is somewhat rare to find unique culinary tastings in the vineyards such as the ones Chateau Potelle offers. They have partnered with several restaurants to offer premium lunches including their Epicurean experience in which you are served a 5 course lunch from the Michelin starred La Toque Restaurant, based in the city of Napa. Or choose lunch menu's from the Oakville Grocery or from "the Iron Chef's" Morimoto Restaurant in the city of Napa (note, these culinary sources are subject to change over time).
For more information or to join one of their wine clubs, visit: www.vgschateaupotelle.com
Exterior

Interior

Mt. Veeder Vineyards