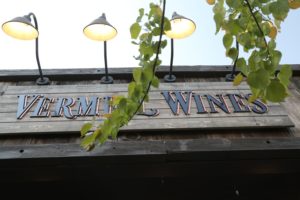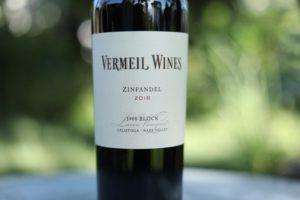 Vermeil Wines was founded by Dick and Carol Vermeil, founding winemaker Paul Smith (no longer making the Vermeil Wines) and several investors. Paul has a long history in Napa Valley working at prestigious wineries such as Opus One, Robert Mondavi and Joseph Phelps. For a number of years, the Vermeil wines were produced at OnThEdge Winery on Spring Mountain. The name of their original winery property was chosen because it was located right on "the edge" of the Napa / Sonoma County line on top of the spine of the Mayacamas mountain range which separates both counties.
The winery itself was located off of Langtry Road not far from Cain Winery. The winery sold several years back and then unfortunately a newly built winery on site burnt down in the Glass fire of 2020. Presently Vermeil does not own a physical winery; as of our last update they were producing their wines at either Tamber Bey or Mending Wall Winery, both of which are located win the northern part of Napa Valley.
Vermeil purchases grapes from long time family owned and farmed vineyards. Much of their fruit source comes from the dry-farmed historic Frediani Vineyard located slightly south of Calistoga on the valley floor next to the Silverado Trail. Dick's ancestors used to own the Frediani Vineyard.
Vermeil Wines produces around 3,000 cases a year but from this they make a variety of different wines. As a result, many of their wines are produced in very small quantities.
Dick's roots in Napa Valley are deep; he was born and raised in Calistoga; his father Jean Louis Vermeil built racing cars in the 1920s and was associated with various racing and motorsports organizations for decades. In 1995 he was inducted into the National Sprint Car Hall of Fame. For a short while Dick's great-grandfather Garibaldi Iaccheri operated the now closed Calistoga Wine Co (the old sign and production buildings are still standing). And in another tie to the Calistoga and the Vermeil family, for many years every Labor Day weekend, the Louie Vermeil Classic was held at the Calistoga Speedway (sprint car races and other racing events).
Dick graduated from Calistoga High School in 1954 and played quarterback at Napa Valley College for the 1954 and 1955 seasons. His nickname was known as the Calistoga Comet. The team at Napa Valley College was then known as the Chiefs – incidentally the same name as the NFL team he later coached from 2001-2005. He finished his collegiate football career at San Jose State. He even coached the football team at Napa College for one year in 1964. Dick's storied football career was long; he made two trips to the Super Bowl. His first Super Bowl was in 1980 with the Philadelphia Eagles, losing to the Oakland Raiders and again 20 years later, winning the Super Bowl in 2000 with the St. Louis Rams. And in 2022 Vermeil was elected to the NFL Professional Hall of Fame.
With a heritage that encompasses both French and Italian roots, and given his place of birth, it is no surprise then that after a successful football career, Dick turned to wine. The first wine bottled under Dick Vermeil's name was in 1999 – the Jean Louise Vermeil Cabernet Sauvignon by OnThEdge Winery.
Select Wines
Several of their wines are named for the year when particular vineyards were first planted including their 1908 Zinfandel bottlings from the Luvisi Vineyard in Calistoga. While there is no specific defined age to be able to call a wine, 'old vine', this most certainly is considered "old vine zin"!
The 2018 Vermeil Wines Zinfandel 1908 Block Luvisi Vineyard, Calistoga Napa Valley is medium ruby in color; offers a pretty union of both fruit and darker spices. Shows aromas of red cherry, currant, leather and red licorice with some savory notes on the bouquet including dried herbs and sage. As the wine opens a subtle hint of mocha shows deeper in the aromatics. The palate offers mouth filling fruit with a juicy profile. The texture is soft and plush with rounded, lighter and slightly dusty tannins which are integrated seamlessly into the finish along with lingering notes of dried tobacco leaf.
It is interesting to note that the vines in this section of Luvisi Vineyard are spaced 7 feet by 7 feet – a spacing wide enough to allow for horse drawn plows to move up and down the rows. This is considered 'old school' spacing; modern day narrow tractors allow vine spacing to be much closer. These vines are head-trained and dry farmed. The Luvisi Vineyard is currently owned by brothers Don and Clarence Luvisi whose family purchased the site in the late 1800s.
Frediani Vineyard, Calistoga

A vertical tasting of Zinfandel (depending on availability) may be available at the Vermeil downtown Napa tasting room; despite the same vineyard source and winemaking techniques, it is intriguing to note subtle nuances in aroma and flavor depending on the actual vintage.
The 2003 Vermeil Wines Late Harvest Zinfandel is not an overly ripe, viscous, or prune-like late harvest style of wine often produced in California, rather the sugar level is controlled with just the right amount of tartness from the wine's acidity to make this wine an intriguing choice to pair with food including spicy cuisine. The well-structured finish shows noticeable tannins advantageous for pairing this "dessert" wine with a protein-based meal (to help cut through the tannins).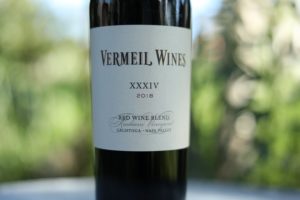 The 2018 Vermeil Wines XXXIV Red Wine Blend, Frediani Vineyard Calistoga is dark ruby in color; offers fruit forward aromatics of ripe blackberry and boysenberry jam with complementing notes of mocha, espresso and brown chocolate. Smells like dessert in a glass. Offers flavors of black cherry and blackberry with a mouth filling richness without any heavy weight of tannins. Lingers with a variety of baking spices, darker fruits and polished well-integrated tannins which are dark, gravelly and chalky in texture. This wine is certainly a crowd pleaser for those who enjoy plenty of fruit and it drinks easily in its youth. It is a blend of Cabernet Franc, Cabernet Sauvignon, and Petite Sirah and its name is in honor of Coach Vermeil's Super Bowl win, coaching the St. Louis Rams in 2000 over the Tennessee Titans.
Over the years from a number of visits and tastings at Vermeil Wines, several wines have stood out including a softer styled Charbono, an uncommon variety in Napa Valley which requires a very specific growing climate. There are just a few wineries making this variety in Napa Valley; Charbono production is centered here because of the northern valley's unique growing climate. In the summer, this variety thrives on very hot days contrasted with much cooler nights – often with 40-to-50-degree temperature swings. Charbono can have a very distinctive taste that can be described as rustic or gamey at times.
The Vermeil Wines Charbono has some of these rustic qualities, but also offers delicious fruit, soft tannins and a lengthy finish. The Vermeil Syrahs are generally juicy in style with ripe concentrated fruit and very plush mouth feels.
Their Cabernet Sauvignon is named Jean Louis Vermeil after two of Dick Vermeils' great grandfathers. Dick and his wife helped hand craft this particular wine. This Cabernet Sauvignon has already received some very good press and high ratings by respected wine critics.
Napa Tasting Room/Lounge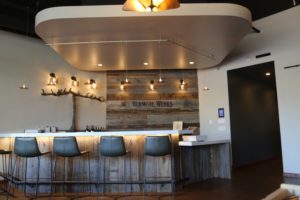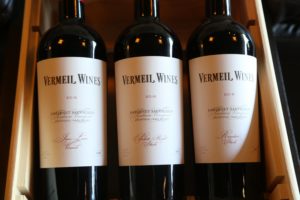 In summer of 2013 Vermeil opened a prominent tasting room in downtown Napa on First Street near the intersection of Main Street. A small open-air parking lot is located around the corner on Main Street within a very short walk of the tasting room but is often full on the weekends. Other parking lots are located within several blocks.
This spacious facility has a bar for walk in tastings, a sit-down area with additional tasting space and a room that can be reserved by groups for private tastings. Weather permitting, an outdoor fenced off space also is also used to host tastings. Initially a wide range of Dick's football memorabilia was on display, lining one of the walls with historic photos and articles about his storied career. Over time, the interior décor and focus has become more on their wines rather than Dick's sports career. Still, it's no surprise that a wide screen monitor is always tuned to various sports games greeting guests as they enter the tasting lounge. The space is open till 10pm or 11pm depending on the day of the week; the tasting room takes on more of a lounge atmosphere later in the evening. Numerous restaurants and other tasting rooms are easily within walking distance.
Some of Dick's sports memorabilia on display include several footballs from his playing career and a real looking golden replica of Dick's winning super bowl trophy from his win in 1999 with the St. Louis Rams. An autographed movie poster of "Invincible" is also part of their collection. This movie is based on a true story of an out of work 30-year-old who makes the Philadelphia Eagles in 1976 during an open tryout held by then coach Dick Vermeil.
Calistoga Tasting Room (now closed)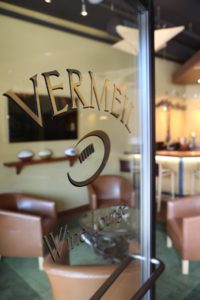 Their Calistoga tasting room was such a part of the Calistoga landscape for many years that it was a bit of a shock to discover that the building was for sale in 2019. This tasting room opened in 2002 initially as OnThEdge Winery before much later converting to Vermeil Wines making this one of the older tasting rooms in Calistoga before it closed permanently in early 2019. It is now used by another Napa based winery.
The Vermeil tasting room was one of the original tasting rooms in Calistoga before numerous tasting rooms later opened. The Vermeil tasting room was open to the public and walk-ins were welcome. A nice perk of a visit to their Calistoga tasting room was Vermeil often had older vintages available for tasting; this is fairly uncommon in Napa Valley where most tasting rooms only pour current releases during their general tastings.
The tasting room was located directly next to the Napa River. Their tasting bar used to be located within the Hurd Beeswax Candle store which moved to the town of St. Helena and ultimately closed down.
At one point their Calistoga tasting room featured "bee doors" which was one of the more interesting attractions displayed in a Napa Valley tasting room. Built inside of the building's wall was a live colony of buzzing honeybees very much at work in their hive.
We keep these photographs here for historical reference.

For information about Vermeil wines, their city of Napa tasting room, or to join one of four membership offerings, visit www.vermeilwines.com