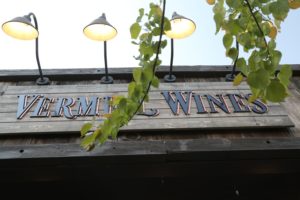 Vermeil Wines is owned by winemaker Paul Smith – MarySue Frediani-Smith, Jim Frediani, Jeanne Frediani, Dick Vermeil and Carol Vermeil. Paul has a long history in the Napa Valley working at prestigious wineries such as Opus One, Robert Mondavi and Joseph Phelps. Wondering about the unique winery name of where their wines are produced "On the Edge Winery"? We were until we found out its based on the fact that their original winery property was located right on "the edge" of the Napa / Sonoma County line on top of the spine of the Mayacamas mountain range which separates both counties.
The winery itself was located off of Langtry Road not far from Cain Winery in the midst of the Spring Mountain District. Today Vermeil does not own a physical winery, as of our last update they were producing their wines at both Tamber Bey and Fairwinds Etate (both wineries located within the Calistoga sub appellation).
Much of their fruit source comes from the dry-farmed very historic Frediani Vineyard located on the valley floor just off of the Silverado Trail – a bit south of Calistoga. Vermeil Wines produces around 3,000 cases a year but from this they make an unusually high variety of different wines. As a result many of their wines are produced in very small quantities.
Frediani Vineyard, Calistoga

Famed football coach Dick Vermeil was born and raised in Calistoga and at one point coached at Napa College in the south part of the valley (Dick has made two trips to the Super Bowl). With a heritage that straddles both French and Italian, and given his place of birth, it is no surprise then that after a successful football career, Dick turned to wine. He is friends with the Frediani's and originally teamed up with OnThEdge Winery to produce his own label (Sauvignon Blanc, Zinfandel, Proprietary red and a Cabernet Sauvignon). The first wine bottled under Dick Vermeil's name was in 1999 – the Jean Louise Vermeil Cabernet Sauvignon by OnThEdge Winery.
And in another tie to the Calistoga and the Vermeil family, every Labor Day weekend, the Louie Vermeil Classic is held at the Calistoga Speedway (sprint car races and other racing events).
Napa Tasting Room/Lounge
In summer of 2013 Vermeil opened a prominent tasting room in downtown Napa on First Street. This spacious facility has a bar for walk in tastings, sit down for a more relaxed tasting and a room that can be reserved by groups for private tastings. Initially a wide range of Dick's football memorabilia was on display, lining one of the walls with historic photos and articles about his storied career. Over time, the interior decor and focus has become more on their wines rather then Dick's sports career. Still, its no surprise that a wide screen monitor is always tuned to various sports games greeting guests as they enter the tasting lounge. The space is open till 10pm or 11pm depending on the day of the week – the tasting room takes on more of a lounge atmosphere later in the evening. Numerous restaurants and other tasting rooms are easily within walking distance of their tasting room.
Some of Dick's sports memorabilia on display include several footballs from his playing career and a real looking golden replica of Dick's winning super bowl trophy from his win in 1999 with the St. Louis Rams. An autographed movie poster of "Invincible" is also part of their collection. This movie is based on a true story of an out of work 30 year old who makes the Philadelphia Eagles in 1976 during an open tryout held by then coach Dick Vermeil.
Calistoga Tasting Room (now closed)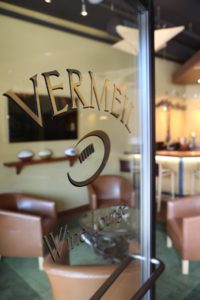 Their Calistoga tasting room was such a part of the Calistoga landscape for many years that it was a bit of a shock to discover that the building was for sale in 2019. This tasting room opened in 2002 initially as OnThEdge Winery before much later converting to Vermeil Wines – making this one of the older tasting rooms in Calistoga before it closed permanently in early 2019. The Vermeil tasting room was one of the original tasting rooms in town around the turn of the century – before numerous tasting rooms opened a number of years later. Vermeil Tasting Room was open to the public and walk-ins were welcome. A nice perk of a visit to their Calistoga tasting room was Vermeil often had older vintages available for tasting; this was fairly uncommon in Napa where most tasting rooms only pour current releases during their general tastings.
The tasting room was located directly next to the Napa River which runs through town. Their tasting bar used to be located within the Hurd Beeswax Candle store which moved to the town of St. Helena and ultimately closed down. Guests who visited the tasting room prior to 2009 would be pleasantly surprised by the interior after the interior was remodeled – the inside was opened up with the focus being on the wine rather then all the trinkets and collectibles for sale prior to the remodel.
At one point their Calistoga tasting room featured "bee doors" (one of the more interesting attractions displayed in a Napa Valley tasting room). Built inside of the building's wall was a live colony of buzzing honeybees very much at work in their hive.
Select Wines
Several wines have stood out from our select tastings over the years. Vermeil produces an excellent softer styled Charbono, an uncommon variety in the Napa Valley which requires a very specific growing climate. There are just a few handful of wineries making this variety in the Napa Valley and because of the northern valley's unique growing climate Charbono production is centered here. In the summer, this variety thrives on very hot days with much cooler nights – we've seen 50 degree temperature swings between night and day in the Calistoga area. Charbono is a unique grape, one that can have a very distinctive taste that is almost wild or gamey at times.
The 2005 Vermeil Wines Charbono has some of this but also delicious fruit, soft tannins and a wonderful lingering finish. Their Syrahs are juicy in style with ripe concentrated fruit that makes for a very plush big mouth feel while still retaining a very nice softness. The 2004 Vermeil Wines Syrah shows excellent fruit with a core of black fruit including blackberry and black currant.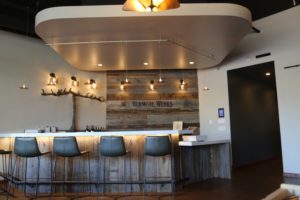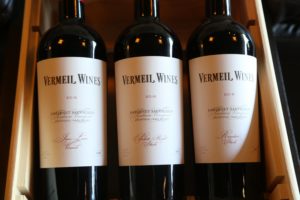 The tasting room may offer a vertical tasting of Zinfandel (depending on availability); one will pick up subtle nuances in aroma and flavor depending on the actual vintage. Their Cabernet Sauvignon is named Jean Louis Vermeil after two of Dick Vermeils' great grandfathers. Dick and his wife literally helped hand craft this particular wine. In an interesting twist of fate, Dick's ancestors used to own the Frediani Vineyard which supplied OnThEdge Winery most of their fruit. This Cabernet Sauvignon has already received some very good press and high ratings by respected wine critics.
Several of their wines are named for the year when their vineyards were first planted including the 1908 Late Harvest Zinfandel harvested from 100+ year old Zinfandel vines. Yes, this is definitely considered "old vine zin"! Their 2003 Vermail Wines Zinfandel is certainly not the overly ripe, viscous, prune-like late harvests often produced in California, rather the sugar level is controlled with just the right amount of tartness to actually make this wine OK to pair with food including a variety of steaks and or spicy food. The well structured finish shows good tannins and is part of the reason why this "dessert" wine can be paired with a meal (to help cut through the tannins).
For information about the Vermeil wines and their city of Napa tasting room, or to join their wine club, visit the website: www.vermeilwines.com
Tasting Room, Napa

Old Tasting Room Calistoga We keep these photographs here for nostalgia purposes.