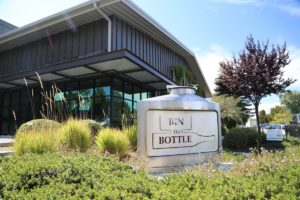 Vellum Wines is run by two individuals with a passion for wine – winemaker, Karl Lehmann (graduate of U.C. Davis Viticulture and Enology program) and Jeffrey Mathy who has an advanced certification from the Wine & Spirits Education Trust in London and has managed wine programs for the American Center for Wine Food and the Arts.
Jeff enjoyed a career mountain climbing for a number of years and has reached the summit of six of seven of the world's highest mountains on every continent. He quickly realized that climbing tall mountains boasting a serious pedigree required some serious cash. He decided to enlist the help of corporate sponsorship – this was not easy: after targeting and researching potential companies for sponsorship – he started calling them directly. Climbing the world's tallest mountains is no easy feat but seeking corporate sponsorship as a 22 year old posed a challenge in its own right. After 200 phone calls he finally received his first returned phone call which ultimately turned into a successful sponsorship.
Like their wines that are built to improve and can handle significant aging, Jeff and his partner did not enter the wine industry as a short term business. The dedication and perseverance that Jeff demonstrated during his mountain climbing career is something you cannot teach. These are characteristics that are essential to starting, building and growing a successful wine brand.
Jeff received a number of wine related advice when he and Karl started their brand. "Be the cheapest or be the best" – it is Napa of course and their wines are all hand crafted with the goal to produce a premium product. Another quote of wisdom came from a president of a Napa winery who Jeff met on one of his climbs – he simply said "do not die" – wisdom that makes sense considering their time together on the mountain, but he was actually referring to a building a new wine brand. It takes time – from speaking to vintners on this project it usually takes at least 10 years to create a viable wine brand. If you are making premium wine it takes time to get noticed by critics, the public, build a wine club/mailing list or build distribution, if that is your business model.
Jeff has certainly come full circle – from living out of a backpack and trying to enjoy sometimes palatable food at insane heights during his days mountain climbing to living in wine country surrounded by good food – and now a part of its premium wine industry. Vellum Wine Craft was founded in 2006 and their first release was from 2007.
Vellum's primary focus is on producing a Bordeaux styled wine with ageability, yet be approachable upon release, containing lower alcohol and a palate that has mouth watering acidity. Their winemaking is old world style – applied to Napa fruit. Early in the project they located a 2-acre vineyard in what is now the Coombsville appellation (north east of the city of Napa). This vineyard was in its 7th leaf at the time but the fruit had never been sold to other vintners or ever used for making wine. Interestingly enough, every harvest went into making home made jam! And it was good jam, according to Jeff.
Wines/Winemaking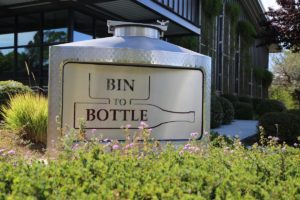 But it is Napa after all and harvests of wine grapes won't be turned into jam for very long. After Jeff and Karl were introduced to this vineyard, they built a solid relationship with the grower that has since evolved into a long term lease on the vineyard's fruit. Hang time and development of flavors in the grapes from this property is long – each of their harvests has been the last few days of October. One might think the sugars would be much higher by this time of year but to date they've been able to pick around 23 brix. This vineyard provides the fruit for their flagship Napa Cabernet Sauvignon.
Their wines are bottled unfined and unfiltered (including their new Sauvignon blanc with Semillon blend). Their approach to winemaking is as minimal as possible preferring to showcase the vineyards' fruit rather than their own winemaking style.
The 2008 Vellum Cabernet Sauvignon is also blended with smaller amounts of Petit Verdot and Merlot. The wine is 13.8% alcohol. The bouquet is very aromatic with floral notes, cassis and as it breathes additional aromas of soil and hints of cedar show. The palate is soft but not overly plush and has a nice balance between fruit, alcohol, oak and acidity. The pleasing finish lasts for some time and showcases fine grained delicate tannins.
Several wines are made entirely for their wine club and are always made in small quantities (usually just several barrels). The 2009 Napa Valley Black is one of these – named as such for the intensity of color that the prominent variety in this wine features – Petit Verdot.
This bouquet initially shows nice notes of earth, dustiness and a gravel component – with that said, the fruit is definitely present and shows more prominently as the wine evolves in the glass. A core of high toned fruit shows throughout the palate lingering on the finish with notes of red currant and red cherry. As in their Cabernet Sauvignon, one of the hallmarks of their wines show through – mouth watering acidity – especially on the finish. This wine is structurally bigger then their Cabernet Sauvignon and the finish lingers for some time.
The 2009 Vellum Cabernet Sauvignon had been bottled merely weeks before our tasting – but aromatically it was already showing well with notes of red licorice, cassis and red currant.
The name "Vellum" ties in nicely with their style of wines. Vellum is made from animal skin, can age very well and its earliest use dates back thousands of years. Important books, treaties and document have been written on vellum including the Bible, the Magna Carta and the Declaration of Independence. Vellum uses some of the best corks you can find for aging – they are longer than the average cork to match the long neck of the bottle.
Much of their distribution is direct – through their mailing list and wine club. Word of mouth has been largely responsible for their growth although recent recognition includes came from winning medals at the World Wine Awards presented by Decanter Magazine.
NOTE: possibly no longer producing, current releases listed on website date from 2014 vintage. We will keep a close eye on this producer and will update or archive this review once we have more information.