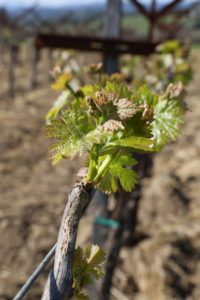 Veedercrest Vineyards – There are a number of wineries that come and go in the valley and then there are those who were well regarded and then for a variety of reasons no longer produced wine commercially. Take for instance Veedercrest – this winery released their first vintage in 1972 and produced wine until the mid 1980's. Then for twenty years no wine was released. However, it was resurrected under the leadership of sole proprietor Ron Fenolio with his first "new" release coming in 2005. He began the label again as a tribute to his friend and co founder Al Baxter, a tribute to Veedercrest's unique history and to both his and Al's passion for wine.
Al Baxter who did not have a background in wine, (had a PHD from UC Berkeley in Philosophy and was also an accomplished mountaineer) started making wine in his basement. For several years he made this home wine; then renowned winemaker and viticulturist André Tchelistcheff heard of Al's home wine, invited himself over to Al's house and tasted through a few samples. Realizing the quality he was tasting he encouraged Al to make wine commercially. Veedercrest was then co-founded by Al and Ron.
Al was a pioneer in the California wine industry – making California's first true Bordeaux blend with all five varietals, (at the time he was only able to located one acre of Malbec in the entire state!), making fruit forward wines, and giving consumers the "full story" on their front labels. By this he would list the full varietal descriptions and vineyard name and or location. Today Veedercrest still lists three core components to the wine on the front label: the residual sugar, alcohol and total acidity. As Ron says, "I want people to know what they are drinking". The label other than the word "vineyards" which was removed is exactly the same as what was used when they started in the early 1970's.
After earning excellent reviews in the early 1970's Steve Spurrier (the organizer of the famed 1976 Judgment of Paris tasting) selected Veedercrest to be one of the representatives in the tasting (their Chardonnay). This wine was was deemed the most "French" of all the wines in the competition. After this competition Veedercrest's wines were noticed on an international scale, served at several White House Dinners and to Pope John Paul II when he visited Philadelphia in 1979.
Ron's family has been making wine for over 130 years. His great grand parents farmed vineyards in Northern Italy and his grand parents owned a farm in Contra Costa County (San Francisco Bay area). When wine is in your blood the passion for the industry runs deep. One of his distant relatives owned Charles Krug Winery in the 1920's (before the Mondavi's took over ownership). Five of Ron's cousins own or make wine in California and he's been involved in a number of wineries over the past 40 years including Jacuzzi & Cline Cellars in Sonoma County.
The style of wine has changed since their original vintages. Today under Ron's direction, his wines are aged a minimum of 36 months up to 54 months in new French Oak. This is certainly a long time to be in oak but Ron wants the wine to have integrated and smoothed out for the consumer by the time it is released. Ron's wine influence in part comes from many trips to Italy (tasting & comparing various wines and meeting with local winemakers) and a number of Italian wine regions where it is actually against the law for a wine to be released until it is at least 4 years of age.
There are some pitfalls to aging wine so long. First you have to be careful of the coopers you use so as not to allow the oak to completely dominate the wine. This longer period of aging before release is certainly not the greatest business model for cash flow. And when Robert Parker and other reviewers are tasting current releases, Veedercrest's wines are still in the bottle!
Their total current production is several thousand cases. Today Veedercrest makes seven Cabernet based wines, two Chardonnay's with plans to release their first Pinot Noir. Since oak is such an important component of aging their wines, choosing the types of coopers is very important. Having a number of coopers to play with is like their "spice rack" – and each adds certain nuances to their wines.
With oak being such a critical part of aging their wines it might come as a surprise that their Chardonnay sees no oak and also does not go through malolactic fermentation. Ron wants to create a food friendly Chardonnay one that goes with some of his favorite dishes, fillet of sole and oysters. The 2010 Chardonnay has a very clean nose with a rounded, creamy expressive mouth feel. Notes of Meyer lemon and tangerine continue mid palate to the finish. The wine sits on the lees where it is stirred; this in part helps contribute weight and a rounded mouth feel.
Their Vintner's Reserve wines are aged a minimum of 4 years. The 2005 Vintner's Reserve Cabernet Sauvignon was aged for 54 months on new French oak. That's 4 and a half years – plus time in the bottle before release. This is a certainly not your quick to market red wine! There is a sweet core of fruit, raspberry and plum on the bouquet with nuances of spices – including white pepper as well notes of mocha. The bouquet shows a number of nuances and baking spices contributed from the different coopers used during the aging. This wine is very approachable – it is soft on the entry with a plush mouth feel with lingering fairly smooth wood and fruit tannins anchoring the finish.
The 2006 Mt. Veeder 100% varietal Cabernet Sauvignon is from a vineyard at about 1500 feet on the slopes of Mt. Veeder. Its 15.4 % alcohol with good color – it is very dark in the glass. The acidity is noticeably higher than the 2005 Vintner's Reserve Cabernet Sauvignon. The nose is somewhat brambly, with darker fruit showing – blackberry and black cherry and even a bit of cinnamon. It is an elegant bouquet and like Veedercrest's other wines this bouquet does not reveal overly ripe and or explosive aromas. With that said the palate shows a complexity of fruit, bigger than what you would expect from the bouquet. And the finish is anchored by course strong tannins that continue to show for some time. This is a well structured muscular wine that will benefit from some additional aging. For more information visit: www.veedercrestvineyards.com