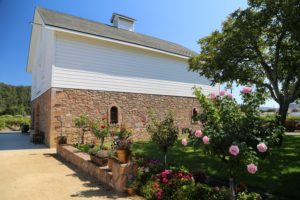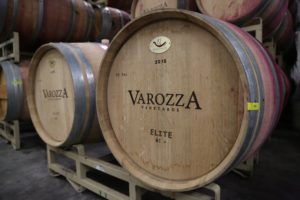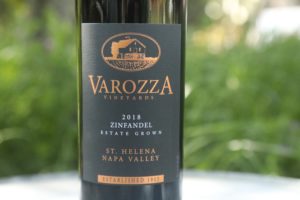 Varozza Vineyards is a small production winery located mere minutes from downtown St. Helena. The property is approximately 37 acres planted to a number of varietals which are separated into 17 blocks. All fruit for their wines comes from the vineyard on site. Their vineyard sits at the junction of Napa River and York Creek which gives them rich alluvial soils with good drainage.
One feature which separates this small producing winery from other wineries aside from the fact they own their own land, is there is an old stone ghost winery located on site. It was built in 1885 and has been completely restored and retrofitted by the owners (Jack and Dianna Varozza, both Napa born and raised). This was quite a project as the lime mortar between the stones had mostly crumbled to dust and had to be replaced. The winery was originally a dirt floor but is now concrete. All the stone for this winery was quarried from the hills in nearby Deer Park. It was one of the last ghost wineries in all of Napa Valley to be restored (although we are still aware of at least three other non-restored ghost wineries, two of which are in greater St. Helena). The original redwood tanks and basket press are still located on site.
Another rarity in Napa is the age of their vines. The Sauvignon Blanc vines are up to 60 years old (certainly among the very oldest vines of this variety in Napa Valley), the Petite Sirah vines are over 60 years old and some of their Zinfandel vines are 90+ years old. Their Cabernet Sauvignon vines are among the oldest still producing vines of this variety in all of Napa Valley with records showing they were planted in the late 1960s. However they may have some even older Cabernet Sauvignon still growing on the property but early records of their plantings were not kept. Other old Napa Valley Cabernet Sauvignon vines include a limited number of vines at Scarecrow Vineyard from the 1940s, MacDonald Vineyard in Oakville from the 1950s, Grgich Hills from the 1950s and Grace Family Vineyards from the late 1950s. For reference, supposedly the oldest still producing Cabernet Sauvignon vines in the world were planted in 1888 in the Barossa Valley (Penfolds). Varozza's older vines are head pruned, rather than being trained on a trellis system. Jack oversees the entire vineyard management; all their vines are dry farmed.
Varozza began offering tastings by appointment inside the old winery towards the end of 2008. A visit here is very low key and is always with either Dianne or Jack or both. Weather permitting guests will taste wine outside close to the actual vineyards with some cheese and crackers. A recommended walk is to their pond on the far side of the property. From here one will have good overviews of their entire vineyards as well as both the Mayacamas and Vaca mountains which form the west and the east, north south boundaries of Napa Valley.
Jack's great great grandfather James first arrived in Napa Valley in 1870 (originally from Switzerland). His career in the valley was focused on wine grapes; from 1882 through 1886 he was foreman for Colonel W.W. Lyman's vineyard north of St. Helena (Lyman at one time owned the Bale Grist Mill between St. Helena and Calistoga). In addition to his vineyard work for the Colonel, James was also the last foreman at the Bale Grist Mill. James returned to Switzerland for about five years but came back to Napa Valley in 1892. That same year he became vineyard manager for the vineyards at Chateau Chevalier located on Spring Mountain, which is no longer a working winery, but currently a part of Spring Mountain Vineyard's property. In 1897, James leased a vineyard and used the old Summit Winery on top of Spring Mountain and made some kosher wine here for several years for a client. Only parts of the stone walls of Summit Winery still stand; today it is located on property owned by Pride Mountain Vineyards. The September 10, 1909, issue of the Napa Weekly Journal describes James in his obituary as, "one of the most prominent and best known of the Swiss American residents of St. Helena."
The winery has been under Varozza family ownership since 1913 when Jack's grandfather Joseph sold his 600 acre property on Langtry Road on Spring Mountain, (his day job was on property now owned by Spring Mountain Winery) and purchased this St. Helena property. To date, five generations of Varozza family have been farmers continuing to farm wine grapes. Varozza has records that show grapes were first planted on site in the early 1860's. Jack grew up on this property and has managed the vines for many years. They exclusively sold grapes until Jack approached his father with the idea that they should make their own wine. Their first vintage was in 2000 (a Cabernet Sauvignon, followed by their first Petite Sirah in 2001). Prior to this, the last wine made here was from 1946. Today they continue to sell the majority of their fruit to a number of premium wineries in the valley but hold back a small amount for their own wines each year.
Their total production is under 1000 cases every year with some wines produced under 100 cases in total. Each year they produce a Cabernet Sauvignon and a Petite Syrah. Their refreshing philosophy is that wine is meant to be consumed upon purchase (because it has already been aged by the winery) and be affordable to the majority of the population. As a result, their wines are reasonably priced by Napa standards.
Select Wines
The 2020 Varozza Vineyards Sauvignon Blanc is deep straw in color; the bouquet is extremely aromatic and includes notes of jasmine, pineapple, freshly cut grass, some minerality nuances, lychee and aromas of lemon and lime zest. The palate is bright and balanced from the entry through the richly flavored finish. Offers flavors of tangerine, pineapple and melon. Noticeable is this wine's texture; it is creamy and feels slightly oil as it glides gracefully across the palate. This wine saw no oak during its aging; it was fermented and aged in 100% stainless steel. Incidentally this wine is made from the oldest Sauvignon Blanc vines on the property.
The 2018 Varozza Vineyards Zinfandel is medium ruby in color; sports a fruit-forward bouquet with aromas of ripe blackberry and boysenberry along with a diversity of spices including cloves, white pepper and other darker baking spices. Offers a lovely mouthfeel which is almost creamy like in its texture with fine grained slightly dusty tannins. Shows plenty of power across the palate and intensity of flavors including ripe blackberry, raspberry, dark cherry and subtle hints of anis. Features a very long fruit filled opulent finish. This wine spent 17 months in French oak of which 50% was once used and the other 50% twice used barrels. Crowd pleaser!
The 2017 Varozza Vineyards Cabernet Franc. The first two words we wrote when we smelled the bouquet were: floral and fresh. But one can also smell a St. Helena ripeness in the aromatics. The fruit aromatics are highly appealing; includes notes of rose petals and blackberry. Also offers a subtle hint of dried herbs and as the wine evolves in the glass develops notes of sage. Let it continue to open before consuming the aromatics become even more beautiful. On the palate, shows primarily darker fruit flavors and some darker spices on the finish including hints of pepper. Lingers somewhat savory. Very balanced. The tannins are well integrated and are finely grained. This wine was aged in 100% French oak for 24 months of which 40% were new barrels.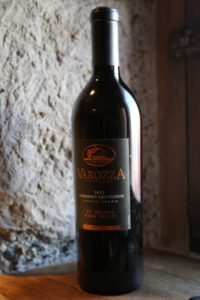 Varozza has a longer aging program than many small wineries up to approximately 36 months in oak and then another year in bottle for their red wines. We tried their first vintage ever which was the 2000 Cabernet Sauvignon. It has a very elegant nose with some blueberries on the palate and hints of vanilla from the type of oak used. The tannins are soft with a pleasing long finish.
It is interesting to taste two vintages side by side which were from dramatically different growing seasons – this would be the 2010 and the 2011 vintage. The grapes were from the same part of their vineyard with similar wine making; the difference is in how the weather affected each vintage. The 2011 vintage was a much colder year then 2010 and Jack wanted to let these grapes hang longer to get riper, but their winemaker made the decision to pick earlier. This was the best decision they made in 2011 as immediately after they picked the fruit, the rains set in and did not let up. Jack left 6 rows of Cabernet Sauvignon but ultimately these grapes did not improve in quality; after all the moisture, mold eventually set in. Their Cabernet Sauvignons are 100% varietal; the 2011 Varozza Vineyards Cabernet Sauvignon shows a distinctive bouquet – it is earthy, with notes of truffles, forest floor, mushrooms and coffee nuances along with some wood spice. Darker fruit shows on the palate with an 'earthiness' along with coarse tannins. A noticeable brightness of acidity shows, especially on the finish. This wine should have excellent aging potential.
The 2010 Varozza Vineyards Cabernet Sauvignon in contrast shows intense aromatics focusing on riper fruit aromas; it is a voluptuous immediately appealing bouquet with a sweetness of fruit combined with a sweetness of oak (blackberry and ripe plum intertwined with mocha). There is almost an imperceptible underlying sage note on the bouquet. Flavors of plum continue with a hint of pepper – the finish is very long, supple and features seamless tannins.
The 2002 Varozza Vineyards Petite Sirah is an intriguing wine, robust in both character and structure. It is very dark and inky in appearance with aromas of ground pepper and noticeable dark blackberry flavors on the palate. Its ready to drink now but one can certainly lay this wine down for the next 8 to 10 years. Incidentally, this is the only block on their property that they keep entirely for themselves, rather than selling to other wineries. These are also the oldest vines on the property.
The 2010 Varozza Vineyards Petite Sirah is also very dark (dark reddish/black with purplish tinges on the rim). This wine shows intensely flavored fruit mid palate with long lasting, muscular and somewhat chewy tannins.
In 2013 Varozza Vineyards produced a onetime delicious late harvest Chardonnay, the 100th anniversary of their ownership of the property. Their premium wine is called Bloodline and is always a blend of both Petite Sirah and Cabernet Sauvignon. These varietal percentages vary depending on the vintage.
—
One can find their wine locally at Sunshine market in St. Helena; it is also selectively distributed in Texas. To join their mailing list and for more information or to schedule an appointment, visit: www.varozzavineyards.com
Winery

Farm Implements

Vineyard