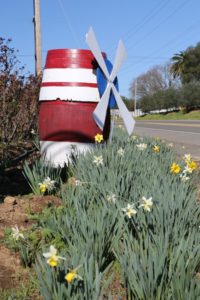 Van Der Heyden Vineyards is owned by Andre Van Der Heyden who immigrated to the USA as a teenager after living in Holland. Look for the Dutch & American flags marking their driveway. You drive down a short gravel road through the vineyards off of the west side of Silverado Trail just north of the Soda Canyon Store (which has great breakfast burritos by the way). Drive slow, and as they say at Van Der Heyden when you drive in, "watch out for the kids, dogs, cats & bicycles!". This winery has a real nice down to earth feel to it, rustic if you will.
The tasting room is in a small wooden room located right next to the fermentation tanks and wine making equipment. After parking next to the vineyards, walk all the way towards the back near the fermentation tanks for the tasting room on the right hand side. A plethora of cool knick-knacks are housed in this small room (covering the walls) including old casings from WWII, a large insect or two and very interesting signs which may be for sale, depending on the sign! Look for "Friends and Wine should be old" — and our favorite, "there will be a $5 charge for whining"!
Their first commercial vintage was in 1984. Andre's family was in the furniture business and he never considered a career in winemaking in the early days. Then a friend gave him a Cabernet Sauvignon and at that point he was hooked on finding out more information about the wine industry. He then took a home winemakers class and in 1977 he and his family moved to the Napa Valley to their current location. Today they have about 23 acres and are growing 11 different varietals. Andre has never been formally educated in wine making. For a winery that typically makes between 2,500 and 3,000 cases, they offer about 30+ different wines, all made in very low production and some quite unique and rare. By numbers of wines, most of their wine is only available through their wine club.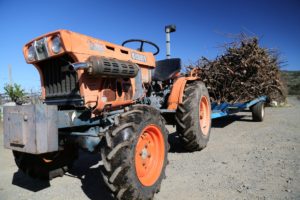 Andre is not afraid to experiment during the winemaking and over his long winemaking history in the valley has learned much about winemaking from the "learn by doing" motto. In addition, Van Der Heyden is not afraid to make new types of wines. That in and of itself can be very refreshing, especially after tasting with nearly 800 commercial wine producers in the Napa Valley! Case in point is their Chardonnay. This is the most un-Napa Chardonnay you will find. It is one of the darker Chardonnays you will see and is a rich gold color. Van Der Heyden typically holds their wines back longer than most wineries, both in oak and in bottle. For many wineries, Chardonnay is a "in the barrel/tank, out the door wine", with a relatively short time from production to consumer. Not Van der Heyden. In addition this wine sees some skin and seed contact which also contributes to the color. The aromas are almost like a late harvest Chardonnay, very fruit driven with notes of caramel, melon and tropical nuances that continue to the palate.
As of press time all wines produced are entirely from the vineyards that surround the winery with the exception of their Sauvignon Blanc. This is sourced from Mendocino County and sees no oak during its aging and fermentation. The mouth feel on the 2007 vintage is soft and rounded and it is wines such as this that terroir makes such a difference. We are willing to bet if the grapes used to make this wine were grown on Van Der Heyden's property this wine would have entirely different characteristics. This was our favorite of their white wines with its nice floral nose, hints of green apple, and citrus; it is very well balanced… a winner!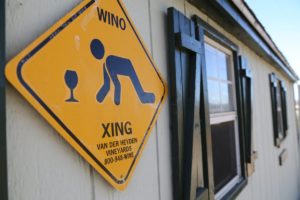 Their late harvest Cabernet Sauvignon is the only one made year after year in Napa Valley. We are aware of at least one other Napa winery who has made a late harvest Cabernet and a few International wineries who produce this but perhaps not every year and certainly not as a flagship wine like Van Der Heyden has made this over the years. This wine is not fortified with spirits and is a must try when you taste at the winery. It is also well aged before even being released to the public. We tried the current release, a 2002 (6 years old at the time of our tasting). Great chocolate, cloves, other spices and touches of vanilla on the bouquet, a veritable drinkable sundae! The sugar, alcohol, acidity and flavors are extremely well balanced. There are also nice notes of cherry on the palate.
They also make another unusual delicious late harvest wine out of Merlot. Their aging on some of the sweeter wines can easily go several years. During one visit we tasted through a vertical of several older vintages of their late harvest wines. This was a good opportunity to see how these wines age and change in the bottle. Our recommendation is to buy some of their newer vintages and let them age properly for several years. If you can't resist the urge to drink, buy an extra bottle for consumption when you get home and leave the others to age! Their wines are premium quality and are priced accordingly especially their older vintages. Many Napa wineries close at 4pm or maybe 5pm. Not Van Der Heyden – they are open until 6pm and their southerly location on the Silverado Trail makes a good stop for folks heading back south out of the Valley.
NOTE: this winery and property was sold in 2015 but the Van Der Heyden brand will continue. We will update this review once we have more details. NOW Archived. No new releases, not producing commercially anymore. New producer opened winery and tasting room in 2020.