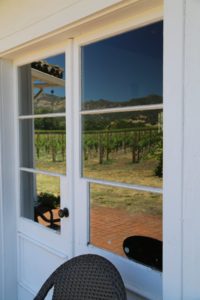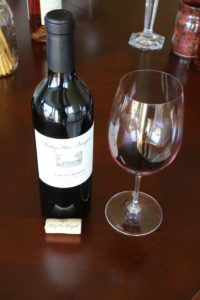 Valley Floor Vineyard is a boutique producer originally built upon three acres of estate vineyards planted entirely to Cabernet Sauvignon – located just north of the town of Calistoga.
Original founders, Ellen Bucchianeri and Mark Duane were both born and raised in San Francisco. Ellen spent many summers in Calistoga – with her grandmother who lived here. Ellen grew up around wine – her grandfather made wine in his basement in San Francisco.
Ellen used to say she would never move out of San Francisco – preferring the city to the country and all it offers as far as restaurants and cultural activities. But after coming to Calistoga year after year in the summers and her husband needing to commute, they decided to swap the urban life for the quieter rural life.
Ellen and Mark moved here in 2008 – introduced to the property by a realtor with connections to another wine family in the valley, the Truchards. Both were sold on the property almost immediately as soon as they saw the gorgeous view of the rocky Palisades in the Vaca Mountain range from the living room window.
Ellen was a school teacher in San Francisco – and upon moving to Calistoga she found the only school teaching position of personal interest was down in Vallejo (a significant commute from Calistoga). A friend mentioned a winery that she had never heard of (Araujo Estate) and encouraged her to apply for a position there.
She did and was immediately accepted after interviewing with the owners at that time, Bart and Daphne Araujo. Ellen had no prior wine experienced at this point (2011) and in the subsequent years her wine knowledge from the vineyard to wine making to sales has been because of her time at Araujo (now Eisele Vineyard). It is the high level of attention to detail that Eisele Vineyard maintains that she carried over to Valley Floor.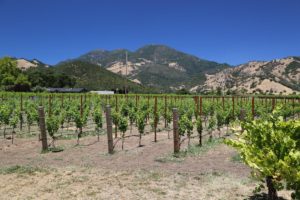 When Ellen and Mark purchased this Calistoga property, sixty year old Sauvignon Blanc vines were growing around the house – but were diseased and were producing very small quantities of fruit. They initially produced a tiny amount of Sauvignon Blanc and then removed the vines.
When deciding whether they wanted to get into the wine business personally – they sat down with John Truchard, a local vintner and vineyard manager. He helped them lay out all of their costs and was an invaluable resource by providing them with numerous details for laying out and planning a vineyard, making wine and as well as having the important connections and exposure for selling it. They took his advice and planted a vineyard in the front of their home in 2009. The 2012 vintage was their first commercial release.
The fruit was of very high quality from this tiny vineyard so in 2014 they planted two more acres around the rest of the home – bringing their total planted acreage to approximately three acres.
Second Owners
In 2016 business partners Brandon Chaney and Anthony Zabit purchased Valley Floor Vineyard. Grapes for Valley Floor Vineyard are no longer being used from the original vineyard – the last vintage from the original property was in 2016.
Life paths can certainly lead to some interesting endeavors. Take Brandon and Anthony for example – they met as college roommates when both were attending Indiana University. Later in life they both became partners in various tech and real estate businesses. Brandon runs the day to day operations of Fairwinds Estate and spends time commuting between his home in Incline Village, Nevada to the Napa Valley.
Brandon's parents were in academia – and when Brandon was growing up the family moved to Wales. During their time in Wales they purchased a VW Bus and Brandon fondly remembers his family driving around Germany and staying at numerous B&B's and visiting wineries. This was his first introduction to hospitality and the world of wine. Wine to him has always been important and an enjoyable part of life but it wasn't until he and Anthony purchased the Fairwinds Estate property that it became a part of their business world.
Select Wines
The 2012 Valley Floor Vineyard Cabernet Sauvignon is very dark in the glass. It shows deep dark notes of black fruit on the bouquet. There is a rich complexity of aroma that continues to evolve nicely as the wine opens – cedar box, notes of graphite, black licorice, black liqueur and some perfume notes (violets). The palate shows ripe plum (which also lingers on the finish), black cherry and flavors of brown chocolate. The dusty, slightly chalky tannins are well integrated and anchor a pleasing finish (also some earth notes on the finish). For a young wine from very young vines – this wine is already mature beyond its years.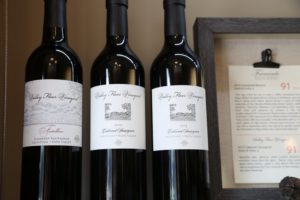 They also produce a tiny amount of a rosé from Cabernet Sauvignon (for mailing list members) made in the French saignée method (where a percentage of the juice is bled off during the wine making). The 2014 is their first commercial release of this wine. There have been some fine rosé's coming from Napa in the past few years; this is one of them. A portion of the wine was bled off while in tank – and then was fermented in barrel lasting nearly two months. The wine did not undergo secondary fermentation.
The 2014 Valley Floor Vineyard Rosé is dark salmon color in the glass, with a pretty bouquet showing notes of citrus, watermelon rind and raspberry. As the wine opens the aromas become more elegant, the citrus aromas become more muted and aromas of Jolly Rancher watermelon and freshly cut grass show. The wine is soft and rounded on the palate with clean flavors. Easy to drink. Hints of graphite on the finish. Good acidity.
Total production of the Cabernet Sauvignon is around 300 cases annually – when the rest of their vineyard comes into production they will be producing upwards of 900 cases per year.
As a small brand fairly new to the valley good press helps – when Ellen was proprietor, she entered her wine in their first competition in 2014, the Toast of the Coast in San Diego and received a Double Gold – ACME Fine Wine Shop in St. Helena has also featured their wines in their top 10 Napa wines in their 2015 newsletter.
Visitors to the valley can taste the wines at Fairwinds Winery, just south of the town of Calistoga. Along with the Valley View Vineyard wines, Fairwinds also pours their own wines in this tasting room and at times wines from one or more of their custom crush clients.
The wines are selectively distributed in New York and California.
NOTE: due to the ownership change, this review has been identified as needing a major update.