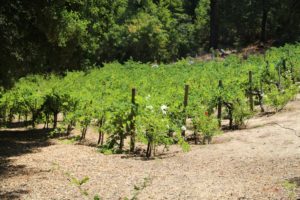 Valance Wine is owned by Michael & Valerie Raymor. The name comes from a type of balance that most Howell Mountain area Cabernets develop over time. The owners noticed this balance and elegance for their 01′ vintage while it was still in barrel. Creatively combining V from Valerie's first name with the word balance, they came up with Valance. Michael grew up in a family with an agricultural background and farmed stone fruit crops in the East Bay (SF Bay area). Michael has over 30 years experience working with vineyards and was vineyard manager for many years at Robert Mondavi and helped manage their famed To Kalon Vineyard in Oakville. His passion is with vineyards and his enthusiasm for the vines clearly shows.
Today he manages and farms 3 acres of hillside vineyards near the Howell Mountain Appellation. He purchased the property in 1973 and planted the original vines in 1978. He recalls visiting a local rootstock nursery and receiving a sales pitch about the benefits of AXR rootstock and how it was the future of rootstock (adaptability, easy to graft etc). Unbeknownst to many this rootstock was not resistant to a new form of the insect phylloxera that eventually developed. Fortunately Michael went with the tried and true St. George rootstalk (after enduring questions about his decision from some vineyard managers!) but as it were, he did not have to pull up any vines when phylloxera hit in the early 1980's. He is in a prime growing region with several very high end vineyards located within walking distance of his property. This is one of the smaller producers we have met with; Valance's total annual production is usually 75-90 cases.
If you are seeking high end single vineyard 100% Cabernet Sauvignon with extremely limited production from unique terroir combined with micromanaged vineyards Valance is an excellent choice. Michael takes a holistic and organic approach to vineyard management and farming in general and handles all aspects of this himself. Native trees are not removed and water and fertilizers are kept to a minimum, instead relying on native cover crops. Yields are extremely low even by hillside standards, often running 1/2 to less than a ton per acre. This is low! For comparison most hillside vineyards are higher with valley floor yields often significantly higher with averages ranging from 2-4+ tons depending on the year. There are several key reasons for Valance's extremely low production. It helps ensure longevity and the sustainable health of the vines and vineyard soil as well as enhances phenolic maturity and allows the grapes to develop rich concentrated fruit flavors.
Valance also uses a variety of methods for deciding when to harvest; tasting the seeds and skins, tracking items such as dates of bud break, bloom & veraison, laboratory analysis of berry samples, overall assessment of canopy management, seasonal conditions and quality of the grape clusters. Michael was very much influenced by French viticulture and winemaking practices from his many trips to France while working at Mondavi. His wines often see a month of maceration, 2 years in barrel plus another year in bottle before even being released. Consequently once they hit the market they have already been aged longer than most current releases which is not a bad thing for consumers.
We tasted a vertical of their Cabernet Sauvignon from 2001 through 2004. The earlier vintages are presently available in very limited quantities. The inaugural release 2001 is a rich wine with a rounded mouth feel. Sultry tannins are smooth and elegant and provide a well structured backbone. The nose is pleasant followed by layered flavors of cherry and currant. Our favorite of the 4 wines is the 2002. This vintage has the elegance and grace of a Degas ballerina. The nose has wonderful fruit driven aromatics which continue to open the longer you leave it in the glass. The palate is a mix of cherry and red currant with cinnamon, tobacco and other spices present with almost an earthy characteristic. The tannins are slightly larger than the 01 but this wine is certainly ready to drink now!
The 2003 was a tough year for ripeness and maceration time was much shorter. It doesn't have the aromatics yet of the earlier vintages and only time will tell as to what it does in the bottle. The 2004 is a characteristic terroir driven Valance wine which as of this review had not yet been released. There are nice plum and cherry aromas which follow through to the palate as flavor. With its bright fruit and lively acidity, this is a beautiful wine. Because Valance has such low production their distribution is very limited. If you are in the area, try Meadowood Resort in Napa Valley, but the best way to acquire the wine is via their website. Visit: www.valancewines.com
NOTE: need to verify if still producing – last vintage we can find was 2013.