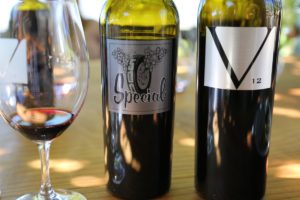 V12 Vineyards was founded by race car driver and auto enthusiast, Jimmy Vasser; their first vintage is from 2008. Jimmy was introduced to the Napa Valley and its wines through an auto dealership he purchased in 1998 in the city of Napa. The dealership is still there, with two locations now, within about 1/4 of a mile from each other on Soscol Ave selling both used and new Chevrolet and Toyota vehicles (see our photos of these dealerships below).
Jimmy has enjoyed a long and successful career in racing (and is one of a number of Napa Valley winery or wine brand owners whose careers have involved auto racing including Mario Andretti, Randy Lewis, Jeremy Nickel, Danica Patrick, Randy Lynch and Jeff Gordon among others). Jimmy was the 1996 IndyCar Series Champion, that same year also won took home the PPG Cup and in 1997 won the Best Driver ESPY Award. Jimmy has also won at iconic races such as the Long Beach Grand Prix and at Laguna Seca Raceway. At one point he started 211 consecutive races. And in 2018 he formed Dale Coyne Racing with Vasser-Sullivan with fellow driver James "Sulli" Sullivan.
Jimmy was interested in hillside property in the Napa Valley and spent some time looking before he located a 45-acre property in the Vaca mountains just above the Stags Leap AVA and below the Atlas Peak AVA. He purchased this property from Rob Mondavi in 2001 – at the time it was not planted to vines; the average soil depth is pretty shallow, often only several inches deep.
The "soils" that form the hillsides along and near Soda Canyon Road are extremely rocky and it takes much work to prepare these hillsides for growing grapes. Jimmy hired Davie Piňa of Pina Vineyard Management (a 6th generation Napa Valley farmer) and he helped identify the potential for growing high quality grapes on this particular site. While there were other grapes growing in the vicinity one never knows for sure the quality of a site until it has produced a few vintages.
Soil pits were dug, a good source of water was identified and then the decision was made to plant vines. Preparing the site was no easy task; they had to blast and "rip" parts of the hillside to break up the rock to make it more suitable for grapes to grow here. A fair amount of rock was also moved further down on the property which helps with drainage. Ultimately eight acres were planted entirely to Cabernet Sauvignon – of which there are four clones.
Several distinctive micro climates are on the property as it relates to their vines. The "front block" faces west and has excellent sunshine exposure even in the late afternoon. The "back block" faces east and receives less sunshine – the grapes typically hang longer and are picked later then the front block. Two distinct wines are made from each of these blocks.
The name V12 has meaning both as it relates to the auto industry and their specific vineyard. Twelve is Jimmy's championship number, V12 is a high-end racing engine and if you break this number up regarding their vineyard, it is 4 vineyard blocks containing 4 clones planted on 4 different rootstocks.
Annual production is small – each wine is usually only several hundred cases or less with a total production of around 800 cases each year.
Select Wines
The only non-estate wine is their Chardonnay that is sourced from a vineyard on the Napa side of the Carneros AVA. The 2012 vintage saw no malolactic fermentation. It shows golden straw color in the glass with various tropical fruit aromas including yellow pineapple, hints of banana and some spice. On the palate it is smooth, crisp with notes of citrus and drinks very easily.
The 2010 V12 Vineyards 444 Cabernet Sauvignon has an inviting bouquet with baking spices, mocha and a sweet core of fruit that remains as the wine continues to breathe. It is refined and smooth on the palate with a slight mid palate jammy quality – it is a wine the begs to be consumed and drinks well by itself. Delicate tannins linger softly on the finish.
The 2010 V12 Vineyards 500 Special Cabernet Sauvignon was entirely sourced from their "front" or western facing blocks. The grapes were handpicked from the "sweet" spots in the vineyard – only 3-4 barrels of this was made. And it is not made every year – it is made only in the "best" vintages. If a vintage is especially challenging, such as the 2011 – they may decide not to make this wine (which was their decision for this particular year).
The wine is in barrel for two years and then it is given a full year of bottle age before it is released. The grapes are fermented using indigenous yeasts rather than commercial yeast. The wine is bottled unfiltered. The 2010 vintage shows a richness of fruit in the glass – it is a bigger wine than the 444 yet still retains a pleasing balance. Lively aromas (black cherry, a liqueur like quality), good color in the glass and decent acidity. The tannins are there but do not overpower the palate. This is a wine you can drink now or certainly cellar a number of years.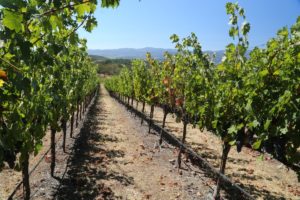 The 2012 Reserve Cabernet Sauvignon is hand selected from the most premium parts of the East facing vineyard on the back of the property. The grapes are fermented whole in barrel and aged for 36 months. The wine is dark in the glass – the aromas show various black fruits leading to a palate that is more red fruit driven – raspberries, red cherry and various baking spices. The tannins are broad based, bigger than the other two wines but still well integrated into the overall structure.
While Jimmy is still on the road more than 200 days a year his sister Vicki lives in Napa Valley, is the Managing Director and oversees their hospitality and events (and is the one typically hosting tastings). Their wines were made at another winery for years but with the completion of their own winery on the vineyard estate which opened in time for the 2015 harvest, winemaking operations have since been transferred here. While the property generally faces in a west direction not far from the Silverado Trail – access is via Soda Canyon Road (a rather long way to reach the site).
Personalized tastings are held on the property and feature expansive views of the Stags Leap District and the valley floor beyond that. They are held outdoors (weather permitting) or inside if needed – and are for serious wine enthusiasts and collectors. For more information visit: www.v12vineyards.com
Jimmy Vasser, Chevrolet and Toyota Dealerships, Napa