Uproot Wines was founded in 2011 by Greg Scheinfeld and his business partner Jay Levy. Greg came to the Napa Valley after leaving a career in finance and as he says, "a job that required me to always be in the office". The career choice couldn't be more polar opposite – working in a rural environment, often outdoors and being directly responsible for a specific product.
His friend recommended he try one harvest to see if this was something he would enjoy. Jay thought for sure this was going to be a one time endeavor. That was in 2006. Today he is responsible for the wine making for Uproot. After working at prominent Napa wineries, Joseph Phelps and Cakebread he then moved to Vineyard 29. When he left he was their cellar-master.
The team at Uproot Wines are creative, young and passionate; they are producing excellent wines.
The name Uproot is an ideal tribute to Greg's 180 degree career change – he "uprooted" from Manhattan and came out to Napa Valley. Now as he says, "I enjoy the lifestyle, it is a fun product to make and I am making new friends with every bottle opened."
Their wine labels are among the most unique we have seen in the Napa Valley. The label is merely a vertical strip on the front of the bottle. That is it – no winery name, no variety name, no vintage, nothing else. These labels are colorful and outline common flavors one can expect to taste in the wine. While everyone's palate is different of course, these labels can be used as a general guide.
Greg and his team as well as friends and other winemakers in the industry (with the focus on having a variety of palates present) sit down before bottling any wine and taste through the wines. They each write down flavor descriptors and come up with what are the most commonly mentioned ones. These are presented in related colors on the label – separated roughly by the size of the space taken up on the label. The larger colored spaces correspond to the most common characteristic the wine presents on the palate. These "flavor palates" are also included as a square "coaster" with every purchase.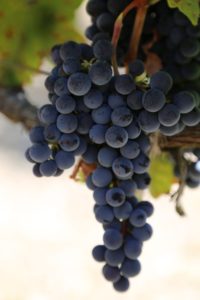 Their labels are part educational, fun and certainly stand out. All these components were an integral part of what they wanted in the design. In this aspect, they have succeeded very well.
Their total production is only about 1000 cases – with each wine usually only several hundred cases.
The 2012 Grenache blanc is sourced from California's Central coast – the Santa Ynez Valley. The nose is clean with notes of citrus blossom, citrus peel and lemon/lime like aromas. The mouth feel is rounded and oily. Like some older Rieslings we have tried, this wine exhibits characteristics of petrol – both on the bouquet on a palate. This component is there but is certainly not an overwhelming characteristic. The lively finish lingers nicely for some time.
The 2011 Sauvigon blanc was sourced from a local winery's vineyard towards the southern part of the valley – from two distinctive blocks. The wine was aged in used puncheons and once used French Oak barrels and then blended together before bottling. Each of the wineries that Greg worked at before starting Uproot had their own styles of Sauvignon Blanc. Greg took aspects of some of the styles from each of these three wineries to hand craft this wine.
Aromatically it shows more fruit than citrus – honeydew melon, juicy fruit, honeysuckle along with much lesser notes of citrus blossom. The palate is rounded with decent weight – with flavors of melon, citrus and a cut grass component.
The 2013 Grenache was not yet released at the time of our tasting. This is an elegant wine – perhaps comparable to a more delicate Pinot Noir. Possibly easy to mistake the two in varieties made in similar styles in a blind tasting. It is very aromatic, wonderful floral aromas burst from the glass – along with a more rustic and subtle earthy component. Hints of toasted oak. On the palate the fruit almost tricks one into thinking this wine might have some residual sugar but it is completely dry. Flavors of red cherry show – the tannins hit the front of your mouth dissipating across the palate – rather than showing on the back of the palate. They are fine grained and delicate. This wine shows very well young.
With Greg's time spent making wine in the valley, a Napa Cabernet was always going to be an integral part of his wine-making. This inaugural vintage, the 2011 is by far the most produced of their wines – at 450 cases. The majority of the fruit comes from the Beatty Ranch on Howell Mountain – one of this appellation's prominent growers (Cabernet Sauvignon and Zinfandel). This vintage is 100% varietal.
Like several other mountain regions in the Napa Valley Howell Mountain can produce some fairly robust wines – with big fruit showing aromatically. This wine isn't one of these – rather the bouquet walks a pleasing line between herbal notes, smokiness and fruit. It is deep, intriguing – a brooding at times nose – that shows toasted oak as well as layered dark fruit notes. The palate shows both lighter and darker fruit – blackberry and at times higher tones along with nuances of chocolate. The tannins are certainly there and are not delicate – but for a young wine they are well integrated into the finish.
Uproot sells direct to consumer as well as at select restaurants and wine shops. They also participate in various Napa and San Francisco area consumer tastings including what they call their "Startup Series" tastings focused on those in start up companies – often finance based on Jay's connections in New York or high tech in California. Visit: www.drinkuproot.com