Uncorked at Oxbow is conveniently located in Napa's Oxbow district – a short ride or walk from downtown crossing over the Napa River. As the name indicates there is a geographical association with the Oxbow Market; Uncorked is located almost across the street from this market and just down the street from the former COPIA property – now owned and operated by the Culinary Institute of America.
This is a very central area for tasting and when you visit consider stops at several other nearby tasting rooms (all within several blocks of Uncorked). Uncorked is located in a historic home that dates from 1900 (actually 3 small homes put together). Uncorked is located in a historic home that dates from 1900 (actually 3 small homes put together). This house has been completely remodeled and offers a fun and cozy tasting atmosphere inside. There are two private tasting salons; one in the front and one in the back and the middle tasting room is open for walk-in visitors. No appointments are necessary to visit.
Their tasting room combines stellar wines with a laid back attitude that is perfectly suited to first time visitors to the Napa Valley and or those new to wine tasting. This tasting room is the creation of Bruce Ahnfeldt and Celeste Carducci and often you will find one or the other or both pouring their wines. Bruce is a practicing lawyer and has lived in the valley for 20+ years. Besides law, he has long held a love of agriculture having leased and farmed apricot orchards in the Silicon Valley back when the Silicon Valley was full of cherry, plum and apricot orchards.
Farming runs in the family; Bruce's son Garrett works for a local vineyard management company and is also partners in g Wine Cellars a local boutique winery. Incidentally Garrett now offers his wines for tasting at the winery shared Wine Thief tasting room just down the street from Uncorked at Oxbow.
As of our latest update, all of the grapes for their wines come from vineyards Bruce owns with the exception of one wine (a Syrah) that is sourced. Most of their vineyards are located in the southern part of Napa Valley, relatively close to the town of Napa. Celeste has been in the valley for many years and runs the historic McClelland-Priest Bed & Breakfast near downtown Napa. This charming B&B features 6 unique suites – often reasonably priced compared to some of the B&B's we have visited in the city of Napa.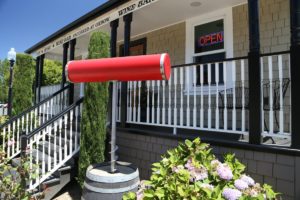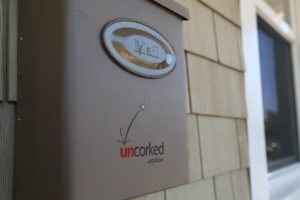 Uncorked offers several tasting options ranging from their general tasting to their premium tasting. Unlike most stand alone tasting rooms in the valley you can actually barrel sample wines from their climate controlled room. In addition, private tastings are offered by appointment. For serious wine enthusiasts or for those looking to improve their palate – Uncorked offers blending seminars which in part showcase the dramatic differences small amounts of other varietals contribute to the final wine.
Two wine labels are poured here; Ahnfeldt which is an established label and Carducci, a new label which features Italian varietals grown in California. The well regarded Craig Maclean was the winemaker for both wines for many years (today Paul Hobbs is their consulting winemaker). Another highlight of a visit here is the chance to taste several wines that are produced in extremely limited quantities (only 50-100 cases).
The 2005 Merlot has excellent depth of flavor and concentration. It is a rather "large" Merlot and Cabernet Sauvignon lovers may find this wine appealing. The bouquet is well-layered with aromas of spices including vanilla and white pepper which leads to a rich rounded body that shows a ton of fruit including cherry, blackberry and raspberry. The finish displays broad structured balanced tannins. Good acidity with a pleasing mouth feel makes this an ideal wine to enjoy with food.
The 2004 Cabernet Sauvignon is a lighter styled Cabernet Sauvignon, again an excellent with food wine. It is smooth throughout showing nice fruit flavors and retains a nice structure on the finish. The 2006 Cabernet Franc is a winner (but only 50 cases were produced). It has a very fragrant bouquet of lavender, rose petals and red fruits. This is as elegant a Cabernet Franc as we have tasted from Napa.
Based on Bruce's legal profession his flagship wine is appropriately named Quid Pro Quo (a Bordeaux styled blend). This is a primarily Merlot based blend with Cabernet Sauvignon, Cabernet Franc and Petit Verdot rounding out the varietals. This is a smooth wine throughout that shows rich ripe fruit from the juicy entry all the way to the fine grained tannins on the finish. Let this wine breath; the bouquet will continue to develop delightful aromas.
Uncorked features a deck in the back of the building where they hold select events including live musical performances. Works of art from mostly local Napa artists are displayed on a rotating basis. And be sure to duck into the barrel room at the back of the building – this is the only bonded barrel tasting room in downtown Napa.
Note: Celeste has been a fitness instructor at Napa Valley College for many years. In Aguust 2017 she opened Napa Hot Yoga, located at 1660 Silverado Trail.
Tasting Room

McClelland Priest Bed & Breakfast

Napa Hot Yoga