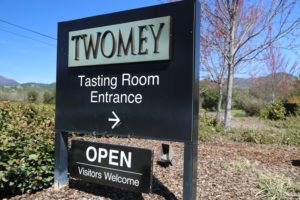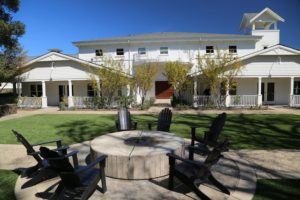 Twomey (pronounced two-me). The winery was founded and is owned by the Duncan Family – the founders of the well-regarded Napa and Sonoma based winery, Silver Oak. Brothers David, Tim, Mike and Kevin Duncan founded Twomey in 1999. David is the managing partner – the name Twomey comes from their grandmother Velma's maiden name and is the middle name of several family members.
After producing only Cabernet Sauvignon for several decades, Twomey began when the Duncan Family purchased their Soda Canyon Ranch Vineyard in 1999 – appropriately named as it is located off of Soda Canyon Road in the southern part of the valley. They made this purchase to add a vineyard source for their Napa Valley Cabernet Sauvignon. At the time this was among the most expensive per vineyard acre transactions ever made in the Napa Valley – but ultimately contained what turned out to be a pleasant surprise and by today's standards, was a very good investment.
Daniel Baron, the winemaker for Silver Oak at the time discovered the property was planted to Merlot (the pleasant surprise that we mentioned above). Daniel had worked at Château Pétrus in Bordeaux and was very familiar with premium Merlot. Encouraging the Duncan's to produce a Merlot from the vineyard – and realizing it wouldn't fit into the Silver Oak Cabernet Sauvignon only portfolio, the Duncan's created a separate winery. The initial few vintages were crushed at Laird Family Estate (a custom crush winery north of the city of Napa).
With production increasing, as well as the acquisition of the Westpin Vineyard in the Russian River Valley, the Duncan's realized they needed their own facility and purchased the old Stonegate Winery just south of Calistoga in 2003. Stonegate was founded in 1973 by James Spaulding and his wife at the time, Barbara. They also owned Spaulding Vineyard on Kortum Canyon Road (just above the town of Calistoga). James spent nearly 30 years writing for the Milwaukee Journal before coming to California and teaching at the UC Berkeley Graduate School of Journalism. He died at age 94 in 2015 in Calistoga.
While Twomey began their production with Merlot and perhaps built a reputation for creating premium wines of this variety, they also have since earned a strong following for their premium Pinot Noir (first vintage 2002).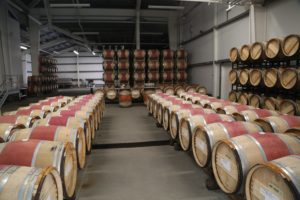 Continuing to grow, in 2006 the family purchased an existing winery near Healdsburg in neighboring Sonoma County and use this as a production facility for Pinot Noir and Sauvignon Blanc. Today they produce a number of Pinot Noirs both from their own vineyards (in 2017 they purchased the Prince Hill Vineyard in the Dundee Hills appellation of Oregon's Willamette Valley and in 2019 another winery in the Anderson Valley already surrounded by 38 acres of Pinot Noir vines) as well as other regarded vineyard sites including from Monterey's St. Lucia Highlands. Their wines are produced from both estate and partner vineyards (non-Twomey owned sites).
Twomey practices what is called Soutirage Traditional which is essentially a very labor-intensive process of decanting wine from one barrel to another barrel using gravity flow (no pumping). This is very interesting to watch – a valve is attached to one end of the barrel and then the barrel is tipped slightly so the wine begins to flow out. Using a light and a glass to catch the wine as it flows, the winemakers are able to see sediment as soon as it appears, and this is when they stop the flow. This is done up to 6x to the barrels of wine during an 18-month period.
The only white wine Twomey produces is a Sauvignon Blanc, created from several vineyards in both Napa and Sonoma including sourced from their Calistoga property next to the winery and from the vineyard next to Silver Oak in Oakville. The vineyard next to the tasting room is almost entirely planted to Sauvignon Blanc with a small amount of Sauvignon Gris. Interestingly the first few vintages of their Sauvignon Blanc were not sold to the public – but rather were sold to employees. Their feedback and continuing to incrementally elevate the quality of this wine led them to finally release a wine from this variety beginning in 2007.
Select Wines
The 2017 Twomey Sauvignon Blanc was aged in a diversity of vessels including various sized barrels, metal drums, tanks and an incremental amount in concrete barrels. This wine offers citrus aromas on the bouquet – including a lemon zest and tropical nuances including guava. Shows more citrus as the wine opens. Crisp and focused on the palate – reveals notes of lemon lime and grassy nuances. Flavors of green apple and a crisp tartness on the finish. This is a very good food wine (think spicy Thai or Indian dishes) or a warm summer day patio & pool sipper. And most importantly, the wine is a good showing of this grape's varietal characteristics.
The grapes for the 2016 Twomey Anderson Valley (Mendocino County) Pinot Noir were sourced from the Monument Tree Estate Vineyard and the Ferrington Vineyard. Fairly fragrant on the bouquet showing notes of dried rose petal and cranberry with hints of dessert spices. Very pleasing on the palate – with flavors of cranberry and cherry with supple fine tannins that linger softly. A very balanced wine.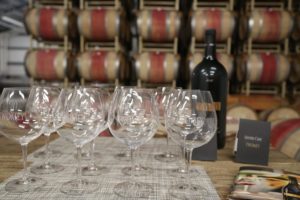 The focus with Merlot is to create an elegant but age worthy Pomerol styled wine using California fruit while at the same time retaining a French style of actual wine making. This wine is never 100% varietal but rather is blended with smaller amounts of other Bordeaux varieties (typically Cabernet Sauvignon, Cabernet Franc and Petit Verdot).
During several visits to date, we have tried a few vintages including the beautiful 2003 Twomey Napa Valley Merlot. This is a robust wine of this variety, with deep garnet colors and an intriguing bouquet revealing aromas of plums, cherries and blackberries. It is well rounded and smooth on the palate. The tannins on the finish are silky and do not overpower or destroy the balance of this wine. Their Merlot wines are extremely popular with restaurants nationwide, especially steakhouses.
The 2014 Twomey Soda Canyon Ranch Merlot, Napa Valley (one of the few single vineyard Merlot bottlings that we have come across in the Napa Valley) reveals fragrant aromas focused on the fruit rather than secondary influences from barrel aging. Shows blueberry, cherry and hints of tobacco. Supple across the palate (especially on the entry) shows very good acidity with flavors of black currant and blackberry. Lingers with a red fruit slight tartness and somewhat dusty well-integrated tannins. The texture on the finish feels nice.
—
The entrance to the tiny parking lot is located 453 feet in from Highway 29 on Dunaweal Lane just south of the tiny community of Calistoga. Look for the pretty white wooden house with the portico style roofed tower.
The tasting room is modern and intimate with a small, curved tasting counter – barrels of wine can be seen adjacent to this room. A wine glass is included with every tasting and unlike some other wineries visitors are given a clean glass – not the one used for the tasting. Similar to the glasses at Silver Oak, these wine glasses are wide, thin rimmed and tall…very pleasing stemware. A wooden box is displayed inside the tasting room for visitors with the last name of Twomey to add their signatures and also list their home city.
For more information or to join one of their wine clubs, visit: www.twomey.com

OTHER TWOMEY WINERIES & TASTING ROOMS
Healdsburg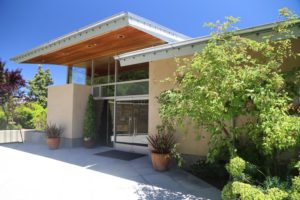 TWOMEY also operates a beautiful tasting room just west of Healdsburg (a less then 10 minute drive from the Healdsburg Plaza and about 45 minutes from Twomey in Calistoga) in neighboring Sonoma County and is one of a few Napa Valley based wineries with another tasting room outside of the valley. Features excellent views from all windows surrounding the tasting room overlooking pristine vineyards and of the tip of Mt St. Helena and Geyser Peak in the distance. There are also pretty views below from outside on the terrace where one can enjoy a seated tasting, weather permitting. A small gift area is located across from the tasting counter.
The focus of a tasting is on single vineyard Pinot Noir and appellation specific wines. A commercial kitchen is located on site – and wines can be paired with small bites including some cured meats produced at the Silver Oak Winery in Alexander Valley.
Visits are by walk-in or by reservation for parties of 6 or more including tours offered several times daily.
Formerly the production and hospitality location for Roshambo Winery (the buildings on site were constructed in 2002). A tour offers a basic look at the winery operations with details about how grapes are brought into the winery, weighed and then how fruit from vineyard blocks are fermented separately from each other. Stops are made in both of their winery buildings and finishes with a stop in the barrel room.
The 2017 Twomey Russian River Pinot Noir is a blend of four Sonoma County Vineyards – including the Last Stop Estate, Bailey, Westpin and the Bartolomei Vineyard (incidentally where we use to go shoot clay pigeons with shotguns when we were young with one of the Bartolomei family members). Offers lovely fruit driven aromatics which as the wine breathes, reveals some baking spice nuances. Features a lovely texture – rounded, supple and slightly creamy across the full breadth of the palate. A tasty diversity of flavor including cherry cola, licorice and raspberry. Finishes clean with very finely defined tannins and hints of tobacco and a subtle sweet thread of spice – perhaps from the influence of the oak aging.
Visitors can also choose to purchase library wines – during our several visits we have seen vintages dating back 20 years for their Merlot and 10+ years for select Pinot Noir wines.
TWOMEY-Anderson Valley

The Duncan's first fully owned Pinot Noir Estate Vineyard was purchased in 2010 – this was the Monument Tree Vineyard located in what locals called the 'deep end' of Anderson Valley in Mendocino County – only 12 miles from the ocean with a landscape encompassing rolling hills and redwood trees. They first made wine from this vineyard in 2008.
In 2019 the family purchased Lazy Creek Vineyard, a 90+ acre property with 38 acres planted to a number of clones of Pinot Noir named for the small creek that meanders through the property. Including the Duncan's this property has seen 5 owners starting with the Pinoli family in the early 1900s who turned the property into a farm, orchards (plum trees) and cheese making operations. A long time Anderson Valley family, one of the Pinoli heirs who was in his early 90s stopped by the property shortly before our visit and entertained the tasting room staff with numerous stories about growing up on this property.
Each owner has left their mark on the property. In 1969 the property was sold to a Swiss couple, Hans and Theresia Kobler who converted an old wooden barn next to the creek into a winery and began Lazy Creek Vineyards in 1973. The Kobler's sold the property in 1998 to Josh and Mary Beth Chandler who built a wine cave and a new winery against the side of a hill.
In 2008, the Chandler's sold the property to Don and Rhonda Carano (owners of Ferrari-Carano Vineyards and Winery in Sonoma County) who built another winery building next to the one the Chandlers had built. Don passed in 2017 and Rhonda kept the property until the summer of 2019 when she sold to the Duncans.
One accesses this gorgeous property via a 1/3 of a mile dirt road leading off of Highway 128 passing through trees before arriving at the winery with a backdrop of vineyards located on rolling hills. This property is located about an hour and 45-minute drive from the Calistoga Twomey estate. This is the second oldest winery and vineyard site in the Anderson Valley behind nearby Husch Vineyards & Winery which was founded in 1971. Several sheep are kept on the property and are used for grazing. After some interior renovation of the tasting room, the Twomey tasting room opened on October 18, 2019. Tastings are highly personalized and typically include a Sauvignon Blanc, several Pinot Noirs and a Merlot.
The 2016 Twomey-Anderson Valley Monument Tree Vineyard Pinot Noir (a vineyard that Schramsberg used to source grapes from) spent 18 months in French oak barrels of which nearly 25% were new. Appealing aromatics including mostly red fruit with raspberry and red plum along with some earthy nuances and subtle darker spices. This is an elegant bouquet. The palate is rounded with a textural feel that is slightly creamy. Well balanced across the palate between acidity, fruit and oak. Lingers with both fruit, a slight sweetness of vanilla spice and finely dispersed tannins.
The 2017 Twomey-Anderson Valley Pinot Noir was made with grapes from both the Monument Tree Estate Vineyard and the Ferrington Vineyard. Aged entirely in French oak of which about 30% was new. Garnet in color immediately shows a diversity of sweet fruit aromatics including dark cherry – a little earthy with hints of white pepper. Shows excellent acidity that dances across the breadth of the palate – with flavors of cranberry. Finishes with fine-grained slightly earthy tannins that were still a bit tight at the time of our tasting.
Twomey-Anderson Valley participates in several weekend events throughout the year including Winter Fest in February (focusing on Anderson Valley grown white wines) and the Anderson Valley Pinot Noir Festival held in May.
Twomey Dundee, Willamette Valley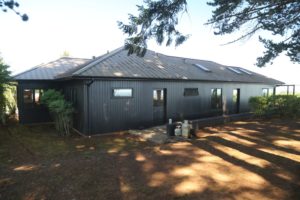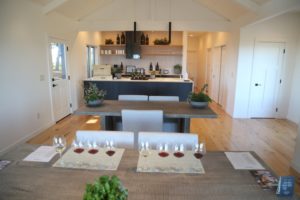 The Duncan's purchased the Prince Hill Vineyard in Dundee Willamette Valley (just south of Portland Oregon) in 2017 and released their first wine under the Twomey label from this vineyard in September 2019. This was also their first vineyard property purchased outside of California although they had made their first wine from Willamette Valley grown grapes in 2014.
The estate was previously owned by winemaker Dick Erath who named the vineyard after the musician Prince – Dick's sons' favorite artist. Dick planted the first wine grapes in the Dundee Hills in 1969 and discovered that Pinot Noir grew well here. He made his first commercial wine in 1972. Dick lived on site although his house has since been torn down and his former guest house now serves as an intimate tasting room – with both their Oregon and select California wines offered in a tasting flight. This tasting room opened to the public on February 29, 2020 – by appointment only. The long-term plan for this property is to eventually build a winery on site along with a small hospitality center. Until their own winery is built, Twomey Dundee produces select Oregon grown wines at Lingua Franca Winery, about 25 minutes to the south (also with strong Napa Valley connections).
The current tasting room sits on top of a knoll (at about 760 feet) which on a clear day affords visitors exceptional views in all directions – including of the snow-covered Mt. Hood far in the distance as well as sprawling vineyards far below throughout parts of the Yamhill Carlton Appellation. The property is 70 acres, features red soils and is planted primarily to Pinot Noir but also to some Chardonnay (total planted acreage is around 38 acres).
The 2017 Twomey 2017 Prince Hill Vineyard Pinot Noir is medium ruby in color; offers engaging aromatics including dried rose petal, raspberry, hints of red licorice and some darker spice notes including cardamom and old cedar. Balanced across the palate with flavors of currant, red cherry and other red berry fruits. Lingers with a brightness – a noticeable lift of acidity complemented by rounded and supple tannins. 30% of the grapes were whole cluster fermented and spent 16 months in mostly used French oak barrels.
The 2017 Twomey Soberanes Vineyard Pinot Noir Santa Lucia Highlands (Monterey County) offers bright and lively fruit aromatics including raspberry, strawberry and some dried herbs. Slightly savory. Noticeable on the palate is its textural creaminess which is complemented by flavors of a variety of berry fruits and darker spices. A lively finish.
The 2019 Twomey Sauvignon Blanc is a 50% Napa Valley and 50% Sonoma County blend of 99% Sauvignon Blanc with 1% Sauvignon Gris (a clonal mutation of Sauvignon Blanc which is noticeably pinkish in color when ripe). Pale gold in the glass immediately offers a sweetness of aromatics including honeysuckle, pineapple, citrus blossom and a hint of lemongrass as the wine further opens. Very lively bouquet. This bottling offers an attractive mouth feel which is slightly creamy – perhaps partially from its aging on the lees. Notes of citrus on the palate lead to a lively finish. It is really easy to keep drinking this wine.
The 2016 Twomey Soda Canyon Ranch Merlot (82.3% Merlot, 9% Cabernet Franc and 8.7% Petit Verdot) is somewhat savory on the bouquet with aromas of dried herbs including thyme, darker fruit, white pepper and some earth notes. Darker fruit shows across the palate (including darker cherry notes) – also a pleasing density. Lingers with integrated tannins and notes of dried tobacco leaf and cracked peppercorn.
—
St. Vincent's Cemetery, located about a 10 minutes' drive west of downtown La Salle in Illinois is the final home to numerous Duncan family members including Velma Marie Twomey Duncan. Velma and her husband Walter's graves are located in the far northeast corner of this rectangular shaped cemetery.