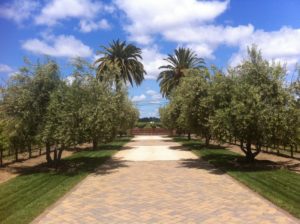 Twin Palms Vineyard released their first vintage in 2007. Owner Robert Larson lives in the San Francisco Bay area and purchased this property in 2004. The Napa Valley is certainly known for its Cabernet Sauvignon and many area producers offer this varietal. However, Twin Palms is not one of them. After purchasing the property, Rob planted the vineyard to two varietals, Chardonnay and Syrah. Their vineyard is surrounded by other vineyards – prominent neighbors include a Beckstoffer managed vineyard and nearby O'Brien Estate.
The name of the wine comes from two stately palms that stand at the entrance to the property.
The tiny property is located in the Oak Knoll District just north of the city of Napa. We have tasted with smaller producers in Napa but their production certainly is among the smallest of producers. They produce 250 cases – 7/10th of their one acre vineyard is planted to Chardonnay and 3/10ths is planted to Syrah.
Due to its proximity in the Napa Valley Oak Knoll is a sweet spot between Napa's warmer up-valley appellations and the cooler Los Carneros region to the south, A number of white varietals do well here, chiefly Chardonnay and a number of reds. Merlot is often sourced from this region by premium producers who do not own vineyards here. The appellation is located on the valley floor and has deep alluvial soils. Oak Knoll is one of Napa Valley's most diverse wine growing appellations as far as the number of varietals grown here.
While the appellation is fairly small there are a wide variety of micro climates within its borders – lending itself to the diversity of varietals.
For a small Napa producer their wines are arguably among some of the most reasonably priced wines in the valley. They make only two wines each year, a Chardonnay and a Syrah – and some years will produce a tiny production Rose of Syrah.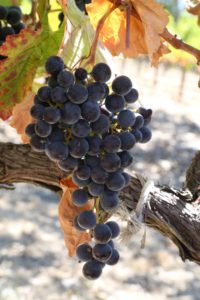 With only a limited number of vines production will invariably be small. However their production is even smaller – they prune to one cluster per shoot and ultimately the production is limited to only about 2 tons per acre. This is not hillside where production is inherently smaller – often from vines growing in shallow rocky soils – but rather this is the valley floor with deeper well drained soils. Their vineyard is dry farmed, managed entirely by hand and pesticides are not used.
The 2010 Chardonnay was aged in both new and French Oak over a period of 12 months. No commercial yeasts were added during fermentation; all indigenous yeasts were used. Aromatically it is a subtle nose but as it breathes is reveals tropical aromas and citrus blossom. Notes of Meyer lemon, green apple, lime and orange show on the palate along with a slight butter component. The oak is there, slightly smoky but in no way dominates this wine. Nice acidity. The mid palate has good flavor and the finish is clean.
The 2010 Syrah was aged in oak for 15 months and was also fermented with natural yeast. The wine reveals a lively and very aromatic bouquet. Fruit jumps out of the glass; it has a sweet component to the nose, candied fruit – think dessert in a glass – with hints of cedar showing after the wine breathes. This is a lighter style Syrah. There is a savory component to the palate – it reveals mostly high toned fruits – red currant, raspberry and red cherry. The tannins are there, but they are rather delicate and well integrated into the overall structure and mouth feel. The wine finishes gracefully and clean.
With such a small production – the wine is very selectively distributed in New York and more locally in San Mateo (San Francisco Bay Area). They participate in select consumer and trade tastings including the annual Flavor Napa Valley held each year in November.