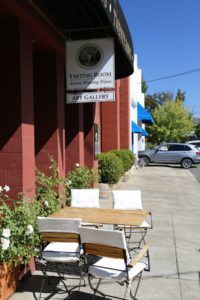 Twenty Rows is just minutes driving north of downtown Napa and is located in a non descript location surrounded by businesses such as a machine shop, dance studio, automotive repair, upholstery…well you get the idea. This is not your normal "up valley" winery! Looks are deceiving and it is wineries such as these that are fun to seek out; they are the only "working winery" located in downtown Napa. Twenty Rows is appointment only and is setup to see small groups for private tastings. However with that said, they often hold tasting events and other wine related happenings within the winery. Check their website for the latest.
The outside of the building is never non descript but once you enter this winery you are transported to another world. The inside is seriously setup for hosting people, drinking and have a good time. A large screen TV hangs at one end of the winery – there is no shortage of seats (choose from bar stools, at a table or the more comfortable lounge style seats. And art room features a number of paintings. Your tasting is not rushed, is very personal and informative. Sometimes you can smell wine drifting into the tasting room from their winery.
This winery is very much a family affair – for a number of years Twenty Rows shared the winery facility with other wineries including Robert Craig but after the other wineries moved their operations Twenty Rows took over sole ownership of the facility. The owners Lori and Bryan Nuss have been farming vineyards on Mt. Veeder since the early 1990's. Robert Craig (long time vintner in the Napa Valley) was Bryan's initial inspiration and mentor in the wine industry and helped him during his first years of winemaking. Today Bryan is the primary winemaker for both Vinoce (their high end limited production label) and Twenty Rows. Son Tim handles most of the tasting appointments and his golden touch in the winery shows; he has redecorated the interior of the winery which is now very spacious and includes seating; this is a great place for tasting and hanging out.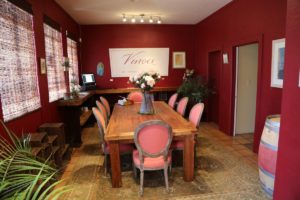 The name Twenty Rows comes from, you guessed it, 20 hillside vineyard rows from their home vineyard on the slopes of Mt. Veeder (north west of downtown Napa). These rows have always produced quality fruit but never found a home in their Vinoce label so they decided to bottle this as a separate label.
As Tim told us in regards to the Twenty Rows wines, "this is Napa wine that you can drink everyday". True enough – all their red wines are priced the same and their one white is slightly less – all the wines are $20 or under. Try finding Napa fruit at those prices – there just aren't that many Napa producers with that type of pricing. Compared to their other brand, Vinoce which is boutique and very small production, Twenty Rows as of the time of this review is around 14,000 cases. Their first vintage dates from 2003.
Twenty Rows sources fruit from Pope Valley in eastern Napa County every vintage for their Sauvignon Blanc. This is a wine to be paired with food. The 2009 is crisp with notes of lime on the bouquet as well as on the palate. Citrus, herbal notes and pear round out the palate. It has a clean quick finish.
The 2008 Napa Valley Merlot shows black cherry, baking spices on the bouquet followed by darker fruits on the palate with a finish that is pleasing – soft but with structured tannins. As with their other wines they try to maintain the integrity of the fruit from vineyard to winery. I.e., not picking to ripe – but focusing on the fruits characteristics and eliminating the "showy and bold tannins".
The Grappler is a California red wine blend; the 2006 vintage is a unique blend, predominantly Zinfandel with Syrah and Cabernet Sauvignon. A name like this is perfect for this type of blend. It is named after Tim and his brother who were wrestlers in college. This is not a wine however that needs wrestling with once its in your mouth – it is actually a food wine with nice notes of plum and red cherry on the palate. The bouquet is quite aromatic including aromas of candied fruit and red cherry. Its a lighter styled red blend with just a touch of cedar and spice on the finish.
During a more recent visit we tried the 2012 Grappler. This wine is 85% Zinfandel, 5% Syrah, 5% Petit Verdot, 3% Cabernet Franc and 2% Grenache sourced from both Napa and other California vineyards. This vintage shows a powerful bouquet, cherry liqueur and a vanilla/mocha component which turns to aromas of brown chocolate the longer the wine breathes. The wine is a lighter style – easy drinking and smooth on the palate. – red and darker cherry flavors show with hints of tobacco towards the finish. The tannins are fairly delicate and start in the front of the palate slowly working their way to the back of the palate.
Their flagship wine is the Cabernet Sauvignon with fruit sources coming from well-known appellations in Napa including Spring Mountain and Stag's Leap. However the price does not reflect the top vineyard sources – this wine is priced the same as their other reds. The 2008 vintage is ready to drink young; its certainly not one of those "huge" Napa Cabernet's that leaves your mouth dried out but rather is constructed to drink young, with food. It has nice color in the glass and notes of mocha on the nose. It is smooth across the palate with more red fruit rather than dark fruit showing including notes of tangy plum and cherry. This is a rare wine coming from Napa that has the quality yet really delivers on the price point.
For more details visit: www.twentyrows.com
NOTE: this review has been identified as needing a *major* update – Twenty Rows moved out of their long time tasting room on Vallejo Street near downtown Napa in May 2018 and will be opening a new tasting room on the riverfront of Napa's Tannery Row. We will revisit once the new tasting room is open (hopefully by Spring 2019) and update both this review and our other review of Vinoce Vineyards at that time.
Old Tasting Room