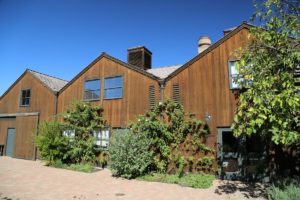 Turnbull Wine Cellars is located about half a mile north of the Oakville Crossroad on the east side of Highway 29. The winery owns over 200 acres in the Napa Valley and produces approximately 30,000 cases per year, certainly a lot larger than many of the wineries we have visited on this project, but in world of wine, they are still fairly small. Their name is traced back to the 13th century when a court member saved his king's life by "turning" an attacking bull away from the king. The king came up with a neat motto after this incident, "fortune favors the bold." Interpret this saying how you like, but it certainly has some truth with some the Napa wineries producing big bold Cabernet Sauvignon wines.
However, historical meanings aside, this name was conveniently the last name of the original co-founder William Turnbull. He was an architect from the San Francisco Bay Area and in fact designed the current winery building as well as other Napa wineries including one part of Cakebread Cellars (there are some obvious similarities in the two winery buildings), Newton Vineyards and home in Sea Ranch along neighboring Sonoma County's northernmost usually foggy coastline.
Along with friend and attorney Reverdy Johnson (a former President of the Napa Valley Vintners Association), both men founded Turnbull-Johnson with their 1979 inaugural vintage. The location of their winery is the original estate property that Turnbull and Johnson purchased in Oakville (still planted to vines). They originally sold grapes to other producers before building their own production facility.
Patrick O'Dell, a newspaper publisher used to live in Humboldt County (northern California) and ran a number of publications in the Eureka region for many years before eventually moving to the Napa Valley; he purchased Turnbull Johnson in 1993 and renamed the winery to Turnbull Cellars. He oversaw a significant expansion of the winery's vineyard holdings – purchasing both valley floor and hillside locations. They currently own four estate vineyards, three in Oakville (including two in the coveted vineyard neighborhood near Screaming Eagle) and their original vineyard which is next to the winery (14 acres) as well as a 100+ acre vineyard just north of Calistoga.
The winemaking team is producing some of Napa Valley's more exciting, complex and superbly balanced wines – even their bigger wines are balanced. Their wines refreshingly focus on the fruit; their oak program complements the wine rather than dominates. The wines are aged using both oak barrels and larger sized puncheons which impart more subtle oak characteristics during the wine's aging.
This is the heart of Oakville, some of Napa's most sought after Cabernet Sauvignon country and Turnbull Cellars produces a variety of wines including several acclaimed and highly rated Cabernet Sauvignons. Their "boldest" most complex flavored Cabernet Sauvignon is the "Black Label". The 2004 is a Bordeaux blend…well almost – there is some Syrah added as well. This wine feels dense on the palate with with flavors of chocolate, cherries and plum – and showcases a finish of great length.
Select Wines
The 2017 Turnbull Cellars Josephine Sauvignon Blanc smells like spring – best enjoyed cold on a warm summer day. Notes of honeysuckle, white peach and topical nuances including lychee and passion fruit are immediately appealing on the bouquet. Balanced across the palate and highly refreshing, the wine offers flavors of lime and pear. Not heavy structure but intense in flavor – especially on the finish. Aged in both concrete and amphorae vessels.
Winemaker, Peter Heitz recalls when he first was introduced to the amphorae vessels. He was touring Fontodi Winery in June in Tuscany (about halfway between Florence and Sienna) when he was surprised to discover they were still pressing off a Sangiovese – some 8-9 months of aging on the skins. He noticed several large amphorae vessels and inquired about their source. The answer was, "we make these ourselves". Turns out these vessels are hand made by the Manetti family, owners of Manetti Gusmano & Figli furnace.
The family has worked with clay for 8 generations and are responsible for providing the tiles in the restoration of the floor of the Duomo and the Botticelli room in the Uffizi Gallery (both located in Florence). Making these vessels is a lesson in patience combined with exacting knowledge passed down from generation to generation. Each vessel (they can be produced in different sizes) takes up to 4 months for one person to create by hand. Only a limited number of these are produced each year (we began seeing select wineries in the Napa Valley start to use these around 2013/2014).
The 2015 Turnbull Cellars Oakville Cabernet Franc is dark ruby red in the glass; immediately shows an intriguing intensity on the bouquet – highly aromatic it features aromas of blackberry, plum with notes of dust and a cigar spiciness. Offers a pleasing density on the palate without being heavy and shows both red and darker fruits along with excellent mouthwatering acidity. The tannins are polished and well-integrated – their appealing texture is part of what invites another sip.
The 2014 Turnbull Cellars Fortuna Cabernet Sauvignon showcases a bouquet that is almost all about the fruit – mainly black cherry with hints of dust and dessert spices. Well balanced and highly approachable in its youth shows mostly red fruit on the palate with well-integrated tannins and hints of mocha on the finish. Drinks quite well young.
The 2015 Turnbull Cellars Black Label Cabernet Sauvignon is a big but balanced wine. Shows powerful fruit forward aromatics focusing more on darker aromas including blackberry and plum with just a kiss of vanilla. Also, a tobacco leaf character. Offers a nice depth of flavor on the palate with mostly darker fruit. A sweetness of fruit complemented by weighty but not gripping tannins lasts for quite some time on the long finish.
An extremely unique for Napa wine is their winemakers blend – the Bonne Vivante which features a variety that we have never seen being produced from any other Napa based winery – Lagrein. This variety is native to parts of northern Italy. It is not very popular in California – but limited plantings are found on California's Central Coast. Turnbull has less then 3 acres planted of this variety in their Oakville Leopoldina Vineyard (initially they weren't even sure of the variety and had to send out plant material to have it identified). This variety is blended with Syrah. And incidentally one other tiny planting of Lagrein is at the Vice Versa Vineyard in Calistoga.
—
The Pairing Garden contains a number of raised beds planted to various vegetables, herbs and fruit trees offers an intimate and relaxing sit-down space to enjoy the wines. This space is located directly behind the tasting room and also overlooks part of the winery and vineyards. The Gallery Tasting is available to those who do not have a reservation and typically includes 4 current release wines including one of their much-coveted Cabernet Sauvignon wines.
As the winery is located close to the main highway, is well established and is on the "Napa Wine Strip", it can get crowded here on the weekends. Enter the small tasting room from the parking lot through a vine covered walkway. Several classic cars are located on the property and make good photography stops including the one that is almost always parking in the parking lot. The old tractors typically located behind the tasting room next to the garden were taken from a property in Paso Robles (central California) that Patrick O'Dell used to be involved with.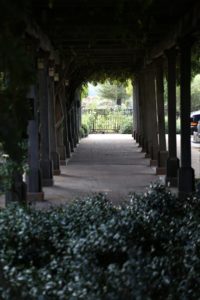 The hosts are very friendly and well versed in the local wine industry. They are also adept at handling numerous people in front of the tasting counter as we have sometimes experienced on busy summer or fall weekends. The tasting room is contemporary and contains a gallery of prominent photographers including one of the world's largest private collection of Ansel Adams photography (Adams signature is on all the prints); the works do rotate about every 6 months. Patrick has long been a collector of fine art photography in addition to photographs by Ansel Adams, photography from other prominent artists (including Dorothea Lange) are displayed in locations throughout parts of the winery.
For a more intimate personalized tasting consider making a reservation for a tour and private seated tasting. Members may also request a private tasting in a tiny room called The Drafting Room (this was once William Turnbull's architecture studio).
A Tesla electric vehicle charging station is located on site. For more information, or to join signup for membership in their Winemakers Society, visit: www.turnbullwines.com
The Signs of Turnbull

Winery/Hospitality

Vehicles