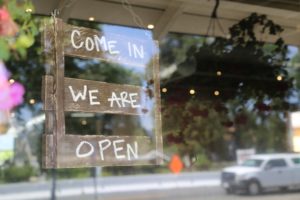 Trujillo Wines. Winemaker and founder, Michael Trujillo grew up in Southern Colorado in a family that was more apt to drink beer and bourbon then ever a glass of wine. His upbringing was on a 3000 acre family farm where he learned how to tend sheep and cattle. In college he decided to study architectural engineering – with an interest in building skyscrapers and bridges – he was good at math and as he says, "thinking in 3-d".
Wanting to take a break from school and the local scenery during Spring Break of his junior year he and friends headed west, sold on Los Angeles based on what they had seen on television. Finding the reality of Los Angeles different than their perceptions they soon headed to northern California based on a tip from Michael's parents to visit a family friend who lived in Napa Valley. Michael had never met this individual, but it turned out to be Jim Allen, the founder of Sequoia Grove winery.
With life's sometimes totally random paths, Michael never returned to finish his degree in engineering; he never left Napa Valley. He fell in love with the people, the terrain and the weather and ultimately wine making. In January 2020, Michael resigned as Director of Winemaking and President of his family friend's winery, Sequoia Grove. He continues to focus his efforts on the Trujillo wines but also crafts wine for several premium brands in the valley as well as some private label work.
Michael knew next to nothing about wine and vineyards when he came to Napa. Jim did not have a job for him at Sequoia Grove so he began working in the vineyards, helping develop the vineyards for what would eventually become Domain Carneros, even prior to the current ownership of that property. With his background in design, engineering and surveying and his new-found knowledge of vineyard management – his services became much in demand.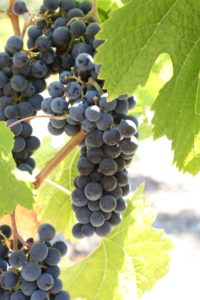 A part time position at Sequoia Grove opened in the cellar. By this time he had gotten the wine bug, so he started taking classes from UC Davis in winemaking and began helping make wine at Sequoia Grove. He has the fortune of as he indicates, "doing homework" with one of Napa's wine masters, André Tchelistcheff for 13 years. Sequoia Grove was one of Andre's consulting clients almost until he passed away in 1994.
Michael was part of a partnership in 1991 that founded Karl Lawrence. Karl Lawrence continues production but Michael is no longer involved. His first vintage of Trujillo Wines was from the 2011 vintage. The philosophy of this wine is similar to what he created at Karl Lawrence – blend both valley floor fruit with mountain fruit and continue to source from the same or similar vineyards.
He strives to make wines that are balanced, have good acidity and are from grapes that are not picked ultra ripe. He uses oak "as a vehicle of maturity, not as a vehicle of flavor". He enjoys making wines that are reflective of the varietal and where they are from – the terroir if you will. The wine needs to taste like where it comes from as well as display varietal characteristics. Michael is a big believer in vintage and showcasing what makes each year unique dependent on that vintage's weather.
Select Wines
The 2011 Trujillo Cabernet Sauvignon is a combination of both the acclaimed Morisoli Vineyard in Rutherford (valley floor) with fruit from Howell Mountain and fruit from a tiny vineyard near Spottswoode Winery in St. Helena. Michael has worked with the Morisoli Vineyard for many years – and this is his sweet spot in the Napa Valley for premium Cabernet Sauvignon. This release is 92% Cabernet Sauvignon, 5% Merlot, and 3% Petit Verdot. Michael typically uses between 65% and 95% new French Oak. He backed off on the amount of oak used this year based on the cooler vintage characteristics of the wine.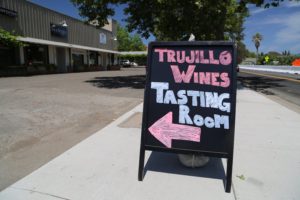 The wine is dark in ruby in the glass. Initially there is a very slight hint of an herbal component – the nose is inviting and very elegant. Smells of mocha and a pleasing dusty almost gravely component show aromatically interwoven with the fruit – namely dark cherry and black currant. Initially the wine is plush with a velvety mouth feel; the wine has good body mid palate to finish. One can almost taste the earth in this wine. The palate shows more black than red fruits including blackberry, black cherry and a delicate note of black licorice. A bit of darker chocolate also helps round out the finish. The tannins are dusty and well integrated into the overall structure of the wine.
NOTE: this review has been identified as needing a major update, especially tasting notes. Updates coming by end of 2022 or 2023.
—
In years that are truly special and stand out for vintage reasons, Trujillo wines will produce single vineyard wines. Michael has a 2012 Howell Mountain Cabernet (which was not yet released at the time of one of our visits). Based on the success with Karl Lawrence, Trujillo Wines will also produce a second label – mostly focused on presenting to mailing list customers.
The label is a unique tribute to both his personal and family history. Images of a Ram (Colorado) and a Bear (California) represents Michael's "roots" and his move out west. A family crest pays tribute to his heritage which he has dated back to the 1550's from Spain. Visually the label looks like grains in wood – texturally you can feel this if you run your fingers over it. It is a tribute to Michael's other passion – wood working. And notice the three distinctive cutouts in the upper left part of the wine label – these aren't random, each cutout represents one decade of Michael's time in the Napa Valley.
A second label, Madelynne features several lighter style wines including a white wine Cuvée, a rosé and a red wine cuvée (each produced in quantities of under 200 cases). Michael named these wines in honor of his daughter using his daughter's middle name to come up part of the name for these wines.
The wines are selectively distributed in several states including California and New York. The mailing list is a big component of his customer interaction – and borrowing a play from Karl Lawrence's playbook, Michael locks in the price for original and long time customers – raising the prices slowly or keeping them the same, rather than raising it every vintage. He values his earliest customers as they are the ones that helped build his brand.
Tastings are for wine enthusiasts who are interested in a personal sit down tasting (by walk-in or by appointment) at their small tasting room along Highway 29 in the south St. Helena. Either Michael or one of the hosts will conduct the tastings but they also have several employees who can provide the tastings.
For more information and to join their mailing list or make an appointment, visit: www.trujillowines.com