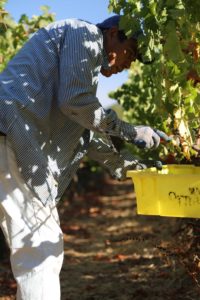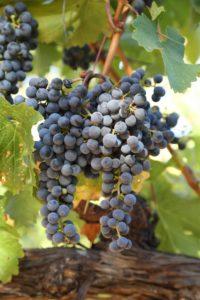 Trotter 1/16th Wines was founded with a 2011 vintage by long time Napa winemaker Stephanie Trotter-Zacharia. Stephanie has been working in the Napa Valley since 1996. But her story of how she arrived in Napa starts much earlier than that. At age 18 she left her home in Philadelphia and headed west – ultimately trying to reach Alaska. However as she reached the West Coast she ran out of money in Penngrove in neighboring Sonoma County and settled there for 10 years.
There is a reason Stephanie left to find her own way, promptly at the age of 18. She is one of 16 children (for those interested, she is #15 of the 16 kids). Whoa! Creatively, her label Trotter 1/16 pays heritage and honor to her own small fraction of her family – an honor that perhaps comes from the perspective of age as well as her own geographical distance from a family of this size. She had to create her own path – winemaking was not something she grew up with; her father was a pretzel baker.
She met her husband in 1994 – he works for the city of Calistoga and was the reason she became familiar with the northern part of the Napa Valley. They lived in Calistoga and while there, her curiosity about wine began to build. She began to visit a few wineries to to start educating herself about the business. Her first wine job was in the tasting room at Clos Pegase in 1996. After two years she realized she wanted to further her education and learn more of the hands on part of the business.
She then worked at Dutch Henry Winery for several years where she took classes in winemaking at UC Davis. Eventually Casa Nuestra become her winery home for ten years as a wine apprentice. Making her own wine has been on her mind for a number of years – one of her friends at Casa Nuestra kept encouraging to make her own wine. Timing was excellent in 2011 – she was working at David Fulton Winery (one of California's most historical family owned vineyards) and 121 dry-farmed vines of Cabernet Sauvignon from their vineyard in St. Helena became available.
Stephanie picked this fruit with a group of friends she affectionately refers to as the "Sistas of D'Vine," (these friends help her during harvest each year). The fruit from these vines was enough to make merely two barrels of wine or a total of 49 cases. Trotter 1/16th is certainly one of the smaller commercial producers in all of the Napa Valley.
Stephanie strives to produce wines that are balanced and are approachable early on but have all the characteristics for aging. Throughout her lengthy career in Napa Valley she has met numerous individuals who have provided winegrowing and winemaking advice including Randal Johnson (Hess Collection) and later in her career, winemakers Mario Tedeschi and David Sundberg.
Changing the appellation source completely in 2013 and 2014, Stephanie now sources fruit from tiny private vineyards in Coombsville (just east of the city of Napa). These vineyards are dry farmed and generally organically or bio dynamically farmed. One vineyard is so small that she and her friends pick all 36 rows each year of fruit. Production has also increased with these subsequent vintages; now Stephanie makes a grand total of 4-5 barrels or approximately 100 cases. The focus of her micro production is on producing Cabernet Sauvignon but in 2017 she sourced outside of the Napa Valley to Amador County for a Portuguese white wine – Verdelho.
Stephanie sources from what we call "backyard" vineyards in Napa – small vineyards that are typically located behind the vintner's home. Another Coombsville vineyard she sources from is so tiny that Stephanie named it herself (the E & S Vineyard). Because of its size, this vineyard would be block in a larger vineyard but even with its tiny footprint there are variations in fruit between various vines because of the differences in sun light exposure and the fact that some of the vines are planted near tall trees. Regardless, this is vineyard that produces very flavorful Cabernet Sauvignon grapes.
We helped pick some fruit one year from the Oak Canyon Ranch nestled against the hills of the east side of Coombsville (less then an acre of vines) – here are a few photos from this fun outing:
Select Wines
2011 was a challenging vintage with early rains and was generally a cooler year. A number of valley floor wines from this vintage that we have tried certainly carry vintage characteristics often with varying degrees of herbal notes. The 2011 Trotter 1/16th initially shows nuances of cassis, subtle notes of cedar along with various baking spices and notes of mocha. But the wine soon reveals its power – its fruit. Blackberry, blackberry pie and black and red cherry. The mouth feel is soft and silky with depth in the mid palate. Very good acidity. For a young wine the tannins are very well integrated and fine-grained. They linger delicately for some time, but more so in the front of the palate rather than the back. There is a slight dusty or earthy component that lingers on the finish. This is a wine that tends to hold up well for some time after it has been opened.
—
In later years, Stephanie has entered her wines into a number of well-regarded wine competitions often within the state of California. Her wines have been highly appreciated, at times taking home silver, gold and double gold medals for her craft. And her colorful labels were designed by artist Jeannine Luke (she grew up in the Napa Valley).
Because of such a small production the wine is only available direct via the website. For more information or to join the Liquid Art Club, visit: www.116wines.com