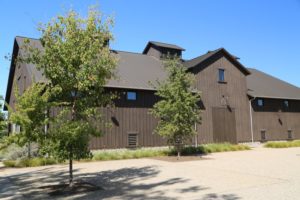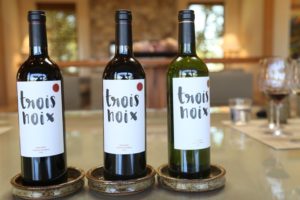 Trois Noix was founded by brother and sister Jaime and Greg Araujo. The roots of Trois Noix began in 2013 during harvest – wine that was going to be used for their family's brand, Accendo Cellars ultimately was kept separate, opening up an opportunity for Jaime and Greg to start their own wine brand. Their first vintage was merely 300 cases of a Coombsville Cabernet Sauvignon.
Jaime has lived an intriguing life; while her family was creating one of Napa Valley's iconic premium wineries, Araujo Estate built around the historic Eisele Vineyard and later founding Wheeler Farms, Jaime was building her career in Europe. After graduating from Georgetown University she moved to the United Kingdom where she lived for 12 years. She became a professional actress (primarily in theatre) followed by what was only going to be a two week internship at Moet Hennessy – which became three years. Eventually she moved to France, just outside of Paris and in 2004 began a marketing, strategy and consulting firm, called Terravina – focusing on the wine industry. Most of her clients were from France but she did have a few outside of Europe including her family's winery.
After living in Europe for 26 years, Jaime and her family moved back to California in 2016. Timing was good, her parents Bart and Daphne were getting ready to open Wheeler Farms Winery (on Zinfandel Lane, a short drive south of St. Helena) and promote their own wine, Accendo Cellars. Both Jaime and her brother are partners in Accendo Cellars. In 2018 Jaime bought out her brother's share of Trois Noix and is now the sole proprietor.
Stylistically Jaime prefers wines that are elegant and balanced – while at the same time are crafted to be enjoyed in their youth. But beyond the stylistic preferences, to her, wine is the tool that helps connect the fabric of a community, especially in a place like the Napa Valley which is so wine-centric. And it is the beverage that has introduced her to as she states, "passionate, intelligent and fun people".
Trois Noix means 'three nuts' in French – certainly a catchy name and one that invites immediate questions. The name is an homage to both her and Greg's children (three cousins) who Jaime and Greg used to refer to as peanuts when they were young.
The fruit sources for Trois Noix have since grown with fruit from additional vineyard sites secured through winemaker friends and select growers. Sometimes friends in the industry hear about Trois Noix and during harvest may offer other varieties from premium vineyards in the Napa Valley. Until 2019 the Trois Noix wines were made by the talented winemaking team of Françoise Peschon and Nigel Kinsman (Francois produced the white wines and Nigel produced the red wines).
Select Wines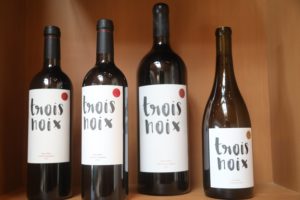 The 2017 Trois Noix Napa Valley Sauvignon Blanc is straw golden in color – the aromatics are tropical, generous both in fruit and floral nuances. Shows honeysuckle, citrus blossom and an appealing sweet thread of fruit. Perhaps the bouquet would lead one to think the palate would also be tropical influenced but this is not the case. Very balanced with flavors of lime, and orange zest and lively acidity. The wine is refreshing with a brightness that shows across the palate. Displays an energetic finish.
The 2016 Trois Noix Napa Valley Cabernet Sauvignon is dark ruby in color with purplish tinges on the rim; complex, dark, brooding, savory and diverse, the bouquet offers aromas of coffee grinds, mocha, brown chocolate, toasted cedar and darker spices, among them cloves. Also notes of blackberry and boysenberry. Features a pleasing texture with fleshy tannins anchoring a long lasting finish showing both red and darker fruits along with a lingering cigar spice note.
The 2015 Trois Noix Napa Valley Cabernet Sauvignon offers a pretty bouquet with notes of old cedar box, darker spices including white pepper and hints of cigar smoke and sage. Becomes more savory as the wine continues to breathe. Rounded and supple on the entry shows plenty of flavor across the palate including blackberry and plum. Balanced with darker spices and slightly chewy, grainy but fairly well-integrated tannins anchoring the finish.
In 2018 Trois Noix produced a Chardonnay from the historic Muir-Hannah Vineyard in the Oak Knoll District (a few minutes drive from the city of Napa). This vineyard is owned by John Muir's great grandson and family; it was one of the Chardonnay vineyards that produced the fruit for Chateau Montelena's 1973 vintage that won the "Judgement of Paris" tasting. The other vineyard source for this acclaimed wine was from the Russian River appellation in neighboring Sonoma County. And after Jaime began using fruit from this vineyard, her block began to be farmed organically based upon her request.
—
As Jaime admits, creating the label was one of the more difficult challenges of Trois Noix. Through a party hosted by one of her neighbors, she was introduced to Stefan Copiz, a very talented and accomplished graphic artist. Incidentally one of his dreams was to create a wine label for a wine brand. Perfect timing. Simple yet elegant, the label is eye catching and easily readable even from afar – both important attributes for wine labels.
Total annual production is usually around 300 cases per each wine. The wines are sold both direct to consumer and through selected distribution in Massachusetts, Maryland and Florida. One may also find the wine at Wally's Wine in Los Angeles and through K&L Wine Merchants. Trois Noix is a part of the Wheeler Farms Winemaking Partner (WP) program using both their production and hospitality spaces.
For more information, to purchase wines or to reserve a private tasting with Jaime at Wheeler Farms (just south of St. Helena), visit: www.troisnoixwine.com