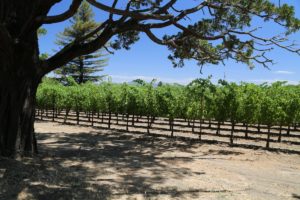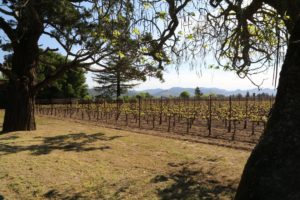 Trivium Wines is the culmination of multiple decades of experience in the Napa wine industry by three wine veterans: Stu Harrison (first employee at Opus One), Jack Stuart (long time winemaker & Trivium's winemaker) and Doug Wight, 5th generation winegrower who manages the historic Lewelling Vineyard in St. Helena. All three partners were neighbors in St. Helena.
At the time of this review Stu had just finished his 35th year in the Napa Valley. He is originally from Cleveland and then spent some time in Boston. During his time here, he was introduced to wine through a friend who worked at a wine shop. Stu eventually acquired the "wine bug" by also working at the shop. He moved to Napa in 1975 when there were maybe 25 wineries in the valley.
The production is focused on one wine each year, a single varietal, 100% Cabernet Sauvignon picked from the same 15 rows. Their first vintage is from 2005.These rows are in one of the oldest continuously owned properties by the same family in the Napa Valley, the Lewellings. This is a very historical vineyard (dates to 1864) located on the St. Helena bench land on the western side of the valley just south west of the town of St. Helena. A number of top producers source from this vineyard.
Stu has learned of the Napa "sweet spots" over the years and the bench land on the western side of the Napa Valley is certainly one of these. He remembers in the "old days" of Napa when quantity of production was favored and because this vineyard could never compete with some of the valley floor locations in terms of tons/acre it wasn't always considered an idea location for growing grapes.
The years have not tempered Stu's enthusiasm for the local wine industry and he is clearly excited about their "little" project. He is a wealth of knowledge about the wine industry and Napa Valley in general. He was one of the original employees at Domain Chandon in the mid 1970's, helped grow Opus One and Swanson and currently is at Continuum. He remembers alcohol levels substantially lower than they are today and a penalty actually placed on growers if grapes were picked with too high of a sugar content (relatively not that long ago).
How times have changed.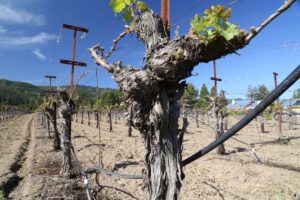 Trivium's 15 rows/vineyard block has earned the name "Les Ivrettes" or in French meaning, "Tipsy Girls". Yes, there is a story behind this name. The name refers to the partners' three daughters and their old "party house" which adjoined the edge of the Lewelling Vineyard right next to the block where Trivium's grapes are sourced from. The name Trivium is Latin and refers to an intersection where three roads came together near the vineyard.
The focus on their one wine/one varietal is on terroir (always picked from the same rows) and other than the higher alcohol than say 35 years ago (still moderate by today's standards) their wine making practices have not changed. A Cabernet Sauvignon from the mid 1970's more than likely was 100% varietal.
Their "Cabernet Manifesto" requires their wine to taste like where it was grown as well as taste like the varietal. As a result, Trivium concentrates on old world style wine growing and wine making techniques. They are the first to pick in the Lewelling vineyard and they keep maceration to a minimum after fermentation. They try to shoot for a decent acidity level and a balanced wine that can be paired with a number of foods.
The 2007 Cabernet Sauvignon is dark red to purple in the glass – the wine shows very good color. The bouquet is concentrated and layered; initially it shows mineralities with some dustiness and oak, but the fruit soon takes over and envelopes the glass. It is a very aromatic and floral bouquet dominated by rich ripe fruit with lots of blackberry aromas. The palate is commanding, complex and layered with rich fruit including cherry, blackberry and black currant. The tannins are well integrated, firm and dusty with notes of cedar, rosewood and mocha on the super long lively finish.
Distribution is mostly within California and through their mailing list. You can find the wine locally at ACME in St. Helena and Backroom Wines in Napa. Typical annual case production is usually just between 300 and 400 cases.