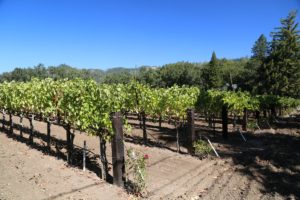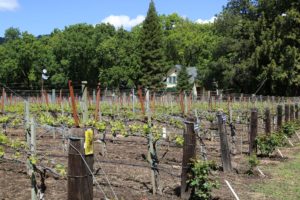 Tristant Vineyards produces one wine each year, a single vineyard red blend sourced from an 11-acre vineyard located in the far South East corner of the Calistoga AVA. Proprietor Bill Tristant decided to immigrate to California in 1949. His decision was based on the impact World War II had on his family. They lived in the Pyrenees at the time and their homes and property were controlled by the German occupation. He remember these years as a struggle for survival. He left his entire family and came to the USA by himself at age 16. He remembers borrowing money for the cost of the ticket on the boat that ultimately arrived at Staten Island in New York. He made his way to the west to meet up with an Uncle who owned a cattle ranch in the middle of nowhere near Ely, Nevada. Working there for three months he saved up enough money to move to San Francisco.
He attended college in San Luis Obispo at Cal Poly at what was at the time an all mens' school just before women were admitted, starting in 1956. He graduated with a degree in Architecture in the 1950's – and he recalls how his classes were held in a trailer. How this campus has changed since then!
Bill's family has owned Vin Irouleguy, a winery in the far South West corner of France for decades. Bill was actually born in this winery and spent some of his early years there. Bill's younger brother still manages the winery. Wanting to continue his passion for wine, in the mid 1970's Bill began looking for property in the Napa Valley with the intent to plant grapes. Driving through the northern part of the Valley he spotted a small 12×12 sign that indicated property was for sale by owner. After stopping and introducing himself to the owner, they both agreed on a sale price that afternoon. The property was full of valley oak trees and was being used to cultivate hay at the time. There were no vineyards planted on site.
The original property owner did not let Bill conduct soil tests so he had to base his purchase decision of what he visually saw on the land. Fortunately the soils proved to be perfect for growing premium wine grapes (sandy loam). And as Bill says in reference to vineyard property, "it is "location, location, location". Nearby properties are heavy in clay and do not drain well. Other properties relatively close to his land are high in Boron which is not conducive for growing wine grapes.
Bill soon purchased the 11 acres in 1975 and planted it to vines by 1977 – Cabernet Sauivgnon and Sauvignon Blanc. His first commercial vintage was in 1984 of the Sauvignon blanc – he made this for a number of years. These original vines were on AXR rootstock which ultimately failed when the Phylloxera louse got hold of the roots. He replanted 9 years later to some (unique for Napa) clones – Bordeaux clone 338 Cabernet Sauvignon as well as Merlot and 2 rows of Petit Verdot.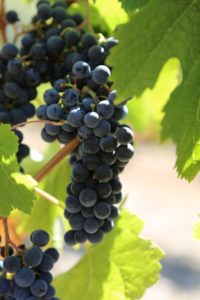 The organically farmed vineyard is meticulously managed by Ricardo Guzman – he was been farming this vineyard for some 25 years and intimately knows the property and the vines. It is a unique property tucked away in the northern part of the valley – it is surrounded on three sides by both the Napa River and Bale Creek. The soils here are deep, very deep – the first 4-5 feet is a Bale Loam a somewhat sandy soil that drains very well. Below this is gravel and lots of it. Bill recently had a well dug on site and upon reaching almost 200 feet the tailings were still producing gravel from ancient river beds.
His vines are on an Open Lyre trellising system – a system he chose so they could manage the canopy well – allowing for plenty of sunlight to come through to the ripening fruit. They crop to one bunch per shoot and selectively drop any grapes that do not meet their exacting specifications. All fruit is picked during the night and then crushed and processed at a nearby neighbor's winery. Fermentation uses native yeasts.
The wine is always estate, a varietal Merlot based blend with much smaller amounts of Cabernet Sauvignon and a tiny percentage of Petit Verdot. The percentages vary each year but usually not by to much. Rather than calling it Merlot (based on its higher than 75% Merlot composition) the wine is a "reserve red wine" named Mirifice which in Latin means extraordinary and wonderful.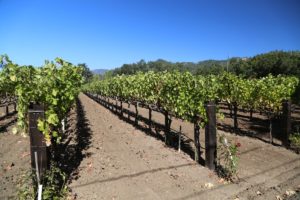 The 2007 vintage is the current release at the time of this review. The wine is typically aged for 25 months, all in new French Oak, using a variety of coopers. Perhaps that much new oak might detract from the wine's balance, but not so. The oak is just one of the components of this wine that are all perfectly balanced. Aromatically it shows earthy tones, forest floor notes, elegant red fruit, raspberry and red currant with hints of mocha. The nose also has a floral component – dried rose petal. The palate is incredible balanced with all components well integrated. Good fruit initially, a rounded mid palate and delicate tannins anchoring a fairly long finish. This is a wine you keep coming back for, it begs another taste. For the price, this wine is a very good value.
The wine has done very well in several wine judging competitions – Tristant earned a double gold medal out of 300 entries in one of the CWSA competitions (China Wine & Spirits Awards).
Bill has been selling part of his vineyard's fruit to select area wineries for years – he continues to do so but the amount he holds back and makes for himself is always small. Case production usually ranges from 350 to about 500 cases annually. His distribution is select – via his website or a number of wine organizations that he holds membership in. And a few restaurants and wine shops in San Francisco where he lives as well as at St. Helena Wine Merchants in downtown St. Helena. For more information visit: www.tristantvineyards.com