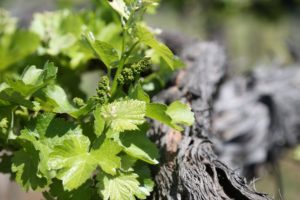 Triple Seven Cellars is about friendship, the social aspects of the world of wine and about creating limited production premium wines from a premier site on Atlas Peak, the Broken Rock Vineyard. Triple Seven Cellars was founded by longtime friends from Houston, Texas – Rusty and Donna Hinds and Jay and Sandy Carlton. Both couples originally met through their children who were attending the same school.
Rusty and Dona fell in love with Napa Valley after taking numerous trips from their native Houston. One of their first trips to the valley was to celebrate their wedding anniversary. And with Donna's interest in living in the valley they initially purchased a home north of St. Helena. But then wanting a small vineyard property, they contacted a local real estate agent whose words of advice were not encouraging – advising them about the rarity of small vineyard sites near the town of St. Helena. But this did not discourage Donna, continuing to search for property she eventually located a vineyard site on Pratt Avenue (in the northern city limits of St. Helena) that was recently subdivided into a smaller parcel. The site was home to an ancient Petite Sirah vineyard planted to one acre of this variety. At the time, these vines were 110 years old producing only approximately 1/4 of a ton per acre and were being used by Michael Chiarello for one of his Chiarello wines. The Hinds have since sold this tiny property and the old vines were ultimately pulled out (their low yields were not economically viable).
The first vintage of Triple Seven Cellars was from 2010 – incidentally grapes from a tiny vineyard on Fulton Lane in St. Helena that ultimately was split with Yao Ming Winery, also for part of Yao's first vintage.
Aligning their brand with an accomplished but under-the-radar winemaker Patrick Mahaney has been an integral part of their success. Patrick is a graduate of the University of California Davis with a B.S. in Biochemistry. He spent 24 years at Robert Mondavi Winery, some of his tenure was as Director of Mondavi's Napa Valley Winemaking Operations and his last 5 years as their Vice President of Global Wine Quality. From 2006 through 2012 he was the Director of Vineyard Marketing for Premier Pacific Vineyards.
And it was Patrick who connected the Triple Seven Cellars partners to the Broken Rock Vineyard, the home property for long time vineyard developer William Hill. This 90-acre site is located about 2 miles in on Atlas Peak Road (north of the city of Napa). The vineyard is located on what is referred to as the Atlas bench or 'shoulder' at an elevation of between 600 and 700 feet – just outside and below the official elevation minimum 760-foot designation of the Atlas Peak Appellation. The vineyard is planted to 45 acres including Cabernet Sauvignon (the majority) with smaller plantings of Merlot, Cabernet Franc and Petite Verdot. Fruit from this vineyard is highly coveted – with the majority of the grapes sold to prominent vintners who buy or have purchased fruit from this site including Philippe Melka, Paul Hobbs, Hall Winery and Titus Vineyards among others.
Select Wines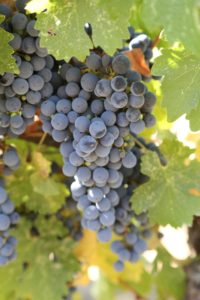 The first Triple Seven Cellars rosé was supposed to be a one-off wine. This is their only wine not produced from Brokenrock Vineyard. During the 2017 harvest Pinot Noir was bled off with minimal skin contact (Saignée) – sourced from select Sonoma County sites including Gap's Crown Vineyard. This wine was made with the intent for family and friends to enjoy at an annual 4th of July bocce ball party held at Crane Park in St. Helena. However, the wine was so well-received, the partners decided to continue to produce and subsequently selectively sell it.
The 2017 Triple Cellars Rosé is salmon color with an appealing bouquet including aromas of dried rose petal, citrus peel and raspberry. Lively, this wine 'dances' across the palate with its flavor and fresh acidity. Very well balanced it offers more concentration of fruit then one perhaps expects from a wine of this style but at the same time shows a textural 'lightness' if you will. From a culinary perspective, this is a very versatile wine.
Rusty recalls he was walking on a beach in St. Petersburg, Florida when he received a call from Patrick during harvest asking what he wanted to do with the Merlot that would soon be picked – Rusty without hesitation, immediately told him to create a blend.
One of the more elegant Merlots we have enjoyed in the Napa Valley, this under the radar, way under the radar wine is not even labeled by its variety. Rather its proprietary name is Atlas Rock Red – but is a wine dominated by Merlot. The 2014 Triple Cellars Atlas Peak Red is a blend of 86% Merlot, 7% Cabernet Franc and 7% Petite Verdot. The bouquet is elegant and attractive with aromas of red cherry, red berries, a hint of mocha and a subtle thread of darker spices. The first word we wrote to describe the palate is balance – very smooth from start to finish the wine lingers tenderly with fine-grained tannins that are extremely well integrated. A pure pleasure to drink – and those who perhaps disparage this variety, should take a close look at this beauty.
The 2014 Triple Cellars Cabernet Sauvignon is a dark wine in the glass (various shades of crimson red and violet). One is immediately attracted to the bouquet with its dark fruit presentation complemented by hints of tobacco, old cedar box, cassis and black licorice. The aromas are also somewhat savory. Well layered on the palate shows excellent concentration. Finishes fairly smoothly with flavors of blackberry and red cherry. Firm yet polished slightly dusty tannins.
—
Of the more than 1,100 Napa Valley based wineries and producers we have met with, Triple Seven Cellars has one of the most unique stories of how they named their wine brand. After their Pratt property was partitioned into a smaller lot it was without a physical address. When searching for how to assign a property an address the St. Helena fire department told Rusty he needed to pick a three number address between his neighboring addresses of 700 to 855. Returning home, he told Donna, and she immediately knew which number Rusty was going to choose. Growing up Rusty had an affiliation for the number 7, choosing that number while playing sports in school. Their decision was easy, 777.
The wines are almost exclusively found in the Houston market. In fact, their first retail outlet was Masraff's, one of the finest restaurants in Houston. Rusty approached proprietor Russell Masraff with each of the Triple Cellars red wines. Russell enjoyed both but with an extensive wine list already featuring numerous Napa Valley Cabernet Sauvignon, he opted to take the Atlas Peak Red and hand sell this to their guests.
And after a trade tasting in Houston, Spec's Wine, Spirits & Finer Foods (simply known as Specs) purchased some of their wine for select stores in Texas. Total production is growing slowly – usually between 250 to 500 cases per year. For more information or to purchase wine, visit: www.777cellars.com