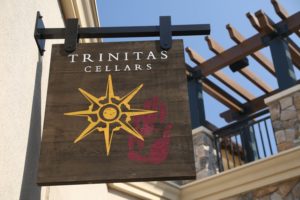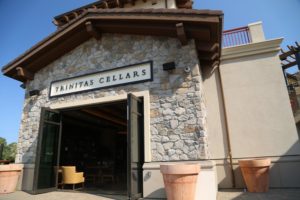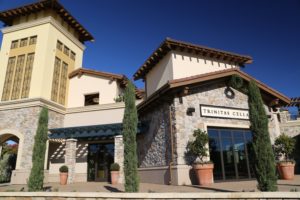 Trinitas Cellars was founded by Tim (born and raised in Michigan) & Steph Busch in 2002. In 1948 after returning from World War II, Tim's father Joseph co-founded a single grocery store called Country Market in Clinton, Michigan. Much later in 1975, Joseph co-founded and repurchased two of his original six supermarkets, calling them J&C Family Foods. Today Tim and his brothers are partners in 16 store locations, all in Michigan – now called Busch's Fresh Food Market. This is the largest independently owned grocery store chain in the state of Michigan. From personal experience, these upscale markets offer an excellent choice of produce, specialty items and wines including as expected a selection of wines from Trinitas Cellars.
Tim is an attorney who moved from Michigan to Orange County, California in 1982; he founded The Busch Firm in 1979 – a law firm that offers a variety of legal services relating to multi-million-dollar real estate and commercial business transactions with offices in Irvine and in Napa.
Tim is also the founder and CEO of Pacific Hospitality Group, which owns several properties as part of the Meritage Collection; as of our latest update to this review, includes both their Napa Valley based properties (The Meritage Resort and The Village at The Grand Reserve at the Meritage) along with Paséa Hotel & Spa in Huntington Beach, Estancia La Jolla Hotel & Spa and Ko'a Kea Hotel & Resort at Poipu Beach in Kauai. Along with ownership of these properties they also manage additional properties in select locations within the USA.
Busch's Fresh Food Market, Ann Arbor

In addition to his business ventures and various investments, Tim co-founded The Magis Center, ('magis' means 'more' in Latin), an organization that in part focuses on restoring people's belief in God and the virtues associated with his holy presence – especially directing youth towards faith through reason, rather than baptism.
And he co-founded the Napa Institute, a Catholic centered organization and has been active in local education in Orange County having co-founded St. Anne School in Laguna Niguel and JSerra Catholic High School in San Juan Capistrano. The Busch Family Foundation is the family's philanthropic arm – focusing on education and community service.
Busch School of Business, Catholic University of America
In support of the Busch's generous contributions, the business school at the 176-acre Catholic University of America (founded 1887) is named the Tim and Steph Busch School of Business (generally referred to as the Busch School of Business) and is located in Maloney Hall next to Michigan Avenue NE on the southeast part of campus. Maloney Hall was constructed in 1917 and was originally used for the Chemistry Department but finished a major remodel by 2018 – and the Busch School of Business opened to students in early 2019.
The foundation of this business program begins with strong ethics while giving students the skills to success in business. Both undergraduate and master's programs are offered. Maloney Hall contains the nearly 300 seat Della Ratta Auditorium (often used by guest speakers), the pavilion area (open space), classrooms and the intimate St. Michael The Archangel Chapel (several plaques honoring the Busch family are fastened to the exterior wall of the chapel including a dedication to Tim's own parents, Joseph and Marcheta Busch and Steph's parents, Gerald and Dorothy Tremble.
Incidentally, The Basilica of the National Shrine of the Immaculate Conception is located within a very short drive or about a 7-minute walk from the Busch School of Business. This impressive cathedral is the largest Roman Catholic church in the United States of America. During our weekend visit, the main cathedral was not open to the general public – but was open to Catholics seeking a confessional. However, a lower level is open for those wanting to pray.
This picturesque university is located only about 10 minutes driving from central Washington DC, or four metro stops from Capitol Hill.
Today Tim and Steph's son Garrett (who like his father is a University of Notre Dame graduate) is the CEO of Trinitas Cellars. And Trinitas Cellars was one of the founding members of the Notre Dame Wine Academy – featuring wines produced by graduates (including a number from Napa Valley based alumni). Remarkably and unexplained, Garrett and his wife Betsy were blessed with triplets born in 2016.
Morris Inn, Notre Dame (in part, home of wines from Notre Dame alumni)

Trinitas is Latin for Trinity (the Father, Son and Holy Spirit in Christianity) but it also applies to the wine industry; three important characteristics include the sun, soil and humanity – all key ingredients for making excellent wine.
Trinitas produces a wide variety of reasonably priced wines. Grapes are sourced from select vineyards from a diversity of locations in Northern California, including the Napa Valley. A small vineyard (7 acres) grows on the Meritage Resort property with vines above the spa-cave extending all the way to Highway 12 (look for the iconic grape crusher statue on the hill directly behind/south of the resort). This vineyard was replanted in 2021.
Several Bordeaux red varieties are planted on site as well as a bit of Chardonnay which is the variety that grows in the extremely rocky soil directly above the cave entrance. In fact, one can enjoy a relaxing "wine walk" – from the entrance to the cave – proceed up the steps to the left and take the short trail that meanders among the vines. Pause for reflection at the Madonna statue near the chairs.
Select Wines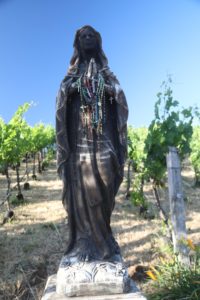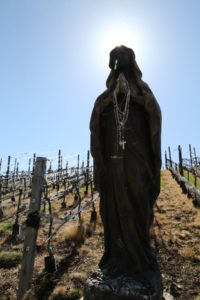 Considering this is the Napa Wine Project, during our latest tasting of the Trinitas Cellar wines we carefully selected primarily Napa wines to review from their tasting menu (they do produce a number of non-Napa Valley grown wines and these are available for visitors to try who visit their tasting room). And refreshingly Trinitas Cellars offers older wines for tastings on their tasting menu as well as older vintages available for purchase.
The 2013 Trinitas Castellucci Vineyard, Family Collection is from Chardonnay vines growing in Rutherford. Aged 100% in Russian oak (very uncommon for wines from the Napa Valley to see oak from Russia). Bright golden color in the glass the aromas show some bottle age (we tried this 8 years post vintage date) including hazelnut, butterscotch along with honeysuckle. Quickly noticeable is the wine's texture – rounded and supple but with some viscosity from start to finish. Offers flavors of citrus including tangerine – very rich, lingers with hints of hazelnut and a lingering brightness. Has aged quite well.
The 2015 Trinitas Cellars Chardonnay, Carneros Napa Valley is amber colored. Immediately offers pretty aromatics of hazelnut, honeycomb, ripe mandarin and sweeter baking spices. On the palate shows a richness of flavor without heavy viscosity. Offers citrus, an orange zest, honey and popcorn butter. Also initially shows mineralities on the finish; lingers softly with notes of butterscotch and toasted vanilla bean. This wine was both barrel fermented and aged and went through full malolactic fermentation. Has evolved nicely over several years – carried by intense fruit and a decent acidity.
Arguably their flagship wine, the Meritage is a red Bordeaux varietal blend – available either as an Estate or a Napa Valley bottling (the estate comes from the vines planted above their cave on the south side of their property). The Napa Valley bottling comes from select vineyards throughout the valley. The 2014 Trinitas Cellars Meritage, Napa Valley was aged in 100% new French oak (2 years in barrel). But the aromatics do not showcase the influence of the oak – rather much more so of the fruit. A California fruit forward style this bouquet is a bowlful of dark and ripe cherry aromatics along with ripe raspberry. Very balanced and approachable – helped by both age (7 years at the time of our tasting) and wine style. Lingers with darker fruit and spice notes including leather and tobacco leaf. The tannins are very well integrated – nothing harsh there. Certainly, a broad crowd pleaser – open this up before dinner to get the conversation rolling!
The 2015 Trinitas Cellars Napa Valley Petite Sirah (100% varietal) is dark ruby in color with sweet aromas, candied fruits, ripe blackberry, plum, blackberry jam and some notes of chocolate. A soft tension shows on the attack – this wine is very supple in its overall feel from start to finish. Opulent with depth of flavor and plenty of ripeness on the palate. The tannins are rounded, almost powdery in their textural feel (not always associated with this powerhouse variety). Lingers with some notes of tobacco leaf and toasted cedar.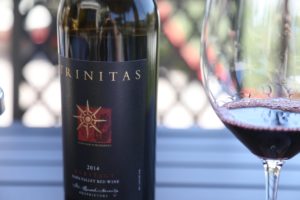 The 2013 Trinitas Cellars Martin Vineyard Cabernet Sauvignon (from Coombsville) offers pretty aromatics – this wine is not as 'ripe' as some of their other reds we have tried over the years. Shows aromas of mint, dried herbs, wintergreen, cherry cola and red berry fruits including currant. Offers more fruit as it opens. An elegant bouquet. Offers a noticeable brightness across the palate lingering with red fruit notes on the finish along with a dried tobacco leaf note. Still shows a dryness of tannin – with some noticeable grip but not course in their feel. This wine is savory both on the bouquet and the palate. Tastes and smells perhaps younger than its actual vintage (we tasted 8 years post vintage date) – there is plenty of life ahead of this beauty. Nicely done!
The Trinitas Cellars Non-Vintage Elementis Red Wine, California (tasted in 2020) opens with aromatics of cherry cola, red licorice, toasted vanilla bean and a hint of cloves. Light on the palate with some sweetness of fruit – offers flavors of red cherry and blueberry. Soft across the palate; not much structure follows through on the finish – rather than any grip of tannins, lingers with spice notes including black pepper and slight sweetness. If we had to guess, this red blend might have some Zinfandel in it.
The 2005 Trinitas Cellars Pinot Noir from the nearby Carneros appellation is like drinking candy. It is a delicious fruit forward wine (with a generous helping of fruit-driven aromatics) and a pleasing mouth feel which is silky and smooth with flavors of cola, cherry, nuances of cedar and spices.
The 2005 Trinitas Cellars Cabernet Sauvignon is one of the smoother Cabernet Sauvignons one will try from Oakville; shows a floral character on the bouquet (with nuances of violets) – some of these floral qualities are carried onto the palate. This wine features a long supple finish.
Revelation is the name of the Late Harvest Cuvée, a blend of 4 red varieties entirely from old dry farmed vineyards. The 2005 Trinitas Cellars Revelation opens with a surge of perfume and candied fruit type aromas on the bouquet. Rich fruit is represented on the palate – not overly sweet but fairly well-balanced, complemented in part by the decent acidity.
THE MERITAGE COLLECTION
The Meritage Resort and Spa
The Pacific Hospitality Group owns all the hotels/resorts within the Meritage Collection plus a number of other hotel properties not within the Meritage Collection. The Meritage Resort and Spa opened in 2006 and quickly became an integral lodging option for visitors to the valley who opt to stay close to the city of Napa (about a 10-minute drive from downtown). Not just a place to stay, the Meritage Resort and Spa is a community for both locals and visitors alike. One of the largest hotels in Napa Valley, the Meritage features more than 450 rooms spread among five buildings, each building is named after a grape variety or region, IE Merlot, Chardonnay, Cabernet (the question remains if this particular building is Cabernet Sauvignon or Cabernet Franc!) and Bordeaux.
Each building features three stories; rooms are spacious and nicely appointed including a variety of suites. Some have balconies – the coveted rooms are those in the main building within easy walking distance of reception and the pool area. The heated pool is reserved for adults only with several cabanas and lounge spaces surrounding the pool courtyard with nice views of the nearby hillside covered vineyard. A hot tub is also located here. A seasonal poolside bar offers drinks.
And there are a few rooms on the bottom floor that look out onto 'private' vineyards growing directly next to each room. Sometimes visitors will see Cliff Swallows on the property (due to the resort's proximity to the Napa River) including their nests on overhangs and balconies. By law the nests cannot be removed.
The Meritage is the only hotel in Napa County with a bowling alley; this is located in the Bordeaux building, right next to the main building. The Crush Ultra Lounge is in the same space at the bowling alley and a great place to enjoy a drink or perhaps randomly meet someone sitting at the bar. This is a very cool space that is not very well known by those who live in Napa Valley and often guests aren't aware of it either.
The Meritage is one of a select few resorts/hotels in the Napa Valley that is a pickup and drop off site for guests touring several wineries in the open-air Napa Valley Wine Trolley.
The Bordeaux building also houses an impressive fitness center; it is not huge (1,650 square feet) but the space contains a number of cardio machines, a Peloton bike, and weights. Water and towels are also provided.
Hosting corporate events is an important part of the resort's operations; the property features 30 meeting rooms and approximately 80,0000 square feet of meeting space with the largest single space nearly 10,500 square feet.
Resort

Crush Ultra Lounge

Pool

Fitness Center

Spa Terra offers a luxurious underground spa with treatment rooms and tiny "relaxation" grottos. Wine caves smell very nice especially around harvest time – but this cave also smells absolutely wonderful from the various oils and lotions used in treatments. Spa Terra features several tunnels – one of which is dedicated for treatment rooms, and another houses the reception including their own line of products, Napa Serenity by Spa Terra – some of which are available in the bathrooms in each of the guest rooms.
Terra Spa offers a wide variety of treatments including deep tissue massage, men and women's facials and a massage featuring natural grape seed oils (obviously… you're in wine country!). A variety of outdoor (weather permitting) wellness classes including Pilates, yoga and energizing vineyard hikes can be arranged through the spa. Some of these classes are offered complimentary to guests.
We've been in numerous wine caves in the Napa Valley (as of our last update about 150 such wine caves), but this is the first cave we visited which houses a spa.
Chapel of the Grapes is located just to the side of the main lobby and side lobby entrances. Small but quiet, this is a wonderful respite for those looking to either join daily mass (typically offered every morning at 8am) or simply for a place to come and pray on one's own. And practicing Catholic priests or Bishops who want to hold mass here – can stay at the Meritage free of charge.
Olive & Hay Restaurant is located in the main building. With an inviting interior décor and Italian focused cuisine (pizza, pasta, salads and a diversity of main dishes), guests should try to eat here at least once during their stay. The restaurant works primarily with local purveyors and farmers, offering a farm-to-table cuisine. The restaurant also provides catering services and does so for various corporate events on site as well as weddings. Open for breakfast, lunch and dinner. Room service including breakfast, begins at 7am daily.
A beautiful vineyard walk is located on the hills above Spa Terra with several paths winding their way through the grapes. From higher up, one has picturesque views looking north of both the Meritage Resort & Spa, Vista Collina and the Napa Valley. And a gazebo is near one of the paths – often used for small wedding ceremonies.
The iconic Grape Crusher Statue is located within a very short drive of the resort, offering both a scenic overlook and easy access directly to the statue. This 6,000 pound, 15 foot tall statue was commissioned in 1987. The artist is Gino Miles of Santa Fe, New Mexico. A replica tiny statue is displayed behind a glass window in the Gasser Building on Soscol Avenue. And a full size replica is located at Rang Dong Wine Castle, Mui Ne Vietnam. Photos of these other grape crusher statues are shown directly below the photos below of the original statue.
The Grand Reserve at the Meritage
Opened in summer 2018 this modern wine-country resort features four stories housing 145 Tuscan-styled guest rooms. Meaning "view of the hills" in Italian it is located across the street and north of the Meritage Resort & Spa.
A stay, notes and photography coming at some point.
The Village at The Grand Reserve at the Meritage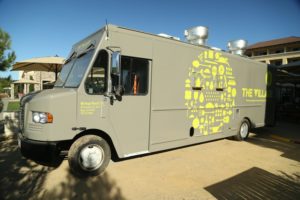 In summer of 2018 a large parcel of land directly to the south and across the street from the Meritage Resort opened as Vista Collina Resort along with the neighboring, The Village at Vista Collina – featuring a large green space (with environmentally friendly turf) contains nine standalone tasting rooms on the ground floor (nine being a number divisible by three produces three – tying into the Trinitas name), a luxurious Vintner's Room (for special vintner member and other community and private events) and the Village Food & Wine Center where chefs teach a variety of culinary seminars and host other culinary related events. The Village at Vista Collina held its grand opening on August 4, 2018. Plenty of parking is located across the street in the parking lots that surround The Meritage Resort or visitors to the property often find spaces, curbside on the street that runs in front of The Village.
In late 2022 Vista Collina was renamed to The Grand Reserve at the Meritage.
And the Fivetown Gourmet Grocery and Deli is an integral part of The Village experience. Named after the five towns within the Napa Valley including Yountville, Rutherford, Oakville, St. Helena and Calistoga – this upscale market features a variety of farm-fresh local ingredients and home-made products. There is plenty of seating outside the grocery – one can also picnic on the lawn area.
In 2019, a cooking school was opened, offering cooking classes, lunch and dinner demonstrations and wine pairing experiences. Vista Collina also maintains the Village Truck – a food truck that is often on site.
The 'lawn' area is ideal for hosting a variety of events including concerts. Umbrellas inserted into the ground can easily be moved and seating arrangements are highly flexible.
Of the nine tasting rooms, two stand out – one is the Trinitas Wine Room featuring visually intriguing interior including an impressive circular bar. Tastings offer a huge variety of wines to choose from. From the tasting flight, one selects four different wines from a list of whites, reds and a dessert wine. The other is the Foley Food & Wine Society – anchoring one side of the courtyard with its own sizable space. The focus of the tastings here are on select wines from a number of wineries within the Foley Family portfolio including from Napa (ALTVS/Merus, Foley-Johnson and Kuleto Estate), neighboring Sonoma County and Central California.
In addition to Trinitas Cellars, other boutique wineries represented include Cornerstone Cellars, GEN 7 Wines (non-Napa Valley family that traces their California winemaking heritage back to their own winery dating from 1832 near the town of Hollister in San Benito County – run by charismatic winemaker and 7th generation family member Tim Bacino), Jayson by Pahlmeyer, Mi Sueño Winery, Napa Smith Brewery and The Wine Foundry.
The Village at The Grand Reserve at the Meritage

Trinitas Cellars Tasting Space

Fivetown Grocery

Vintner's Room

Ko'a Kea Hotel & Resort at Poipu Beach, Kauai
Visit coming in 2023 or 2024
Hotel Granduca Austin
This hotel is the Meritage Collection's most recent member having been purchased by the Pacific Hospitality Group in late 2020. This hotel/resort is located in the Texas Hill Country.
Visit coming in 2023 or 2024
Paséa Hotel & Spa, Huntington Beach, CA is ideally located off of Pacific Coast Highway (PCH) mere steps from the golden sands of Huntington Beach's famed coastal strip. Next door is Pacific Mall with a variety of restaurants and clothing shops. And a short walk away is the iconic Huntington Beach Pier and Main Street. Paséa is not separate from the surrounding beach life, rather it embraces the beach scene and related culture. Most of the 250 spacious rooms and suites offer views of the beach, each with their own outdoor balconies. And like at the other Meritage Collection properties, each room/stay comes with a complimentary bottle of Trinitas Cellars wine.
The main entrance is not directly on the PCH but rather in the back of the property off of Pacific View Avenue. The reception area is inviting and very big. Excellent staff – attentive, friendly and helpful. Each guest is given a small wooden surfboard which instead of a traditional key card, is used to access the elevator, pool area and rooms.
The feel is decidedly urban and modern, yet casual. The quintessential experience at Paséa is soaking in the hot tub in the evening – from your perch at the edge of the enclosed pool patio with a drink in hand, one watches the sun slowly drop into the glimmering Pacific Ocean. Perhaps some fog or clouds have rolled in by this time of the evening – adding a dramatic flair to the sunset. This resort is ideal for romantic couples but also very family friendly (and we saw a number of families with younger children during our stay).
The nearly 6,000 square foot Aarna is a Balinese type of spa offering indoor and outdoor sessions. Two dining spaces (also open to non-guests) are Tanner's with its communal dining offering a number of seafood items (located poolside) and the locally iconic Treehouse Lounge upstairs – another great place to enjoy a cocktail and watch the sunset. And Blend Cafe offers up a number of grab and go items or quick serve snacks. Makes an ideal breakfast stop.
Parking is an additional fee (valet takes your car to one of the lower levels in the nearby parking garage reserved for the resort). A resort fee is added to every stay. Bicycles are available for use around town. And with plenty of additional both indoor and outdoor space, Paséa hosts weddings and receptions and a variety of corporate events.
—
The Busch Firm
The Busch Firm maintains two offices, one in the Napa Valley Commons business park just south of the city of Napa and their primary southern California office (their headquarters) in a business park within a 6-minute drive from John Wayne Airport (SNA) off of Dupont Drive. The focus of the Busch Firm is providing legal, tax and other business services to a variety of both private and commercial clients. In addition, they have provided counsel for a number of prominent Southern California real estate transactions including the purchase of what is the Christ Cathedral (formerly the Crystal Cathedral) and the purchase and construction of Bacara Resort in Santa Barbara and the Newport Beach Country Club among others.
Located on the northwest side of The Busch Firm's offices is the Queen of Life Catholic Chapel. Highly unusual to have a catholic chapel in a business park building – this is conveniently located for both the employees of The Busch Firm but also for other employees in the surrounding business park. Open to both residents and visitors alike. Offers daily mass during the weekdays at 1150am and is open to the public for prayer from 8-5pm Monday through Friday. This space has also been used to host a number of cardinals and bishops as well as talks from other religious leaders.
The Busch Firm, Irvine

Queen of Life Catholic Chapel

The Busch Firm, Napa

PRIOR WINE SPACES OR VENTURES
NOTE: we keep our notes here for nostalgia and reference purposes.
Trinitas Cave Tasting Room (wine tasting space closed in 2018)
The original tasting room for Trinitas Cellars was located in their 20,000 square foot cave next to the luxurious spa. This was one of the very few tasting rooms located at a resort within the Napa Valley. Well received, the tasting space was a fine complement to the property within easy walking distance of the hotel rooms. This cave system is tunneled 40 feet underneath the locally iconic Grape Crusher Statue, easily seen from Highway 12.
Trinitas Library (closed in 2019)
Trinitas Cellars took over the old Patz & Hall facility in early 2014 in the corporate park (not far from the Meritage) just south of Napa and for about 5 years used this space to offer Library tastings by appointment. This is a several minute drive from the Meritage and within about 10-15 minutes walking distance.
This tasting salon was named the Trinitas Library because it featured some of their older wines. This beautiful salon was a great place to relax while simultaneously learning about wine. With so many vineyard sources in their portfolio, Trinitas shared some vineyard education in a visual manner – soil samples from the vineyards and a large map showed each of their vineyard sources.
Incidentally, the offices for the Busch Firm are located across the street, just to the north of this old location.
Estancia La Jolla Hotel & Spa, CA was sold by the Pacific Hospitality Group (the Meritage Collection) in late 2021 for 108 million to the Pebblebrook Hotel Trust. This resort is located about 5 minutes from the 5 freeway in La Jolla (within walking distance of the nearby well-known Torrey Pines Gliderport where hang gliders often soar above the coastline) and not far from the famous Scripps Research Institute. And with no traffic this property is only about a 20-minute drive from downtown San Diego. One of our happy places in the state – this property is the perfect respite from reality combining silence, pretty grounds, pleasant staff and an old world feel. It is always a nice feel to pull into the circular parking lot in front of reception and be greeted by an attendant who warmly welcomes you to the property.
Estancia is built in an old mission-ranch style with three stories of rooms centered around an expansive grass and vegetation filled courtyard. Any of the rooms are spacious – the Veranda rooms, primarily on the ground floor come with private patios and balconies. The property features plenty of space and guests should take time to wander the grounds, leisurely – perhaps with a glass of Trinitas Cellars wine in hand (every stay comes with a complimentary bottle).
Also known for their saltwater pool and spa. The heated pool is sizable and surrounded in part by cabanas with canvas drapes that can be drawn to create more privacy. A hot tub next to the pool is an ideal way to soak away the stresses of the world. And the spa is hidden away behind the pool area – well-regarded it was named "Best Spa" by San Diego Magazine and has also earned acclaim for their massages.
The property features three culinary spaces, Mustangs & Burros (with plenty of outdoor seating in their patio), Adobe El Restaurante and Blend Café. Access to the parking lot is by using the room keycard. A small chapel is used for on-site weddings.
Trinitas Wine Bar, Estancia La Jolla Hotel & Spa
Wines from Trinitas Cellars can be ordered by the glass or by tasting flight or paired with small bites including a charcuterie board. Trinitas Wine Club members enjoy complimentary tastings during select hours on Wine Wednesdays.
The Trinitas wines are not the only alcohol served here, guests can choose from local San Diego craft beers, a variety of cocktails (some use their own house-created bitters) and the resort's own private label Single Barrel Jack Daniels. This is a cozy and relaxing tasting space. Private tasting options including educational events focusing on wine-food pairings and barrel-aged spirits can be arranged by appointment.
Marchesi Fumanelli
For a number of years, the family also sourced grapes from select vineyards in Northern Italy near Verona. Tim initially looked to the Napa Valley to make Amarone – a popular wine we personally saw being made in Verona, the last time we were in this part of Italy. The grapes are picked and then by law must dry a minimum of 2 months. One winery we visited, Tedeschi Wines had built a special warehouse just for their Amarone production in which the grapes are left to dry – by the time the grapes are pressed much of the juice by volume has been lost to evaporation. This is an expensive wine to make not only based on the extra time needed but also this lost volume.
Long story short – Tim was unable and unsuccessful in producing Amarone from Napa Valley so he went to Italy; 2006 was the first Trinitas vintage of this wine – the last vintage was in 2010. This wine was made in Italy by Marchesi Fumanelli and then shipped over in bottle.
—
For more information and or to join their Wine Society, wine club, visit: www.trinitascellars.com.
NOTE: this review is currently undergoing a ** major ** update over the next several years as we visit numerous places and spaces around the country connected to the Busch family.