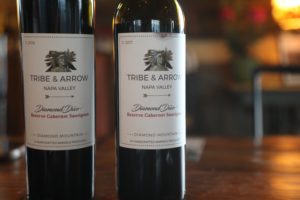 Tribe & Arrow and Olet'te (pronounced oh-let-tay) wines were founded by Jenny Lynn Heim (originally from Modesto, CA). Her path towards wine began while she was studying business at California Polytechnic State University in San Luis Obispo. Changing majors, she decided to take advantage of the newly implemented viticulture program at Cal Poly – she ended up with a double major with a B.S. in Wine & Viticulture, followed by a master's degree in Global Wine Marketing. One of her professors secured a job for her upon graduating in Calistoga – perhaps not the most exciting job right out of college for someone who has a viticulture degree – but she ended working her first job in the wine industry at a tiny beer and wine compliance company.
Soon she was working at Markham Vineyards and then she spent 12 years on the road selling wines for Trinitas Cellars – managing their national sales & marketing program.
In 2011 she decided to produce her own wines – initially focusing on Pinot Noir. She was able to source a tiny amount of Pinot Noir from the very well-known Terra de Promissio vineyard in Sonoma County through a winemaker friend. Grapes from that vineyard were used in a Pinot Noir produced by Kosta Browne which earned the top wine from the 2009 vintage in 2011 by the Wine Spectator. Not a bad vineyard to start with for your inaugural Pinot Noir!
Olet'te Wines
Today the focus of Olet'te Wines is from grapes generally grown in Sonoma County – with an emphasis on single vineyard Pinot Noir designates. And a Chardonnay and a sparkling wine are also produced. Jenny oversees winemaking for both brands but with a strong network in the valley, she has worked with several winemakers in tandem including Alan Viader (when she was getting started) and currently winemaker Kevin Vecchiarelli.
The name Olet'te is tied to those who occupied these lands before westerners (the native American coastal Miwoks) and to the land itself. The mythical god Coyote Olet'te ws attributed to creating the coastal gaps from the sea by the Miwok people.
The 2017 Olet'te Russian River Valley Pinot Noir (Dehlinger Vineyard) offer bright and lively aromatics trending towards the riper side of this variety. Showcases plenty of fruit including raspberry, strawberry, pomegranate and red licorice. Some dried rose petal notes. Also, some barrel influences are noticeable including aromas of lightly toasted cedar and a hint of mocha. Smooth and a hint of creaminess texturally across the palate but layered with flavor including raspberry. A sweetness of fruit especially on the finish. Lingers with some darker dessert spices along with a light touch of tannin.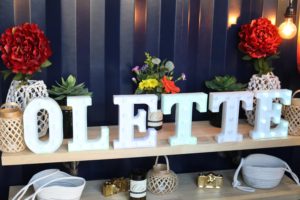 Through one of her winemaker friends, Jenny was introduced to Mission Ranch for Pinot Noir, the oldest commercial vineyard within Arroyo Secco AVA (Monterey County). The 2018 Olet'te King Jay Pinot Noir Arroyo Seco is a ripe fruit forward California style Pinot Noir. Ripe raspberry along with notes of vanilla and rhubarb on the bouquet. A bowl full of fruit on the palate including raspberry, strawberry and cherries. Rounded and supple across the palate with a hint of currant on the finish.
And the wine is named King Jay in tribute to her father who use to feed birds pancakes in the morning at their family cabin near Yosemite. The feedings always attracted Stellar Jays, but her father told his children that these blue birds were called King Jays. Many years later when trying to choose a name that would represent coastal California Pinot Noir vineyard sources, paying a tribute to both these birds and her father she recalled these pancake feedings and soon went online searching for King Jays. She quickly discovered there was no information about a bird named King Jay. She called up her brother and he informed her that their father had been calling the birds by his own made-up name, rather than their real name, Stellar Jay.
Tribe & Arrow
2016 was the inaugural release of Tribe & Arrow with a focus on Napa Valley grown and produced Cabernet Sauvignon. Through a winemaker friend, Jenny secured access to a premium vineyard on Diamond Mountain at about 2,000 feet. The name comes from the fact the vineyard site was a hunting ground by native Americans, as evidenced by all the obsidian and arrow heads found over the years. But it also is more personal than this. While visiting the vineyard one day she was unable to drive in because the gate was not operating due to the electricity being out. She had to park at the bottom of the vineyard and walk – while navigating the steep road through the vineyard she came almost face to face with a large buck and took that as a sign that she was on the 'right path'.
As a result, every bottle is labeled Diamond Dao in tribute of both the Diamond Mountain sub appellation but also dao refers to 'the way' or the right path. And when both words are used together it can refer to 'the top' referencing the vineyard site located at the top of Diamond Mountain. And also, a tribute to a way of life – the Daoist's realizing that human life is only a small part of the greater natural world so that human actions are best represented when they are in line with 'the flow of nature'.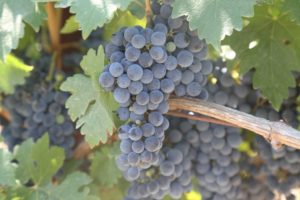 The 2016 Tribe & Arrow Napa Valley Diamond Dao Reserve Cabernet Sauvignon shows ripe aromatics of blackberry (warm blackberry cobbler), boysenberry, vanilla, mocha, brown chocolate and Graham Cracker. The bouquet is aromatically generous – one might call it a desert in the glass. Opulent across the palate with layers of ripe richness – there is plenty of flavor here. Lingers with some cedar notes, darker tannins which are fairly well polished and integrated into the finish. 82% Cabernet Sauvignon and 18% Merlot. Nearly 16% alcohol – a hedonistic showing. Great for those who enjoy a riper style of Napa Valley grown mountain Cabernet Sauvignon.
The 2017 Tribe & Arrow Napa Valley Diamond Dao Reserve Cabernet Sauvignon is deep ruby in color – offers a very pretty bouquet with aromas of ripe blackberry, creme de cassis, mocha, dark olive and vanilla bean. Also notes of Graham cracker. A nice aromatic interplay of both fruit and barrel influence – with neither one dominating. Some aromatic similarities to the 2016 vintage. Ripe across the palate with flavors of blackberry and darker cherry – an intensity of fruit shows especially on the finish. Earthy darker tannins with medium grip continue to linger for some time. Some dark spice notes on the finish including pepper. Perhaps a little more savory on the finish as compared to the 2016 vintage. Very approachable nearly 4 years post vintage date at the time of our tasting. 80% Cabernet Sauvignon with 20% Merlot.
VinFormant
The inception of VinFormant began while Jenny was working for Trinitas Cellars – and often traveling to get exposure for their wines. However, she found some of the trips were not economically viable – spending more on travel logistics rather than on wine sales. So, she began to think of an alternative way to sell wine – along with helping gain some traction for small brands who because of such limited production often have very little exposure. These producers are typically well under the radar and often do not have their own tasting room. She and her husband Dan founded VinFormant in 2007.
The wines are offered to a membership mailing list, at discount which is generally offered only for several days. The winemaker or owner writes a personalized paragraph or two about their wines, including any relevant history and or backstory. And he or she sets the price point on the offering – rather than VinFormant. These offerings are a unique opportunity for consumers to discover wines from small brands they never would have otherwise heard about.
And community reviews are a part of the offerings so consumers can leave their own comments and feedback after trying the wines. List members are located across the country; this is a good opportunity for small mostly Napa based brands to get a little extra exposure.
In addition, VinFormant also maintains a private client list offering access to some of the most difficult to find wines in all of the Napa Valley including Harlan, Screaming Eagle, Scarecrow, Bryant Family and Colgin among others.
Studio by Feast it Forward Napa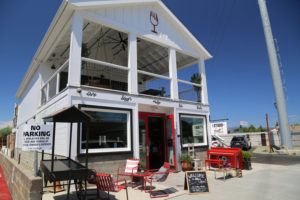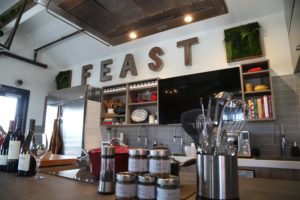 Wines from both brands are sold direct to consumer, sometimes through VinFormant and also at the Feast it Forward tasting room. The studio is located directly across from the Oxbow Public Market in downtown Napa and packs numerous experiences into a small space. This two-story building houses an "experiential showroom", as founder Katie Hamilton Shaffer calls it – with a focus on wine, food and music. Each vintner represented offers several wines and several of the showroom's sponsors have prominent placement including guitars from Gibson Brands, Inc. and furniture from Crosley. A chocolate tasting is also offered oddly enough sponsored by Sherman Williams and a vinyl station if offered for playing a variety of old records. Upstairs features a demonstration kitchen; when shows are being filmed here, televisions downstairs broadcast the live feed. This kitchen can also be used for guest chefs to offer culinary classes.
And visitor's will want to stop by their bathroom to read the latest in all the graffiti and words of wisdom that visitors mark on the walls. The site can be used for a number of events including the availability of plenty of space in the back of the building. The Yard is a sizable outdoor space featuring several stages, cute places to taste wines, a lemonade stand, a place for food trucks and a comfortable fake lawn. The Ultimate Airstream Film Lounge trailer is often be parked in The Yard; this trailer is used when the Feast it Forward team is on the road hosting unique lifestyle events and it also serves for private tastings on site or for special events. One such event at the showroom has included "Terrible Tuesdays" in which bad films with cult like followings are shown.
The second floor features a sizable surround building deck and a swinging 'bed'. This is an ideal perch to watch pedestrians walking to Oxbow Public Market or those enjoying the park next to the Napa River. These are also some of the best seats in the area to watch live performances at the nearby green. And the interior features a full kitchen used for various culinary TV shows. This space is where Andretti Winery prefers to host visitors.
And similar to the airstream at Feast it Forward, Jenny owns a small trailer that she can take on the road for special events and tastings to showcase her wines. Several club options are available for consumers including both wine, food and travel benefits including Napa Valley focused experiences. For more information visit: www.olettewines.com