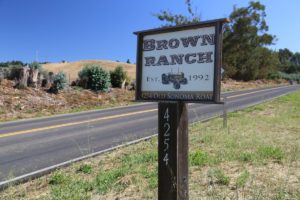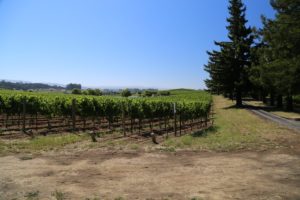 Tres Perlas Wines, formerly known as the Renteria Wines is owned by the Renteria Family, Salvador and his wife Maria Luisa and Oscar and his wife Denise. Their first vintage of wine was in 1997. Salvador immigrated to the USA from Mexico in 1962 – his first work in Chicago was as a barber, starting at age 15. As a tribute to his early trade, the Renteria's keep a beautiful barber chair on site at their Carneros property. Later Salvador left Chicago and followed his older brother Carlos to the Napa Valley to work a harvest. Soon thereafter he landed a job at Sterling, managing their vineyards; while there he helped clear the land at the top of the knoll where Sterling Vineyards was eventually built. As a result of his time at Sterling he met and worked with a number of individuals who would go on to have influential careers in the valley, including Nils Venge.
Early in his career he also helped oversee initial vineyards for well-known area wineries such as Beaulieu Vineyard, Clos Pegase, Cuvaison and Silverado. He developed the well-known Three Palms Vineyard (which he affectionately calls the "1 million stone vineyard") due to its significant rock content. Later in his career he managed premium vineyards for cult wineries such as Screaming Eagle and Dalla Valle.
It is a story told several times over in Napa, where someone arrives to the valley without any experience and many years later is considered a leader in his or her respective part of the wine industry. Such is the case with Salvador. He started Renteria Vineyard management Company in 1987 (his son Oscar took over the day-to-day management in 1993. Today they are among the largest vineyard management companies in Napa Valley (today managing some 1,500+ vineyard acres) and as a result have many fine pieces of vineyard real estate to source grapes from. Some of the vineyards they source from were originally planted by Salvador and today yield very low quantities of intensely flavored grapes. Their primary ranch is located towards the end of Buchli Station Road past Bouchaine Vineyards (a gorgeous part of Carneros that we have walked a number of times). And the property they refer to as Tres Perlas 360 is located in Oakville.
In 2012 the Renteria's purchased the 30-acre Brown Ranch (formerly associated with Saintsbury Winery and formerly a cattle grazing ranch taking its name from a former owner, Nadine Brown). Twenty-nine acres of vines (Pinot Noir and Chardonnay) were already planted but most of these vines were afflicted with a fungi disease, Eutypa (otherwise known as the Dead-arm Dieback) causing trunks or arms of the vines to essentially rot and die. Rather than pulling all of these vines out, their vineyard management team decided to keep the rootstock, cut off the trunk just above the soil and allow a bud from the varietal to grow, training it into a new trunk and then trellising it when it became of size.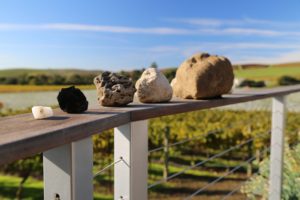 This saved time and month compared to doing a full replant and they had grapes within about a year of doing so. The Brown Ranch was already well established by the time they purchased (the vines were planted in 1992) and fruit was being purchased by a number of premium producers. Today they still sell fruit to well-regarded Napa wineries such as Hall and Pahlmeyer, among other – some of which make a Brown Ranch vineyard designate. The vineyard is truly micromanaged and is separated into 20+ individual blocks.
This is prime Carneros vineyard terroir. Nearby neighbors include Clos du Val, Truchard and Beaulieu's Vineyard No. 9 and HDV's Hyde Vineyard.
The purchase of this ranch was on the forefront for a number of changes for the Renteria's. Karen Culler was their winemaker for many years; her style was creating food friendly balanced wines. In 2014, well-respected long-time Napan, Kirk Venge was hired as their winemaker – bringing his own style of wine making to the team (different from Karen's).
They also decided to further separate their vineyard management company from their winery – and changed the name of the wines to Las Perlas and re-branded their packaging. For many years Las Perlas was a Cabernet Sauvignon only produced in Magnums. Now they produce a Chardonnay, Pinot Noir and a Cabernet Sauvignon under the Las Perlas label. Las Perlas (translated to three pears in Spanish) is a tribute to Oscar and Denise's three daughters – Bella, Mia and Gabriela. Three elegant circles represent the name on their label.
Select Wines
The first vintages under the Las Perlas label sourced from the Brown Ranch were from 2014. It is nice to see more Chardonnays recently from Napa not made in a style dominated by oak characteristics and or buttery flavors. Their 2014 Brown Ranch Chardonnay shows clean aromatics – with both topical and citrus notes and hazelnut. Some of nut driven aromas continue onto the palate – layers of flavor, rich yet balanced with a noticeable crispness. Nice texture, somewhat creamy. Sommelier, Harry Oranges calls this his "lemon meringue pie" wine.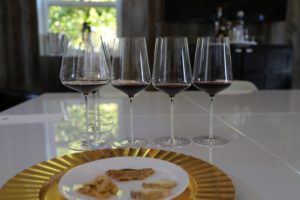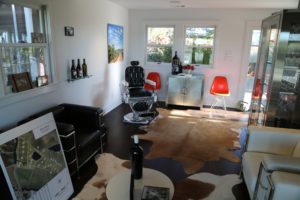 The 2014 Brown Ranch Estate Pinot Noir was fermented 20% whole cluster with 80% of the fruit de-stemmed and chosen by an optical sorter. The nose shows beautiful fruit interwoven with spicy components – a spicy raspberry characteristic. The palate is not as spicy driven as the bouquet would lead one to believe – an extremely flavorful and balanced wine from this varietal. Somewhat briary on the palate – dusty tannins anchor the finish.
The 2014 Tres Perlas Cabernet Sauvignon shows a departure in wine style from their older vintages. Very dark in the glass. It is a robust Napa Cab showing dark deep aromatics – blackberry with aromas of dry earth and toasted cedar. Showcases big bold fruit on the palate with both a ripeness and a richness. Mouthwatering finish complemented with chewy long-lasting tannins.
The Renteria's also have a 30-year lease on a property in the northern part of Oakville (on the edge of Rutherford) they call the Bridge Vineyard. Incidentally, Salvador's wife Maria Luisa used to walk by this in the 1960s on her way to what was called La Luna The Handy Store, at the time located in Rutherford in what is now the Rutherford Grill location. They produce a Cabernet Sauvignon from this vineyard. Another newer addition to their portfolio is a Cabernet Sauvignon from the famed To Kalon Vineyard (first vintage 2014).
—
Total production is currently around 1,200 cases – planning to grow this to about 2,500 cases in the next few years. For more information and to join their mailing list, visit: www.tresperlas.com