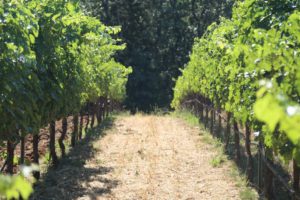 Treebottom Wines is one of Napa's micro producers who because of their small production and very limited exposure fly well under the radar. Most of their exposure comes from word of mouth from the few who have been privileged to have tried their wines in the past. Their first vintage was from 2012. The focus of their production is merely on two wines – a tiny amount of Sauvignon Blanc and about 100 cases of Cabernet Sauvignon.
Co-founded by vintner Michael Henry; Mike is part of a young and passionate Howell Mountain group of winemakers who work closely with one another and for years were often centered around Michael's family property, the Henry Brothers' Ranch (HBR). NOTE: their family has since sold this property to Axa Millésimes, the owners of nearby Outpost Winery. Mike's family moved to Howell Mountain when he was 10; he grew up within a very short drive of the ranch. This nearly 40 acre hillside property is not visible from any roads in the area and rather quickly became a highly sought after vineyard for a number of small producers. The vineyard site is located high on the red slopes of Howell Mountain (with an uppermost elevation of just under 2,000 feet). The site is planted to 18 acres of vines.
Michael's grandparents purchased this land in 1975 for $150,000; at the time it was forested along with manzanita and contained a small prune orchard. Over the years, Michael's family including his father Bryan and his brothers Matthew and Ben have developed the vineyard site with the first vines planted around 2006. And the development was a major undertaking; the soils are highly rocky and had never before been planted to vines. Michael's brothers were instrumental in doing much of the physical work needed to create what is now a world class vineyard. Mike remembers all the rocks they had to clear over the years and as he says, "fortunately we had lots of friends with large tractors". During their family ownership, the site was planted to nearly all red varieties. The majority of vines are Cabernet Sauvignon with a tiny block of Petite Sirah and a 3/4 acre of Sauvignon Blanc (the only white variety growing on site). In 2022 under the new ownership, and overseen by Hardin Clark Vineyard Management Company, the entire vineyard footprint was replanted.
A name like Treebottom certainly invites the question, "what was the reason for choosing an obscure name such as this?" Tied to family, once the story is told, the name makes perfect sense. Michael's grandmother's maiden name was Stump – not necessarily a first choice as a name for a wine label. When his grandfather was courting her, he simply referred to her as 'treebottom'.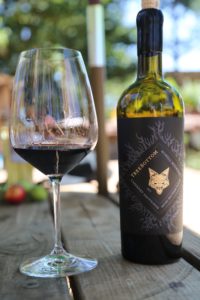 Michael has learned much of what he knows about winemaking while on the job – although he attended Napa College for their winemaking and viticulture program and has taken courses from the UC Davis Extension program. While working at the short-lived Fred's Drive-in in Calistoga (owned by Joel Gott and his brother Duncan) he quickly decided this was not a desired career path. Joel Gott encouraged him to call winemaker Michael Trujillo and ask for a job (Mike's father Bryan was one of the founders of Karl Lawrence along with Michael Trujillo in 1991). Mike did so, worked his first harvest in 2001 at Sequoia Grove and ultimately worked with Trujillo on a number of his projects as an assistant winemaker for various brands. He considers Mike Trujillo one of his mentors and Trujillo ultimately provided encouragement for Mike to start his own brand.
Mike focuses on making a premium product while his business partner Scott Alexander (a radiologist who lives and works in Modesto) is responsible for the marketing and sales. Despite making only 100 cases of red wine, Michael spends significant time creating the final blend (always primarily Cabernet Sauvignon). Each of the blending components remain separate until he has racked the wine at least twice.
Mike emphasizes consistency in his wine making – producing balanced wines that he enjoys drinking. While crafted at the same time to make sure the vineyard's signature shows through – the wines also have the Treebottom 'stylistic stamp'.
Select Wines
The 2013 Treebottom Cabernet Sauvignon is sourced from several small blocks on the Henry Brothers Ranch. An elegant ripeness on the bouquet is inviting with blackberry, boysenberry and lesser notes of licorice and mocha complemented nicely with nuances of Howell Mountain volcanic dust. Immediately noticeable on the palate is the wine's density – a dustiness of texture if you will showcasing the refined character of the tannins across the palate including a long lasting presence on the finish (slightly chalky in nature). The palate is well layered offering mostly flavors of darker fruits. And there is a perceptible darker spice on the finish – not quite pepper but with a lingering savory like quality. This is not a showy wine but certainly has character – it is balanced and continues to show well after having plenty of time to breath.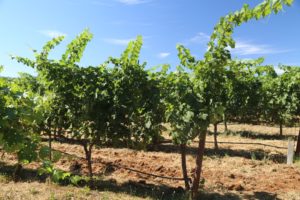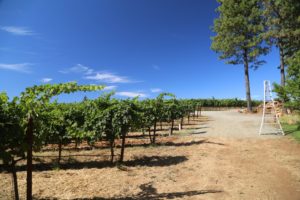 Mike has historically produced a Sauvignon Blanc from non Henry Brothers sourced fruit. He remembers wondering why his father insisted on planting Sauvignon Blanc on Howell Mountain – a part of Napa known and suited for predominantly red varieties. His father enjoys drinking Sauvignon Blanc and after selling the fruit to a non family member for a number of years, he is certainly proud of the fact that his son began making Sauvignon Blanc from this block in 2018 (while blending it with fruit from another Napa area vineyard).
—
And one may puzzle over the numbers listed in a circle on the back label. One can study this for hours and still never figure out its meaning. This cipher or puzzle changes every year and features the coordinates of vineyard sites, recording studios where famous albums were produced and or other landmark sites that are important to Mike and Scott. And the front label is somewhat intriguing – Mike's brother Ben designed the original label as a rough charcoal drawing of tree rings – but this changed over time when he divided up the pieces of this original drawing – reorganizing them in the shape of a fox (the current label). In a subtle nod to Mike's passion or obsession with baseball (the San Francisco Giants in particular) the outline of the label is in a diamond shape.
Currently Treebottom wines are not distributed – rather are all sold direct via the website and select member only events (one in Napa and one in Modesto). For more information, to join their allocation list and or to purchase wine from this tiny producer, please visit: www.treebottom.com