Treasure Wines is a boutique Napa producer founded in 2010 with the release of their first vintage. Founder Patricia Klitzke Novosel teamed up with Mark Person; both have enjoyed wine for many years. Today this is a small family owned producer – Mark's son Daniel was the winemaker from 2010 through 2017 and two of Patricia's children are also involved. Remarkably the name Treasure was available for use when they began researching names for their wine; they soon trademarked it. The story begins with an interesting decision during a road trip to the Napa Valley.
Mark and his son Daniel (who was in medical school studying to be a Doctor) decided to take 5 days off and visit the Napa Valley from Chicago (where they lived at the time). They booked round trip flights as one normally does for a mini getaway of this distance. They were impressed with the wines, the scenery and the lifestyle. When it was time to return to Chicago, Daniel informed his father he would not be returning and despite only visiting the valley for a few days, he had quickly became enamored with industry. Mark then asked him what his plans were and he replied that he was going to stay with a friend in San Jose and look for winery related job. He did not get on that return flight.
Two hour commutes from San Jose to the Napa Valley get old quickly so Daniel moved up to Healdsburg (Sonoma County). He decided to return to school (UC Davis where he received a Master's Degree from their Oenology and Viticulture program. During his time at UC Davis he was awarded a prestigious internship at Le Domaine de la Romanee-Conti just south of Dijon, France. He worked half a year at the estate and gained valuable wine making insights and experience.
Daniel also spent time working at Vidal Wines in Hawkes Bay, New Zealand and in Napa worked with noted winemaker Philippe Melka. He and his wife currently run Carboniste, a California focused sparkling wine producer based based in south Napa. Keep an eye on Daniel – he is a young and talented winemaker with a bright future ahead of him.
Daniel is responsible for vineyard sources – their vineyards change from year to year and have ranged in terroir from St. Helena, to Spring Mountain to near Howell Mountain. Daniel's wine philosophy is to let vineyards speak for themselves – he is not a proponent of what he calls 'manufactured wines' or wines that are stylized in the winery. As a result of different vineyard selections, each vintage often showcases wines from unique parts of the Napa Valley.
The 2013 Sauvignon Blanc presents a more old world style of this variety then how this wine is commonly made in Napa. The bouquet is pleasing with aromas of citrus blossom, green and red apple – it is very clean aromatically. A mineral component shows mid palate through to the finish – this wine has good acidity and is nicely balanced.
The 2014 Sauvignon Blanc shows darker color in the glass then the previous vintage with brighter more fruit driven aromatics. Pineapple, honeysuckle and stone fruit (peach) aromas show. The lively fruit continues onto the palate with some gentle weight that creates a pleasing mouth feel. Great to drink by itself.
The 2010 Cabernet Sauvignon hooks one to this wine simply with the bouquet. Elegant aromas are it's hallmark initially revealing floral aromatics with notes of cigar smoke. The wine benefits as it breathes revealing more fruit notes including ripe plum, blackberry and a sweet vanilla component at the edges of the aromatics. Shows medium viscosity in the glass and is dark ruby in color. It is rounded on the palate, soft and very well balanced showing more red fruit – especially on the finish. The tannins are integrated very nicely.
For a difficult growing year, the 2011 Cabernet Sauvignon is a well-made wine. The vineyard source is a south facing slope high up on Spring Mountain. They harvested in early November – just before a storm finished what was left of harvest (any fruit that was still hanging in the vineyards this late). This vintage shows black cherry framed with sweet cedar notes, cassis, a slight herbal nuance and smokiness on the bouquet. Darker fruit shows on the palate, blueberry and blackberry – medium viscosity – the tannins are fairly well integrated on the finish.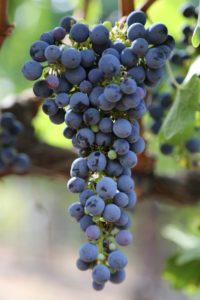 The 2012 Cabernet Sauvignon is a classic example of Cabernet Sauvignon that gives Napa the superior reputation for growing and producing wines of this particular variety. The very appealing fruit driven aromas are a mix of both dark and red fruits, leather and cigar smoke followed by a palate that shows big flavor – with both oak and robust grape tannins anchoring the long finish. The vineyard source is a good one; one of Beckstoffer's six Napa heritage vineyards – Georges III.
In addition, they produce a red blend – their first vintage was named Ryan after a grandchild.
Pat and Mark live in Colorado but are in Napa about once a month. Despite not living in the valley they have met numerous vintners and a number of them have been very supportive since they founded Treasure Wines. One individual, Mike Lamborn (of Lamborn Vineyards) helped introduce them to Vintner's Collective, the premium tasting room located in downtown Napa. In the Spring of 2016 they moved their wines into Vintner's Collective. Vintner's Collective is highly selective on who they accept within their portfolio; their tasting room features wines from select boutique wineries.
The wines are also available in several Chicago restaurants.
NOTE: possibly no longer producing. Will keep an eye on this producer and archive this review if needed once we have more information. Website has been offline since last year.