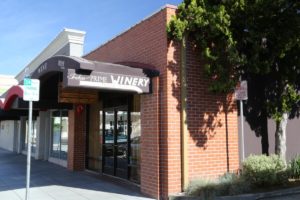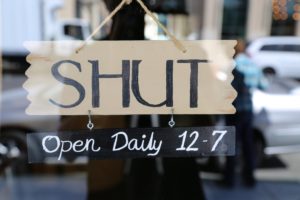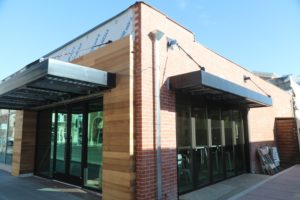 Trahan Winery specializes in high quality wines available at very decent prices. The winery is owned by Chuck Custodio (the winemaker), his wife and his mother. Representative of the three owners is is their logo, which is three purple intertwined rings. During our Napa wine odyssey, we have heard many stories about how Napa winemakers got into the business. Chuck's story starts with a visit to the valley and a tour on the Napa Wine Train in the mid 1990's. He was an engineer for a San Jose Bay Area based company and getting into the wine business was the last thing on his mind. His last wine of the day on the train was a 91′ Stags' Leap Winery Petite Sirah which made an indelible impression.
He asked around about this varietal and was recommended to visit Vincent Arroyo winery which was known for their delicious Petite Sirahs. Unfortunately he was told this winery is located on Tubbs Lane and after driving back and forth on this up-valley road he gave up and headed south. Fortunately he saw the sign correctly identifying Arroyo's location on Greenwood Ave. Long story short, eventually he ended up working at Vincent Arroyo while simultaneously taking wine classes at Napa Valley College and making the commute back and forth between the valley and San Francisco…four hours of driving each day, working and then studying – majorly intense.
This incredible dedication and passion has paid off and today Trahan produces several different wines. The 2002 Trahan Winery Cabernet Sauvignon was his first vintage and had an auspicious romantic beginning as this was released for the first time on his wedding day. We had the privilege of barrel tasting through all his 2007 wines, starting with his Chardonnay. This is from Carneros grown fruit, was barrel fermented, saw all American oak during its sur lie aging, and did not go through the secondary malolactic fermentation. The results are very true to the varietal with tons of flavor, a slight creaminess, with toasty notes towards the very clean crisp finish. The palate is decidedly an expression of the fruit characteristics of this varietal.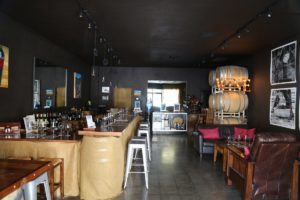 The barrel samples were all young wines of course, not yet polished but the one that really stood out was the Merlot. It was already full of great fruit, big but not "in your face big" with a rounded mouth feel and a smooth finish. Trahan also makes a 100% varietal Petit Verdot. This wine started out aging with the intent to be simply used for blending. This varietal can scream tannins by itself but in this case the tannins are very well managed and the aromatics spectacular. Also look for their very drinkable Napa Cabernet Sauvignon and a Pinot Noir. As Chuck says, "our customers become part of our family" – this is very true for small boutique wineries in which the individual relationships with customers are extremely important and valued.
Come check out one of the coolest winemakers in the valley. Chuck runs a tasting room (in conjunction with Prime Cellars) in downtown Napa within a short walk of the Napa Town shopping center. Old timers will remember Chuck's first tasting room partner was Ted Osborne of Olabisi Cellars. This tasting room is setup like their home as well as a winery (note the stacked wine barrels). The tasting room is comfortable and relaxed, Chuck's dog Sadie (who is certainly getting up in years) is often also hanging out here; overall this is very low key pleasant atmosphere for wine tasting.
Chuck's shared tasting room is located in downtown Napa, easily within walking distance to hotels and restaurants. We have revisited this tasting room several times since they opened. Chuck has produced a solid 100% varietal Cabernet Sauvignon from the Rutherford Appellation. This "reserve" wine is special – only 1800 bottles were made of this particular vintage and each bottle is numbered.
The bouquet is extremely elegant – with floral notes and pleasing high toned fruits. This wine opens up beautifully in the glass as it breathes – revealing a more complex bouquet over time with a hint of dustiness and mocha creeping into the background. The entry on the palate is also elegant but you realize this wine has some power as its intensity and tannin profile builds quickly towards the finish and the moderate tannins linger for some time. The wine is a very good value based on the quality and location of the fruit source.
Chuck is able to keep his prices reasonable based on the fact he doesn't use distributors and most of his wine is sold direct through the tasting room here or through his mailing list.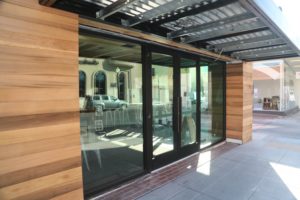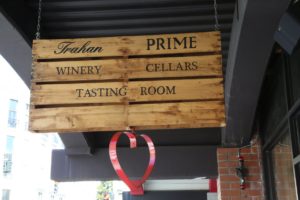 Chuck released his first ever port-style wine – a Carneros sourced Syrah with his 2010 vintage. This is the "sexy" wine in the Trahan portfolio, as Chuck's wife calls it! It is not a big wine of this style – it is under 17% alcohol and only 5% residual sugar. The bouquet is sweet, the palate not as much. The idea about this wine is to highlight the varietal and its fruit characteristics rather than the often highlight of California ports being the alcohol and higher sugar. While it is a lighter style the finish is more complex showing a nice meld of fruit with oak and grape tannins.
Here it is common to meet and taste with the owners who are both the winemakers for their respective brands (besides Ted & Chuck the tasting room only has one employee). This is a totally different tasting experience than you may have at the larger Napa Valley wineries. Here you often get to meet and taste with the owners who are both the winemakers for their respective brands. A number of wine makers prefer to stay behind the scenes and it is always a pleasure when you meet winemakers who have an genuine interest in meeting their clients and don't mind the customer interaction part of the wine business.
Both Trahan and the Prime Cellars wines are poured here; you choose a number to taste from their provided list. For more information and to join the online mailing list visit: www.trahanwinery.com
Bottling 10 Lots, 22,000 bottles of Trahan wines today!! Lots of new wines for our customers.

Posted by Trahan Winery on Saturday, July 4, 2020