Trahan Winery specializes in premium food friendly wines available at decent prices. This wine brand is owned by Chuck Custodio (the winemaker and Cal Poly San Luis Obispo alumni), his former wife Janna (an operating room nurse) and his mother Elizabeth. Its namesake comes from Chuck's great, great grandmother, Amy Trahan. Representative of the three owners is their original logo, three purple intertwined rings. During our Napa Valley wine journeys, we have heard numerous stories of how individuals became winemakers. Chuck's story starts with a visit to the valley and a tour on the Napa Valley Wine Train in the mid 1990s. At the time, he was an engineer for a San Jose Bay Area based company and had no aspirations about becoming a winemaker. However, the last wine he enjoyed while on his train ride was a 1991 Stags' Leap Winery Petite Sirah; Chuck was extremely impressed with this wine.
He began to research Petite Sirah and was eventually recommended to visit Vincent Arroyo Winery in Calistoga, renowned for Petite Sirah wines. Grossly misinformed about the exact location of the winery (this was well before Google Maps and touch screen cell phones), Chuck was told the winery was located on Tubbs Lane north of Calistoga. After driving back and forth on Tubbs Lane Chuck gave up and headed south. Fortunately, he saw a sign correctly identifying Arroyo's location on Greenwood Ave and during his visit, met the founder and winemaker, Vincent Arroyo. Ultimately, Chuck began his first wine job at Vincent Arroyo while simultaneously taking wine classes at Napa Valley College and making the commute back and forth between San Francisco and the Napa Valley. His commute each day was four hours of driving while both working at the winery and studying. This lasted for four years until he moved much closer to the valley.
Later he worked at Storybook Mountain (north of Calistoga) and Pina Cellars in Rutherford. What is appealing about his story, is Chuck is an down to earth guy, someone who truly loves people and who followed his passion after a previous career. Persistence and resilience are two very appropriate words to describe his career in the wine business.
Select Wines
Chuck began producing Charbono from the Cooke Ranch Vineyard owned by Terry Gard in 2017. This property has been under the same family ownership since 1879 and is located next to the intersection of Dunaweal Lane and Highway 128 in Calistoga. Inglenook used to be associated with this variety – having released the first Charbono grown and produced in the Napa Valley in the 1940s (they stopped producing in the 1990s). Inglenook used to purchase Charbono from the Cooke Ranch Vineyard beginning in the 1960s. The vines at Cooke Ranch Vineyard are head-trained and dry farmed.
The sweet spot for growing Charbono in the Napa Valley is in Calistoga. During the growing season, this variety thrives on warm days and cool nights – conditions that Calistoga is ideally suited for. Select parts of the northern Napa Valley are the warmest but also feature the greatest diurnal shift in temperature between day and night – often in the summer dropping between 30 and 40 degrees from that day's high.
Well known former UC Davis professor, Carole Meredith conducted DNA testing on Charbono and discovered that it is actually a French variety called Corbeau. It's genetic history dates to the French Alps of the Savoie region were translated into English it was known as the "Soft Black" grape.
Charbono inherently stops producing sugar at some point during the end of summer – usually around 22 or 23 brix and the maturation of the skins comes later. As a result, the wines made from this variety are typically lower in alcohol than what is now the average in Napa Valley for red wine. And the tannin profile tends to be on the lighter side.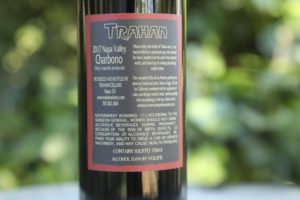 The 2017 Trahan Napa Valley Charbono is the inaugural release of this variety. Medium to deep ruby in color, the wine initially shows some savory aromatics on the bouquet but as it opens more fruit is revealed along with hints of a mocha sweetness. Shows notes of blackberry and blueberry. Briary. On the palate, the wine is juicy with good acidity and shows some of the savory characteristics and rustic notes that this variety is sometimes known for. Finishes brightly, with red cherry and berry fruits along with a medium grip of tannins. The alcohol is refreshingly kept in check at 13.6%. The label was painted by Chuck's friend and artist, Shawn Griggs; it is certainly an eye-catching piece with a feel of Dia de los Muertos, a common theme in his work.
The 2016 Trahan Napa Valley Syrah is deep ruby in color; offers distinctive aromatics often inherent to this variety including smoked meat, iodine, a bloodiness. The accompanying fruit aromatics are dark in nature. Well layered, juicy and mouthwatering, this wine delivers plenty of flavor without any heavy-handed oak or tannin influence. Flavors of plum are complemented by some darker spicy notes – especially lingering on the finish (pepper corn). The tannins are dark and are fairly well integrated. Lingers with notes of toasted cedar. A savory showing. Like some of Trahan's other labels, this one also features an artist, the work of Hawaii based Moses Hamilton who paints with his mouth (after a terrible car accident in 2002 left him paralyzed).
The 2018 Trahan Carneros Napa Valley Pinot Noir (Beckstoffer Las Amigas Vineyard) is pale ruby in color; we were hard pressed to pick this out as a Pinot Noir from the aromatics – shows notes of cherry, toasted oak, red licorice and as the wine breathes, mocha. Also, some mushroom notes and cedar box influence among the darker fruit aromatics. Both darker and red fruit flavors including red cherry and currant. Finishes with a brightness of acidity, some darker spices and a layered and noticeable tannin profile, yet well integrated into the finish.
The 2002 Trahan Winery Cabernet Sauvignon was Trahan's inaugural vintage and wine and was first released for Chuck and Janna's wedding. During our first visit with Chuck, we barrel tasted through all his 2007 wines, beginning with his Chardonnay from Carneros. This wine was barrel fermented, was aged entirely in American oak (sur lie) and did not go through secondary malolactic fermentation. The results are true to the varietal showcasing richness of flavor, a slight creaminess and with just a hint of toasted oak lingering on the crisp finish. The palate is an expression of the fruit characteristics of this variety.
The barrel samples were all young wines of course, not yet polished but the one that really stood out was the Trahan Merlot. This 2007-barrel sample showed rich fruit but was not overly extracted. Finished clean with a suppleness of tannins. Trahan used to produce a 100% varietal Petit Verdot. Chucks original intent with this varietal was to use it for blending in one of his other wines. This variety is sometimes known for its robust tannins – but the tannins were already extremely well managed in the 2007-barrel sample.
The 2010 Trahan Cabernet Sauvignon (100% varietal) is from the Rutherford Appellation. This "reserve" wine is special – only 1800 bottles were made of this particular vintage and each bottle is numbered. The bouquet is extremely elegant, with floral notes and higher-toned fruits. The wine opens up beautifully in the glass as it breathes, revealing a more complex bouquet over time with a hint of dustiness and mocha creeping into the background. The entry on the palate is also elegant – but shows some power as its fruit intensity and tannin profile builds quickly towards the finish. The wine is a very good value based on the quality and location of the fruit source.
Chuck produced his first ever port-style wine in 2010 – a Carneros sourced Syrah. This is the "sexy" wine in the Trahan portfolio, as Janna calls it! It is not a California styled wine of this variety, rather it is under 17% alcohol and only 5% residual sugar. The bouquet is sweet, the palate not as much. The focus on this wine is to highlight the varietal and its fruit characteristics rather than high alcohol and sugar. While it is structured on the lighter side, the finish is complex showing a pleasing interplay between fruit, oak and grape tannins and acidity.
Tasting Room, Napa

NOTE: as of mid 2022 Trahan wines vacated this space; we keep our notes and photographs here for historical reference. We do not yet have an update if they will continue producing wines; if production ceases, we will archive this review. Dan Dawson who used to operate the original Backroom Wines from this location took over this space and opened Outer Space Wines, a wine shop focusing on California wines from boutique brands as well as select international wines. Dan is the founder of Backroom Wines (currently located on Main Street), but this is the space where he founded Backroom Wines.
Come check out one of the coolest winemakers in the valley. For many years, Chuck operated this tasting room (in conjunction with Prime Cellars) in downtown Napa within a short walk of First Street Napa (a collection of shops, tasting rooms and restaurants). Old timers will remember three pieces of information about the Trahan tasting room space: this was the original home of Backroom Wines, Chuck's first tasting room partner was Ted Osborne of Olabisi Cellars and Sadie, Chuck's old dog (since deceased) used to greet visitors to the tasting room.
One of the older tasting rooms in the city of Napa, it underwent a significant exterior remodel in 2020 and 2021. Over the years since Chuck opened this tasting room, the city of Napa has changed dramatically and now there are numerous tasting rooms and restaurants easily within a short walking distance. The tasting room sported a comfortable and relaxed atmosphere and usually Chuck's dog was hanging out inside.
Many of the approximately forty tasting rooms in downtown Napa are staffed by employees. However, at Trahan's tasting room, it was common to meet and taste with Chuck as his office is also located here. This is a completely different tasting experience than one may have at larger Napa Valley wineries. A number of wine makers prefer to stay behind the scenes, and it is always a pleasure to meet winemakers who have a genuine interest in meeting their clients and don't mind the customer interaction part of the wine business. And Chuck certainly appreciates and enjoys talking with guests.
For a number of years, Prime Cellars shared this tasting space with Trahan, but Prime Cellars moved out in early 2022 and are no longer producing wines. Guests had the option to choose desired wines to sample from a provided list of current releases.
Trahan keeps their prices reasonable based on the fact they do not use distributors and most of the wines are sold direct through the website or mailing list. As Chuck says, "our customers become part of our family" – this is especially true for small boutique wineries in which the individual relationships with customers are extremely important and valued.
Since the tasting room closed, tastings are now by appointment only. For more information and to join the online mailing list visit: www.trahanwinery.com
Bottling 10 Lots, 22,000 bottles of Trahan wines today!! Lots of new wines for our customers.

Posted by Trahan Winery on Saturday, July 4, 2020