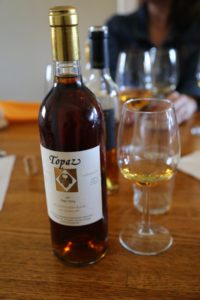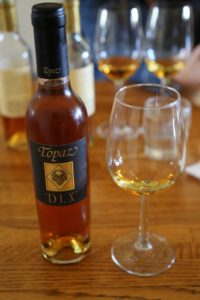 Topaz Late Harvest as the name indicates is one of these rare Napa wineries that exclusively specializes in one type of wine – in this case a Sauterne style late harvest Sauvignon Blanc Semillon blend. There are maybe 3 wineries within Napa that specialize exclusively in late harvest botrytized wines (Noble Rot) and a handful of other wineries that make this type of wine along with their main production. Talk about a niche market!
We have tried this type of wine from most of the Napa producers making it and can say without a doubt, Topaz is one of our favorites. In fact, we are drinking away on the 2003 vintage as we write this. Jeff Sowells is the winemaker and owner whose roots in the Napa Valley go back to the late 1970's. He started out in the cellar seasonally working harvests for select wineries and over time picked up winemaking knowledge in the field as well as through UC Davis and Napa College.
He later started a mobile vineyard lab converted from an old mail truck. He called his mobile business, "Zymurgy" which is the word that describes the branch of chemistry dealing with fermentation as well as often being the last word in the dictionary. Or as Jeff translates, this means as the winemaker he has the last word. Topaz is his birthstone and also resembles the color of the wines. His first vintage was in 1986, which made this winery one of the oldest continuing Napa based producers of this type of wine. Although note, Jeff's last vintage to date (and probably his last) is from 2007.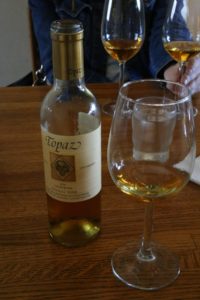 He was making wine for Ann Macauley, a vineyard owner with a small less than 2-acre vineyard of Sauvignon Blanc who always wanted to try making a late harvest dessert wine. Unfortunately, Ann passed away in a tragic car accident on the way back from San Francisco before this wine was even bottled. Jeff ended up purchasing the wine in barrels from her estate & has made the Topaz wine continuously since 1989.
Select Wines
Over the years we have had the privilege of tasting a number of his incredible wines including his 1989 Topaz, the 1997 DLX the 2002 DLX. Special mention must be made about the DLX, the premium label (first vintage 1997). This wine was not made every year – (only made 4x in 10 years) and was only produced when the quality of fruit met Jeff's highest quality expectations.
The grapes used to make this type of wine are from the ugliest looking fruit you will ever see. Botrytis spores turn grapes into a moldy looking grayish black color and the grapes used for the DLX are the epitome of what looks like "rotten fruit"! However, there is an unparalleled rich aromatic and flavor profile to his 2002 DLX that is not often found in these types of wines. This wine is perfectly balanced, slightly viscous with bursting ripe fruit flavors and layers of honeysuckle and peanut brickle. We haven't yet mentioned that this wine pairs perfectly with blue cheese and dried figs.
We also tried the second vintage of Topaz, the 1989 vintage. The older vintages change their color dramatically when compared to the newer vintages. The earlier wines are a deeper brownish color while the newer wines are more yellow and amber. These wines have tremendous aging potential. As the wine ages it takes on more nutty type characteristics. This vintage was full of toasted almond aromas with some caramel and peanut brickle on the palate including fresh bees wax and faint hints of various herbs.
—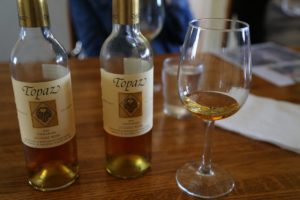 Three things about the Topaz wines we tried: they are *not* cloyingly sweet and syrupy, in other words they are extremely well balanced between acidity and sugar. In addition, I have found orange peel aromas and or flavors in similar types of wine. Who wants the taste of orange peel in their late harvest dessert wine! Certainly not us and we did not find these characteristics in the Topaz wines we tried. Lastly some of these types of dessert wines have strong wood sand papery component especially lingering on the finish. Some people may like this, but we feel this detracts from the natural fruit flavors of the wine. You don't find these in the Topaz wines.
Production varies from year to year depending on the harvest and climatic conditions and is usually extremely limited – 500 to 1000 cases total. They are only distributed within California. You can find this wine in many of the wine shops in the Napa Valley and very select high-end restaurants. Topaz has been served at the US White House, Chez Panisse in Berkeley and can be found in Napa at the well-known Auberge du Soleil.
For more information or to purchase wine, visit: www.topazlateharvest.com
NOTE: Jeff is no longer actively producing Topaz Wines but has more recently made a dessert wine for Macauley Vineyard. We will archive this review in the next few years if no new wines are produced.
Jeff invented barrel dancing, showing off on the sidewalks of Yountville:

View video with Jeff by former Groezingers Wine Shop in Yountville:

Chateau d'Yquem, Sauternes