Over the past 15 years I have been tasting up and down the cozy confines of the Napa Valley – from valley floor to hillside. With well over 1,000 Napa Valley wineries and producers visited with to date, my journeys have taken me into some of the most luxurious, secret and coveted spaces.
Coming up with top lists is always challenging especially with our extensive perspective of wineries in the Napa Valley. Numerous others could have also made this list, but these are some of the best of the best.
Blankiet Estate, Medieval Room
Passion for vineyards and wine spans the length of the world-famous Napa Valley but every so often we meet individuals whose passion and obsession for crafting world-class wine transcends to another level. These are Claude and Katherine Blankiet. This is the other 'castle in the valley'. The room is dimly lit, but not overly so. Rare works of art. Exceptional wines.
CONSTANT Diamond Mountain, Pool House
A quintessential day at CONSTANT Diamond Mountain Vineyard is when it beautifully warm here but cold at lower elevations and the valley floor is still blanketed in a thick white layer of fog. The rugged yet elegant architecture offers a seamless and sophisticated blend between the indoors and outdoors.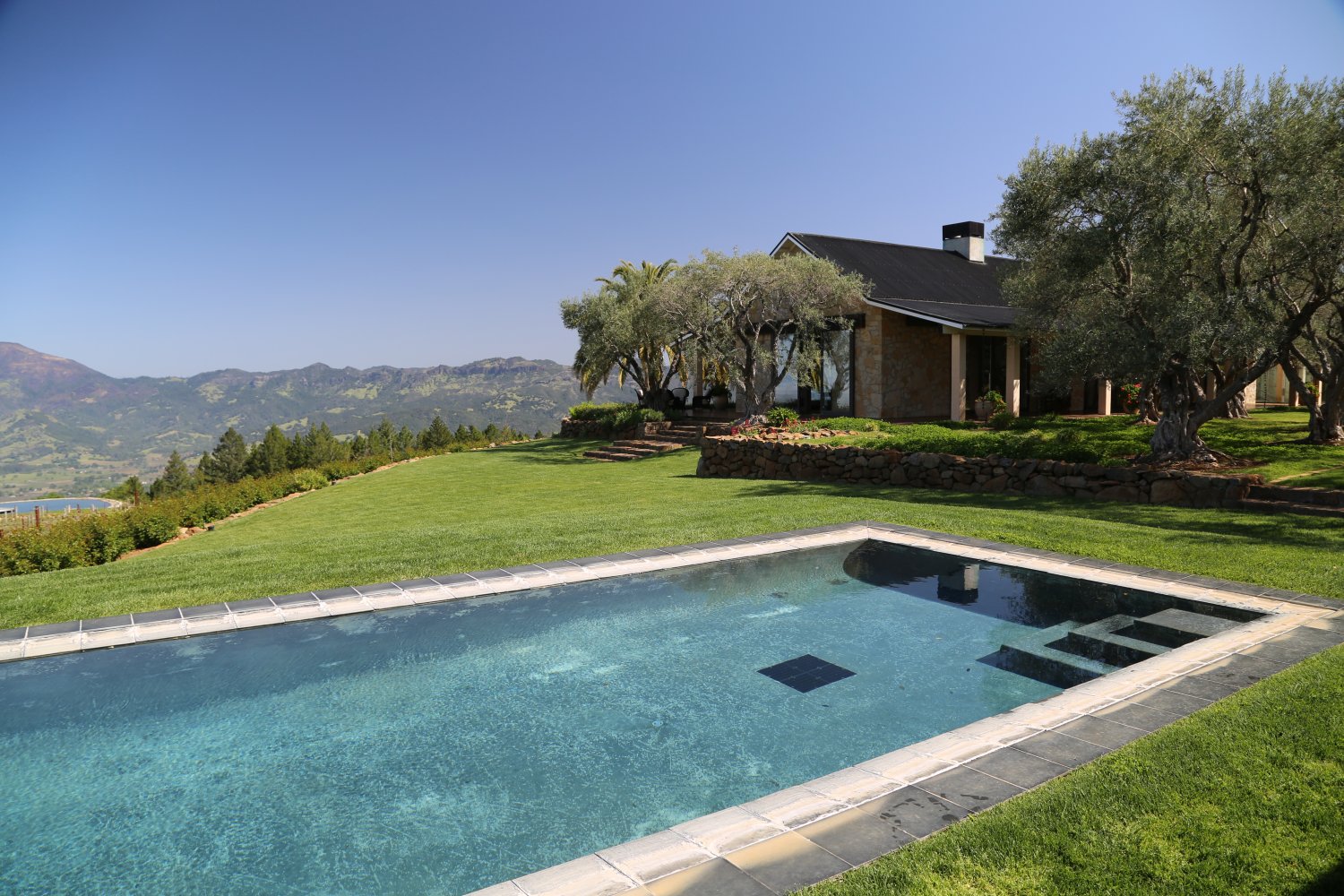 Dana Estate, Library Room
After all the renovations, the old ghost winery is a beautiful blend between history, function and visual appeal. The winery is state of the art while the hospitality space offers a feel of sophisticated elegance. This might just be our favorite Backen designed winery in all of the Napa Valley.
Davis Estate, Cellarium
Deep in the bowels of the Mayacamas mountains is a special room only accessible only via an electronic infrared vein scanner system which is calibrated so only members and employees have access to the room. For members, simply scan your hand and the system will recognize your unique vein pattern.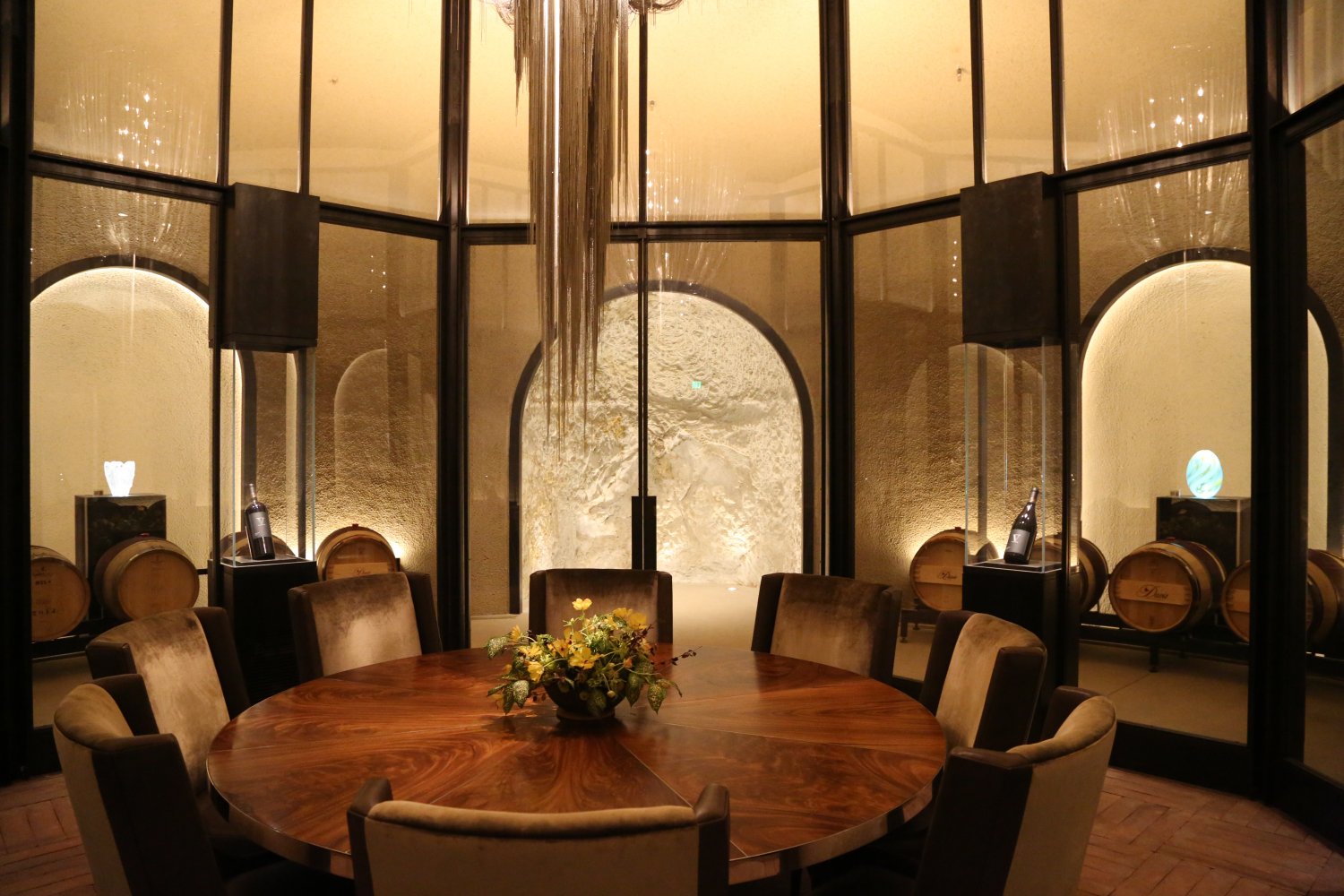 Edge Hill, Distillery Building
Edge Hill is one of the Napa's Valley's most historical and treasured winery properties. The old distillery underwent a three year renovation and retrofit in which every single brick and stone in the building was numbered, removed and then placed back in its original location. The interior feels cozy – almost like walking back in time.
Hall Rutherford, Chandelier Room
The cavern roof is lined with handmade Austrian brick, each of which contains a family crest. These bricks are old – ranging in age from the 14th through the 20th centuries. Alcoves throughout the cave contain modern works of art displayed on a rotating basis. Visiting this rare space, one can imagine a choir singing – the Hall's brought the the Vienna Boys Choir over to christen this cave when it first opened.
Hourglass, Cave Grotto
This small cave grotto located with the primary cave serves as an impressive tasting room – with a Swarovski crystal chandelier overhanging complemented by a comfortable couch and several chairs. It can be easy to whittle away a few hours in this part of the cave with excellent wine and conversation.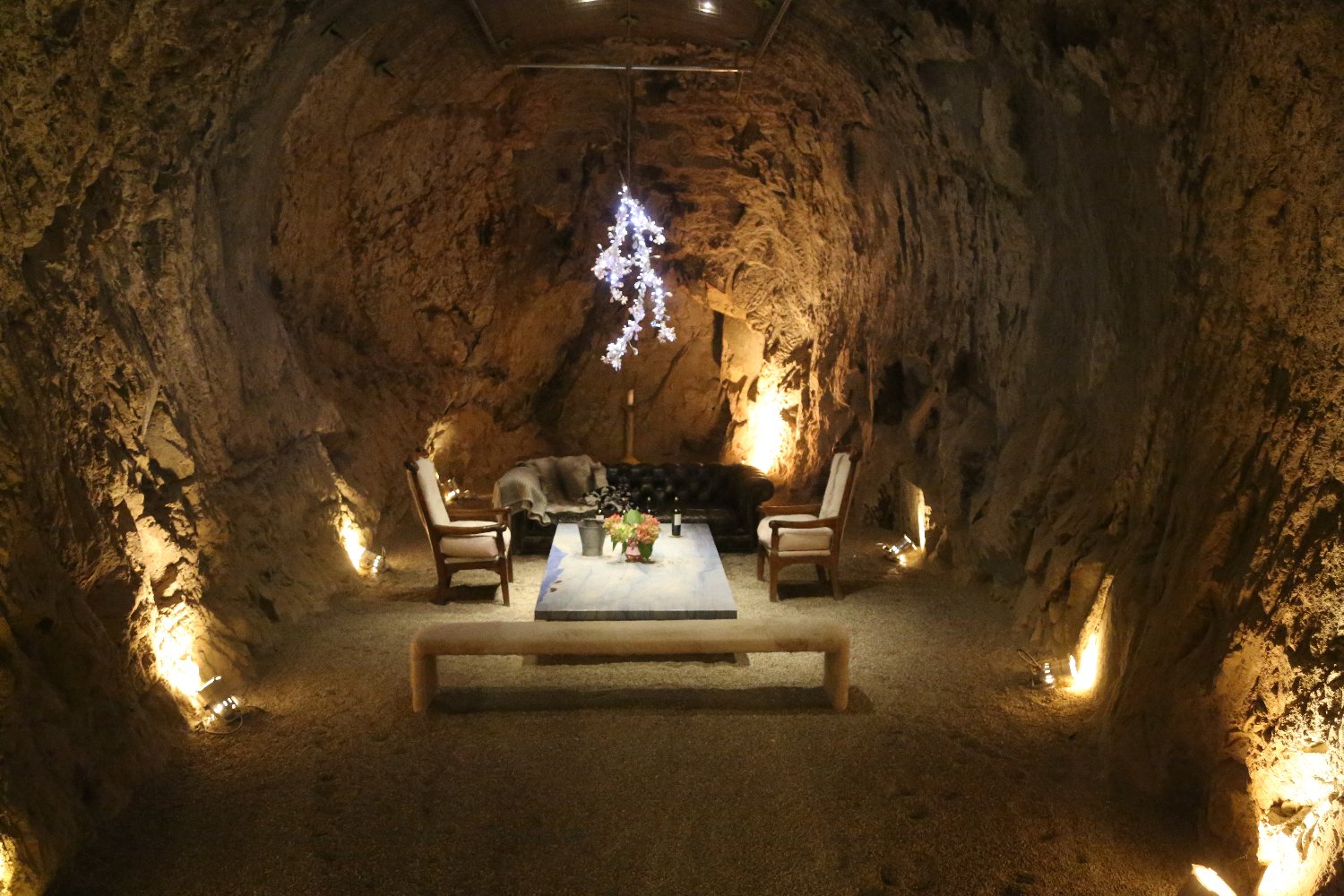 Piazza del Grotto, Piazza del Dotto
From a visual perspective, the most stunning part of this cave is the Piazza del Grotto with its impressive chandelier composed of Madagascar red agate encircled by Venetian glass. Carrara marble wine barrels. A number of hand-painted murals line the ceiling – created by artists from Italy. And if one knows what they are looking for, they can spot several members of the Del Dotto family in the murals.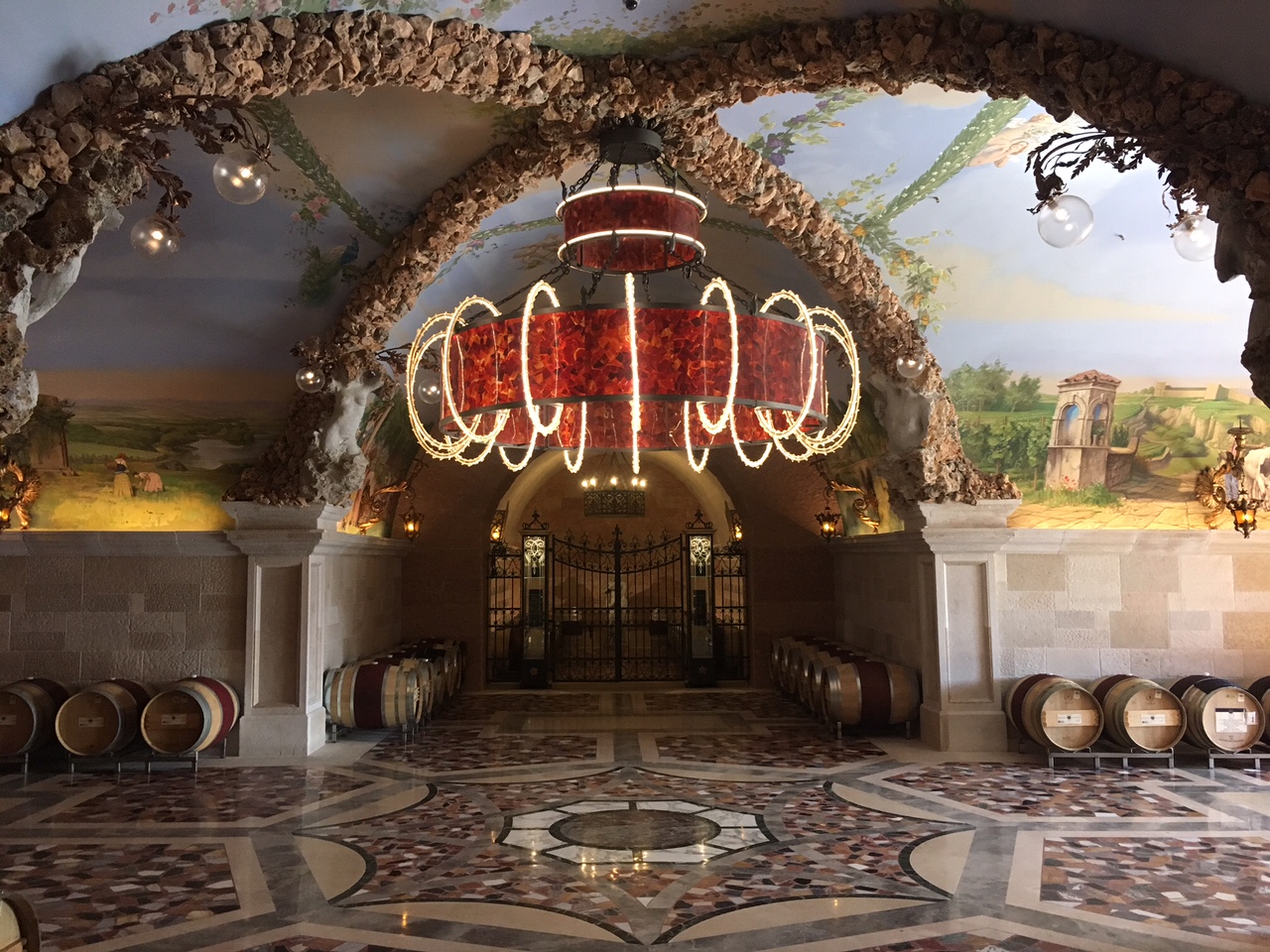 Raymond Vineyards, Red Room
Perhaps in the history of Napa Valley there is no one else who has combined such extreme creativity with the financial means to build a continuously growing empire built around wine and food – connected by a visual flamboyance & opulence rooted in unique and memorable experiences. The exclusive Red Room sums up the personality of Jean Charles Boisset to a tee. And throw in several of the JCB lounges here for good measure.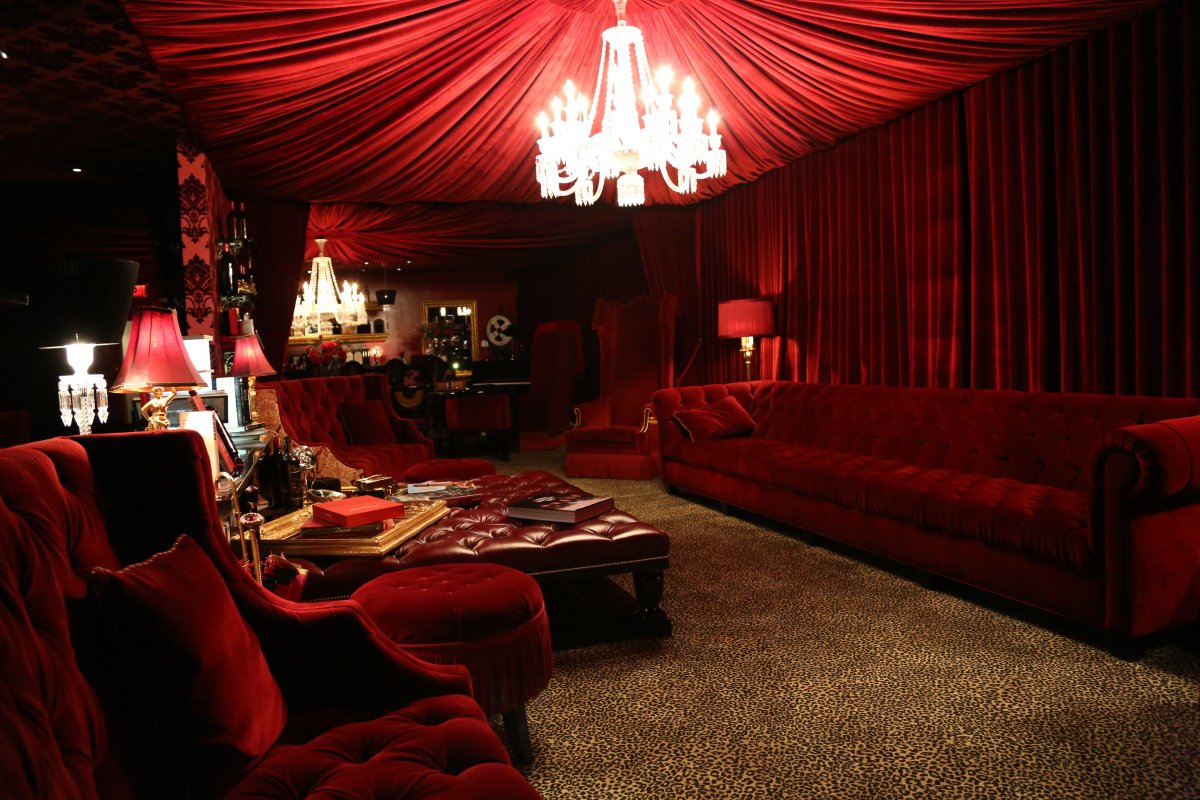 The Napa Valley Reserve, Members Room,
A fine day at the 'reserve' is upstairs in the members room, mid morning, early summer – the retractable doors drawn open letting the coolness in, just the right temperature. Shadows play slowly across the olive trees and vineyard below. A glass of The Napa Valley Reserve in hand. Good friends. Moments like this.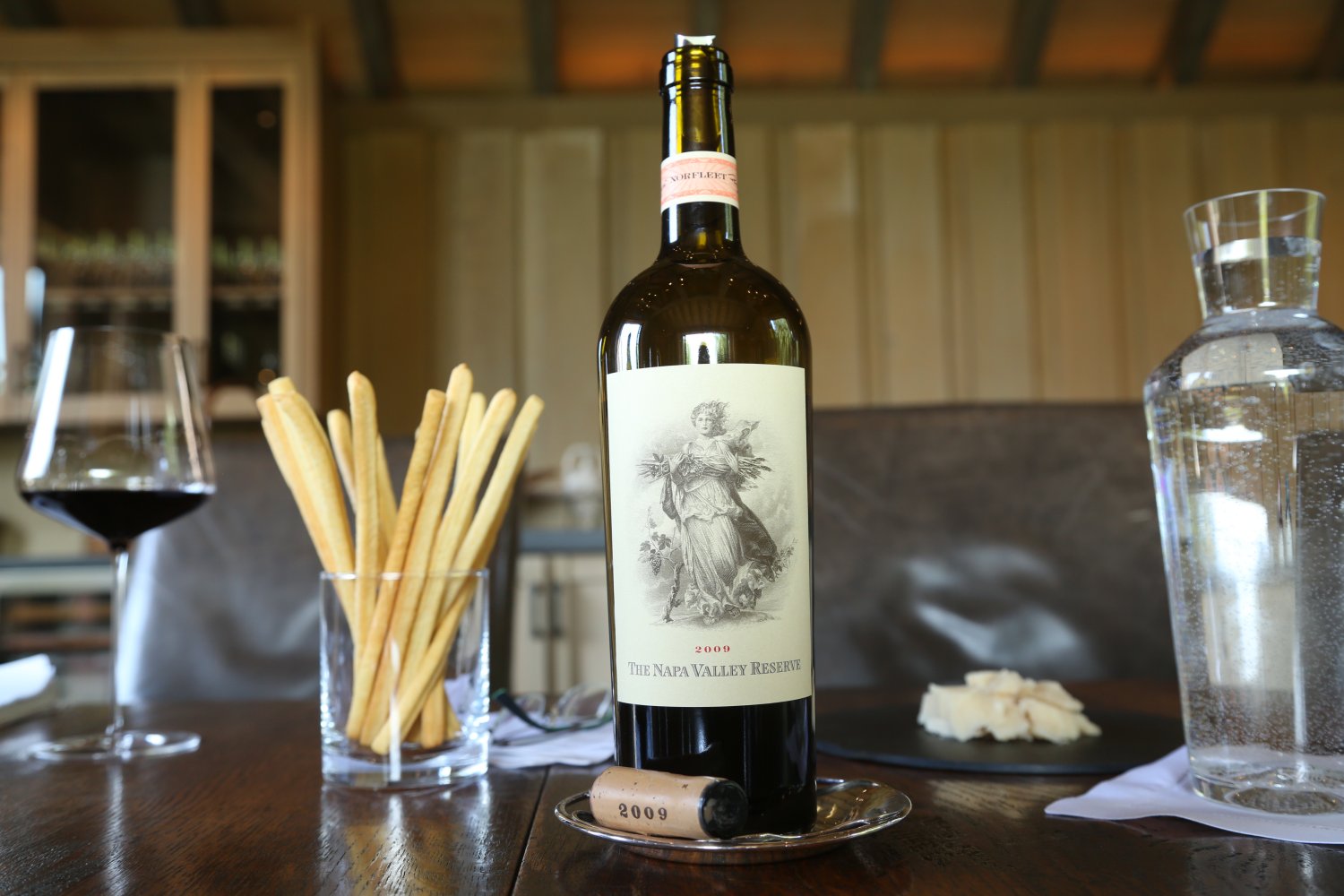 Tusk Estate, Private cave
A 3-person partnership that includes famed winemaker, Philippe Melka, Tusk produces only about 200 cases a year, with a waiting list spanning decades. This private estate features one of the most impressive caves in the valley with an intriguing international wine collection but its true visual grab is in its stunning decor.
Vineyard 29, Library Room
A bottle of Vineyard 29 contains the best fruit their vineyards can offer – a true balance between terroir and technology. The library room features elegant while simultaneous dramatic visuals. Enjoy a coveted pairing with exceptional wines.