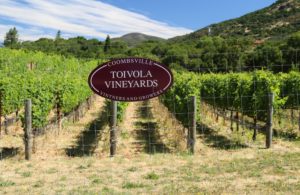 Toivola Vineyards are owned by Arto and Cheryl Toivola. Arto and Cheryl met while both were studying at UC Berkeley. Both have enjoyed wines for many years. While living in California they decided they wanted a change of pace and moved to Portland Oregon. While there they were exposed to a number of fine Oregon Pinot Noir's. They decided to move back to California and chose the Napa Valley. They located and purchased a 5 acre piece of land in 1999 in what is now Coombsville. As Arto remembers the property then, "it was planted to trees and weeds" and had not been planted to grapes prior. In 2005, with the help of vintner Richard Perry they planted 1.5 acres entirely to clone 4 Cabernet Sauvignon.
Out of 850+ Napa wineries/producers we have visited with to date, Toivola Vineyards is certainly among only a select few in the valley who total production is around 50 cases annually. Once the vineyard began producing fruit Arto and Cheryl made home wine beginning in 2007. They were pleasantly surprised by the positive reaction to this wine when they showed it to several Napa based well-regarded winemakers. In addition some of this home wine made it to a wine club whose members were disappointed they were not able to purchase the wine. After the feedback received, they realized they had a special vineyard and decided to invest in turning this hobby into a business. 2012 was their first commercial release.
Their wine is a labor of love; Arto and Cheryl have other jobs but both are actively involved in the business. While Mike Nunez is their vineyard manager, Arto helps out in the vineyard as much as he can. The focus of their vineyard is tending to each vine by hand. They are growing for quality not quantity, not growing as Arto says, "lazy fruit". Throughout the growing season a certain amount of fruit is cut off from each vine – with a balance between vegetation and fruit as their goal. Much of the vineyard grows on the slopes of a knoll – all with well drained rocky volcanic soils. Coombsville is often characterized by a long growing season and it is no different on their small vineyard. Often they pick between mid to late October.
Cheryl's background is in Landscape Architecture – not necessarily for making wine – so she decided to further her education and add winemaker to her resume. background She enrolled in the UC Davis extension courses to learn more about chemistry as relating to wine making and then enrolled at Napa Valley College to learn about the hands on work needed both in the vineyard and for making the wine. Accomplished Napa winemaker Jennifer Rue consults for Cheryl and Arto as needed.
They bonded part of their garage as a commercial winery; this is either the smallest or close to the smallest Napa winery we have visited. Each vintage typically sees only two barrels – one of the barrels is new French oak and the other is once used. Usually the wine see's up to 18 months in barrel and then another year in bottle before being released. Plans call for adding a third barrel from the estate – this would increase their production up to 90 cases.
Select Wines
The 2012 Toivola Vineyards Cabernet Sauvignon is dark red in the glass. It is elegant on the bouquet showing ripe plum and blackberry along with a kiss of cedar in the background. The wine needs time to breath and continues to reveal additional complexities in the glass as it opens including additional nuances from the oak (vanilla and a sweetness of baking spice). The bouquet is complex and well layered and is a very appealing part of this wine. The entry is soft on the palate – almost satiny initially. Dark fruit shows across the palate and is framed by well-integrated tannins. This dark fruit lingers nicely along with a deeper spice note presumably from the wood tannins. A very balanced wine.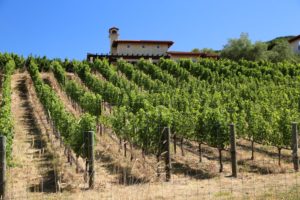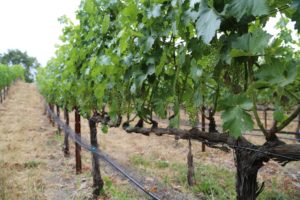 The 2013 Toivola Vineyards (not yet released at the time of our tasting) shows deepness of color that is inky dark purple in the glass and reveals rich voluptuous and layered aromatics – more likely to perhaps be thought of as from a Cabernet Sauvignon grown in Oakville or Rutherford. This is certainly a testament to this vineyard, vintage and the power of Coombsville. And when all come together as in 2013 a wine with both power and elegance is the result. Ripe blackberry that is somewhat briary, dark chocolate and a cinnamon cedar nuance show aromatically. A sweetness of mostly darker fruit shows mid palate with notes of dark cherry and ripe raspberry framed by chalky tannins that do not overpower the finish yet linger nicely for some time.
—
The label is based on the coat of arms of Finland. Arto was born in Finland and chose to honor his heritage and wine by modifying the Finish Coat of Arms (this coat of arms dates back to the late 1500's). They altered the crowned red lion by most notably adding a wine goblet to the lion's outstretched paw.
While they produce 50 cases each year they do hold about 10 cases for themselves leaving only 40 cases for consumers. With so little wine available they are extremely selectively distributed – the only retail outlet in the Napa Valley where you can find the wine is at Backroom Wines in the city of Napa. They also have small amounts available through some wine clubs in Los Angeles and Texas. For more information visit: www.toivolavineyards.com