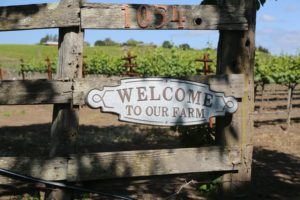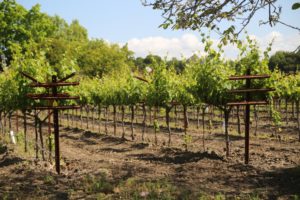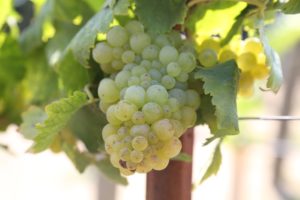 Tognetti Family Winery. Family patriarch, John (Jack) Tognetti was born and raised in the San Francisco Bay Area; he passed in early 2022 at age 104. His grandfather moved to California from Italy and settled in Watsonville where he grew a number of fruit trees. Jack remembers spending summers at his grandfather's ranch while growing up. It is here that perhaps his early interest began in agriculture. Wanting to go into pig farming, he enrolled at the University of California Davis in 1937 (according to Jack was called 'cow college' and had less then 1000 students at the time). He graduated in June of 1939 with a two year degree from the College of Agriculture.
Upon graduating Jack took a job with American President Lines (APL) – the same shipping company that his father worked for. As World War II began, the company was taken over by the United States military using their cargo ships to transport troops. World War II interrupted Jack's plans – he joined the war and spent time as a finance officer on the President Cleveland. He recalls the Cleveland picking up several thousand men at Fort Mason in San Francisco and making the trip to Hawaii where they would spend one night and then continue on to the Philippines dropping off the men and returning to California. During one such trip on December 7, 1941 the ship was 300 miles west of Honolulu when Jack and the other men on board received word that Pearl Harbor had just been bombed. The ship returned to Fort Mason in San Francisco to pick up more trips to bring to Honolulu. Jack also made several missions to Brisbane, Australia on the way to Tonga dropping off more troops.
After the war Jack again began working for APL – his job took the family to Hong Kong where they lived for several years.
Jack has seen Carneros change dramatically in the 50+ years since he has owned his property. When he purchased 20+ acres in Carneros on Bayview Avenue in 1964 he recalls there were more wineries in the region then individual vineyards. His property was planted to old prune and pear trees and came with a tiny house that was built in the early 1900s (the house that Jack still lives in today). In the 1960s and 1970s there were very few producers growing wine grapes on the Napa side of Carneros – among them in the mid 1970s, Napa vineyard pioneers Tony and Jo Ann of Truchard Vineyard and Francis & Kathy of Mahoney Vineyards.
Carneros was not known for its grapes rather it was home to a number of sheep and cattle ranching operations (dairy cattle). Several factors had long discouraged farmers from growing grapes in this part of Napa – often making generalizations for all Carneros: its to cold here to ripen grapes, soils are thin and clay and do not retain moisture and the groundwater is salty from the nearby San Pablo Bay.
Jack's next door neighbor at the time, Alphonse "Al" Fournier (a fellow World War II veteran) had told Jack his property had exceptional soils and he could grow anything there. Jack decided to plant Chardonnay in 1980 – his neighbor Al helped clear the land and prep the soil and Jack planted the vines. All of these original wines have since been replanted. Over time the vineyard has increased in size – now it is 20 acres of Chardonnay organized into 5 blocks. When Jack was still working in the San Francisco Bay Area, he remembers driving up after work – getting on the tractor and doing vineyard work until 10 or 11pm at night before driving back to his family that same day. Some of his neighbors saw the lights late at night and they wondered who this crazy guy was and why he was working so late at night.
The vineyard is called Aloise Francisco Vineyards combining both Jack and his wife Camille's middle names.
After the Chardonnay vines began producing fruit, Jack placed an ad in a trade magazine offering to sell his grapes at a reduced price if someone would come and harvest them. Marco Cappelli, the winemaker at Swanson Vineyards at the time spotted the ad and reached out to Jack. Eventually André Tchelistcheff who was consulting for Swanson Vineyards tried the grapes and approved of their quality. For a number of years Jack's Chardonnay grapes were an integral part of Swanson's Chardonnay.
Swanson Vineyards kept purchasing Chardonnay from Jack even though for a period of years they they phased out their Chardonnay program. However they began reselling Jack's grapes to other producers. Later when Andre met Jack for the first time he said something like, "so your the vineyard with the high priced Chardonnay" but in actuality it was Swanson Vineyards who had set the price while reselling the grapes. Jack asked Swanson Vineyards to sell some of his fruit to a sparkling producer – so they sold a limited amount to Schramsberg.
In 1998 Jack began working directly with Schramsberg and forged a strong relationship that continues to this day. Every few years, Schramsberg even produces a vineyard designate – the Schramsberg Tognetti Vineyard Blanc de Blancs. And a vineyard just down the road from their own vineyard is owned by Schramsberg. While Schramsberg leases numerous vineyard acres in Carneros and beyond, this is the only vineyard in Carneros that they currently own (as of 2020).
When we first met Jack he was finishing up a small bowl of bananas and oatmeal – the same meal apparently he's had for breakfast for decades. Turning 103 this year, Jack looks back on his longevity and clearly articulates a few words of wisdom that he has lived by. "Never tell a lie", he is quick to quip, "that way you don't have to remember additional details to cover up" and perhaps more relevant to his lengthy life is his recommendation of doing everything in moderation – avoiding the extremes whether it is eating to much food, drinking to much wine or extreme exercise.
—
Select Wines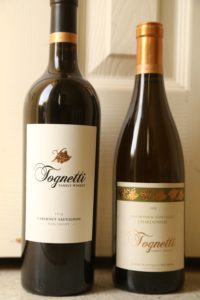 In 2010 Jack's son Robert and his two boys Michael and Matthew decided to harvest second crop Chardonnay off of their vines and make home wine (with the help of friend and winemaker Keith Hock who was making wine at Schramsberg at the time). In 2012 (their inaugural vintage) they set aside a small section towards the center of their vineyard, planted to a Wente clone of Chardonnay for their own wines. They continue to source from this section and produce about 350 cases year year.
The 2014 Tognetti Family Wines Chardonnay. Amber color in the glass offers attractive aromatics of ripe golden delicious apple, pear, yellow pineapple along with underlying notes of hazelnut and almond. Also hints of dessert spices including as the wine breathes, caramel. On the palate, shows a sweet thread of fruit from start to finish with flavors of apple, mandarin, honeycomb, lemon meringue and baking spices. Also a pleasing brightness of acidity especially noticeable on the finish along with a subtle lingering sweetness of vanilla. Drinks very well by itself and has also aged nicely (5 years after vintage).
The front label for their Chardonnay was based on a label on a bottle of 1988 Lakespring Winery Chardonnay (formerly located on site of what was Havens Winery and now is Gott Wines just south of Yountville). And this wine is a tribute to Jack – his photograph is on the back label.
In 2014 they decided to produce a Cabernet Sauvignon. They located a tiny (about an acre) family owned vineyard in St. Helena directly to the west of the Harvest Inn. They usually produce only about 150 cases per year of this wine.
The 2014 Tognetti Family Wines Cabernet Sauvignon. Spent 26 months aging in new French oak. Ruby in color. The bouquet is elegant with a mix of both red and darker fruits including plum and blueberry. Offers aromas of dried herbs, cassis, old cedar box, white pepper and tobacco leaf. Somewhat savory in its aromatic presentation. Also shows notes of espresso and mocha as the wine opens. Immediately offers a brightness and freshness of fruit on the palate with lively acidity. The palate is not linear in its presentation but shows plenty of depth of flavor including plum, blackberry and red cherry. Seamless on the finish with finer grained polished tannins. No sharp edges here.
And the family is also making sparkling wines – 2015 was their first vintage.
Tognetti Italy Connection
After they decided to produce wine commercially, Bob's wife Wendy began looking on the Internet to find out if any other Tognetti's were making wine. Her search discovered a Tognetti family who have been living in Tuscany Italy for 8 generations and are in the wine business along with producing their own cured meats, olive oils and grain products. This family owns 5 vineyard properties including three farmhouses, a villa and the family apartment, all of which are available for rent. Wendy reached out to them and over the years she and her family have traveled to Italy a number of times to meet the Italian Tognetti's. And the Tognetti's from Tuscany have also traveled to the Napa Valley.
Both families have become good friends – to the point that they have formed several business relationships. Bob and Wendy have imported some of their wines and are selling them along with their own wines. And plans call for club member benefits between the two wineries. We will visit the Tognetti Winery in Italy sometime in 2020 and will update this review then.
We will visit their winery and various properties by 2021 or 2022.
Bosco Lazzeroni e Il Sapito
Donna Renata, Florence

Podere La Casetta
Val delle Vigne
Ristorante Il Brigante
—
Tognetti Family Wines is truly a family affair – while Robert got the ball rolling on producing their own wines, Wendy oversees their marketing and sales and their children also help out as needed.
For more information and to join one of their three wine club offerings, visit: www.tognettiwines.com
Editors Note: this is our *milestone* 1,000th unique Napa Valley based winery or producer visited and written about on this site! However, note that it is not our 1000th written review as during this project we visited and wrote about several what turned out to be non Napa Valley producers and in addition some of our reviews are of collective tasting rooms or spaces/wine shops that offer tasting experiences but are not producers of Napa Valley wines.

In summary, of the 1,000+ reviews on this site, we identified 28 reviews of tasting rooms (who do not make their own wine) or wine shops offering tastings who again do not make their own wine – and a couple of producers we reviewed either by accident or in a couple of exceptional cases, on purpose – who make their wine outside of the Napa Valley but are very strongly associated with the Napa Valley.