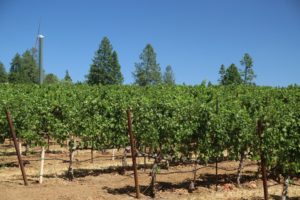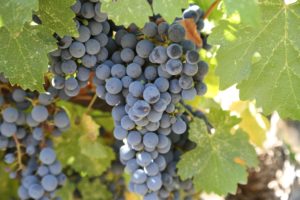 Tobias Vineyards. Combining the rich winemaking heritage of two families, Tobias Vineyards is a partnership between Toby and Dawn Pauli Forman. Both grew up around vineyards – Dawn in the Potter Valley in eastern Mendocino County where her family has been farming, growing grapes and winemaking for 5 generations. Her family owns and operates Yokayo Wine Company (Dawn is a partner in the family business); their ownership includes vineyards in Mendocino, Napa and Sonoma counties. Dawn's father Bill Pauli has enjoyed a long career in the world of wine including serving as the former President and CEO of Souverain Winery and as former President of the California Farm Bureau Federation.
Tobias grew up in the Napa Valley where his father Ric Forman has been making wines since 1966 – having crafted the early wines at Sterling Vineyards and later at Newton Vineyards. In 1983 Ric launched Forman Vineyards; today both he and Tobias handle the winemaking and vineyard management at Forman Vineyards. And conveniently this is where some of the wines for Tobias Vineyards are produced.
Tobias majored in Agronomy at Colorado State but learned winemaking alongside his father. His style showcases the fruit certainly, but in a fashion that is about balance; these are wines that are food friendly and have excellent acidity – and his red wines feature structural backbones that display moderate grip, yet are well integrated into the wine's overall personality, even in their youth.
Tobias Vineyards produced their first vintage in 2009. The production has grown significantly since the first few hundred cases – today production is around 4,000 cases per year.
Tobias and Dawn originally owned a tiny 3-acre vineyard on Howell Mountain planted entirely to Cabernet Sauvignon. Due to its topography, they were never able to get the fruit as ripe as they would have liked. Eventually they sold this property and moved a bit further up the mountain and purchased another site (but without a vineyard). Dawn had her eye on a neighboring vineyard in which fruit was being sold to Nickel & Nickel Winery for a vineyard designate wine and to Beringer Vineyard as part of their Private Reserve. Timing eventually worked out; this vineyard became available for sale and in 2014 the Pauli family purchased the 40-acre neighboring property, at the time called Vogt Vineyard.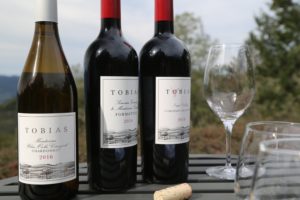 While deciding on a name for the vineyard, noted wine writer Antonio Galloni visited the site and urged Dawn and Tobias to choose a name as he was working on creating vineyard maps highlighting some of the most prestigious parts of the Napa Valley including Howell Mountain. They soon did so, selecting Dawn's maiden name Pauli. The site is planted entirely to Cabernet Sauvignon across reddish iron rich volcanic and very rocky soils. While the approximately 20 acres of vines are all one variety, the site is actually planted to multiple clones of Cabernet Sauvignon – a clonal spice rack if you will, which adds some diversity of character into the final wine. The vineyard was originally planted in 1997/1998 and sits at an elevation of approximately 1700 to 1800 feet.
Tobias oversees the management of this vineyard with help from Barbour Vineyard Management Company. He is as hands on in the vineyard as he is with the winemaking.
Select Wines
Even at a very young age, Dawn and Tobias's oldest daughter Lexi encouraged her parents to make a Sauvignon Blanc (her favorite variety) – so they did from Pauli family-owned vineyards in Potter Valley. And Lexi was able to help make this first vintage with Tobias because they trucked the fruit down to the winery in Napa Valley. Appropriately, the wine is named in her honor. The 2017 Tobias Vineyards Lexis's Estate Sauvignon Blanc was fermented and aged entirely in stainless steel tanks; offers bright aromatics of lemon lime, lemongrass and as the bouquet opens, notes of pineapple and other tropical influences. Balanced without being overtly herbaceous or tart – shows a mineral nuance and flavors of grapefruit and green apple on the palate. Clean with no harsh edges from start to finish.
Their Chardonnay is from the Blue Oaks Vineyard in Potter Valley – the 2016 Tobias Vineyards Chardonnay was put through 35% secondary fermentation and aged in 35% new French oak. Pretty aromatics including honeysuckle, citrus blossom, and almond. On the palate notes of orange peel zest, apple and a hint of vanilla on the finish. Rounded but not heavy, this wine features a textural softness or suppleness if you will but without the heavy-handed influence of oak. Shows a nice balance between flavor, texture and acidity. Drinks very well by itself.
The genesis for Formation (a nice play on their last name) came about after Tobias and Dawn tasted barrels of multiple varieties from Dawn's family vineyards and then decided to create a red blend showcasing the varietal diversity of their vineyard. This wine changes each year – in 2016 it was created to be a Bordeaux style blend – each year the varietal percentages may change and are sourced from family-owned vineyards or vineyards the family has a long-term lease on. Toby creates this wine from a barrel selection.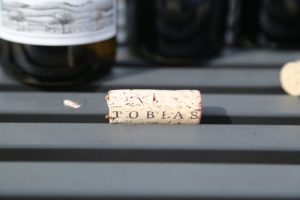 The 2016 Tobias Vineyards Formation was sourced from vineyards in both Sonoma and Mendocino counties. Moody yet intriguing on the bouquet, shows darker fruit aromatics including spicy plum, old cedar box, bittersweet chocolate and a floral nuance (violets). Juicy on the palate offers both red and darker berry fruits – anchored by dusty, gravelly and long-lasting noticeable tannins. Great acidity throughout, along with the tannins, lingers with flavors of red currant.
The 2016 Tobias Vineyard Cabernet Sauvignon was sourced in equal proportions from the Usibelli Ranch in Rutherford (not far from Caymus Winery) and the Pauli Vineyard; during the winemaking, the grapes from each vineyard were kept separate from each other until the final blending. Offers pretty aromatics focusing on the fruit rather than secondary characteristics from the oak including notes of cherry, blackberry, a hint of cedar box and dark chocolate. This is a sizable Napa Cabernet Sauvignon yet at the same time shows restraint. While a young wine at the time of our tasting, the texture is already a very attractive component – with dusty fairly well integrated tannins. The palate features lively acidity with a lingering tartness of red cherry, currant and a hint of cigar. Superbly balanced for such a young wine. Food friendly and certainly approachable now but has all the hallmarks of being able to age for many years.
Through the 2016 vintage, their Cabernet Sauvignon was sourced from several vineyards across multiple counties (along with other blending varieties). However, beginning with the 2017 vintage, Tobias Vineyards now produces a Pauli Vineyard designated 100% varietal Cabernet Sauvignon.
—
With a rich winemaking pedigree, access to excellent vineyard sites and attention to detail both in the vineyard and in the winery and priced reasonably – these are wines to make a special effort to seek out. The wines are sold both via distributors and direct to consumer including select wines at Solage in Calistoga.
Incidentally this was our 999th Napa Valley based winery, producer or tasting room we met with and wrote about since beginning the Napa Wine Project in 2006. For more information and or to join their members, 'Reserve List', visit: www.tobiasvineyards.com
Most of their recent bottles indicate the wines were vinted and bottled in Ukiah, Mendocino County. At least one wine is produced at Forman Vineyards in Napa Valley.
Pauli Vineyard

Usibelli Vineyard