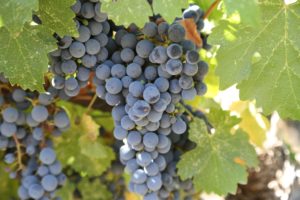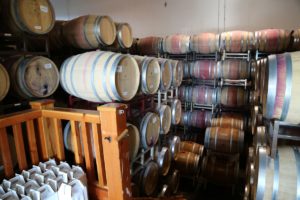 Thorn Hill Vineyards was founded with their first release in 2007 – this winery was started by the husband wife team of Amy and Jack Thorn. Today they operate two tasting rooms; one in Pennsylvania (where they live), one in Lower Lake in neighboring Lake County to the north of Napa and previously a third tasting room that was open in St. Helena from late summer of 2014 until closing permanently in late 2018. And their wines are available for tastings in Napa Valley at the tasting room at Silenus Winery. Thornhill Vineyards also produces their wines at Silenus Winery.
Silenus is a "collection of artisan winemakers", a custom crush facility for a number of small wineries (the number varies depending on the year). What separates Silenus from other area collectives is not only do these wineries taste their wine here but they also make it on site as well. These are wineries that do not own a physical winery.
Besides having the small winery to work in as well as other winemakers to bounce ideas off of, these small wineries have a public face (the tasting room), which is very rare at other area custom crush facilities. In addition, it is refreshing to find varietals poured here not often found at Napa wineries. The reason for this is several of the clients source fruit from outside of Napa for varieties not often grown in the Napa area.
A number of tastings are offered and visitors can specially request wines from Thorn Hill Vineyards; the Vintner's Tasting includes a mix of white and red wines, the White Only tasting and the Reserve Tasting (featuring a selection of their most premium wines). And one can also opt for the Barrel Ad-on, featuring a barrel sample from two hand-selected barrels chosen by their winemaker.
Tastings are either at the bar, or if weather permitting, seated outside on their tiny terrace. Several private rooms are also available for larger groups (strictly by appointment).
When visiting Silenus Winery to try the Thorn Hill wines, note that Silenus has a coveted permit to allow guests to bring food on site and picnic (provided one does a tasting either before or after lunch). Guests who picnic but do not do a tasting must order at least a bottle of wine. The lower grounds are quiet and a very relaxing space to enjoy part of your day (weather permitting). Several picnic tables are located in this shady grotto next to a bocce ball court.
Two small parking lots are available; the first lot on your right has shade while the other one is mostly in the sun. Look for a winery dog or two sprawled out, possibly in the tasting room. The inside of the tasting room is elegant, modern and chic with a spacious curved tasting bar. The staff is friendly and very knowledgeable.
—
While the Thorns live in Pennsylvania, they are in Napa from time to time and certainly during the harvest months.
All their wines are made in quantities of several hundred cases with grapes sourced primarily from Napa Valley and Lake County's Red Hills AVA. Aside from the several sparkling wines they produce, all their wines are 100% varietal. What is valuable for the consumer, is they produce a wide variety of wines from both whites and reds to sparkling and several dessert wines.
Select Wines
The 2010 Thorn Hill Vineyards barrel fermented Chardonnay underwent just a tiny percentage of malo lactic fermentation. This wine shows both tropical and citrus aromas on the bouquet along with notes of oak. The palate is soft and rounded, with decent weight – somewhat buttery but retains nice acidity which is especially noticeable on the finish. The finish is clean and lasts for some time. This is an easy drinking Chardonnay with a pleasing palate that is sure to appeal to a wide variety of taste preferences.
The 2010 Thorn Hill Vineyards Napa Valley Cabernet Sauvignon was sourced from near St. Helena. This wine shows notes of cinnamon along with layers of red fruit on the bouquet including raspberry and lighter blackberry. The mouth feel is soft with well integrated tannins that linger delicately – more in the front of the palate rather than the back. This wine is balanced and has good acidity.
The 2008 Thorn Hill Vineyards Petite Sirah Port styled wine shows ripe aromas with notes of raisin and baked cherry pie. Desert in a glass. The wine is sweet but not viscous or syrupy at all (the ripeness of nose almost leads you to believe that the palate would taste just as ripe). The palate is clean with leaner mouth feel than often shows in Port styled wines. Both fruit and spice show on the palate (nutmeg, cocoa, cinnamon) – it is a delicious wine!
The 2010 Thorn Hill Vineyards Late Harvest "ice" wine is a blend of Sauvignon Blanc and Semillion made in a Sauterne style. And yes these grapes actually did freeze on the vine before they were harvested this particular year. The nose is decidedly floral, with plenty of apricot and honey aromas. The mouth feel shows good viscosity and is rounded. The finish is fairly clean but lingers with a touch of oak. The wine is slightly under 14% alcohol.
—
Tasting Room & Suites, Lower Lake, CA
Thorn Hill is truly a family owned and run business. Amy is the winemaker, Jack is responsible for overseeing their sales and expansion – their son Jonathan runs their tasting room in Lake County and daughter Amy design labels under their 'artist' series of wines and runs their tasting room in Pennsylvania.
Find yourself in Lake County to the north? The family operates the Thorn Hill Villa Suites near Mt. Konocti in the Red Hills appellation right next to Highway 29. Appropriately, each of their suites has a name relating to wine including Champagne, Cabernet and Chardonnay. The suites are clean and comfortable and surround both sides of their tasting room – this certainly is convenient when you want to go wine tasting.
Interestingly the vineyards across the highway are owned by Andy Beckstoffer – a prominent Napa grower.
The focus of the tasting bar is on their Lake Country produced wines but they also have a few wines represented from the Napa Valley. Often quiet on winter weekdays the tasting room is a relaxed and enjoyable place taste a wide variety of wines including their popular Lake County Riesling (off dry) and a Zinfandel from Lake County vines originally planted in 1886. Sometimes popular with tour buses. This Lake County tasting room is approximately an hour drive from their St. Helena tasting room – over often very windy back country roads.
NOTE: this review has been identified as needing a *major* update.
For obvious reasons, based on tasting room locations and where the wines are made – they have good distribution in both Pennsylvania and California. For more information or to join their wine club, visit: www.thornhillvineyards.com
Tasting Room, St. Helena (permanently closed)
We keep our notes and photographs here for historical reference. A visit to their St. Helena tasting room was a personalized one (closed as of November 2018); when they were open-, visitors could either taste at the wine bar, sit down inside or if the weather permitted a small outdoor shaded patio was available.
Wine was ordered by the glass or bottle – and discounts were given for club members. This corner located tasting room (corner of Main and Hunt streets) was spacious with plenty of tables to sit down at rather than standing at the small wine bar.

Tasting Room, Lancaster, PA
In light of the St. Helena tasting room closing we have currently canceled our trip to Pennsylvania although we will keep an eye on this producer to verify if they continue to make their wine in Napa Valley, producing at least some of their wines from Napa Valley based vineyards.