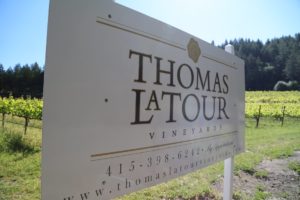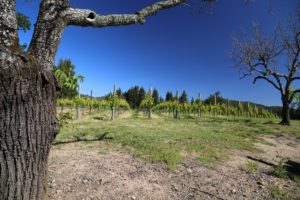 Thomas LaTour Vineyards operates their estate vineyard on Mt. Veeder, a small 1 acre Cabernet Sauvignon vineyard on Howell Mountain and a Pinot Noir Vineyard in the state of Washington. This producer is owned by Tom LaTour (not a bad last name to have when you are involved in the wine industry!) and his wife Barbara. Tom has been in the hospitality industry for many years. While working at a culinary school in Michigan (washing dishes) he soon realized that to be able to enjoy the school's fine dining he would have to learn how to make the dishes. He enrolled in culinary school and became a trained chef.
His experience is in the hotel and hospitality industry. He is a former Chairman and Chief Executive Officer of the Kimpton Hotel and Restaurant Group – and he helped bring stand alone restaurants with "big name chefs" to resorts and hotels as well as develop the company into a leader in the boutique luxury part of the travel market. In 1983 he had a chance to come to Napa and became manager of the Silverado Resort. During the early and mid 1980's he had the opportunities to meet a number of Napa vintners who were just getting started. Tom started making home wine in 1990 with a small planted vineyard located in St. Helena. Gravitating towards the "mountains" they planted a small 1 acre Cabernet Sauvignon vineyard on Howell Mountain and then acquired the 25 acre piece of property straddling the Napa/Sonoma County line high on the slopes of Mt. Veeder.
The property is almost entirely planted to vines including Syrah, Pinot Noir and Chardonnay. Yes you saw that right, Pinot Noir. We are aware of only 1 other producer on Mt. Veeder growing Pinot Noir commercially and the acreage is so small for this varietal on Mt. Veeder that its not even listed on the appellation's website of grown varietals.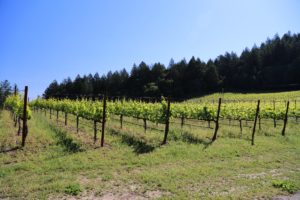 The Mt. Veeder Vineyard tops out at 2100 feet making it among the higher vineyards in this mountain appellation. Due to the elevation and location they typically experience cooler days than the valley floor in the summer and warmer nights due to an inversion layer that rises above the valley floor. Their vineyards are planted in volcanic very rocky soils (all hillside).
They have two clones planted on site, the Wente (25+ year old vines) and the Hyde clone. The 2006 Heritage Chardonnay shows notes of pear on the bouquet as well as a tropical aspect including hints of coconut. This wine is rounded, soft and creamy throughout the palate. The finish is slightly spicy with notes of oak. This chardonnay was 100% barrel fermented and went through malolactic fermentation. They are making a more "old world" Chardonnay starting with the 2008 vintage.
The 2006 Syrah is a fairly dark red to purple wine; it has a pleasing fruit driven bouquet that is somewhat perfumy. A sweet thread of fruit aromas are present including raspberries and blueberries. Slightly spicy but not overly so, the palate is balanced from start to finish.
It is a unique opportunity to taste a mountain grown Pinot Noir (at least in Napa). These vines are grown towards the top of their vineyard. The 2008 Pinot Noir (first ever release) delivers mountain characteristics which are noticeable and quite different than say Pinot Noir from Carneros or the softer velvety Pinot's from the Russian River or Sonoma Coast.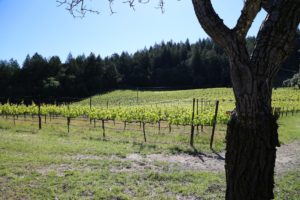 This is an earthy wine with a bouquet that shows raspberry and boysenberry with the aromas resembling slightly jam like characteristics of these two fruits. The palate is balanced and slightly dusty with mineralities. This is not a simple Pinot, the palate is layered with good structure and earthy textured tannins (rather than the delicate tannins you often find in Pinot Noir) and alcohol that lingers and anchors the rather long finish.
While all their wines are produced in small quantities, the Pinot's are typically produced in very minute quantities – usually around 100 cases and are available for wine club members. With a background in hospitality the LaTour's know how to entertain! They hold select events including wine and food pairings, luncheons and harvest parties held at the vineyard.
LaTour's wines can be tasted without an appointment in San Francisco at the Winery Collective ( www.winerycollective.com). This multi-winery tasting room (San Francisco's first) features about 20 different California labels and is located at the Cannery in Fisherman's Wharf. Serious wine enthusiasts can contact the winery directly for private tastings. A resident ceramics artist, Lynn Mahon ( www.lynnmahon.com ) lives on site and he is happy to show his pottery by prior appointment. For more information visit:
NOTE: website down – need to verify if they are still producing commercially.