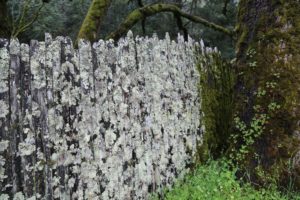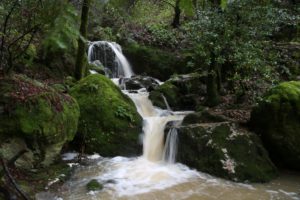 Thomas-Hsi Vineyards (Hsi is pronounced 'she'). Driving the windy and often beat up Mt. Veeder Road in early Spring on the tail end of yet another rainstorm, I reflected upon this very unique appellation. It is an area in Napa that takes some time to understand and appreciate and this has certainly been the case for me over the years. One perhaps gravitates quickly to more flashy appellations (both wines and people) of which there are several in Napa. But if you dig a little, Mt. Veeder will surprise you in a very good way.
Most visitors to the valley will not drive its rugged slopes or taste the wines produced from here. It is the largest AVA in the Napa Valley but produces less then 2% of Napa's total wine. It is an appellation that breeds characters, well-rounded individuals that in our experience enjoy people but highly value their privacy. In a region that arguably has become more 'polished' as a whole, it is refreshing to visit some of these properties – especially a few of the 4wd only accessible wineries located here.
Mt. Veeder produces mountain wines of distinction – which when done right, create a balance of power complemented by the folds of finesse. The versatility of Veeder terroir is also worth noting. It is home to selective small plantings of varietals not often found in the Napa Valley and originally of Napa's older hillside vineyard plantings (1864). It is home to the county's second highest vineyard. The first known plantings of Petit Verdot were on Mt Veeder – originally planted in 1973. Oh and the views from select parts of Mt. Veeder are downright inspirational.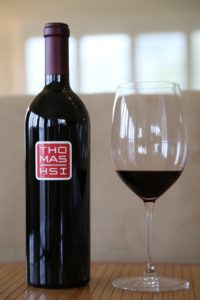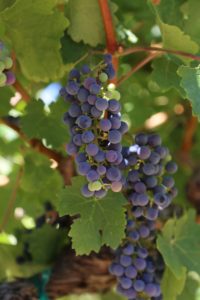 I was on my way up the slopes of Mt. Veeder to meet up with well-respected wine industry veterans, husband and wife Charles and Lili Thomas. Fifty years ago neither Charles or Lili would probably have ventured a guess as to where their paths and careers would have led them to today. Lili was born in Shanghai and Thomas was born in Bangkok and both met for the first time in Taipei.
After Lili's family immigrated to the United states (not an easy proposition in the 1960's) she and her family took full advantage of a Greyhound Bus special ($99 for 99 days unlimited rides). They toured 40+ US States but ultimately fell in love with the Napa Valley and settled here – Lili has lived in Napa since 1965.
She remembers Napa when it was big at 10,000 residents. And somewhat wistfully recalls how there wasn't a perceived division between some of the wine regions with Napa, Sonoma and Mendocino often discussed in equal terms.
Thomas spent some of his youth overseas because his father worked for the Foreign Service. Because of his travels in Asia – he learned Chinese early in his youth. He returned to Taiwan much later to learn and improve his Chinese (he is fluent today in Mandarin) where he met Lili who was studying for her Master's in Chinese Art History.
She convinced Charles to move to the Napa Valley. Charles recalls his first job in the area was digging ditches in various parts of Napa and Sonoma Counties for an irrigation installation company. It was not an easy job – but one he returned to for a second summer. While not the most glamorous job it exposed him to the diversity of soils (which is bound to happen when your job description is digging 5 foot tunnels) and micro climates and and gave him an early appreciation for 'terroir'.
His appreciation for wine started simply enough with a dessert wine, a Mondavi Moscato d' Oro. At the time Charles said it wasn't sweet enough for his taste, so he went out and purchased a sweeter wine produced from Mont La Salle (Christian Brothers). Soon after this experience he was at a tasting of young tanninc red wines – and while a dramatic switch from the sweet wines, nonetheless he found he enjoyed those as well.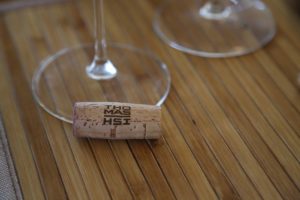 Together Charles and Lili have left their imprints on the Napa and Sonoma wine worlds. Charles' first wine job was at Robert Mondavi Winery. It was at Mondavi that his palate was exposed to wines from around the world. Both Charles and Lili worked at Mondavi and consider Robert Mondavi's philosophy of exploration and discovery and openness an integral part of their careers (referencing early malolactic fermentations on white wines and fermenting with indigenous yeasts).
Charles helped craft the Robert Mondavi Reserve wines in the 1980's through to 1994 and the first twelve vintages of Opus One. He spent time at Cardinale and launched Lokoya and Verite. He produced wines at Rudd Winery and Edge Hill and today consults for Quintessa.
Lili has spent 30 years in the wine business – with both management and executive positions at Kendall-Jackson, St. Supery, Robert Mondavi Winery and Sterling Vineyards. She taught at Napa College and has lectured at top universities across the country from Stanford to Harvard.
Thomas-Hsi Wines is a dream realized after decades between them both of working in the wine industry. The only question was why they did not start producing their own wines earlier. And Thomas answers this easily – with full time jobs and raising their son Will (at one point they moved off property), it wasn't until much later in life that they finally had the time to spend on their own wine.
Charles and Lili purchased their 40-acre hillside piece in what is now the Mt. Veeder sub-appellation in 1979. Lili recalls seeing the property advertised on the front cover of a real estate guide she picked up in one of the local grocery stores. It was advertised as a 'fixer upper' with an older home on site. While the home was in bad shape, and the dough-boy pool had half caved in and housed a number of frogs they overlooked these details and were soon sold on the fantastic views from the homesite.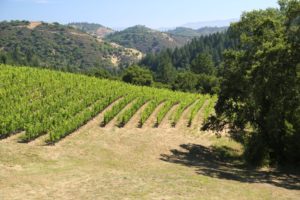 At the time a tiny amount of Merlot was planted on the property. Much later in 2007, after a number of soil tests, they planted 6 acres of vines. Charles says the joke about soils on Mt Veeder is "If you don't like the soil where you are on Mt. Veeder move 10 feet away and you will probably be in a different soil. While there are no immediate vineyard neighbors – their are several premium vineyards up the hill from them that Charles helped developed including a vineyard for Rudd and two others producing fruit for Cardinale and Lokoya. Their property sits at an elevation of about 1000 feet and in the summer is often at or slightly above the fog line.
Their son Will became a viticulturist with a degree in Viticulture and Enology from UC Davis and two Master's degrees – one in Viticulture and one in Wine Business. He helps oversee their vineyards.
The focus of Thomas-Hsi is on two hand-crafted estate red wines each year, a Proprietary Red Wine and a Cabernet Sauvignon. Their total production between the two wines usually runs between 300 and 330 cases. With that said, they are also producing a Sauvignon blanc, sourced from American Canyon.
The 2013 Proprietary Red Wine is a blend of 55% Cabernet Sauvignon, 44% Merlot and 1% Petite Verdot. This wine is inky dark in the glass with sweet aromatics that are layered tending to be of darker fruits including blackberry. Brooding aromatics. Notes of cedar, darker chocolate with perhaps a hint of truffle. An initial plushness on the palate. Layered with excellent depth and concentration of flavor this wine features long lasting muscular and somewhat earthy tannins complemented by an intensity of fruit that persists for some time.
The 2013 Cabernet Sauvignon is 90% Cabernet Sauvignon and 10% Merlot. Darker aromatics, notes of cedar, a forest floor influence, darker chocolate and currant. Still young at time of our tasting it needed some time to open. But when it opens it shows beautifully. Well-structured with a noticeable richness mid palate through to the finish (a dense core). The tannins are young as expected, robust and slightly chewy.
Note, as of our latest update, for the past few years Thomas-Hsi has produced no wines, rather their grapes have been sold to other producers. For more information and to purchase current releases of their wine, visit: www.thomas-hsi.com