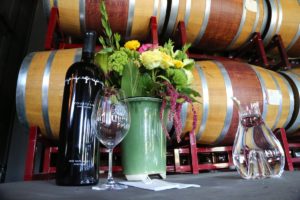 Thirteen Appellations was founded by four partners, three of which incidentally have their own labels (Brookdale Vineyards, Renteria Vineyards, and Reynold's Family Winery. Those in the wine industry sometimes quench their thirst with a good beer and it was over beer that the idea for this winery was discussed. Thirteen is very unique in the Napa Valley in that they are the only winery bottling a wine that has grapes taken from all of Napa's sub appellations. What an excellent way to sample a wide variety of the different terroirs in Napa Valley in one bottle!
Their wines are dedicated Mike Seitz (1968-2003); tragically he died in a farming accident at a vineyard off of Highway 29. It was his clever idea to create a wine that contained blended components highlighting the diversity of the Napa Valley.
Each wine taken separately has its own unique colors, aromas and flavors and when you combine them all you get a decidedly rich complex wine. Their motto is "The parts are great, but the sum is even better".
One of the partners, Oscar Renteria runs a fairly large vineyard management company in the valley and has access to very high quality vineyards from all the sub appellations.
One of the other partners was winemaker (Steve Reynolds who runs Reynolds Family Winery and is where Thirteen's wines have been made). One ton of fruit is harvested from each sub appellation and all fruit from each vineyard is fermented, inoculated and aged separately from one another until the final blending. Once the final blending occurs the wine undergoes further aging in bottle before it is released.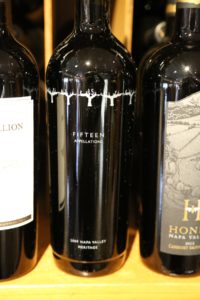 Only one vintage of their wine is produced every year; we tried their 2004. This is a very well balanced smooth wine with a velvety touch on the palate. The tannins are well managed and only enhance the long slightly smoky finish. The aromas contain a lot of fruit and also hints of cedar.
Thirteen often donates cases of wine to some of the main Napa area charity wine events. Look for the somewhat hidden numbers 13 and 14 among the "vines" on their labels. One of the partners, Kristi Seitz owns the Soda Canyon Store located towards the southern end of the Silverado Trail and you can find their wine for sale there, as well as at Reynolds Family Winery.
NOTE: Thirteen Appellations has moved into the old Frazier Family Winery in Coombsville – now owned and managed by the Martin Family who have renamed the estate and wines to Italics.
When this label was launched, there were 13 sub appellations in the Napa area; as a result their first few vintages were appropriately titled "Thirteen". As additional sub appellations were approved vintages were then called Fourteen and Fifteen appellations.
With Coombsville being the last appellation added to date, this wine is currently called Sixteen Appellations and is now a part of the Italic wines. A number of the vineyard sources for this wine are well established and they are able to source from these same vineyards each year. The wines from each sub appellation are fermented and aged separately – all coming together when the final blend is made.
Sometimes they determine that individual components of this wine are superior by themselves and bottle these as stand alone varietals/wines (listing the sub appellation on the bottle as in 2013 when they bottled a Spring Mountain Merlot and a Atlas Peak Malbec).
The 2012 Italics Sixteen Appellations shows a sweetness of fruit on the bouquet with aromas of red cherry and currant, a cedar box and a somewhat floral component (rose petal). Very good acidity – an inherent mouth watering juiciness to the wine. Well-balanced with lingering notes of mocha and tannins that are defined but not to course. Slightly dusty note to the finish. Drinks well young.