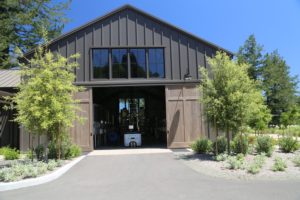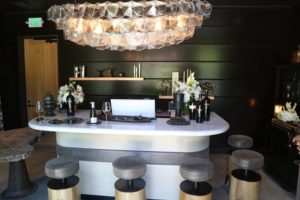 Theorem Vineyards. Proprietors Kisha and Jason Itkin first visited the Napa Valley in 2008 from their home in Houston. While on one of their subsequent trips to the valley, they found themselves falling in love with the wines, the scenery, the region's history and the lifestyle. They pondered the question "should we start looking at real estate" and Kisha recalls thinking "I didn't want to go home". After calling a few local real estate offices, they were shown one piece of rugged land on Diamond Mountain but due to its location it was going to be difficult to build a winery. They were shown a second property next door which already had an existing winery and an intriguing historical pedigree. They purchased the 30 acre winery parcel in 2012 and purchased the neighboring parcel a year later.
We first visited this property around 2006; much has changed here since vintner Richard Graeser operated his small winery and tasting room in the historic schoolhouse on site. Over the past few years the Itkin's have overseen the remodel of what is one of the oldest schoolhouses in the north part of the valley (dates from 1878) and the neighboring Cole House (dates from 1888). The once prominent red barn has since been removed, with the footprint of this original building replaced by an overhead trellising that is now home to a variety of plants providing shade.
But most impressive is perhaps the new winery that finished construction in late 2018 just in time for that year's harvest (we've had the chance to drive into the property since the winery was finished – it is a gorgeous state of the art boutique facility). Rather then drilling a cave winery into the hill, they chose to excavate a cellar into the ground on the side of hill and build a winery on top. Architect Richard Beard of Richard Beard Architectural firm (previously worked with noted wine country architect Howard Backen), along with input from Thomas Brown, designed their winery.
Those who have worked with this property in regards to the vineyards are based on personal connections and referrals – conveniently, the brother of their real estate agent is viticulturist Kelly Maher. He initially visited the property and recommended vineyard manager Josh Clark (who oversees the vines). Josh then referred them to acclaimed winemaker Thomas Brown who with his winemaking team has made all their vintages.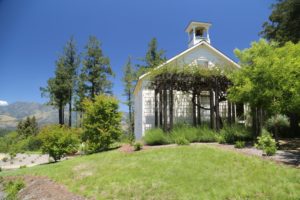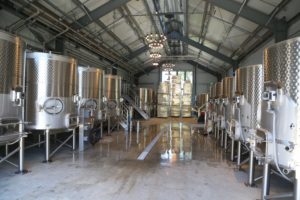 Initially their focus was on a single 100% varietal Cabernet Sauvignon sourced from the oldest vines on the property. Their inaugural vintage was in 2012 – a very limited production of only 55 cases (low in part due to deer feeding on numerous vines). Production has continued to grow as some of their replants and new vineyard blocks come into maturity and after they installed deer proof fencing. Ultimately they would like to be producing four or five thousand cases a year of multiple wines.
At the time of our visit, 19 acres are planted to vine – nearly all Cabernet Sauvignon with a one-acre block of Merlot. The property is diverse in terrain and their vineyards take full advantage of this with numerous exposures. These are vineyards with excellent views at times – facing the rocky palisades on the opposite side of the valley and overlooking Mt. St. Helena to the north east. Additional blocks of Cabernet Sauvignon will bring their total vineyard acreage to around 19 acres. Incidentally, this is the furthest north vineyard in the Diamond Mountain AVA. The vines are planted at an elevation from about 1,100 to 1,300 feet. A number of their existing Cabernet Sauvignon vines are in the range of 30-35 years old.
Their soils are volcanic, well drained and are often quite red. While the the vines are not completely dry farmed – they are able to keep their water usage to a minimum. Sheep are also used to graze the cover crop between the vine rows during certain times of the year. The property is beautiful – not only for it's history but also it's landscape – with a nice balance of open space, vineyards and tall forest (Douglas fir and some very stately redwood trees).
In 2018, Theorem Vineyards purchased a 34-acre vineyard hillside site called Trinity Ranch from previous owners, the Petroni family (15 are planted) in the Moon Mountain appellation in neighboring Sonoma County. The site is off of Trinity Road, just across the Napa County line and is at an elevation of around 1,800 feet – often above the fog line but not always. The vineyard is planted to Cabernet Sauvignon, Syrah, Chardonnay and Sauvignon Blanc – with the vines all growing on the Sonoma County side (a small portion of the site is in Napa County but no vines grow on this section).
The name Theorem has several meanings as it relates to their property and story. It is a tribute to the old schoolhouse (and the math that was presumably taught in it's one room interior) and is also an homage to Kisha's own career where math plays an important role – as a geophysicist and engineer (she previously worked as a reservoir engineer).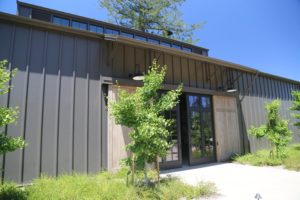 The legal phrase, Voire Dire is listed on every bottle; it comes from Old French derived from Latin, meaning 'that which is true' and in the United States refers to the process of jury selection. This ties into Jason's career as a lawyer (he is the founding partner in the Houston based firm Arnold & Itkin LLP) and as Kisha pointed out "multiple glasses of wine tend to lubricate the tongue and also produce the truth".
And the key that prominently shows on the front of every bottle refers to unlocking the history of the property as well as it's potential. As they have settled in to the property, both Kisha and Jason continue to discover it's history and at times come across historical items left or lost by prior owners.
Select Wines
The 2012 Theorem Vineyards Voire Dire is dark ruby in the glass. It has rich aromatics – opulent aromas that are somewhat briary. Layered and very pretty. A wine you don't want to stop smelling. Earthy somewhat on the palate with flavors of blackberry. Focused concentration and intensity of fruit. A very balanced wine that is quite enjoyable to drink. Only 55 cases were produced.
The 2013 Theorem Vineyards Voire Dire Cabernet Sauvignon reveals an elegant nose that is about the fruit rather then the oak – notes of blueberry and blackberry with gentle aromas of mocha and milk chocolate chocolate (consistent across multiple years of tasting this same wine). Supple initially on the palate, this wine quickly gains complexity – it is well layered focusing more on darker fruit flavors (plum) then red fruits. Textured chewy tannins persist for some time. Excellent balance between flavor acidity and structure. Very good steak wine and a robust vintage. A bigger wine then their 2012 showing.
The 2016 Theorem Vineyards Voire Dire Cabernet Sauvignon is dark garnet red in the glass offers pretty aromatics mostly darker fruit tones including ripe blackberry, a kiss of cedar and baking spices with subtle hints of cardamom. Medium bodied with both blue and black berry fruits anchored by firm dusty tannins along with hints of cedar showing on the long finish. Layered with plenty of flavor yet from a structural perspective this wine is fairly approachable in its youth.
—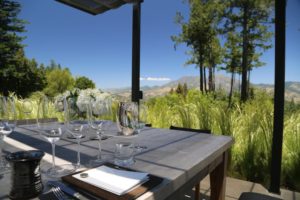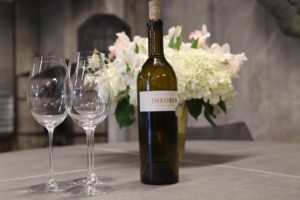 A second wine is made from their Diamond Mountain estate called Hawk's Prey, a Cabernet Sauvignon (due to demand, this wine is often sold out).
In the early stages of their production their wines were sold direct to consumer via their wine club and mailing list. As production has expanded the wines are now selectively distributed to retail and restaurants. And since the winery was completed, visits to the property are now by appointment – tastings are highly personalized and include a tour of the winery and barrel room and weather permitting, the tasting is held outside with a beautiful backdrop to the north anchored by the tallest mountain the area, Mt. St. Helena.
With production to eventually grow, and a commitment to this property and their wines – now is a good time to get on their mailing list and or seek out these limited production impressive early vintages. For more information, and to join their mailing list – visit: www.theoremvineyards.com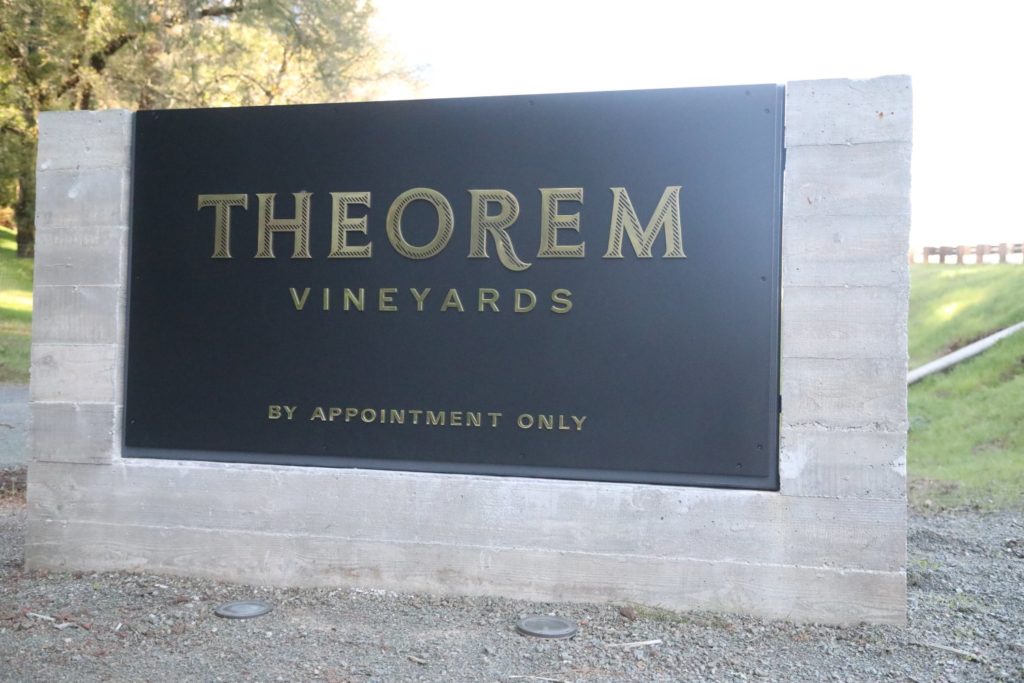 Estate Property

Trinity Ranch Vineyard, Moon Mountain

Theorem Ranch, Montana
Jason and Kisha own a 2,000 acre ranch in Montana and raise cattle (some of the meat is shipped down to California and served to guests at the winery who enjoy their culinary experiences. We will visit this ranch some point, hopefully by summer 2022 or 2023.
Old Graeser Property (we keep these photos for historical reference)