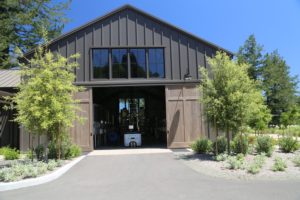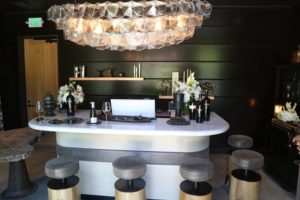 Theorem Vineyards. Proprietors Kisha and Jason Itkin first visited Napa Valley in 2008 from their home in Houston. While on one of their subsequent trips to the valley, they found themselves falling in love with the wines, the scenery, the region's history and the lifestyle. They pondered the question, "should we start looking at real estate" and Kisha recalls thinking "I didn't want to go home". After calling a few local real estate offices, they were shown one piece of rugged land on Diamond Mountain but due to its location and possible permitting issues, it was going to be difficult to build a winery. They were shown a second property next door which already had an existing winery and an intriguing historical pedigree. They purchased the 30-acre winery parcel in 2012 and purchased the neighboring parcel a year later.
The property has a lengthy history of ownership; according to a paragraph in the May 6, 1887, edition of the Napa Register the property was known as the Tully Place and was purchased by Dr. Richard Beverly Cole and his wife Eugenie. The article indicated that Major G.W. Johnson of Calistoga sold the ranch for $7,100 dollars. The major was involved in local real estate, both in ownership and brokering property in the 1870s and 1880s, having owned the Cosmopolitan Hotel and also the Hot Springs hotel, both in Calistoga. A line in the same paragraph stated, "Thus Napa Valley is attracting to its confines some of the best citizens of the metropolis".
An article from March 7, 1885, edition of the Napa County Reporter, mentions the Tully Ranch near Calistoga was producing potatoes, almonds and figs.
Prior to building a house on site, the Cole family would stay at the Magnolia Hotel on Lincoln Street in Calistoga and take a horse and carriage up to the property. For reference, another Magnolia Hotel in Napa Valley (in Yountville) was built in 1873 and is currently the oldest still operating hotel in Napa Valley, now called Maison Fleurie.
Another article references their daughter had asthma and they wanted a place that was far enough removed from the often-dreary San Francisco weather. According to real estate transfer information printed in local newspapers, Dr. Cole owned other properties in Napa Valley both before and after he acquired this site.
He was a prominent San Francisco surgeon who later became the Surgeon General of California. His contributions to San Francisco were formidable including suggesting that 1,000 acres in San Francisco be set aside; it was and ultimately became Golden Gate Park. According to the March 21, 1956, issue of the Napa Register, in 1861 he delivered the first ever medical lecture in California at the University of the Pacific in San Francisco. While he spent much of his time in San Francisco he often made the trip back and forth and his family used the property as their summer home. Even late in life Dr. Cole was still active including as President of the Medical Society of the State of California and President of the American Medical Association. Dr. Cole was serving as the coroner of the city of Francisco when he died in 1901; Eugenie died in 1910.
The property remained under ownership of the Cole family until Cole's granddaughter, Thekla Sielcken Mitchell (a poultry rancher who operated a sizable chicken farm on the property, i.e., Mitchell's Hatchery) sold the property to Dr. James Graeser and his wife (originally from the Midwest but who were living in Piedmont, near Oakland at the time of the sale) in 1958. The property is on what used to be referred to as Pine Hill (reference an article about the sale of the property in The Weekly Calistogan dated February 13, 1958). The same article references the property as being frost free and home to lemon and orange groves. Citrus trees still grow on the property and their resulting fruit is harvested each year; this is a part of Napa Valley where one can also grow avocadoes – not far from here are some of the largest avocado trees we have seen in Napa Valley. And by the late 1950s have seen references to the property called La Perlita del Monte, which means: the little pearl of the mountain.
We first visited this property around 2006 when we met then proprietor, Richard Graeser. He told us he "fell" into the wine business as a second career after coming to the property to assist his mother in settling her affairs in the early 1980s. However, his mother passed on within the month and as a result, Richard inherited the property and then decided to plant vines including Cabernet Sauvignon, Cabernet Franc and Merlot. We also recall Richard also told us about a number of marriage proposals that occurred on the property during his ownership and time in business.
Not long before he sold, we remember visiting and noticing all the African Shona carvings (from Zimbabwe) lining the walkway to the tasting room as well as located in and around the garden area. This was a partnership with the Spirits in Stone Gallery; old timers will recall this gallery maintained a retail presence in the old St. Helena Factory Outlets, now the site of Brasswood Cellars. As long-time collectors and supporters of the Shona artwork, we were pleasantly surprised to find these statues at the winery.
After selling Graeser, he moved to the city of Napa where he rebranded the Graeser wines with an image of his very brightly colored house and winery located near downtown Napa. He produced several vintages before ceasing production.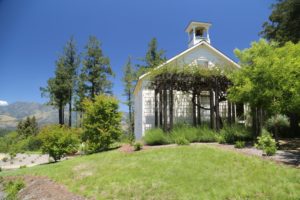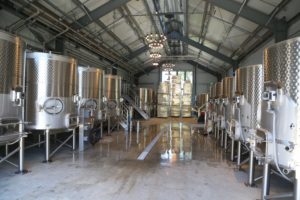 It would be a gross understatement to simply say that much has changed on site since Graeser's ownership. A better summary would be that nearly everything has changed. In the years following their purchase of this property, the Itkin's have overseen the remodel of what is one of the older schoolhouses in the north part of the valley. It dates from 1878 and contrary to what some publications note, it is not the first schoolhouse built in Napa Valley or even the oldest still standing former schoolhouse (reference Wooden Valley schoolhouse and other early schoolhouses in Pope Valley and on the Napa side of Carneros which are now private residences).
The nearby Cole House began construction in July 1887 and was overseen by St. Helena based contractors and builders, Beardsley & McMillan along with about 20 men. This outfit worked on several local projects including remodeling the no longer in existence, Turner Hall in 1889 on site of what is now Lyman Park in St. Helena. The Cole House was completed by 1889. We spotted a paragraph in the April 16, 1897, issue of the St. Helena Star referring to this "charming villa" as the "Pill Box."
The once prominent long red barn has since been removed, with the footprint of this original building replaced by an overhead trellising that is now home to a variety of plants providing shade.
But most impressive is perhaps the new winery that finished construction in late 2018 just in time for that year's harvest; it is a gorgeous state of the art boutique facility encompassing just under 9,000 square feet. Rather than drilling a cave winery into the hill, they chose to excavate a cellar into the ground on the side of hill and build a winery on top. San Francisco based architect Richard Beard of Richard Beard Architectural firm (previously worked with noted wine country architect Howard Backen), along with input from Thomas Brown, designed their winery.
And the last building to be completed was a reconstruction of the historic red wooden barn which eventually toppled over. Some of the original planks were able to be reused in the new building. This opened for tastings in mid 2022 and is now referred to as the Tasting Barn.
However, one aspect that didn't change between the Graeser and Itkin ownership is the property remains dog friendly. Graeser had even named a couple of his wines in honor of his pets including Two Dog Merlot and Jack's Cabernet Sauvignon. There is usually at least one or two Theorem winery dogs at the winery.
Those who have worked with this property under the Itkin's ownership, especially in regard to the vineyards are based on personal connections and referrals. Conveniently, the brother of their real estate agent is viticulturist Kelly Maher. He initially visited the property and recommended vineyard manager Josh Clark (who oversees the vines). Josh then referred them to acclaimed winemaker Thomas Brown who with his winemaking team has made all their vintages.
Initially their focus was on a single 100% varietal Cabernet Sauvignon sourced from the oldest vines on the property (Cabernet Sauvignon) dating back to 1985. Their inaugural vintage was in 2012 – a very limited production of only 55 cases (low in part due to deer feeding on numerous vines). Production has continued to grow as some of their replants and new vineyard blocks come into maturity and after they installed deer proof fencing. Ultimately, they would like to be producing four or five thousand cases a year of multiple wines.
At the time of our visit, 19 acres are planted to vine – nearly all Cabernet Sauvignon with a one-acre block of Merlot. The property is diverse in terrain and their vineyards take full advantage of this with numerous exposures. These are vineyards with excellent views at times – facing the rocky palisades on the opposite side of the valley and overlooking Mt. St. Helena to the northeast. Additional blocks of Cabernet Sauvignon will bring their total vineyard acreage to around 19 acres. Incidentally, this is the furthest north vineyard in the Diamond Mountain AVA. The vines are planted at an elevation from about 1,100 to 1,300 feet.
Their soils are volcanic, well drained and are often quite red. While the vines are not completely dry farmed, they are able to keep their water usage to a minimum. Sheep are also used to graze the cover crop between the vine rows during certain times of the year. The property is beautiful – not only for its storied history but also, it's landscape with a nice balance of open space, vineyards and tall forest including Douglas fir and some very stately redwood trees.
In 2018, Theorem Vineyards purchased a 34-acre vineyard hillside site called Trinity Ranch from previous owners, the Petroni family (15 are planted) in the Moon Mountain appellation in neighboring Sonoma County. The site is off of Trinity Road, just across the Napa County line and is at an elevation of around 1,800 feet – often above the fog line but not always. The vineyard is planted to Cabernet Sauvignon, Syrah, Chardonnay and Sauvignon Blanc – with the vines all growing on the Sonoma County side (a small portion of the site is in Napa County, but no vines grow on this section). This vineyard is located on the northern side of the narrow at times and very windy Trinity Road which connects Sonoma Valley to Napa Valley.
The name Theorem has several meanings as it relates to their property and story. It is a tribute to the old schoolhouse (and the math that was presumably taught in it's one room interior) and is also an homage to Kisha's own career where math plays an important role as a geophysicist and engineer (she previously worked as a reservoir engineer).
The legal phrase, Voire Dire is listed on every bottle; it comes from Old French derived from Latin, meaning 'that which is true' and in the United States refers to the process of jury selection. This ties into Jason's career as a lawyer (he is the founding partner in the Houston based firm Arnold & Itkin LLP) and as Kisha told us, "Multiple glasses of wine tend to lubricate the tongue and also produce the truth".
And the key that prominently shows on the front of every bottle refers to unlocking the history of the property as well as its potential. As they have settled into the property, both Kisha and Jason continue to discover its history and at times come across historical items left or lost by prior owners.
Select Wines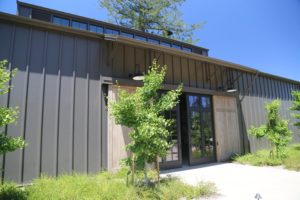 The 2020 Theorem Vineyards Sauvignon Blanc Moon Mountain District Sonoma County is deep straw in color; the open-knitted bouquet is immediately expressive upon opening and offers scents of lemon juice, citrus blossom, freshly mowed lawn, green apple, light bell pepper, kaffir lime leaf, lemongrass and grapefruit. This wine sports a rounded and supple texture accompanied by an intensity of rich primarily citrus-driven fruit. These include flavors of pomelo, grapefruit, lime and not fully ripe pineapple. The acidity here shows bright but not bracing or tart. Refreshing. In summary, this is a rich and generous bottling which still holds on to its inherent varietal characteristics. This summer our pole beans unfortunately did not produce much of a crop, but we could easily see pairing this wine with green beans, well-drizzled with olive oil, chopped garlic, salt and a bit of vinegar.
The 2021 Theorem Vineyards Merlot, Diamond Mountain District is 100% varietal. This wine is deep ruby with an amaranthine rim; the bouquet is darkly layered sporting intense savory and dense aromatics. We don't usually use the word dense to describe scents but this wine is dark with plenty of layers. These include crushed black pepper, a woodsy spice, road tar sitting in the hot sun, dark plum, roasted meats, violets, clove, tobacco, blackberries and boysenberries. Equally as dark on the palate, this fleshy but structurally approachable bottling mirrors some of the same savory notes on the bouquet. It sports flavors of crushed dark peppercorn, a heavy dose of oak, dark plum, gamey meats and a noticeable and long lasting savory finish. The rounded tannins are broadly distributed across the palate supporting a firm but friendly grip. Tasting this wine made us want to grab a cigar, one of our older wizened male friends, and hang out in a private speak-easy like room (examples include the Bohemian club in San Francisco and Wing & Barrel Ranch in Sonoma) and have conversation that borders on being politically incorrect.
The Voire Dire Cabernet Sauvignon is produced each year from the oldest Cabernet Sauvignon block on the property. The 2016 Theorem Vineyards Voire Dire Cabernet Sauvignon is dark garnet red in the glass; it offers pretty aromatics of mostly darker fruit tones including ripe blackberry along with a kiss of cedar and baking spices with subtle hints of cardamom. Medium bodied; this bottling offers both blue and black berry fruits anchored by firm dusty tannins along with hints of cedar on the long finish. It is layered with plenty of flavor, yet from a structural perspective this wine is fairly approachable in its youth.
The 2013 Theorem Vineyards Voire Dire Cabernet Sauvignon reveals an elegant nose that is about the fruit rather than the oak; it reveals notes of blueberry and blackberry with gentle aromas of mocha and milk chocolate (consistent across multiple years of tasting this same wine). Supple initially on the palate, this wine quickly gains complexity. It is well layered focusing more on darker fruit flavors (plum) than red fruits. Textured and chewy tannins persist for some time. It offers excellent balance between flavor, acidity and structure. This is an ideal steak wine from a generally robust vintage in Napa Valley. It is a bigger wine than their 2012 bottling.
The 2012 Theorem Vineyards Voire Dire is dark ruby in the glass. It has rich aromatics; the opulent scents are somewhat briary. Layered and very pretty. This is a wine you don't want to stop smelling. It is somewhat earthy somewhat on the palate with flavors of blackberry. There is a focused concentration and noticeable intensity of fruit. It is a very balanced wine which is quite enjoyable to drink. Only 55 cases were produced.
A second wine is made from their Diamond Mountain estate called Hawk's Prey, a Cabernet Sauvignon (due to demand, this wine is often sold out).
And due to smoke taint from the devastating fires in 2020, some of which burned in the vicinity of the Theorem Vineyards property, no Theorem red wines were released from this vintage. However, their white grapes were harvested before the resulting bad smoke from the fires, and these were released.
Hospitality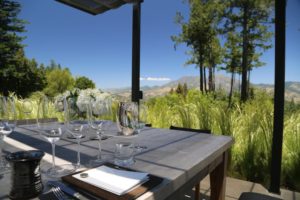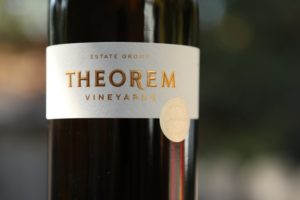 Theorem Vineyards is located about halfway up the grade rising from the valley floor near Calistoga to the Napa/Sonoma County line at the top of the Mayacamas mountains. This is Petrified Forest Road, a common commute route for those working in hospitality or other wine related jobs between Napa Valley and Santa Rosa in Sonoma County.
Once guests have confirmed their appointment at the gate at the bottom of Theorem Vineyard's shared private driveway, drive up the narrow road for about 1/2 mile before making a right-hand turn into the winery and parking next the entrance to the winery.
Since the winery was completed, visits to the property are now by appointment; tastings are highly personalized and include a tour of the winery and barrel room and weather permitting, the tasting is held outside in their tasting patio with a beautiful backdrop to the north anchored by the tallest mountain the area, Mt. St. Helena which sometimes has a dusting of snow on its uppermost reaches during the winter. But there are plenty of other indoor spaces for seated tastings, including in the fermentation room should the weather not be cooperating the day of your visit.
Theorem Vineyards also offers a Food and Wine Culinary experience in which their estate chef prepares seasonally fresh cuisine, often from their garden to be paired with select wines. This seated experience is hosted in one of several places on the property depending on weather or harvest activities. And several other very high end and in-demand culinary/wine experiences are also offered.
—
In the early stages of their production their wines were sold direct to consumer via their wine club and mailing list. As production has expanded the wines are now selectively distributed to retail and restaurants.
With production to eventually grow, and a commitment to this property and their wines, now is a good time to get on their allocation list and or seek out these limited production impressive early vintages. For more information, to schedule a visit and tasting or and to join their mailing list, visit: www.theoremvineyards.com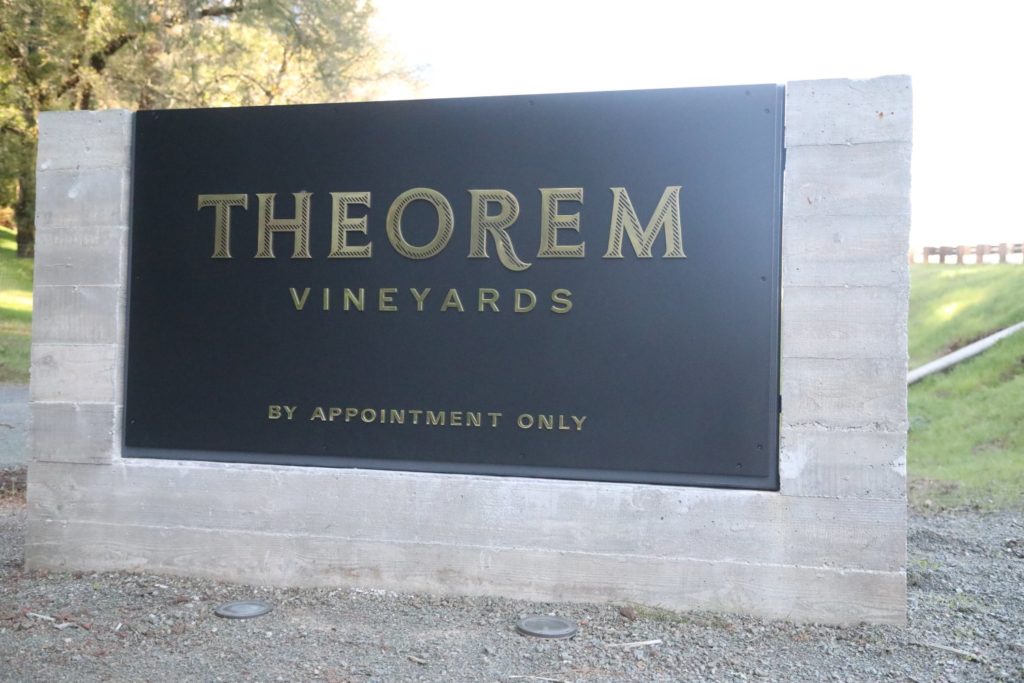 Estate Property

Trinity Ranch Vineyard, Moon Mountain

Theorem Ranch, Montana
Jason and Kisha own a 2,000-acre ranch in Montana and raise cattle (some of the meat is shipped down to California and served to guests at the winery who enjoy their culinary experiences. We will visit this ranch some point, hopefully by summer 2023, 2024 or 2025.
Old Graeser Property (we keep these photos for historical reference)