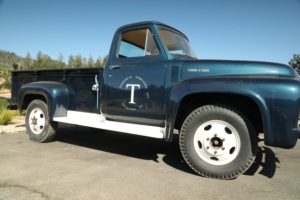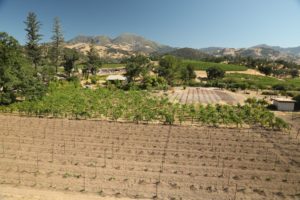 The Wager is a 60 acre site in the far northern reaches of Napa Valley, not far from the tallest mountain in the region, Mt. St. Helena. The Wager is owned by Steve and Tamara Kalin and the vineyard on the property is called Tamara's Vineyard. Incidentally, The Wager's property is less than a quarter of a mile from a small viticulture project we are helping with, involving the variety Marselan.
Steve's first trip to Napa Valley was in 1986; prior to his visit his boss at the time informed him of two must visit's while in the valley: have lunch at Auberge du Soleil and schedule a tasting at S. Anderson Vineyards near Yountville. His time in the valley was quick that trip as he drove up from San Francisco for the day, but he made sure to visit S. Anderson and have lunch at Auberge. Back then S. Anderson focused on producing sparkling wines – today the site is home to Cliff Lede Winery. Steve recalls Stan Anderson met and personally hosted them. At the time Steve was in his 20s and thought to himself, "wouldn't it would be nice to one day own a vineyard in Napa Valley."
While building a career and a family, it wasn't until more than 20 years later that Steve decided he wanted to start a wine label. He and two other partners purchased 5 tons of grapes from Ballentine Winery in St. Helena in 2007 and made the wine at Cook Family Winery (now home to Reverie II). This inaugural 2007 vintage was bottled under the name Bookmark, featured an upside down pig on the label and was called Billy Ray's Recession Red in a nod to the economic downturn around this time. And in a bit of confusion in regard to the name Ballentine, Steve originally thought they purchased the grapes from a winery called Valentine. Hence, this wine was also a nod to actor Billy Ray Valentine in the 1983 comedy film, Trading Places.
Still living in Connecticut at the time, Steve and the partners decided they needed a dedicated winemaker. In 2009 Steve met winemaker Chris Carpenter through a mutual friend and Chris referred them to winemaker Tim Milos who has made every vintage of their wines since 2009.
The name of the vineyard is a result of a wager between Steve and Tamara. One day while Tamara was jogging in their Connecticut neighborhood and training for the New York Marathon she had an extremely close encounter with a driver running a stop sign. She returned to their home visibly shaken. They argued about whether there actually was a stop sign where the incident took place. They decided to make a wager with naming rights for their newly acquired vineyard in Napa Valley. Tamera showed Steve the stop sign in person; it was clear who had won this bet and Tamera named the vineyard after herself. And it was a decision Steve was happy with citing the fact that Tamera's Vineyard sounds much better than Steve's Vineyard.
Steve and Tamara looked at and placed bids on several sites before they discovered their Calistoga property; they purchased it without actually visiting the property. And the reason they felt so comfortable purchasing this property site unseen was because winemaker Milos highly encouraged them to purchase it. The property is located in a remarkably picturesque part of Napa Valley (several miles north of Calistoga) with panoramic vistas from the upper part of their property overlooking Mt. St. Helena to the east and parts of the rocky palisades of the Vaca mountains. Nearby neighbors include Vice Versa Winery, one of Turnbull Vineyards and a property owned by the Sharpsteen family (reference the Sharpsteen Museum in Calistoga). Approximately 25 acres are planted to grapevines including several ancient blocks: a large section of Zinfandel dating from around 1900 and a small block of Petite Sirah, also from around 1900. Newer plantings include Cabernet Sauvignon, which comprises the majority of the grapes growing here. Plans call for an additional 7 acres to be planted.
A year after the Kalin's purchased this property, the Tubbs Fire (which started within a very short distance) burned through their property, destroying the primary residence and burning hundreds of trees. But their vineyards were a fire break and were not burned. The cleanup and clearing of these dead trees alone was an extensive under taking. Back in 1964 the Hanley Fire burned a similar footprint. In fact redwood trees at a nearby winery still showed the burnt scars from that fire prior to the 2017 fire. Their trunks again burned but the trees survived. No wines from the estate were produced in the 'fire years' of 2017 and 2020.
Steve has been involved several businesses throughout his career including starting Silvermine Capital in 2005 (as asset management firm); he sold the business in 2016. Presently he is involved in Cogni™, a wireless, continuous, barrel aging monitor in wineries which reads and reports data relating to fill levels, temperature & humidity, free & molecular SO₂, pH, alcohol and acetic acid amounts.
Select Wines
The Wager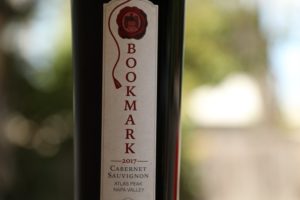 The 2019 The Wager Cabernet Sauvignon (100% varietal) is from estate grown grapes. This wine is medium to deep ruby in color; the aromatics are dark and sweetly fruited. The bouquet is immediately expressive of primary aromatics upon opening including of plum, blackberry and black cherry. A layer of secondary aromatics shows as the wine breathes including mocha, chocolate, espresso, and a subtle toasted note of oak. And initially there is also a very light meaty and or savory component present which quickly dissipates. The palate is focused on its core of fruit, and somewhat mirrors that of the fruit characteristics on the bouquet. It reveals flavors of dark cherry, blackberry, boysenberry and Pakistani mulberry along with a light note of chocolate. The word we immediately wrote to describe this wine's character was balance. The tannins are fine-grained, rounded and linger with a soft and gentle grip. This wine is easy to drink and highly enjoyable in its youth. 2016 was the first vintage of The Wager.
Underdog
One of Tamara's favorite varieties is Chardonnay. But the warm temperatures of Calistoga are not conducive for growing this grape. Always up for a challenge, Tamara accepted Steve's offer of, "if you can sell 20 cases of Bookmark, you can start another label and bottle a Chardonnay". Steve admits he thought she was going to sell the Bookmark wines direct or perhaps to on-premise retail outlets. Rather she started looking at online wine buying websites. Ultimately she sold 50 cases of The Bookmark and used the income to start Underdog.
This second value conscious label is made from finished wine purchased from premium wineries who decide not to use it in their own portfolio. They sell this wine at a much reduced price with the caveat that the buyers cannot disclose its source. To date, The Wager has produced a red blend and a Chardonnay under this label. And the name Underdog ties in well with the fact that both Tamara and Steve are left-handed. A major survey conducted in 1994 found nearly 1 in 10 people around the planet are left handed.
The 2018 Underdog Sonoma Carneros Chardonnay is deep gold in color; the aromatics are fresh and simultaneously fruity (we tasted this 5 years post vintage). It offers appealing scents of honeysuckle, citrus blossom, pineapple, apricot, ginger, yellow peach and ripe pear. The texture is supple, creamy and rounded which nicely complements its bright acidity. It is showing some bottle age; it offers flavors of hazelnut, walnut, cantaloupe, yellow peach, apricot, passion fruit, Golden Delicious apple and a lingering touch of toasted oak. This wine lingers with a richly fruited finish. Overly oaky and buttery? No, this is not that style of Chardonnay.
The 2017 Underdog Red Wine Sonoma Valley is deep ruby in color; the aromatics are dark, savory and brooding. They reveal scents of freshly tilled soil, mushroom, sweaty baseball mitt leather in use on a hot day and dark pepper. Calling it gamey, meaty or savory would be an entirely accurate description. From the aromatics alone, we immediately thought of pairing this wine with a steak, a ribeye with a dry herb and peppercorn rub. But give this wine time to evolve in the glass; it will open to more fruit including dark plum. A savory thread of darker spices run the length of the palate which is complemented nicely with ripe fruit including blackberry, dark plum and boysenberry. It lingers juicy, filled with flavor and supported by lightly grainy, persistent tannins and an equally long-lasting note of dried tobacco leaf. If we had to guess, we we say there is some Zinfandel in this blend. This wine over delivers for the price.
The Bookmark
The first vintage of Bookmark was made by Tim in 2008 from Cabernet Sauvignon and starting in 2010 from the same row of vines in the Setty Vineyard on Atlas Peak. This wine was produced through the 2017 vintage; Steve and Tamara have a sizable library of these wines. The 2017 Bookmark Cabernet Sauvignon Atlas Peak (100% varietal) is deep ruby in color; if aromatics were able to greet you with open arms, this wine would be an ideal candidate. The bouquet is sweetly fruited offering aromas of ripe blackberry, boysenberry, dark plum at the peak of ripeness, black licorice, dark chocolate, mocha, coffee and cocoa powder. It is ripe, layered and focused on it's fruit with influence from its barrel aging a complementary rather than a dominating characteristic. The palate offers flavors of blackberry, dark cherry and dark plum. The tannins are expressive of its mountain site, granulated and grippy in their textural feel, broadly distributed and linger with a drying character. The tannins outpace the fruit on the finish. A note of dried tobacco leaf and toasted oak also accompany. For reference we tasted this wine 6 years post vintage.
—
Total production of the estate The Wager Cabernet Sauvignon is usually between 300 and 500 cases. The wines are made at a state of the art winery within a short drive of their vineyard. The wines are sold direct through their website and have limited distribution in Florida and New York. For more information, to purchase wine or to join their wine club, visit: www.the-wager.com