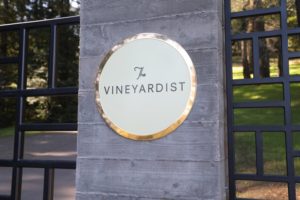 The Vineyardist is one of those rare historical properties within Napa Valley that often fly under the radar. The original vineyards on site were planted in the early 1880s; the story begins with a Danish shipping captain by the name of Lorenz Petersen (born 1843). He fled his country in the mid 1860s to avoid joining the German army. He eventually made a small fortune from the shipping industry but promptly lost nearly all of it in the stock market during the financial crisis known as The Panic of 1873. This crisis came about because of a decreased international demand for silver.
Lorenz and his wife took $2000 that he fortunately had not deposited, moved north and purchased 160 acres on what is now Diamond Mountain in 1879. At the same time, he built a sturdy gorgeous Victorian home (still standing). Despite losing a fortune in the market, $2000 was still a lot of money back then.
Lorenz planted a number of trees including apples, peaches, cherries and apricots and also planted a number of wine grapes, with varieties that were popular in those days – often called "mixed blacks" or field blends. Alicante, Petite Sirah and Zinfandel were grown among others. His first vintage was from 1884. Wine brokers would make the trip up to his property by train from San Francisco – taste through his wines and then buy casks on the spot. The barrels were shipped back to San Francisco on the train (in those days ran all the way to Calistoga) and then sold to those who bottled it under their custom label.
The wine production ceased by 1919 (as most production did in the valley with the onset of Prohibition) and eventually the vineyard blocks were converted over to walnuts and prunes. The original winery no longer exists and stood on site of what is now their swimming pool. 40 acres of the original ownership later became known as the Calarcadia Ranch.
Gravesite, Lorenz Peterson – Calistoga, Pioneer Cemetery

Fast forward to year 2000 – husband and wife, Dirk Fulton (lawyer and real estate investor) and Betty Kukkola purchased the property, hired noted winemaker Mark Herold (incidentally, this was Mark's first Cabernet Sauvignon project after he sold his own brand, Merus) and vineyard manager Jim Barbour and soon began to plant vines. While there are 120 acres on site, seven acres were initially planted to vines and later 17 more acres were added. Today there are 24 acres of vines (all farmed organically) ranging in elevation from 800 to 1300 feet – much of which is planted to Cabernet Sauvignon. The initial seven acres was planted to four unique blocks – two of which are planted on the exact same footprint as the original plantings.
Much of the property is a "rockpile" and the vines really struggle to grow here. There are a number of soil types on the property – much of which is volcanic (rhyolite). Their yields are fairly tiny as one would expect from this site – often merely 1.5 tons per acre.
Select Wines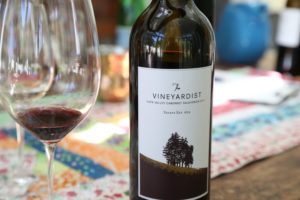 Beginning in 2017 all their wines are exclusively from the estate including a small production of Sauvignon Blanc with Sauvignon Blanc musqué. Initially the Vineyardist focused on one estate wine each year – a 100% varietal Cabernet Sauvignon from two Cabernet Sauvignon clones, but today they also produce a second wine, also a Cabernet Sauvignon named the Lazy Susan Ranch (LSR) – the original name of the property.
The first vintage was from 2004, however remarkably each vintage from 2004 to 2008 was never released. With high standards for quality and wanting to wait until the vines reached greater maturity, both Dirk and Betty decided it was best to hold back these vintages from commercial production.
As a result, their 2009 vintage was the first released to market. Less than 400 cases were made of this vintage with even smaller subsequent productions. Eventually total annual production will reach somewhere between 1,000 and 1,200 cases. Each Cabernet Sauvignon clone is fermented and aged separately until the final blend is created. The wine is aged in all new French oak.
The 2009 The Vineyardist Estate Cabernet Sauvignon is dark and aromatically shows a nice vibrancy in the glass – offering ripe blackberry, black currant and cedar notes – as the wine opens more influence of the oak shows including a vanilla, similar in aroma to a cream soda and a smokiness. Mineralities and notes of graphite show in the background as the wine continues to evolve in the glass. The palate is all about the vineyard's well managed mountain fruit – and the integrated tannins anchoring the pleasing finish are a testament to this. Notes of vanilla, more in the background linger delicately. This wine brings both power and finesse to the bottle – power in the fruit and finesse in its structure. This wine holds up well after it has been opened. As it breathes there is less influence from the oak on the bouquet – the nose becomes more elegant over time.
The 2011 Vineyardist Estate Cabernet Sauvignon is a testament to the beauty of this particular often maligned vintage by some in the wine writing world. It was a colder year than normal in the Napa Valley with rain during parts of harvest. However, one can carefully select excellent wines from this vintage based on specific sites – with certain hillside locations producing balanced, very age-worthy and more restrained wines then in a 'normal' year. Their site is one of these.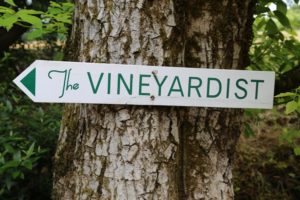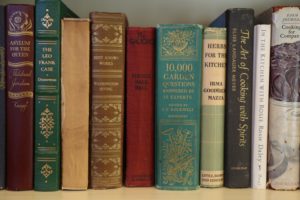 The 2011 Vineyardist Estate Cabernet Sauvignon initially shows an opulence and brightness of fruit on the bouquet – as it breathes, opens to a variety of other aromas including a savory sage like nuance, old cedar box, hints of white pepper and tobacco leaf. On the palate the wine is medium to full bodied. Superbly balanced – the finish is lively and lingers with fairly fine-grained tannins. One immediately notices the well-integrated structure.
The 2015 The Vineyardist Cabernet Sauvignon Lazy Susan Ranch is a highly appealing wine in its youth – dessert in the glass if you will with aromas of ripe plum, blackberry, chocolate, cinnamon and other dessert spices. Shows plenty of fruit on the palate – surprisingly balanced for such a young wine (our tasting was 3 years after vintage). Very good acidity and a long finish with noticeable but not overly gripping tannins.
—
Prior General Manager Roy Piper (who we originally met with during our first visit to the property) spoke of a renaissance of sorts for Diamond Mountain. It was a region that was especially hit hard with phylloxera in the 1980s and often replants in the 1980s and early 1990s were on rootstalks and clones that were not necessarily optimal for this region's terroir.
The name is a tribute to their properties' history – wine brokers were referred to those who grew grapes and made wine, not as vintners as today, but as a "vineyardist". Because there was a winery on the property the estate was grandfathered in with an existing winery bond. The first several vintages were produced at a winery in the southern part of Napa Valley; however, a modern state of the art winery has since been built on the lower part of the property.
This part of Napa is somewhat of a banana belt and remains relatively frost free during the winter months. We have personally seen or heard about several avocado trees growing in this part of Diamond Mountain as well as on the Sonoma/Napa County line nearby. The site is typically slightly cooler than the valley floor during the summer months. The property benefits from a gap that runs through the Mayacamas mountains in this part of Diamond Mountain (the same gap that benefits Diamond Creek vineyards and other nearby wineries).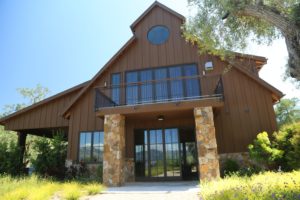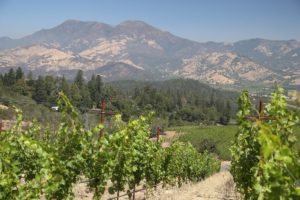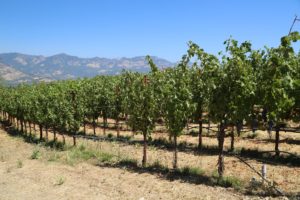 The primary gap runs slightly south of the property and in an east/west orientation and during warm summer afternoons, cool breezes flow from Sonoma County through a sub channel of this gap and flow directly over their vineyards (certainly helps mitigate powdery mildew). In general, the micro-climate of this particular site produces moderate temperatures which helps create even ripening throughout their vineyards.
The property itself is stunning – with commanding views of the northern part of the Napa Valley as well as Mt. St. Helena on the other side of the valley along with the prominent palisade rock formations extending to the south. Beside vineyards, the estate is also planted to many citrus trees (much of which is sold locally) including several large and very health Makrut (Kafir) lime trees, a large avocado tree and beautiful lavender and herb gardens (left over when the prior owner ran a commercial herb business). Olive oil (a limited production is made from the 250 olive trees growing on the property), herbs and some of the citrus are selectively sold to local restaurants.
Their wine is sold almost exclusively via an allocation list (with a very small amount shipped to the New York market). For more information visit: www.thevineyardist.com
Winery + Estate

The Francis House, Calistoga (historical connection)