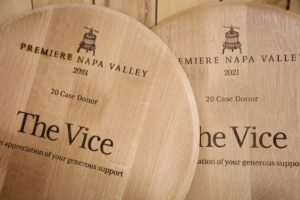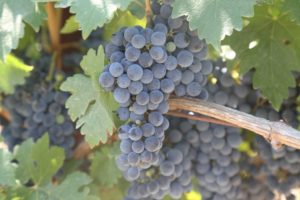 The Vice Wine. Founder Malek Amrani was born in Morocco and raised in Casablanca. His father was a pilot who was often routed on flights to and from various countries in Europe. The family conveniently lived 15 minutes from the airport. Malek remembers his father encouraging him at age 8 to smell wine for the first time. His father drank wine and it was often consumed in their house. At age 11, his father flew Malek to Paris where he remembers tasting Dom Perignon for the first time.
Eventually he moved to Dakar, Senegal (a city we have spent some time in pursuing random experiences including a rooftop tasting at a winery producing fruit wines) to attend medical school. After a full year of school he realized medical school was not for him. He informed his brother that he wanted to move to New York City and meet a number of celebrities he watched in movies. He arrived in New York at age 18 on a tourist visa with little money, only $150 cash in his pocket but as he puts it, "with loads of ambition". And directed to the right channels, ambition is more important than money, especially in one's youth. With little money he lived off and on in the New York subway for 6 months, transiting certain routes that became very familiar to him.
He worked odd jobs, all temporary in part to pay for a gym membership (exercise and included showers). Looking for both wine and company he began to frequent wine bars. He began working for restaurants, balancing three different jobs at one point. By the time he turned 21 he took a job with Diageo and LVMH Moët Hennessy in New York in sales. He also started a wine import business, taking business trips to Europe for long weekends, showing up at various wineries unannounced, tasting trough their portfolio and purchasing quantities of wines he liked. In New York he would sell larger quantities to businesses as part of a portfolio he built himself ranging from wine shops, top restaurants and even strip clubs. He was a busy man in his mid 20s often working 90–100-hour weeks.
During early visits to the valley (his first visit was in 2009) he began to look for brands which would showcase the diversity of Napa Valley's terroir and simultaneously not 'break the bank'. He couldn't find such a brand. When we first caught up with Malek the first question he asked us was, "what varieties and from what Napa AVA's would we like to try". The question later made sense when he told us he produces wines from 14 of Napa Valley's sub appellations and crafts a variety of other wines besides Cabernet Sauvignon.
When prompted to explain his own Vice, he has several including participating in triathlons, but Napa Valley wines are always at the top of his list. He made his first vintage of The Vice, 500 cases of a Chardonnay sourced from both Napa and Sonoma in 2013 while still living in New York City. He produced only one wine that year. This wine was labeled batch #1, a tradition he continues with batch numbers in subsequent order listed on every wine bottled. And every bottle number is also listed on the back label. He only made a single wine the next year, a Napa Valley Cabernet Sauvignon and in 2015 a Yountville Cabernet Sauvignon. His production began to grow in 2016 both in quantities and in terms of varieties produced.
The Vice bottles three tiers of wines, House (comprising the majority of their production), single vineyard wines and The Vice. The gold image on some of their wines is of a single grapevine. The Vice maintains attractive pricing on their wines because they do not own any vineyards, have built relationships with smaller growers and often purchase grapes from growers at a reduced price with the caveat the vineyard location is not disclosed.
Select Wines
Whites/Orange
The 2022 The Vice Sauvignon Blanc "the house" was sourced from vineyards in both Coombsville and Rutherford. This is batch #111. This wine is pale to medium yellow in color; the bouquet offers some pretty floral aromatics including of star jasmine, citrus blossom, vanilla and a subtle hint of toasted oak deep in the bouquet. There are also some stone fruit characteristics present including of apricot, yellow peach and white nectarine. We tried this wine less than a year post vintage date; it smells fresh and like springtime. The palate offers a rounded texture, is lively and showcases bright fruit flavors including of pineapple guava, pomelo, lemon juice and lemon zest. The finish lingers bright, mouthwatering and with a persistent presence of rich fruit flavors. This wine was not put through malolactic fermentation; it was fermented in part using small percentages of concrete eggs and French oak barrels. And the stick drawing of a house with palm trees on the back label is a rough outline of Malek's former home in southern California.
The 2020 The Vice Chardonnay Carneros Batch #100 "the Napa dream" has special significance to Malek for this is the variety that he began The Vice with in 2013. This wine is rooted in batch number 64; Malek set aside 8 barrels from that particular bottling for this wine. It was aged in 30% new French oak and went through about 25% malolactic fermentation. It is noticeably dark in the glass with a deep gold color; the aromatics offer honeyed notes, toasted oak, crème Brule, butterscotch, apricot, almost overripe melon and vanilla wafer. It offers a light textural creaminess on the palate which is complemented brightly with its lively acidity. It offers flavors of apricot, honeycomb, peaches in light syrup, ripe pear, warm butter, lemon juice and a lingering spice note including of cinnamon, nutmeg and cardamom which persist deep in the finish after the fruit has dissipated. This is a rich expression of this variety and in conjunction with its oak profile shows a slight perceived sweetness, but not from residual sugar. It is 13.4% alcohol.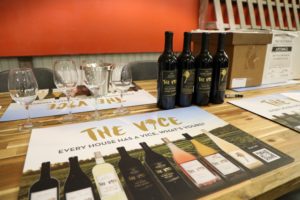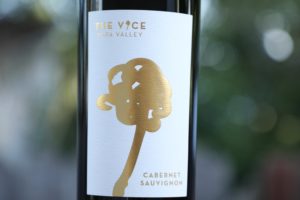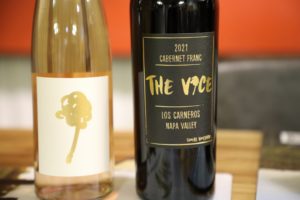 While most of The Vice's wines are from Napa Valley, occasionally grapes are sourced from outside of the county. The 2022 The Vice Russian River Valley Single Vineyard Chardonnay (Sonoma County) batch #90 is deep gold in color; the bouquet offers attractive and primarily tropical aromatics of honeysuckle, honeycomb, citrus blossom, melon, pineapple, mango, lychee, pear and light notes of melted butter. The palate offers rich flavors of butter, honeydew melon, red apple and hazelnut and is anchored by a balanced but bright acidity (especially noticeable on the finish). Its texture is slightly creamy and supple. This wine was fermented with indigenous yeasts and aged for 9 months in French oak barrels.
The inception of the Vice orange wines began in New York. During the summer of 2020 Malek was returning to New York to meet some of his marketing team. Rather than drinking The Vice wines they were drinking an orange wine from another producer. That motivated him to produce his first dry orange wines later that same year, a Sémillon and a Gewürztraminer. He released them in 2021 and both quickly sold out. He made an orange wine again in 2021.
The 2021 The Vice Orange of Viognier, The Lakers Batch #108 shows a copper/amber color in the glass. The bouquet offers appealing aromatics of orange peel zest, kiwi, passion fruit, guava and a note of lemongrass. Rounded on the palate and creamy, its supple textural feel is immediately noticeable. But there is an accompanying acidity which keeps this wine bright from the start through to the finish. It offers flavors of kumquat, dried apricot, pineapple, a citrusy nuance and light ginger. This well-balanced bottling lingers with a subtle spice accompanied by plenty of fruit. It is easy to drink and easy to serve with shellfish. We noted that it would probably pair nicely with a Thai spicy basil steamed mussels dish.
The 2022 Orange of Gewurztraminer Brooklynites 5.0 was sourced from grapes in Potter Valley (Mendocino County) and Monterey County. The wine was allowed to ferment on the skins for 17 days before it was pressed off. The resulting color is a light salmon/copper; the bouquet, for a lack of a better word simply smells yummy. It offers fruity, bright and fresh aromatics of raspberry, lychee, rose petals, a citrus zest and a light flinty note. The residual sugar is immediately noticeable on the palate although this is somewhat tempered by the brightness of acidity. The fruitiness on the bouquet continues onto the palate. It offers flavors of lychees in light syrup, pink bubblegum, pear, raspberry, honeycomb and a variety of ripe stone fruits including apricot, yellow peach and nectarine. The finish is clean and short with the perception of the residual sugar dropping off fairly quickly. For those who enjoy sweetness combined with flavor and a balanced acidity, this wine will be very difficult to put down and before you know it the bottle will be empty, and you will be reaching for another. Best enjoyed chilled on warm spring days and summer evenings. In 2022, this wine unintentionally did not complete its fermentation, hence the residual sugar; total residual sugar is 2.7 grams/liter. This is the first sweet wine bottled under The Vice.
Reds
The Millennial Batch #96 is a non-vintage wine. Listing a batch number on a non-vintage wine is certainly helpful for identifying each particular bottling. Malek told us he threw out every preconceived notion about Napa Valley wines when creating this wine. It's not made entirely from Napa Valley grapes, it's not a varietally specific bottling and its non-vintage. It is led by a Mount Veeder Petite Sirah along with a Coombsville Malbec and small percentages of Oakville Primitivo, Tempranillo and Charbono. This wine was aged in 25% new French oak. And regard to its most desired consumer, the wine is simply called The Millennial.
It is deep ruby in color; the bouquet is sweetly fruited including both ripe fruits and darker dessert spices. It offers scents of black licorice, prune juice, blackberry, boysenberry and raspberry jam along with Graham cracker, chocolate, an Asian five-star spice, mocha and a shot of espresso. Both the bouquet and the palate are what one might call a crowd pleaser or a fun wine, especially appealing to those looking for ripe fruit and a certain pinch of opulence. The palate offers mouth filling darker fruits including of dark plum, boysenberry, baked blackberry and ripe black cherry (this character reminded us of picking the darkest and ripest cherries during the end of cherry season in Brentwood California). The finish lingers with flavors of dark berries, chocolate, toasted oak (but not oaky) and soft, rounded and well-integrated tannins along with a light lingering dryness.
Truchard Vineyard has been an extremely important site in The Vice wines portfolio over the years. The 2019 The Vice Pinot Noir Truchard Vineyard Carneros batch #35 is pale to medium ruby in color; the bouquet offers distinctive aromatics with a focus more on the earthy character of this variety rather than any sort of fruit forwardness. It offers scents of freshly tilled damp earth, a meaty/gamey quality, mushroom, black tea, white pepper and a hint of Tonka bean deeper in the aromatics. The fruit is bright on the palate and offers flavors of strawberry, raspberry, red cherry and rhubarb along with lingering note of white pepper. The rounded tannins are integrated nicely in the earthy/savory finish.
The Vice thinks outside of the Napa Valley norm when it comes to a number of their wines. Malek calls this, "authentic innovation". For example, in 2018 he made 48 barrels of a single Vineyard 100% Cabernet Sauvignon. He decided to make three separate bottlings of the same wine at different intervals: 12, 18 and 24 months calling each bottling V1, V2 and V3. He sent all three in to be rated by a respectable and well-established wine magazine. The V1 (his favorite) was rated below 80 while the other two bottlings were rated in the low 90s.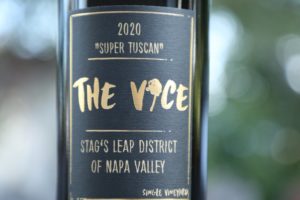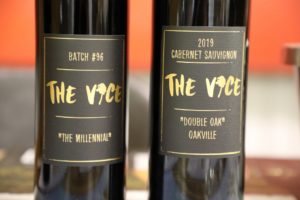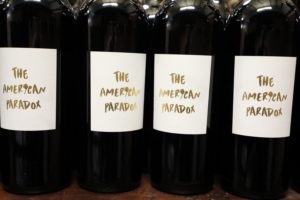 In 2019 The Vice introduced the Cabernet Sauvignon double oak profile with individual bottlings from Coombsville, Stags Leap and Oakville. 10 barrels of each lot were separated out and were aged 20 months in new French oak barrels with each wine differing in barrel toast levels. Then after 20 months the wine was transferred into new American oak barrels for another 12 months before being bottled.
The 2019 The Vice Cabernet Sauvignon "Double Oak" Oakville batch #85 (sourced from a hillside location just east of Silverado Trail) was aged with toast levels in between the lighter toasted Stags Leap and the heavier toasted Coombsville bottlings. This wine is deep ruby in color; the aromatics initially show notes of damp earth, meatiness and sweaty leather (similar to old baseball mitt being used on a hot day), but these scents dissipate, making way for the fruit including cherry cola, blackberry, boysenberry and dark plum. The oak is noticeable with a persistent nuance of old cedar box. One would not be incorrect in calling this bouquet savory. The palate is well-layered showcasing primarily darker fruits including plum and blackberry. The savory characters on the bouquet also show on the finish, lingering with dark spices including crushed peppercorn, a brightness of acidity and toasted oak. The oak and the gravelly textured drying tannins continue to linger on the long-lasting finish.
The 2017 The Vice Spring Mountain District Cabernet Sauvignon batch #16 is from a well-established vineyard located towards the upper reaches of the district. This wine is 100% varietal; it is deep ruby in color and nearly opaque in the glass. The layers of fruit quickly catches one's attention; the bouquet offers a ripe union of darker fruits including plum, blackberry, boysenberry, prune and black cherry with darker dessert spice notes of chocolate, Graham cracker and mocha. The palate offers mouth filling ripe fruits of blackberry and dark plum with a juicy, dark and savory finish. The earthy, grippy and chewy tannins are very long lasting along with a note of dried tobacco leaf. This wine begs for a pairing with some cheeses or protein. We tasted 6 years post vintage date; this wine clearly has lots of life ahead of it.
The 2020 The Vice Malbec Coombsville single vineyard batch #77 is 100% varietal and is deep ruby/purplish in color; the bouquet is dominated by fruit but accompanied by appealing darker dessert spices. It offers scents of violets, ripe dark plum, blackberry and Pakistani mulberry along with mocha, espresso, dark chocolate and cardamom. Perhaps if more 100% varietal Malbecs smelled as appealing as this bottling, more would be produced. The palate offers bright fruit flavors and an accompanying acidity with a mouthwatering and juicy finish. It lingers dark with a grip of medium structured and very long-lasting tannins, crushed black pepper, dried tobacco leaf and an appealing savory character. If we had to categorize a wine to pair with cigars, a warm fire and good friends, this one would certainly qualify. Beautifully done and a very age worthy bottle.
The 2019 The Vice Petit Verdot Oak Knoll District batch #57 single vineyard is 100% varietal. While not always produced as 100% varietal, every year we always taste several such wines from Napa Valley producers and its more common than one might think. This wine is deep ruby and opaque in the glass; the focus of the aromatics is both on the purity of the variety and the fruit along with secondary influences from the barrel aging. It offers ripe notes of blackberry, boysenberry, dark plum and violets accompanied by a dusty note, mocha, milk chocolate and lightly toasted oak. The palate is dark fruit meets mouthwatering acidity. The energetic finish is anchored by savory, dark and persistent gravelly textured and drying tannins. This wine shows plenty of exuberance, freshness and depth of flavor. We recommend pairing this with a well-marbled steak on the BBQ. This is another single vineyard bottling well worth seeking out.
The 2020 The Vice Primitivo Oak Knoll District Single Vineyard batch #65 is 100% varietal. This wine is deep ruby in color; the bouquet offers aromas of cherry, raspberry, tomatoes, some dried herbs including a hint of tarragon. The focus here is on the varietal characteristics rather than any secondary aromatics from its barrel aging. Easy drinking flavors include blueberry, red currant, cherry and black raspberry. The entry is soft but very quickly morphs into a tannin texture which will catch your attention. The finish is drying with rounded but noticeably grippy and chewy tannins which outpace the fruit along with a persistent note of dried tobacco leaf. This wine is dedicated to the Italian American and the Italian immigrants who brought their hard work ethic, culture, foods and enjoyment of food and wine to the U.S. And its characteristics would go well with Italian pasta and pizza. We have spurts throughout the year where are often frequent Tra Vigne Restaurant in St. Helena for their pizzas; we think this wine would go very well with their basic Margherita.
The 2021 The Vice Napa Valley Cabernet Sauvignon "The House" batch #110 is deep ruby/garnet in color; the aromatics reveal notes of sweet, toasted oak, vanilla, mocha, espresso, raspberry, cherry cola and red plum. Bright across the palate it offers flavors of cherry, red berries including raspberry and currant and licorice. A lighter to medium bodied wine, it lingers savory with dark spices including pepper, a tobacco spice and earthy gravely textured, still tightly woven tannins. This wine was aged for 12 months in 30% new oak barrels of which 50% was French & 50% American.
The 2020 The Vice "Super Tuscan" Stag's Leap District batch #80 single vineyard is 50% Cabernet Sauvignon, 25% Sangiovese and 25% Malbec. This bottle is built to impress both visually with its weight and hand-dipped wax along with the character of the wine. It is deep ruby in color; the bouquet offers layers of fruit ranging from red cherry, raspberry jam, fig, rhubarb and hints of vanilla and cardamom. The focus on the palate is on flavor (blackberry, boysenberry, raspberry and rhubarb) accompanied by a balanced acidity. This wine drinks very well in its youth, in part supported by its soft texture. It showcases rounded and well-integrated tannins supporting a spicy and drying finish. This wine was aged for 22 months in new French oak barrels.
—
The growth of The Vice has followed a remarkable trajectory from 500 cases of a single wine (Chardonnay) during their first vintage to now approximately 27,000 cases of nearly 20 different bottlings along with canned wines. The wines are distributed in select states within the U.S. and also internationally including Korea, Japan and the Dominican Republic. When enjoying these wines, fans can tag The Vice with the hashtag #whatsyourvice.
For more information, to purchase wine or to setup a visit to taste the wines when in Napa Valley in a rustic warehouse in the city of Napa's original tannery row district along the Napa River which serves as a part tasting room, part office and part wine storage and fulfillment center, visit: www.thevicewine.com