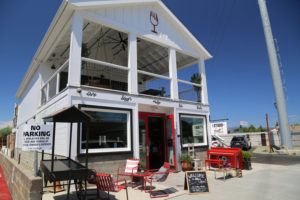 The Studio by Feast it Forward was founded by Katie Hamilton Shaffer. Originally from the town of Davis (about 45 minutes from Napa) she came to the Napa Valley to pursue her passions in food and wine. As she told us, "I wanted to go to culinary school, but they didn't have a soccer team. So, after playing collegiate ball and a short stint on the semi-pro circuit, I moved to Napa Valley to pursue my food and wine aspirations."
Initially she wanted to become a chef but soon began working for several Napa based wineries. It was at one of these wineries that the daughter of a friend was diagnosed with Rett Syndrome, a rare disease. Katie took action and created a support network from scratch in the form of "Erika's Dream", a nonprofit foundation. Katie also helped launch Wine, Women & Shoes and was instrumental in promoting that organization to National prominence. She continues to be extremely involved in a number of projects that focus on helping others.
In 2011, she founded Feast it Forward (FiF) an online video-based media company with a simple but powerful focus highlighted in their motto, "Inspiring Living. Philanthropic Giving." Feast it Forward encompasses a variety of content and products focused on food, wine and charitable endeavors.
Katie thrives on controlled chaos and being a part of something greater than herself. And finding outlets to explore her significant creativity. It has been exciting to watch her tackle various projects over the years – but especially her work creating The Studio by Feast it Forward.
Taking a significant next step in the evolution of Feast it Forward, Katie and partners purchased an existing building and lot in downtown Napa across from Oxbow Public Market. This home was in terrible shape (one of its previous uses was as a drug lab). Over the course of two years the home was lifted – moved to another part of the property, a new foundation was poured and eventually the home was returned to its existing site. However due to its poor condition, most of the original house was completely gutted and visitors to the site today would not even recognize what was the original structure.
The Studio by Feast it Forward (or simply called The Studio) opened in June 2018. Within just a couple of years, this space seems like it has been an integral part of the downtown Napa scene for much longer. This two-story building houses an "experiential showroom", as Katie calls it with a focus on wine, food and music. There are more than 40 tasting rooms open to the public by walk-in in downtown Napa – all of which we have personally visited and written about. Each is different in their own way but at the same time, most are similar to each other. This one is not similar to any of them; it is not a typical tasting room. That much should be evident immediately from the outside; a red piano decorated with graffiti greets visitors and is available for any visitor with the necessary skills to play.
The entire space and its various décor both indoors, but especially outdoors, is an engaging and visual feast.
And parlaying her skills for design into a business using Feast it Forward as a prime example, Katie offers interior design services.
Indoors Downstairs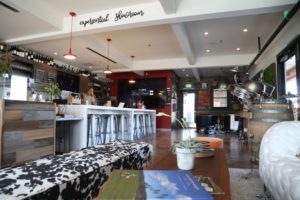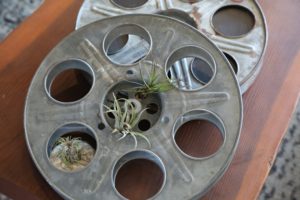 When one enters the space one's attention is quickly drawn in a number of directions. A good place to begin a visit is in front of the interactive screen powered by Microsoft Surface Hub located next to the entrance. Guests can scroll through the entire studio zooming in on specific products to identify pricing and more information. The entire space features products from sponsors, all of which are for sale – "everything but the building and the lift", according to Katie! She calls this the sandbox for brands to play in – a complementary cast of supporting brands to reach, engage and interact with potential customers. And 5% of the total sales support the Feast it Forward Foundation and its Products with a Purpose – with proceeds donated to various charitable organizations supporting women, children, animals, health and international related causes.
In addition, a number of the showroom's sponsors (at last count 30+) have prominent placement including guitars from Gibson Brands, Inc. and furniture from Crosley. A chocolate tasting is also offered, oddly enough sponsored by Sherman Williams and a vinyl station is available for playing a variety of old records.
The tasting area is arguably the highlight of the first floor featuring up to sixteen vintners at any given time. Over the years there has been some turnover with various brands, but some have also been here since the beginning. Each vintner represented offers several of their wines – with a such a diversified selection of vintners, there is a wine available for most any palate and price point. Wines can be purchased by the glass, bottle or flight. While no food is served on site, visitors are welcome to bring food into the space and enjoy along with wine purchased on site. Private tastings can be arranged with some of these vintners on site by advance reservation (where they are able to showcase additional wines).
And visitor's will want to stop by their bathroom to read the latest in all the graffiti and words of wisdom that visitors mark on the walls. Katie has long enjoyed doodling; the bathroom door is an extension of her artistic interests and visitors are encouraged to write their own quotes or add their own doodles.
Indoors Upstairs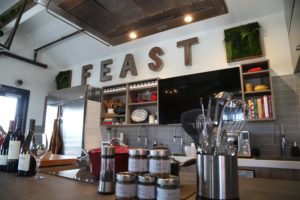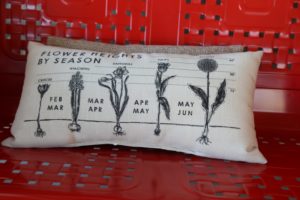 Upstairs features an impressive culinary space that is ground zero for the Feast it Forward lifestyle production network – when shows are being filmed here, televisions downstairs broadcast the live feed. This kitchen can also be used for guest chefs to offer culinary classes. Already celebrity chefs Rick Moonen, Roland Passot and Jaques Pepin have filmed here (the first culinary show filmed on site was Riffs and Recipes). The space only seats about 25 people.
The second floor features a sizable outdoors deck – featuring a swinging 'bed', games and other sit-down spaces. From the east side of the building, guests can watch passerbys going to Oxbow Public Market or those enjoying the park next to the Napa River. These are also some of the best seats in the area to watch live performances overlooking the nearby Oxbow green.
Outdoors/The Yard
Unlike most tasting rooms in downtown Napa, The Studio offers their own private parking lot next to the building which at times is converted into The Yard, a sizable outdoor space featuring several stages for live music, cute places to taste wines, a lemonade stand, a place for food trucks and a comfortable fake lawn. And some of the brands represented at Feast it Forward have prominent signs indicating their sponsorship of some of the spaces within The Yard.
There is a remarkable amount of space in The Yard including the Ultimate Airstream Film Lounge trailer which is often parked here; this trailer is used when the Feast it Forward shows go on the road to host unique lifestyle events. It also serves for private tastings on site or for special events. One such event at the showroom is "Terrible Tuesdays" in which bad films with cult like followings are shown. And the outdoor space offers several sit-down areas for more private tastings.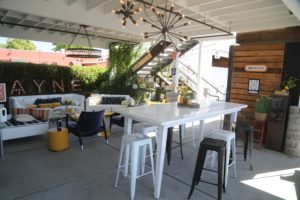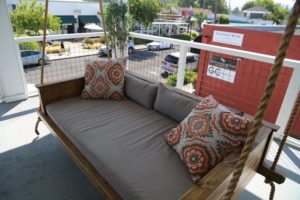 The Yard also hosts fun and entertaining parties, sometimes with some of the brands at Feast it Forward pouring their wines accompanied by cheese and charcuterie plates and a food truck or two including pizza.
Parents often find there is no place at wineries for their children. While tasting at The Studio children are welcome at the "Kids Zone", a small outdoor space featuring several toys and chalkboards where kids can draw.
The outdoor space at The Studio by Feast it Forward is surprisingly large – extending all the way back to the Napa Valley Wine Train tracks. A covert graffiti artist (they often are) has left his mark on a number of surfaces outdoors as well as on the elevator.
And twice a month seasonally, a Lemonade Stand is parked in front of The Studio (built by the cellar master at Benessere Winery back when their wines were available here). Children host this event, with plenty of help from their parents and all proceeds raised are donated to various charitable organizations.
The Parlour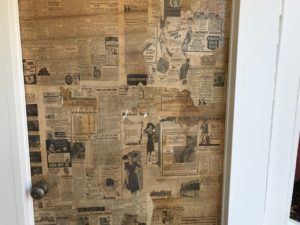 A standalone farmhouse dating from 1891 on the same property at The Studio by Feast it Forward but facing 1st Street was converted into another tasting area in 2021. The space is shared by 8 additional brands who reserve time slots for either inside or outside tastings. Preserving as much of the history of this building as possible (it was supposedly used as a brothel in years past), newspapers dating from 1930 through 1950 were discovered during renovations on top of the original redwood floors. Instead of discarding them, these now line part of the interior walls. Arriving guests can take some time to read clippings about old Napa and California.
The basement is old school with dirt floors – plans call for eventually turning this into a speakeasy.
—
For more information about Feast it Forward and this truly one-of-a-kind and innovative space, visit: www.feastitforward.com
Indoors, Downstairs

Indoors Upstairs (Culinary Studio + Decks)

Outdoors/The Yard

Partying hard, The Yard

Ultimate Airstream Film Lounge