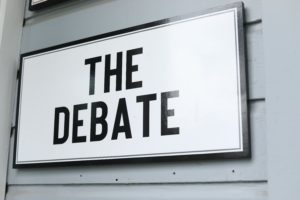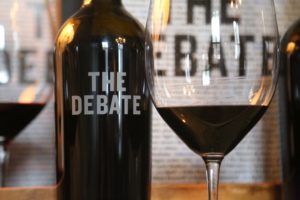 The Debate. In today's fast paced world where conversations are often relegated to the digital space – especially so in cities around the world where it is a common site to see people fully engaged with their cell phones, the Debate was created as a platform to bring people together and to stimulate discussion about contemporary topics – ideally with glasses of The Debate wines in hand. This is the core philosophy of the two founders and owners, winemaker Jean Hoefliger and business partner Rob MacKay Jr.
Jean is the founding winemaker at Alpha Omega Winery and Rob was one of that winery's early investors. Both met through their connections at Alpha Omega. Jean was born and raised in Switzerland – a flying winemaker with several projects in Europe, the few times we have met, he has been either returning or preparing to leave on a trip. He currently provides consulting winemaking services for several small brands in the valley. Rob's father, Rob McKay Sr, an architect was hired by Glenn Bell (founder of Taco Bell, like numerous fast-food franchises, Taco Bell originated in Southern California) in the early 1960s and together with Bell, both men grew the small restaurant chain at that time into a national franchise.
Jean has built his reputation by sourcing from exceptional Napa Valley vineyards while focusing on Cabernet Sauvignon – producing wines with intense flavors, memorable textures and bright acidity. These are wines that have 'stuffing' if you will and are built to age yet simultaneously are crafted to enjoy in their youth. The first vintage of The Debate was from 2010 and until 2015 focused on primarily valley floor Beckstoffer owned vineyards appealing to serious wine enthusiasts who often enjoyed debating the various nuances and intricacies of each of those vineyard sites.
Today the focus of The Debate is on 6 single vineyard, single varietal wines, three of which are 100% Cabernet Sauvignon and three are 100% Cabernet Franc. A final wine, appropriately named The Ultimate is a blend of all of the vineyard sites and is both Cabernet Sauvignon and Cabernet Franc.
The focus for the Cabernet Sauvignon is on three premium vineyards located in the Vaca mountains, bordering the eastern slopes of the Napa Valley. Each vineyard site is highly coveted for its particular pedigree and only a few producers have access to each of the sites. The vineyards range in elevation from about 500 to about 1100 feet. Like with Jean's other wines, he produces these wines in barrel – both for fermentation and for aging.
BRION Estate (formerly Artelade Vineyard)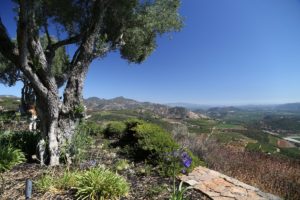 Located at an elevation of around 1,100 feet this is the highest of the three The Debate vineyard sites. It is located on reddish iron rich volcanic soils. A site that is full of rocks – some extremely large the rock piles left over from when the site was cleared for vines are impressive – some up to 60 feet deep. Formerly owned by grower Bob Long, this site was purchased by Brion Wise in mid 2023. Previously, this property had been owned by the Long family since the early 1960s. Bob's parents first fell in love with Napa in the 1950s and their family visited the valley fairly often. Bob remembers his first trip to Napa in 1955, driving up from their family home in Palo Alto and arriving at Charles Krug and being impressed with the huge casks as well as the invigorating smells inside the winery.
His uncle was well traveled and had visited France a number of times. He introduced the family to French wines and their trips to Napa become more frequent until Bob's father decided to purchase hillside land. Pritchard Hill in the 50s and 60s was little developed; it was used almost exclusively for ranching and cattle grazing and the "main" road in the area was a dirt. Bob's parents met local wine making families including the Martini's and the Long family ultimately purchased nearly 1000 acres in this now exclusive winery neighborhood. Top wineries have estates here including Brand, Bryant Family, Chappellet Winery, Colgin, Continuum, and Ovid, among others.
Pritchard Hill certainly boasts some of the finest views in the valley – however this property takes those views to the next level. From the western part of the property, one is perched over the edge of Oakville with some of the best and most intimate looks onto the valley floor directly below as well as expansive views up and down the valley and of the Mayacamas mountain range to the west. The hawks and large turkey vultures certainly have the views when they soar on the warm summer afternoon updrafts – but their views do not top the memorable vistas from this property by too much.
The vineyard sits in a unique part of Pritchard Hill. It is located at the edge of the Vaca range and roughly forms a geographical corner – jutting out slightly from the rest of the surrounding hills. From a clear day one can see San Pablo Bay in the south, Mt. Diablo much further in the distance and Mt. St. Helena in the north. It is an intimate location due to its close proximity to the valley floor – with a steep drop-off of some 800+ feet. Many other impressive vineyard sites with views from the Vaca mountains are often set back much further from the valley.
This particular vineyard block had never been named, and when deciding to produce a wine from the property – Bob told Jean and Rob to come up with a proprietary name. They chose Artalade creatively combining parts of their children's names Arthur, Alex and Ade. Jean calls Pritchard Hill, "a little bit of Oakville with a little bit of Stagecoach – a site that shows some finesse". He compares the wines from Pritchard Hill as being not all "body builder brawn but having brains to"!
The 2016 The Debate Artalade Vineyard is dark garnet red in the glass – immediately offers ripe, sweet and elegant fruit aromatics with notes of blackberry, darker cherry and an underlying nuance of pepper. The aromas are persistent. Offers a simultaneous softness yet density on the entry and quickly builds in complexity – mouthwatering and generous in flavor with plum and blueberry. Shows both a density of fruit and structure, with showy chewy tannins (somewhat dry) on a very long finish. There is plenty of power in this offering.
Denali Vineyard

This is the lowest of the three vineyard sites at around 500 feet. Located on the lower slopes of the Vaca mountains, the site is part way up Taplin Road between Joseph Phelps Winery and Heitz Cellars physical winery. The property is 42-acres planted to 14 acres of Cabernet Sauvignon with a small block of Cabernet Franc; the vineyard was originally developed and planted by viticulturist Jim Barbour; since 2015 he has overseen its management. The soils are both rocky alluvial and volcanic.
Owned by Walt and Katherine Schlotfeldt since 2012 (previous owners were the Snowden family), they divide their time between Idaho and Napa Valley. Long involved in the transportation business, they owned Denali Group, an Alaska based relocation and transportation company. Since they purchased this property, they have expanded the vineyard footprint slightly and have been replacing the older vines. They sell the fruit to a very coveted group of premium brands who in part have helped elevate the reputation of this picturesque site. Walt and Katherine also hold back some fruit for their own label, Denali Estate.
The 2016 The Debate Denali Vineyard offers a sweetness of fruit on the bouquet including a variety of desert spices, cloves, dark chocolate and vanilla along with toasted cedar. Features a highly appealing flavor profile showcasing both red and darker fruits; this is a wine one doesn't want to put down. Flavors of blackberry, red cherry and chocolate. Bright acidity. The tannins already feel mature for such a young wine – grainy and granular in their feel their approach is softer yet still exhibiting a noticeable grip on the long finish.
Sacrashe Vineyard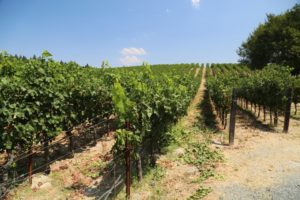 Perhaps the flagship Cabernet Sauvignon vineyard in the Hall's diverse vineyard portfolio which includes more than 500 vineyard acres, the Sacrashe Vineyard is located in the Rutherford sub-appellation at an elevation of about 800 feet in the hills not far from Auberge du Soleil Resort. Owned by Craig and Kathryn Hall, this was their first Napa Valley vineyard acquisition in 1995. And it is also the site of HALL Rutherford Winery as well as their own home.
The site is noteworthy for its soils – when one walks through the vineyard the whiteness of the soil is immediately evident – a fine chalk-like material. These soils are volcanic tuff – created from compressed ash.
The views overlooking the Napa Valley below on a clear day from this site will certainly capture your attention – so will the wine once you taste it.
The 2016 The Debate Sacrashe Vineyard Cabernet Sauvignon offers a highly appealing bouquet with mostly dark fruit notes along with hints of coffee grind, caramel – with both a sweetness of fruit and dessert spices. Slightly savory with some dried herb notes. Also, a very subtle hint of dust. On the palate, berry fruits, vanilla bean and toffee. A powerful wine with an appealing texture. The tannins are dense but not course – chalky and finer grained. In comparison to texture, this wine is most similar to the 2016 vintage from the Denali Vineyard. The finish is mouthwatering with both red fruits (cherry currant and raspberry) and darker spices along with notes of dried tobacco leaf.
—
Three vineyard designate 100% Cabernet Franc wines are produced from Sleeping Lady Vineyard in Yountville (valley floor), Beckstoffer's To Kalon in Oakville (valley floor) and Stagecoach Vineyard on Atlas Peak (hillside).
Sleeping Lady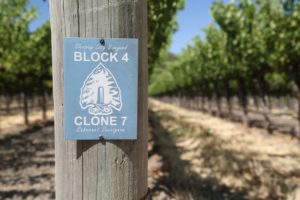 This vineyard is located on the valley floor on the west side of Highway 29 a few minutes south of Yountville and is owned by the Bettinelli family, long time farmers in the Napa Valley. The vineyard is named after a feature in the foothills of the Mayacamas mountains to the west of the property that somewhat resembles a sleeping lady (we've been told its easier to see this feature from the air then from the ground).
The vineyard is planted to 6 clones of Cabernet Sauvignon – the fruit is sold to a very select group of small premium producers. Despite being on the valley floor, the soils here are very rocky – mostly alluvial in nature with rounded river cobble.
The 2016 The Debate Sleeping Lady Cabernet Franc showcases a ripeness of fruit on the bouquet, intense and focused brings aromas of ripe blackberry, plum, mocha, vanilla and a floral note of violets. Present but not dominant are aromas of old cedar box. Plush on the entry showing mostly darker fruit including blackberry and boysenberry, a minerality component – and a rounded finer-grained light grip of tannins. Very nice integration with fruit, acid and structure on the finish. Balanced. Lingers with some darker spice notes.
Stagecoach Vineyard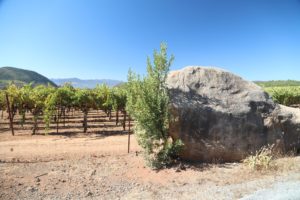 Founder of Stagecoach Vineyard, Jan Krupp originally told us about rocks the size of his own vehicle which were moved to clear the land for the vines. This was a major undertaking and Jan estimated over 2 billion tons of rock were moved to make way for the vineyards. There were vineyards planted in the area in the late 1800's but those owners did not have the equipment to move the large rocks and they just planted around them. After present-day workers blasted the huge rocks with dynamite, it would then take weeks or longer to further clear the sites. And finding a use for all the blasted rock, they built a number of roads on site.
In the early years of the Stagecoach Vineyard development, it's brand and location were off the radar of most Napa wine consumers. And selling grapes to area wineries was a very tough sell. Jan told us he had to call nearly 40 producers/wineries before one actually decided to take a chance on his grapes. This certainly changed as Krupp Brothers increased their production, other vintners purchased their grapes, their vines matured, and the word got out that these grapes were producing world-class wines. At its peak over 90 wineries were purchasing grapes from the property to use in their own wines.
The property is big for the Napa Valley – some 1300 acres of which about 600 are planted to vines. The vineyard is located on Atlas Peak over varying elevations between approximately 1500 to 1700 feet above sea level. In 2017 the vineyard was sold to Jan sold to E & J Gallo.
To Kalon Vineyard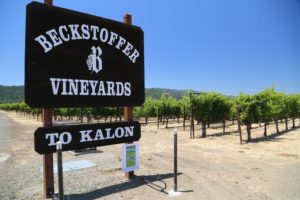 Arguably the most famous vineyard in the country (the Grand Cru of many of Napa's premiere vineyards), the To Kalon Vineyard under the Robert Mondavi Winery ownership is some nearly 450 acres of vines (although note, that not all of their property was part of the original To Kalon Vineyard). To Kalon dates back to 1868. Founder, H.W. Crabb purchased 240 acres in 1868 started planting grapes, several years later built a winery, called it Hermosa Vineyards and 10 years later it had become the third largest wine producer in Napa County.
The name To Kalon itself is Greek and according to founder H.W. Crabb, "…means the highest good, but I try to make it mean the boss vineyard". The name has seen a number of variations with "To" being separated by a "=" originally, then a "-" and finally simply, To Kalon.
Today only a fortunate few wineries and producers manage its overall sizable acreage (Crabb's original To Kalon holding was 526 acres): Robert Mondavi Winery owns the largest portion, Opus One has several larger blocks, several families own small blocks and grower Andy Beckstoffer owns and manages a relatively small percentage of the entire vineyard and sells to approximately 15 producers who then make a single vineyard wine including a rare 100% Cabernet Franc from The Debate.
The Ultimate
This wine is only bottled and sold in magnums with the name of the vineyards silk screened onto the bottle. The 2016 The Debate The Ultimate is a blend of 63% Cabernet Sauvignon and 37% Cabernet Franc including grapes sourced from each of the six vineyards. Only 132 magnums were produced this year.
Features a captivating bouquet – meaty and savory at times, offering red fruits, dried rose petals, violets and rhubarb. Also, a sweet aromatic thread including notes of plum, red licorice and fig. Hints of Graham Cracker. More red fruits then darker fruits show on the bouquet. This is aromatic nirvana, a diverse bouquet that keeps on generously giving as it continues to open. Noticeably inky dark with purplish tinges on the rim. The Cabernet Franc really shows in this wine – bringing a freshness and liveliness to both the bouquet and to the palate. Juicy and mouthwatering. Still tightly woven tannins at the time of our tasting, these linger on a long finish with bright fruit including red berries (cranberry and currant) and red cherry. This wine has significant aging potential.
Tasting salon, Spring House, St. Helena
In 2022, The Debate began offering tastings in the historic Spring House in St. Helena, located directly across from Goose and Gander restaurant.
This original family home has rich history; it dates from the late 1880s and was built by Battista Salmina, brother-in-law of one-time owners of Larkmead Vineyards, Felix Salmina and his family. Incidentally, Felix Salmina was one of the seven founding members of the Napa Valley Vintners in 1944.
And along with Felix Salmina, Battista also helped build in 1878 and operate the old wooden William Tell Hotel just down the street from the Spring House. Remarkably this building is still standing – located at 1228 Spring Street. And connecting some of these historical ties to Post Parade during the brief time they occupied part of this building, some of the grapes for the Stretch Drive Cabernet Sauvignon were sourced from Larkmead Vineyards.
Lang & Reed first moved into this building in 2020 and along with The Debate, also offers tastings by appointment. Several spaces are available for hosting tastings including a dedicated room with a handsome wooden table carved from a Douglas Fir tree by Napa Valley based wood-worker Scott Allen. He also provided furnishings for some of Thomas's other winery projects including Mending Wall and Rivers-Marie. Two other spaces for hosting guests include a larger shared room and a porch overlooking Spring Street.
The amount of time that goes into creating their packaging is remarkable – only sold in three packs the wines are contained in a special box and are wrapped with what looks like old newsprint. One of their employees spends significant time researching news items each year and curates these into a seemingly endless list of printed headlines. Even more remarkable is there is a different wrapping for each of the three bottles – all with their own unique headlines.
These are conversation starters as soon as one unwraps them from the bottles – headlines intended to trigger conversation and debates among those reading them. And for every release, the wines are arranged in the 3-pack boxes in different order depending on how Jean and the winemaking team feel the wines are showing.
The wines are selectively distributed in markets across the country and are also sold direct. Locally they can be found through Bounty Hunter (a Napa based restaurant and wine retailer). Sold as three packs only about 2000 of these three packs are produced each year. For more information or to join the debate, (becoming a member provides allocation access upon releases), visit: www.thedebatewine.com