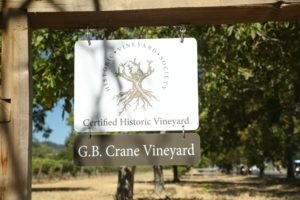 Crane Assembly was founded in 2012 by three longtime friends in Napa Valley – winemakers Dave Phinney (of Orin Swift fame) and Kevin Fox and business partners Bryan Sandoli (married to Karen Williams the co-founder of ACME Wines in St. Helena) and Darryl Browman (Darryl is the co-owner of Cavus Vineyards in the Stags Leap District). The partners sold Crane Assembly in 2022 to Ohio based Vail Jr. and his wife Leslie Miller. Vail's great grandfather Albert W. Vontz founded Cincinnati based Heidelberg Distributing Company in 1938; the company was operated under the same family ownership until they sold it in 2021. With the change in Crane Assembly ownership has come a change in winemakers; today Atelier Melka oversees the production of Crane Assembly with winemaking at Museion, a bonded winery in the former Calistoga Bottling Works space.
Dave Phinney began his wine career at Robert Mondavi Winery as a temporary harvest intern in 1997 working several hours every day during the graveyard shift in the winery doing punch-downs and pump overs. With Mondavi's encouragement, in 1997 Dave made a barrel of wine from second crop grapes and the next year produced his first vintage of a label he ultimately became well known for, Orin Swift. He wasn't satisfied with the quality of the wine, so Dave sold that vintage on the bulk market (Orin Swift is now owned by E & J Gallo Winery). Little did either Mondavi or Phinney know that eventually both would again be linked based on Phinney's remarkable success with The Prisoner wines.
A gifted blender of both varieties and regions, Dave built his reputation on creating fruit forward (often higher alcohol), approachable blended wines. His winemaking has never been constrained by specific varieties or geographical places. To complement his creativity with winemaking – his wines incorporate extremely creative, unique and often eye-catching labels. And he is a master marketer – helped by the fact his wines are reasonably priced based on quality.
Their historic property is a registered vineyard in the Historic Vineyard Society, an organization dedicated to the preservation and promotion of California's oldest vineyards (membership vineyards must have an original planting date no later than 1960). Some of the vines in this vineyard are far older than that date. The vineyard was originally planted in 1885 by St. Helena wine pioneer George Belden Crane and has been continuously farmed as a vineyard for some 130 plus years.
As a result, this is an extremely rare and historic vineyard. It is one of the two oldest currently commercially producing vineyards in the Napa Valley. There is only one other commercially producing vineyard in Napa with vines dating from the 1880's. That is the Canard Vineyard in Calistoga containing old vine Zinfandel.
A replant to some of the vines in the Crane Assembly's vineyard was done in the 1930's – today some of the oldest vines range from 85 to approximately 130 years old.
Dr. Beldon Crane was one of Napa's earliest wine pioneers; he moved to Napa Valley in the mid 1850s and was the first to introduce European grape varietals to the region. At one point he owned more then 300 acres of land here. Incidentally his first vineyard in St. Helena is now the site of St. Helena High School. And looking north from the Crane Assembly's Vineyard, one sees a magnificent white house. This was Dr. Crane's former home, currently owned by long time area vintners, the Salvestrins.
Like other old vine vineyards, we have seen in Napa, these vines are gnarled, weather beaten with moss growing on the trunks and all are head pruned. They are surprisingly delicate to touch, yet incredibly resilient to have lasted all these decades. In 2021 drip lines were installed along all of the vine rows, not necessarily used each year for irrigation unless there is a significant prolonged heat spike.
The vineyard is in a very good neighborhood; Beckstoffer's well regarded Dr. Crane Vineyard is nearby as is his Bourn Vineyard and the very historical Hayne Vineyard is slightly further to the west with several other old vine vineyards in fairly close proximity. Both the Beckstoffer and the Salvestrin's own former portions of Dr. Crane's original vineyard land.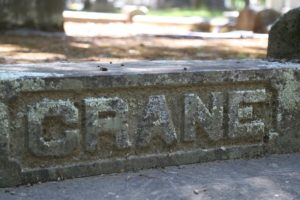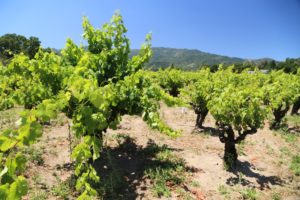 The vineyard is planted to a total of 8 acres including 4 acres of which are planted to mixed blacks – historically these varietals included Zinfandel, Petite Sirah, Carignan and lesser plantings of Alicante Bouschet, Mourvèdre and Valdiguié. Over time due to disease and other factors some of the older vines have died and have been replanted. Today any vines that are removed for whatever reason from this block are replanted to Zinfandel.
In addition to the mixed blacks the vineyard contains a 1.6-acre block of Cabernet Sauvignon (trellised), a 1.4-acre block of Petite Sirah, and two rows of Merlot. There are a total of 5 separate vineyard blocks on the property. More recently, Robert Biale Vineyards was making a vineyard designate Zinfandel from the property called Old Crane Ranch Zinfandel.
The 'wrong' buyer or perhaps better stated – someone who was only interested in the economics of this vineyard would have pulled out these old vines immediately in favor of replanting to Cabernet Sauvignon. Fortunately, Dave Phinney and the team had a strong interest in preserving some of the Napa Valley's early and most cherished vineyard history.
Initially they decided they would create one wine from the vineyard – an homage to historical uses by producing a mixed blacks field blend. But during the fermentation of the 2012 vintage (their first under the Crane Assembly) they noticed the Cabernet Sauvignon was exceptional by itself (perhaps no surprise considering this location). Rather than bottling one wine they decided to create several wines and bottle the Cabernet Sauvignon separately.
Select Wines
The Crane Assembly focuses on three wines; Disciples (sourced fruit, primarily from older Napa Valley vineyards), the estate El Coco made in the style of a field blend (with Zinfandel and Petite Sirah), and the estate Cabernet Sauvignon.
The grapes for the Disciples wine come from vineyards with excellent pedigrees – both historically and for the quality of fruit they produce. And when it comes to sourcing fruit from premium vineyards in the valley, Dave Phinney still has numerous contacts from when he started Orin Swift. Vineyards such as Tofanelli in Calistoga which dates from the late 1920s and Morisoli in Rutherford provide the grapes for this wine each year. The wine gets its name because of the old vines on their estate property; these younger vineyards can be considered "disciples" of the old vines.
The 2015 Crane Assembly Disciples is 95% Zinfandel and 5% Petite Sirah. Layered on the bouquet, it reveals bright aromatics including blackberry, dessert spices and a hint of smoke and cedar box. On the palate the flavors are ripe and generous but not jammy. General manager Ryan Keith compares this wine to an innocent, energetic and outgoing child. In other words, it has a lot of life.
The 2018 The Crane Assembly Disciples Red Wine is medium ruby in color. This is a blend of 49% Zinfandel, 19% Petite Sirah, 10% Charbono, 9% Grenache, 7% Syrah and 6% Merlot. The aromatics are bright and fruit forward with notes of strawberry jam, blackberry and red cherry. This wine is juicy with mouth filling fruit across the palate. Features very well integrated tannins with a light gravel textural touch. Lingers with notes of dried tobacco leaf. This wine is very approachable in its youth. Ryan told us it pairs well with pizza or an afternoon of grilling a variety of meats.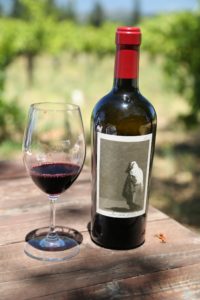 The 2012 The Crane Assembly El Coco is inky dark in the glass; it reveals an intense bouquet – plenty of ripe berry aromas tinged with more subtle chocolate and brown sugar notes. Plush and rounded on the entry – this supple mouth feel continues across the palate. Shows dense flavors of ripe blackberry and blueberry. Finer grained somewhat chalky tannins complete a pleasing finish. This is an intriguing blend that combines the history of the vineyard with a palate profile that will appeal to a wide range of tastes. Incidentally the label reflects part of a Francisco Goya painting – 'que viene de coco' – the "boogeyman", an image that quickly catches your first glance.
The 2019 The Crane Assembly Crane El Coco is dark ruby in color; the bouquet initially shows some savory characteristics but as it evolves in the glass the aromas open to baking spices including cardamom and hints of mocha and Graham cracker. It also shows aromas of blackberry, dried rose petals and violets. The entry is soft and rounded across the palate with flavors of boysenberry and blackberry. The finish is dark with gravelly, rounded tannins mingled with notes of cedar and dust. This wine is a blend of 48% old vine Zinfandel, 38% Petite Sirah and 14% Merlot.
The 2013 MMXIII estate Cabernet Sauvignon is presented with a tiny label with the letter "C". This wine shows a ripe elegance in the bouquet with a hint of vanilla and as it evolves coffee bean and espresso. The aromas almost jump out of the glass. It is opulent and intense on the palate triggering many pleasure points! A powerful wine across the palate it leaves lingering flavors of blackberry. It is a big wine in flavor with accompanying structure, earthy youthful tannins that will certainly be toned down with some age. Drinks very well by itself.
Fairly well distributed across the valley you can find the wines at the Acacia House in Las Alcobas Napa Valley, Redd, Market, Press and area wine shops including K. Laz and ACME Fine Wines. For more information, to schedule a tasting or to join one of their wine clubs or mailing list, visit: www.thecraneassembly.com
Department 66, Maury France
Department 66 was founded by Dave Phinney after he first visited and fell in love with the region in 2008 when his friend Kimberly Jones (whose namesake is the distributor), invited him over to see Maury. He purchased vineyards that same year. The physical winery is located on a hillside on the edge of the very picturesque village of Maury in the Roussillon wine region of southern France. The winery is just north of the center of town; its name comes from the department number 66 assigned to the Pyrenees-Orientales (the department that is home to Maury) – similar to a district in California, i.e., District 5 in Napa (the southern part of the valley). As a result, their postcode begins with 66 (66460).
Maury is tucked away in the foothills of the Pyrenees mountains, about a 35-minute drive from the closest city, Perpignan which sits closer to the France coastline. Department 66 owns 300 acres of vines – which were planted in the 1960s. The first thing one notices when walking vineyards around Maury are the abundance of rocks – the short vines (no trellising and no irrigation) are literally planted in rocks. The soils/rocks are black schist with some smaller pockets of granite and limestone. Often the soils lower in elevation are red in color but are also found on the lower slopes. Schist is formed from mudstone or shale and is layered.
Also noteworthy is the vegetation that grows in the region (collectively referred to as garrigue)- during our visit, one day we spent several hours walking the hillsides coming across ancient well-constructed stone walls and as the day warmed up the aromas immediately piqued our attention; wild rosemary, thyme, the highly aromatic and resinous species of cistus and other aromatic chaparral like plants grow on these hillsides. Within a fairly short drive of Maury – deeper into the Pyrenees – this vegetation and look of the landscape changes dramatically – becoming lusher and greener.
While there are other wineries (referred to caves, in French) that host tastings at their cellars, Department 66 is not open to the public nor are there any signs leading to the winery. Visitors to the region should spend some time exploring the village including both food and wine stops (and it's easy to get off the beaten path as there are numerous narrow windy roads leading into the nearby hills). Theunevin Calvet (production dates from 2001) is well worth a stop (no appointment needed) and Le Pichenouille came recommended to us but was not open at the time of our visit.
Dave was also initially involved in a Maury based brand called Shatter along with Joel Gott (which is still operating as one of Trinchero Family Estate's approximately 60 wine brands) but Dave is no longer involved. Dave and his team helped select the vineyard sources owned by members of the Cave Cooperative in the village, a winery which Dave helped renovate.
And prior to introducing Dave to Maury, Kimberly had already purchased land with old vine Grenache and Carignan and now produces wine from her property bottled as Domaine Courier. Her wine undergoes a significant aging regiment before being released (3 years in foudres and then 3 years in bottle).
Department 66

Maury

Garrigue

Select Wines
The 2017 Department 66 Others, Red Blend is a blend of Carignan, Grenache and Syrah. Dark ruby in color; sports aromatics of mushroom, forest floor, dark and dried herbs and as the wine continues to open, shows additional darker floral notes including violets. Also, some pepper & cedar notes but they are not overt. Definitely some savory characteristics to the bouquet. A mouthful of fruit on the palate – soft, plush and fairly opulent with flavors of ripe plum, red licorice and blackberry. The tannins are very fine; the finish lingers with both fruit and darker spices including peppercorn. Easy drinking. Made in a style perhaps more reminiscent of California then southern France. While tasting this wine in Toulousse, it made us want make the four-hour drive down for some paella in Barcelona, Spain!
The 2017 Department 66, "d66" Grenache is 80% Grenache noir and 20% Syrah. Dark ruby in the glass; initially the bouquet is earthy, mushroomy, with notes of truffle and dried parchment paper. As the wine breathes shows aromas of Graham cracker, chocolate and toasted cedar. Some baking spices are certainly also present, with hints of clove, nutmeg and cardamom deeper into the aromatics. An initial sweetness of fruit shows on the entry and carries across the palate. Packs plenty of flavor from start to finish (primarily darker fruits). Lingers with an intensity of fruit, alcohol, earth notes, darker spices and rounded, nicely integrated tannins. Finishes juicy, savory and slightly meaty. The hallmark of this wine is clearly the richness of the fruit. Drinks very well by itself.
For more information, visit: www.department66.com
Other Ventures
Dave is also a founder and owner of The Nimitz Group with partners, Gaylon Lawrence (owner of Burgess Cellars, Heitz Cellars, Stony Hill Vineyard and the Haynes Vineyard in Coombsville) and vintner Sebastian Lane (Depiction Wines). The Nimitz Group is playing a prominent role in the re-development of the Mare Island Naval Shipyard (Oakland Bay Area, California) and already owns hundreds of acres on the island. In 2015 he founded Savage & Cooke Distillery on Mare Island.
And in late 2022 Dave launched another brand, Gestalt Wines which not only produces wine but also an esoteric collection of collectibles and pieces of art. Tied into the Gestalt House on Crystal Springs Road, just outside of St. Helena, products from this brand are sold through membership, with an annual membership fee. Members receive wines from around the world and access to members-only events.
Mare Island, California

Savage & Cooke Distillery, Mare Island