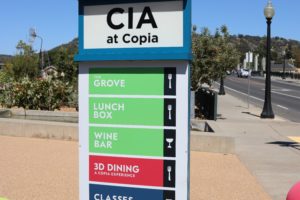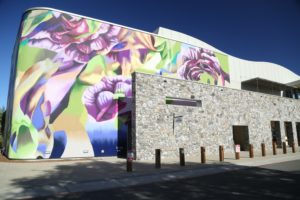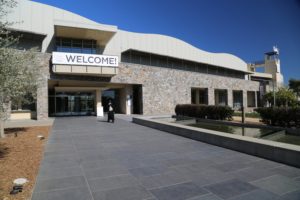 The CIA at Copia. This property was originally founded as Copia: The American Center for Wine, Food & the Arts in 2001. For many years well before the construction of the Copia center, this land was used for a garden and was owned by the Vallerga family. Joe Vallerga operated a grocery store for some time on part of this land (a well known name in Napa – he founded and operated several Vallerga's markets).
Robert Mondavi, founder of Robert Mondavi Winery was instrumental in helping fund and promote interest in building Copia including purchasing the site. Despite closing down in 2008 due to a lack of visitors (a tough period with a weak economy between the 9/11 attacks in 2001 and the recession in 2008). However, arguably when this center was built it brought recognition and interest to this part of town and triggered other development including the next door public Oxbow Market. With the development of both Copia and the Oxbow Market, a number of tasting rooms then opened in this part of downtown. Both The CIA at Copia and the Oxbow Public Market share a large parking lot and one can easily walk between both buildings. The CIA at Copia is located in the Oxbow District, a part of downtown Napa named after a sharp oxbow like turn in the nearby Napa River.
In late 2015, the Culinary Institute of America acquired the property and moved in – over the following months. After approximately 9 years of being closed it was so nice to actually see people walking in and out of this building again. The name Copia is in tribute to the Roman goddess of wealth and abundance.
The CIA as it is often called was founded in 1946 in New Haven Connecticut – and moved to to its central campus located in Hyde Park, New York in 1970. Today along with the New York campus, and their two Napa Valley locations including the impressive Greystone in St. Helena, founded in 1995 (located in the largest stone winery building in Napa Valley), they also maintain campuses in Texas and Singapore. Over the years over 50,000 alumni have graduated from their various programs.
The CIA at Copia is home to the Food Business School. That is certainly not all that is housed here, the Chuck Williams Culinary Arts Museum (on the second floor) displays a number of historic items related to cuisine dating from the 18th century to the present. Chuck Williams, the founder of Williams-Sonoma donated some 3,700 historical and culinary significant items to The CIA. Unfortunately he died at age 100 in 2015 before getting to see his collection on display.
In addition, the space houses the the Grove at Copia which is open for lunch or dinner with an extensive bar including a number of craft cocktails, Lunch Box at Copia, a grab and go window from which customers can order a variety of salads or sandwiches prepared by CIA chefs, Marketplace at Copia showcasing fine products for sale from numerous culinary related vendors and the state of the art Hestan Kitchen.
Chuck Williams Culinary Arts Museum

Marketplace at Copia

Hestan Kitchen

Lunch Box at Copia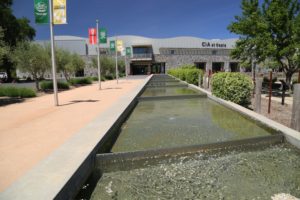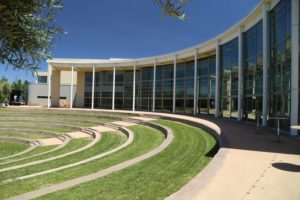 The Vintner's Hall of Fame wall located near the main entrance features the whose who of the Napa Valley and beyond including those who have made significant contributions to the wine industry. Most are deceased but some are living – plaques lining the wall include Warren Winiarski, Charles Krug and André Tchelistcheff among many others. One name that is noticeably missing that most definitely should be in this Vintner's Hall of Fame is Richard Petersen.
Two theaters are located on site, cooking classes including baking demonstrations are offered in the more intimate Napa Vintner's Theatre – their larger theatre seats 250 and can be used for various events.
In addition to wine and food related classes, special events are held annually including Ciderfest, Oktoberfest and a Bud Break Celebration. Movie screenings and concerts are also held in the outdoor amphitheater.
The Wine Bar at Copia is open to the public daily by walk-in and features three 'wine stations' each containing 8 bottles. This is one of more than 40 tasting rooms located in the downtown Napa area, although this is unique in that tastings are served by automated wine dispensers. Wines represented here are a mix from both Napa Valley, select other California locations and European destination. The machines are calibrated to serve several different pour sizes. Purchase a pre-paid card from the nearby Marketplace, grab a glass located near the machines, insert the card and choose the pour size. Then enjoy at one of the tables located in this same room.
In addition to the rotating wines from various vintners represented, the Culinary Institute of America at Greystone offers their 'own' wines, Greystone Cellars. This is a partnership between the Terlato Family, who own Napa Valley based Chimney Rock Winery and Rutherford Hill Winery. The Greystone Cellar wines are made at Rutherford Hill Winery and are served at the restaurant on site as well as distributed in select Kroger grocery stores. Some of the proceeds from the sales of these wines go towards funding scholarships for culinary students.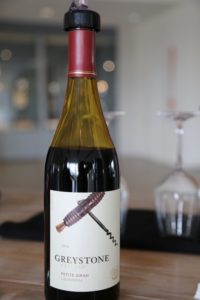 Greystone Cellars are California designate wines. They currently produce a Chardonnay, Merlot, Petite Sirah and a Cabernet Sauvignon. These wines are meant to be easy drinking, made with decent acidity and are to be (for obvious reasons), best enjoyed with food. The 2014 Greystone Cellars Petite Sirah shows sweet fruit forward aromatics, somewhat floral in nature and with notes of prune and blackberry – with hints of a spice sweetness (vanilla). The palate shows very good acidity – and balance with flavors of blackberry. The tannins are well integrated, more subtle in nature framing the finish gently rather then gripping the finish like you often find with wines that are 100% made from this variety.
Noted artist Gordon Huether paid tribute to both Robert and his wife Margrit by creating a dramatic white foam sculpture of each of them simply called, "Is That Bob & Margrit?" This sculpture is located 75 feet above the ground on top of the 'tower' near the main entrance. Another impressive piece of artwork by Gordon, "Fork" is prominently shown near the entrance to the restaurant in front of the building. Remarkably this giant fork is entirely made up of over 8,000 normal sized forks. Where he collected all these and how long it took to amass 8,000 forks is perhaps only a question Gordon can answer.
Culinary gardens have always been a part of Copia. These are still being farmed with the resulting seasonal produce being used by the restaurant. The gardens extend on the other side of 1st Street and are currently being shared by a number of local chefs – sourcing ingredients for their own restaurants.
A number of olive trees and some select citrus trees are also planted on site. In addition to its indoor seating,The Grove also offers an outdoor kitchen and seating in a bucolic setting under the shade of old olive trees. Nearby bocce ball courts can be used by visitors.
In 2019, two Volta charging stations were installed next to the outdoor parking area. The CIA was the first location in the Napa Valley to offers these particular charging stations. They are free for the public to use while visiting the CIA.
Le Petite Chef is a 3d dinner experience offered by reservation only, held within a dedicated space. Along with the tiny digital chef who excels at entertaining, the real food is a six-course dinner prepared by CIA chefs.
The property can be rented for events or weddings. And has hosted a number of premiere gatherings over the years including the 75th Anniversary bash for the Napa Valley Vintners and select talks by prominent wine & food folks including Karen MacNeil and chef Andrew Zimmern. The community is truly fortunate to have access to a space such as this. For more information visit: www.ciaatcopia.com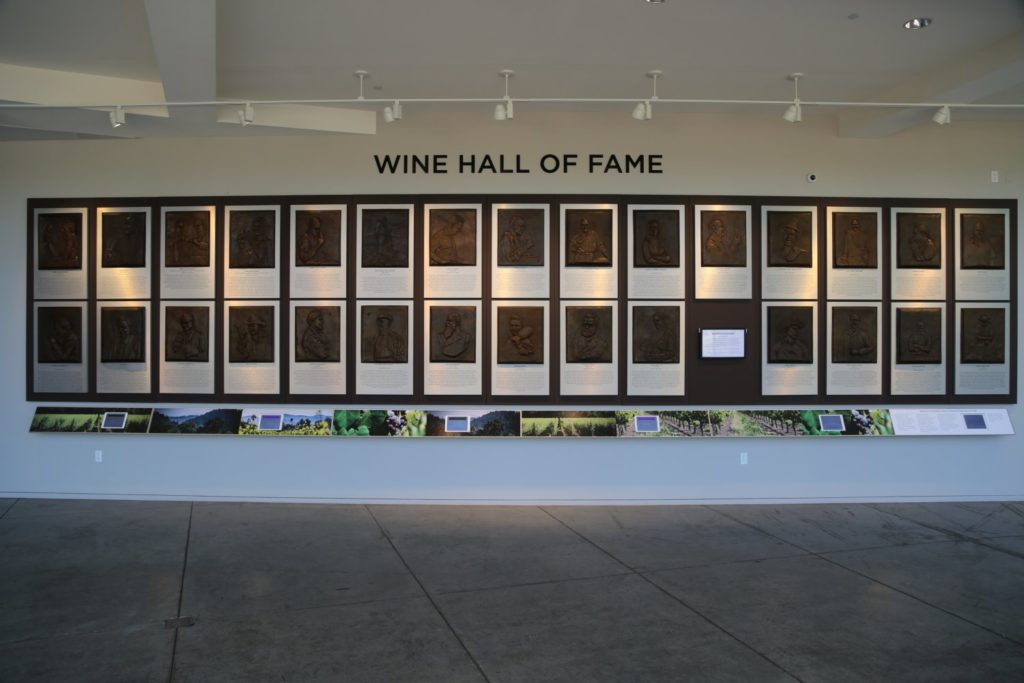 The Culinary Institute of America at Greystone
The Culinary Institute of America at Greystone is located a few minutes north of St. Helena in a historic neighborhood that includes Beringer Winery and Charles Krug Winery.
This iconic stone building was completed in 1888 at the cost of approximately $250,000 (a huge sum of money in those days). It was the first winery built in California to use electricity. Formerly the home of the California Wine Association (the winery was used to produce sacramental wine during Prohibition) and later the Christian' Brothers. Due to its history, and prominent size, it is the most remarkable stone winery building in all of Napa Valley. This massive stone building is often used for special wine tasting events, houses a culinary shop, a small restaurant, an historic barrel room and also Brother Timothy's impressive cork screw collection (over 1,000 pieces in the collection).
The building's massive cornerstone was placed on June 15, 1888 (but was never marked); it was located in 1988 and eventually moved on display near the main entrance. A number of keepsakes were placed on the cornerstone at that time including seven bottles of wine (among them a Charles Krug 1885 Riesling, a Beringer 1884 Burger and a Bourn & Wise 1887 Sauvignon Vert). A copy of the St. Helena Star and several other newspapers were also included – the Star article reported, "the health of Messrs. of Bourn and Wise was drunk …".
Several of the bottles were broken during the excavation of the cornerstone – these and the intact bottles along with part of an original newspaper can still be seen as part of the enclosed display.
This property used to be home to Greystone Cellars, the largest stone winery in Napa Valley. And for visitors, it also houses the Gatehouse Restaurant, the Bakery Café by illy, the Spice Islands Marketplace and a sizable corkscrew collection.
exterior

corkscrew collection

historic barrel room

spice islands marketplace

misc interior

CIA Gardens at Charles Krug