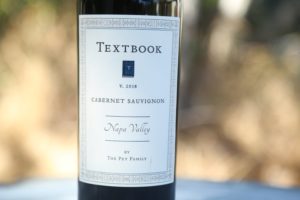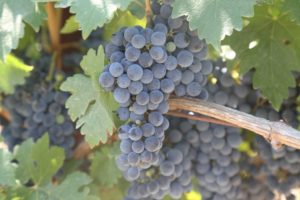 TEXTBOOK Napa Valley was founded by Jonathan and Susan (died in 2016) Pey in 2004. What ultimately became an important event and influence in Jonathan's life occurred when he was in his teens; his father announced that he had been transferred to France for work and the family would be moving to Paris. Jonathan spent three years living in France and during that time he quickly realized as he puts it, that wine was part of meals rather than milk which he had been raised with in the states. Returning from abroad he earned his undergraduate degree in Agronomy from the University of Arizona and began working as a sales manager for Kobrand Corp in New York City. Jonathan fondly remembers that time in his life where education was an integral part of working for the company and Kobrand would often send employees overseas to gain an international wine perspective. It was while working at Kobran that he was introduced to Napa Valley. And this was just the beginning of what would ultimately translate into a diverse international career in the world of wine.
From 1993 through 1996 he worked at Schramsberg and helped oversee that wineries' partnership with Portuguese winemakers João Carvalho Maia and Celso Pereira. Jointly they established Caves Transmontanas, producer of the Vértice still and sparkling wines near the town of Alijó in the Douro Valley. While Schramsberg is no longer involved in the operations, Caves Transmontanas continues to produce premium wines in this part of Portugal. Later he ran the international operations for Seagram Chateau & Estate Wines and eventually helped with the partnership between Robert Mondavi Winery and Rosemount Winery in Australia.
His introduction to potentially growing grapes in Marin County was through a book he and Susan read called "Early Marin" which described in part immigrants coming to Marin County and planting early vineyards. Later some of these farmers were pushed out of Marin County after the earthquake of 1906 when residents of San Francisco moved across the bay. Today Marin County is certainly not noted as a grape growing region (and in west Marin, minimum lot sizes are 80 acres which complicates the economics of growing small vineyards) – but intrigued by what they read in this book, Jonathan and Susan decided to grow grapes.
Jonathan owned about 7 acres of vines in west Marin County and produced Pinot Noir and a dry Riesling from old dry farmed vines. Their first vintage of the Pey-Marin wines was in 2002. In 2021 he shut down Pey's operations, moved to southern Burgundy (Beaujolais in the village of Morgon) and purchased four acres of vineyard land with vines dating to 1953. His first vintage was in 2022 with the resulting wines to be a Gamay.
When deciding on producing wine from Napa Valley – it didn't take Jonathan and Susan long to identify Oakville as the region they would focus on. A vineyard that Textbook still works with today was their first source – Vyborny Vineyard owned by Alex Vyborny. The vineyard is next to the Screaming Eagle property; incidentally a bunch of topsoil was removed decades ago to help build the nearby Rector Dam – the remaining soils in Vyborny Vineyard are rocky and alluvial in nature.
The name Textbook came about when Jonathan was tasting his first vintage from barrel. He remembers pulling out the wine with a wine thief into two glass and noticing the dark color, the density, the texture and the exotic aromas. He said something like, "this is classic Oakville Cabernet Sauvignon – so textbook like". And the name rung true. Surprisingly it was never trademarked. His goal with his Napa Valley Cabernet Sauvignon is to provide its varietal expression and make people want to say, "this is what Napa Valley Cabernet Sauvignon smells and tastes like".
Over the years TEXTBOOK has worked with other growers in Oakville but has also worked with numerous growers up and down the valley. Integral to their success has been working with top vineyards but also being prudent financially – never taking out a huge loan, growing slowly, using a custom crush winery in the city of Napa and never purchasing vineyards.
The focus of Textbook Vineyards is on Napa Valley grown and produced wines – a style that reflects Jonathan's European sensibility striving to showcase the varietal nuances, of their Cabernet Sauvignon especially, rather than power, focusing on balance and elegance. He tends to pick the grapes earlier then his neighbors – while still looking for depth of flavor but also for brightness.
In 2019 with the business growing and taking up even more time, Jonathan sold TEXTBOOK Vineyards to Distinguished Vineyards & Wine Partners – a group whose parent company is Kirin Brewery Company in Japan and who is also associated with Mercian, a Kirin subsidiary (owning wineries in Japan, France and Markham Vineyards in the Napa Valley). Today Jonathan remains actively involved overseeing the winemaking (with a consulting winemaker), their vineyard sources and participating in select marketing events.
From a vision of producing wine in Marin County to working with top vineyards in the Napa Valley, to currently overseeing his small vineyard project in Beaujolais, it has been quite a ride for Jonathan. He recalls their first vintage in Marin County was merely 5 cases; now the TEXTBOOK wines are distributed in select Whole Foods markets and even within parts of Asia.
Select Wines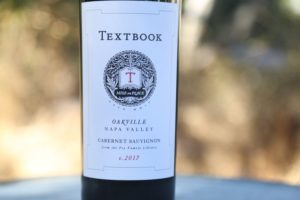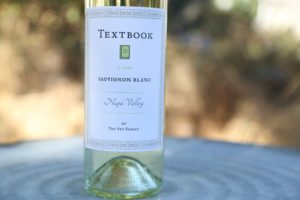 The 2019 TEXTBOOK Napa Valley Sauvignon Blanc (from vineyards in the Oak Knoll District and St. Helena) is medium straw in color; the bouquet offers minerality notes, honeysuckle, a lemon meringue and golden delicious apple. The bouquet is elegant and inviting. Balanced across the palate, this is our preferred 'Napa' style of Sauvignon Blanc – neither green nor grassy nor overly ripe and tropical. Offers flavors of grapefruit, lemon, and mandarin – complemented nicely with a zesty finish. Mouthwatering. Tastes great by itself but has the acidity to hold up to a number of pairings – most preferably seafood including scallops prepared with spicy Thai chili sauce. This wine is a combination of fruit from three vineyards in the Napa Valley – these vineyards are all farmed by hand from the pruning to the harvesting. Once the grapes were delivered to the winery, they were whole cluster pressed and were aged on the lees.
The 2017 TEXTBOOK Napa Valley Cabernet Sauvignon (94% Cabernet Sauvignon, 6% Merlot) is medium to deeper purple in the glass; offers a higher-toned floral sweetness of aromatics including violets along with black licorice. Meaty at times, with additional aromas resembling a balsamic reduction. Shows ripe and spicy plum notes on the palate (think the skin of a Santa Rosa plum) along with flavors of blackberry. Very concentrated. The tannins are restrained, softer in texture lingering with a light dry grip along with notes of dried tobacco leaf and white pepper. Was aged 14 months in all new French oak – 30% of which was new. Lower alcohol – clocking in at a 1970s-esque, 13.3%.
The 2017 TEXTBOOK Oakville Cabernet Sauvignon is deep ruby in color: with darker aromatics of blackberry, cherry and cassis. In addition to the fruit, there is a pretty union of both dark chocolate and cedar along with notes of dried tobacco and further in the bouquet, clove and cardamom. Well concentrated with flavors of plum and darker cherry – juicy, a bit meaty and savory. This wine is mouthwatering on the finish and is anchored by grainy, darker, well-integrated tannins and notes of lingering cedar. This wine's power is in its concentration yet its simultaneous balance. Good acidity. Approachable now but also very age worthy. Every bottle is numbered – 6000 bottles were produced packaged in 1000 six-bottle cases.
—
Total production of TEXTBOOK is around 21,000 cases per year with some international distribution including in Korea and Japan and select domestic outlets including restaurants, retail and Whole Foods. For more information, to join the wine club or to purchase directly, visit: www.textbookvineyards.com