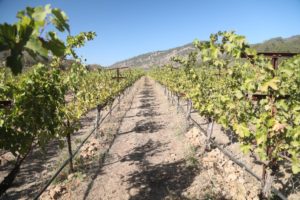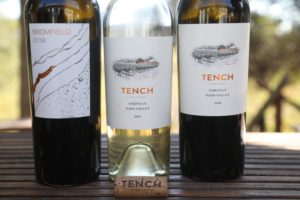 Tench Vineyards. This beautiful 61-acre property sits just west of the Silverado Trail in Oakville. The property is the same footprint in size from when John (1902-1990) and Joan (1908-2001) Tench purchased this site in 1965, the same year that John retired as the Manager of Shell Oil. He was born and raised in the United Kingdom in the small village of Bromfield in the county of Shropshire (or Shrops, for short). John was part of the family that bred the first Hereford cattle in 1802 in Bromfield. This part of the UK is very agricultural, rural and one of the least populated regions in the U.K.; tiny Bromfield (population less than 300 residents) is located less than 10 minutes from Ludlow (a proper town) and about 40 minutes north of one of the largest towns in the region, Hereford. From the center of London, allow about 3.5 hours' driving northwest which from personal experience, is not an easy drive in the dark in pouring rain. Bromfield is home to a couple of restaurants, a couple of shops and the Parish Church of St. Mary the Virgin.
However, the properties' agricultural footprint has certainly changed over the years. During John and Joan's ownership the site was known as Bromfield Farms, with even a sign indicating such on the Silverado Trail (the family still has this old sign). At that time, the property was planted to plums, pears, nectarines and walnuts among other crops, all used for family and friends. In honor of their farming heritage in the UK, they also raised several Hereford cattle on site. John planted the first grapes on the property in the late 1960s.
John and Joan's youngest son Brian married Napa Valley native Adair; eventually the couple took over ownership of the property and continued to sell grapes. The first Tench Vineyard designate was produced in the 1980s by Niebaum-Coppola (Inglenook Winery).
Today Brian and Adair's daughter Margaret Tench and her husband Rem Reigersman live on the property and oversee the vineyard; they met in 1997 while both were studying at the University of St. Andrews in Scotland. They founded Tench Vineyards with their first vintage in 2017. And in 2016/2017 they built a state-of-the-art winery and caves on the property – used for their own wines but also for a small group of other premium producers.
Margaret's rich heritage is deeply rooted in Oakville with Tench Vineyards (John and Joan were her paternal grandparents) but even deeper in California were relatives on her mother's side dating back to 1848 in the Napa Valley. One of her ancestors, John C. McCracken his wife Rebecca and their three children crossed the United States in 1846 in covered wagon. During their trip they joined with the Donner Party who eventually became trapped in the Sierra Nevada mountains by early snowfall. However, the McCracken's were part of another team which chose an alternate route and arrived safely at Sutter's Fort in the fall of 1846.
A year later the family moved to Sonoma; gold was discovered by James Marshall in 1848 and already living in California they beat the domestic and international rush to the gold fields – moving yet again to the Feather River where they prospected for gold. Successful, they moved back to Sonoma and purchased a number of pieces of land – one of which John eventually sold to General Vallejo which became part of Vallejo's Lachhryma Montis estate.
Additional relatives owned and operated the Napa Journal (the first issue of the Napa Daily Journal was published May 16th, 1890).
—
The soils change dramatically from the east to the west sides of the property, to the east featuring red rocky iron rich soils that are characteristic of the eastern Oakville benchlands and higher into Pritchard Hill and to the west, the property features alluvial and clay soils. Simply walking through the vineyard rows, it is fairly easy to see the dividing line between these two remarkably different soil types. Winemaker Russell Bevan clearly enjoyed driving us during one of our visits to the property – at fairly high speed through vineyard rows in reverse through part of the vineyard so we were able to quickly see the changing soil types.
This is a prime part of Oakville – immediate neighbors are Screaming Eagle, Gargiulo Vineyards and Harbison.
Bevan has been crafting the Tench wines since the beginning (with plenty of help from there cellar team including seasonal interns). When Rem and Margaret were living in New York, Rem spotted a short article mentioning Kal and Dorothy Showket (who we first met with many years ago when they owned their property and made their own wine) were selling their eastern Oakville hillside property to Peter Michael of Peter Michael Wines; this was in 2009. A paragraph at the end of the article caught his eye; it indicated that because of the sale of this vineyard, winemaker Russell Bevan would no longer have access to the grapes and had already contacted several other vineyard neighbors. Rem called Russell soon after reading the article and eventually both men met and walked the property together. All Russell needed was this one visit and he was hooked before becoming the winemaker for Tench Vineyards he began purchasing grapes from the site for his own brand, Bevan Cellars.
Select Wines
Tench Vineyards has one of the rare plantings of Sauvignon Blanc in eastern Oakville; only about an acre of this variety is planted on the lower part of their property to two clones: Clone 1 and Musqué. Yields end up being low – despite the small block they picked twice in 2019, fermented entirely in stainless steel and then blended both clones together. Usually only around 50 cases are produced. The 2019 Tench Vineyards Sauvignon Blanc is medium yellow in color; offers a wide variety of attractive aromatics including honeysuckle, pineapple, lemon/lime zest, a very subtle hint of cut grass and as it opens further, the aromas become more tropical. Balanced with some rounded viscosity, the wine shows flavors of citrus and a noticeable brightness on the finish.
This wine has the varietal elements of Sauvignon Blanc, but it also embraces the site and the plenty of sunshine this part of the valley affords. Or more simply put, as Margaret states, "this is our sunshine in the glass wine".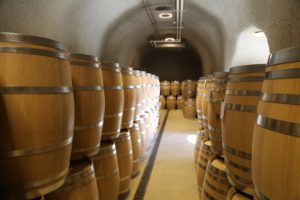 The 2018 Tench Vineyards Bromfield is a Merlot based blend; dark ruby in the glass with vibrant aromas of blackberry and boysenberry complemented by darker chocolate and hints of Graham cracker. Plenty of aromatic depth here. On the palate, this wine's hallmark features are both its balance and its uncharacteristic depth. Lingers with a brightness of young fruit and acidity with still somewhat tightly woven tannins (but fairly fine in their texture). Continues to persist with dark fruit and darker spices including white pepper. It is certainly an age worthy wine.
It should be noted that the Merlot from this site is exceptional.
Their Cabernet Sauvignon is sourced from the rockiest part of their vineyard located in the southeastern part of their property directly next to the Silverado Trail. They treat the rocks here with respect – they are never removed from the vineyard, rather they accumulate underneath the vines. Rem refers this block as their cobblestone block. One can see why he refers to it as such – immediately when walking through the vines.
The 2018 Tench Vineyards Oakville Cabernet Sauvignon (with 12% Petit Verdot) is dark purple in the glass; shows aromas of rose petal, dust and dried rocks, a sweetness of blackberry and some dried herbs. Becomes slightly savory as the wine continues to breath. The palate offers flavors of raspberry, dark cherry and blackberry. Shows a simultaneous brightness, richness and a Bevanesque balance to the palate. Features a mouthwatering finish with pleasurable well integrated tannins. Nonetheless, offers a texture that holds some grip but is not drying, astringent or course in its feel. This is beautiful wine well worth seeking out.
The 2017 Tench Vineyards Oakville Cabernet Sauvignon is deep ruby in color; offers a very aromatically intriguing bouquet including of ripe dark cherry, plum, dried black fig, black licorice, old cedar box, a clove/cardamom spice note and Graham Cracker. Features a plush and supple mouth feel across the palate with flavors of plum, blackberry and a hint of lingering cedar and dried tobacco leaf. The tannins are very finely dispersed, rounded and are slightly chalk-like in their textural feel. This wine glides across the palate with its velvet-like feel; it is wonderful balanced.
And Tench Vineyards produces a very limited production Cabernet Franc bottled under the Tench Vineyards Ardeomo label.
—
Tench Vineyards continues to sell most of their grapes to a very select group of vintners who commonly produce a Tench Vineyards designate. Tench Vineyards production at the time of this review is only about 500 cases annually. The wines are sold primarily direct through their members mailing list membership although we have seen it in a few retail outlets around Napa Valley including at Gary's in St. Helena.
Visits are by appointment for serious wine enthusiasts and collectors and are always very personalized with an unscripted look at their operations. For more information, visit: www.tenchvineyards.com